Learn how to make this healthy Beet Avocado Quinoa Salad with Herb Vinaigrette dressing.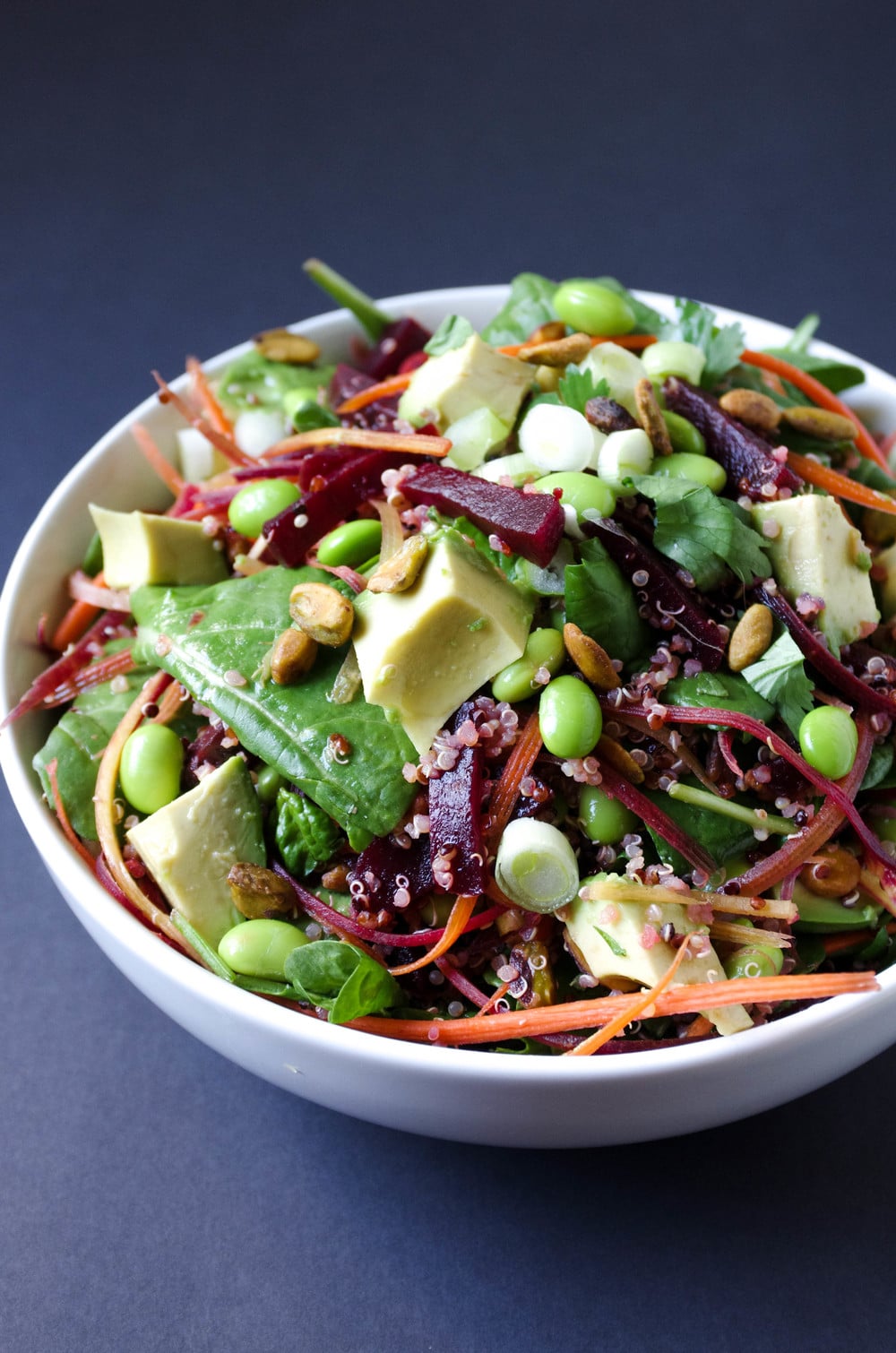 Today officially qualifies as an "I'm too tired to think" day. My brain is so mushy that I have spent the past hour circling back and forth between the 15 tabs open on my browser with the hopes of finding some brain power hidden away to get at least one thing done on my to-do list. So far I've done a really good job of picking at my nails while zoning out to my puppy as she chews on Octavian's firetruck. Do I get up to stop her? No. That would be way too much work.
Yes, that kind of day.
I should have just taken a nap with Octavian. I was nearly asleep (seriously, there is no better sound than the sound of your toddler snoring in your ear), but I really wanted to eat lunch in peace. I had to decide- food or sleep? This is never an easy decision as these are my two favorite things on this planet (aside from my child, of course).
For today (and 99% of the other days), food wins.
The next best sound to that of your toddler snoring in your ear? Eating in silence. Especially when eating means eating this Beet, Avocado and Quinoa Salad with Herb Vinaigrette. Pretty much every meal eaten with my toddler equals shoveling food down my throat to the sound of whining and crying. I may have made the most amazing dinner ever, but I wouldn't know because I stress ate the entire thing.
So, when I have an opportunity to eat slowly and peacefully, I take it; even if that means giving up my afternoon nap to get it.
And this salad was well worth the sacrifice! Creamy avocado, sweet beets, crunchy greens and delicious homemade dressing that adds to the perfect mix of flavors rather than mask it. I kept it meat free as I wanted a lighter lunch, but any grilled meat would taste great tossed on top!
And, on that note, my snoring child has awoken. Time for me to get some coffee (again).
Have a great weekend!
Beet, Avocado + Quinoa Salad with Herb Vinaigrette
Learn how to make this healthy Beet Avocado Quinoa Salad with Herb Vinaigrette dressing.
Ingredients
For the Salad:
1/2

cup

uncooked quinoa

(cooked according to package instructions)

1

cup

frozen edamame

4

carrots

(julienned)

8

oz.

peeled and cooked beets

(chopped (I always buy these to save myself loads of time))

6

ounces

baby spinach

(roughly chopped)

1/3

cup

shelled pistachios

2

avocado

(cubed)
Instructions
First, cook the quinoa (if it isn't already cooked). Leftover quinoa works great here, too. When quinoa is cooked, fluff with a fork and set aside to cool.

Cook the edamame- bring a small pot of water to a boil. Once boiling, add a small pinch of salt and frozen edamame. Cook for approximately 5 minutes, or until edamame is just cooked. Drain and set aside to cool.

Prepare remaining salad ingredients (except for the avocado) and place in a large bowl. Add the cooled quinoa and edamame (these need to be cooled otherwise the spinach will wilt and get soggy) and toss everything together.

Prepare the dressing- whisk together all the ingredients until emulsified (or use a small food processor if you have one).

Finally, drizzle vinaigrette over the top of the salad and gently toss to combine. Add cubed avocado and drizzle with fresh lemon or lime juice, if desired.

(note- if you know you will have leftovers, only drizzle the vinaigrette on each individual serving, otherwise leftovers will be soggy. The same applies to the avocado)
Nutrition
Calories
506
kcal
|
Carbohydrates
52
g
|
Protein
14
g
|
Fat
30
g
|
Saturated Fat
4
g
|
Cholesterol
0
mg
|
Sodium
146
mg
|
Potassium
1521
mg
|
Fiber
15
g
|
Sugar
18
g
|
Vitamin A
14440
IU
|
Vitamin C
35.6
mg
|
Calcium
134
mg
|
Iron
4.7
mg
(Nutrition information provided is an estimate and will vary based on cooking methods and specific brands of ingredients used.)
Did you Make this Recipe? Tag it Today!
Tag @theforkedspoon with hashtag #theforkedspoon and please leave your star rating in the comment section below.