Learn how to make this Blood Orange Kombucha Spritzers recipe.
Sometimes between the hours of 7am and 5pm I find myself craving something to drink other than water. By 7am I've already finished my first triple espresso for the day and usually around 2pm I'll have my second. Since we're not a soda or fruit juice family (it was not always this way), aside from my coffee, I drink water. Come 5pm, sometimes a wee bit earlier, I'll pour myself a glass of wine and, if I'm having cookies or cake for dessert, I'll drink some milk. I know, you guys, I live life on the edge.
Why am I telling you this? I promise it's not to bore you to death (although, the more I type, the more I see that's what's happening).
No, I am telling you this because sometimes I get really bored of water. Sometimes I need a little fizzy, fruity, fermenting bacteria and yeast (mmmm!) to get me to wine-time.
All joking aside, I have been a long-time lover of kombucha. I have absolutely no idea if the health claims are true, but like all good placebos, I'll take it! I first heard about kombucha in college (a whole decade ago –> insert ugly crying noises). I was sick, wasn't getting well and midterms were coming. Now, of course, I probably would have been on my way to good health a lot faster if I actually let my body rest, but I probably continued right on with my social life. Who knows, though. I can't say for sure.
A friend mentioned this miracle get-well drink called kombucha. I sent my boyfriend (now husband) out to Whole Foods immediately to stock up.
I don't remember felling better any faster, but I instantly fell in love with the stuff (even if I am drinking fermenting bacteria and yeast). Now, whenever I find myself craving something other than water (and I've met my quota of coffee for the day and it's too early to drink booze), I grab a kombucha.
The other day, however, I decided to switch things up a bit. I had purchased the most lovely blood oranges who were begging to be admired. I thought, hmm, ok oranges, how do you prefer? sliced? peeled? juiced? mixed? all of the above?
A little of each it will be then.
And, the rest is history, my friends.
As you can expect, a drink such as this is pretty easy to throw together. Kombucha, blood orange juice, lime juice, sparkling water, ice and fresh mint. Magically refreshing and super tasty (plus no crazy amounts of added sugar!).
It was just the thing to hold me over until wine-time!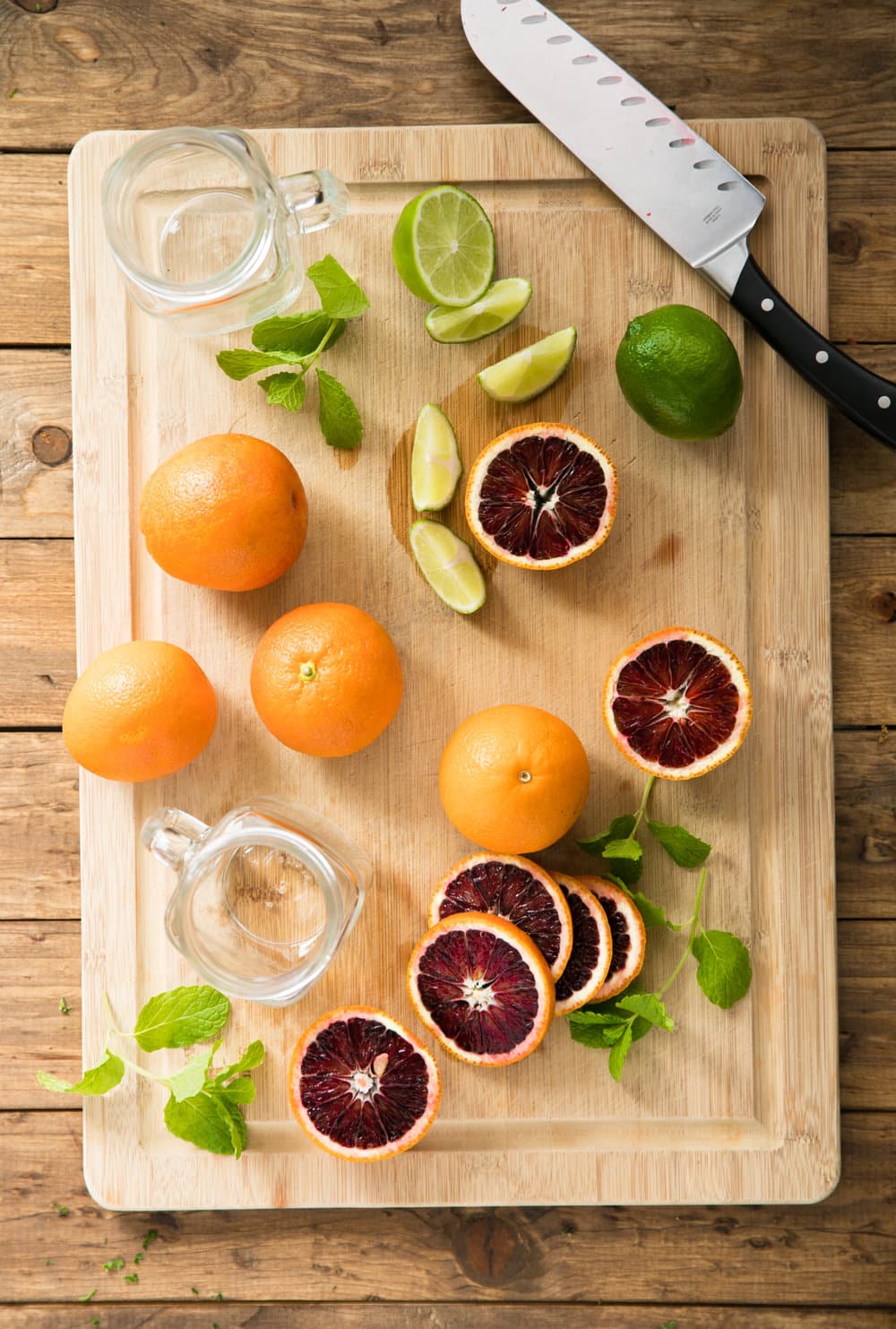 Blood Orange Kombucha Spritzers
Learn how to make this Blood Orange Kombucha Spritzers recipe.
Ingredients
2

blood oranges

-

juiced

½

lime juiced

1

cup

of your favorite Kombucha

-

I used ginger flavor

1

cup

sparkling water

Ice

Fresh mint

-

for serving (optional)
Instructions
Combine the orange juice, lime juice, kombucha and sparkling water in a large jar or small pitcher and stir to combine. Fill two glasses with ice. Carefully divide between the two glasses, garnishing with fresh mint, sliced orange or lime wedges, if desired. Serve immediately.
Nutritional Information
Calories:
22
kcal
|
Carbohydrates:
5
g
|
Sodium:
54
mg
|
Potassium:
23
mg
|
Sugar:
2
g
|
Vitamin A:
30
IU
|
Vitamin C:
9.2
mg
|
Calcium:
17
mg
(Nutrition information provided is an estimate and will vary based on cooking methods and specific brands of ingredients used.)