Juicy, mouthwatering, and perfectly bite-size, these Chimichurri Steak Bites are made with pan-seared sirloin steak and topped with an easy 5-minute Chimichurri Sauce. Ready in just 15-minutes, enjoy these Steak bites with Chimichurri for an easy, low-carb snack or with your favorite sides for a fast and simple dinner.
Chimichurri Steak Bites
Chimichurri and steak, like peas and carrots, just go together. They're like a married couple that lived happily ever after.
Fortunately, just like these Garlic Butter Steak Bites, this winning combination couldn't be easier to make. Crazy delicious and made with simple ingredients, these adorable little bite-size steak bites are more economical than fast food and are, in my opinion, much healthier.
Ready to enjoy in just 15 minutes, these tender little Chimichurri Steak Bites are fantastic right out of the skillet, or with all your favorite sides including brussels sprouts, sweet potatoes, or this fast and fresh tomato basil salad.
Before I get started with how to make this recipe, let's answer a few questions first.
What is Chimichurri?
Originating in Argentina and Uruguay, Chimichurri is a condiment that is typically served brushed, basted, or spooned onto food as it cooks. It may also be served on the side or used as a marinade.
Tip – best marinade ever.
Served at room temperature, this delicious green sauce is made from fresh parsley, garlic, oregano, red wine vinegar, olive oil, and red chili flakes. There is also a red chimichurri where tomato or red bell pepper is added.
Ingredients in Chimichurri
parsley
garlic
shallot (optional, not authentic)
oregano
red (or white) wine vinegar
red chili (or red chili flakes)
salt and pepper
extra virgin olive oil
Chimichurri only takes approximately 5 minutes to prepare as most of the fine chopping can be done in a small food processor.
You may also note that I did stray from traditional and authentic Argentinian chimichurri by adding a shallot. You may choose to add it in there or leave it out- entirely up to you.
BEST STEAK FOR STEAK BITES
The cut of meat I chose to use for this recipe (and almost all my steak bite recipes) is top sirloin steak. Top sirloin is known for being one of the more tender cuts of meat, especially when compared to the other sirloin cuts. Of course, the cut of meat you choose to use in this recipe depends entirely on you and your budget.
When choosing your steak, look for one that has lots of marbling and one that is at least 1-1 1/2 inches thick. Other cuts of steak to consider,
Porterhouse (New York Strip Steak)
T-bone
Club Steaks
Tenderloin
Rib-eye
Stripsteak
Steak Bites Ingredients
steak (see above)
olive oil
butter (or more olive oil)
salt and pepper
For best results, I recommend cooking your steak in a large cast iron skillet.


How to make Chimichurri Steak Bites
Due to the quick cook time for the steak bites, I recommend that you prepare the Chimichurri first and then the steak. Fortunately, both the Chimichurri and Steak Bites are super simple to prepare.
Starting first with the Chimichurri, you're going to want to grab that food processor and add everything (parsley, garlic, shallot, oregano, red chili, red wine vinegar, salt, and pepper)

except

for the extra virgin olive oil. Process until finely minced. You guys, DO NOT process it into a thick paste. Basically, we're using the food processor to chop up the herbs nice and small for us, so that we can be lazy.
Transfer the fine looking mixture to a bowl and drizzle with olive oil, mixing very carefully to combine. Set aside and make some steak.
Chop up your steak into small bite-sized pieces and remove any glaring, noticeable chunks of fat. Get rid of it. Season with salt and pepper.
Grab your pan and get it hot. Yes, get that pan hot! Do not add anything until your pan is hot. Is it hot yet? Ok, good. Now add the oil and butter, melt it and swirl it around.
Add the steak bites in a single layer and DO NOT TOUCH for at least 30-60 seconds. Your meat should sizzle. If it's not sizzling, you added it too soon. Let your steak cook for about a minute before checking to see if it's brown on the bottom. Now you may flip. Continue to cook for approximately 2-3 more minutes, or until the outside is seared and the inside is cooked to your desired preference.
Serve drizzled with your fresh and delicious homemade chimichurri!
What to serve with Chimichurri Steak
The beauty of not only these steak bites but nearly all steak bite recipes is that you can serve them with just about anything. Whether you're on a low-carb diet, or just looking to get something delicious on the table for your family to enjoy, everyone will love these Chimichurri Steak Bites.
My suggestions would include this easy 10 Minute Garlic Bok Choy with a baked potato. For something a little lighter, this Cucumber Salad is one of my favorites and a perfect balance to the meat. Keep it super simple and serve with buttered noodles, or for a low-carb option, roasted spaghetti squash, butternut squash, or even cauliflower rice.
Make these delicious Chimichurri Steak Bites a meal to-go and wrap them up in a flour tortilla with a handful of greens! You can even serve them with your favorite salad.
Or, you can do what I ended up doing and eat it straight from the skillet!
If you try making these Chimichurri Steak Bites, please leave me a comment and let me know! I always love to hear your thoughts.
For more beef recipes check out,
DON'T FORGET TO PIN AND SHARE THIS EASY AND DELICIOUS CHIMICHURRI STEAK BITES RECIPE AND ADD IT TO YOUR NEXT WEEKLY MEAL PLAN!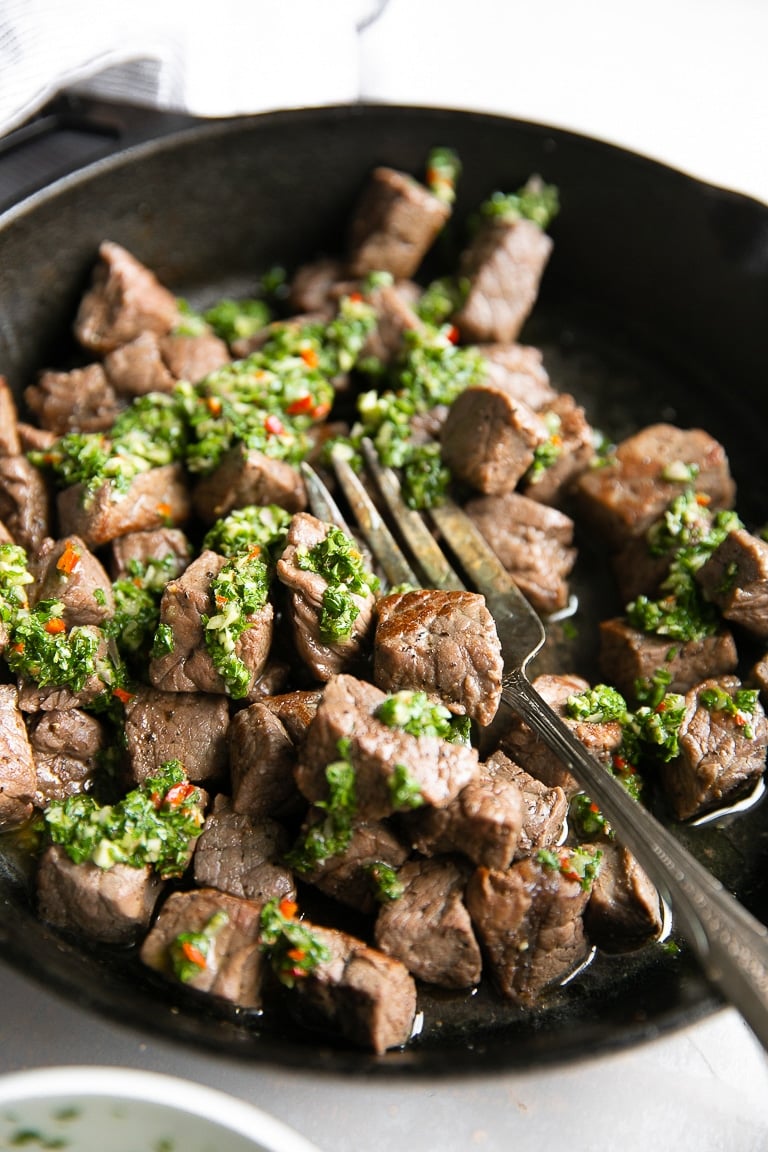 REMEMBER TO SUBSCRIBE TO THE FORKED SPOON NEWSLETTER FOR FREE AND RECEIVE WEEKLY RECIPE NOTIFICATIONS DELIVERED STRAIGHT TO YOUR INBOX!
If you try a recipe, please share it using the hashtag #theforkedspoon or by tagging @theforkedspoon.
Chimichurri Steak Bites
Juicy, mouthwatering, and perfectly bite-size, these Chimichurri Steak Bites are made with pan-seared sirloin steak and topped with an easy 5-minute Chimichurri Sauce.
Ingredients
For the Steak Bites
2

pounds

sirloin steak

-

cut into small cubes

1

tablespoon

olive oil

1

tablespoon

butter

salt and pepper

-

to season
Instructions
For the Steak Bites
Trim off any excess fat from your meat and chop into small, bite-size cubes (approximately 1" x 1" inch).

Add the olive oil and butter to a large skillet over medium-high to high heat. Once the pan is hot and the butter has melted, add the steak in a single layer (work in batches if necessary). The meat should sizzle loudly when it hits the pan- if it doesn't, that means your pan isn't hot enough. Sprinkle with salt and pepper to season.

Allow the steak to cook undisturbed for at least 45 seconds or so. Check to see if the bottom side has started to brown, then flip. Continue to cook for an additional 2-3 minutes, or until the outside of the steak bites have been seared and the inside is done to your preference.

Remove steak bites to a clean plate and repeat until all steak has been cooked. Serve drizzled with homemade Chimichurri sauce (see below).
For the Chimichurri
Add the chopped parsley, garlic, shallot, oregano, red chili (or crushed red pepper), red wine vinegar, salt, and pepper to the bowl of a food processor. Process until finely minced (take care not to turn it into a thick paste from over processing).

Transfer the mixture to a clean bowl and pour the olive oil over the mixture. Gently mix to combine. Allow the Chimichurri to stand for 15 minutes, time permitting.
Jessica's Notes
To make this recipe dairy-free, simply omit the butter and replace with oil.
If you prepare chimichurri ahead of time, keep stored in an air-tight container in the refrigerator until ready to use. Best if brought to room temperature before serving.
You may also use the Chimichurri Sauce as a marinade for the meat. Simply place the chopped pieces of steak in a large zip-lock bag with approximately 1/4 cup Chimichurri and mix well to coat. Marinate for at least 30 minutes to overnight in the refrigerator. Bring the steak to room temperature before cooking.
Nutritional Information
Calories:
463
kcal
|
Carbohydrates:
1
g
|
Protein:
33
g
|
Fat:
35
g
|
Saturated Fat:
7
g
|
Cholesterol:
97
mg
|
Sodium:
495
mg
|
Potassium:
566
mg
|
Fiber:
0
g
|
Sugar:
0
g
|
Vitamin A:
480
IU
|
Vitamin C:
7.6
mg
|
Calcium:
56
mg
|
Iron:
3.1
mg
(Nutrition information provided is an estimate and will vary based on cooking methods and specific brands of ingredients used.)