A classic lunchtime favorite, these healthy and delicious CURRIED CHICKEN SALAD SNACK PACKS with fruit and crackers are an easy and affordable way to get ahead in your week.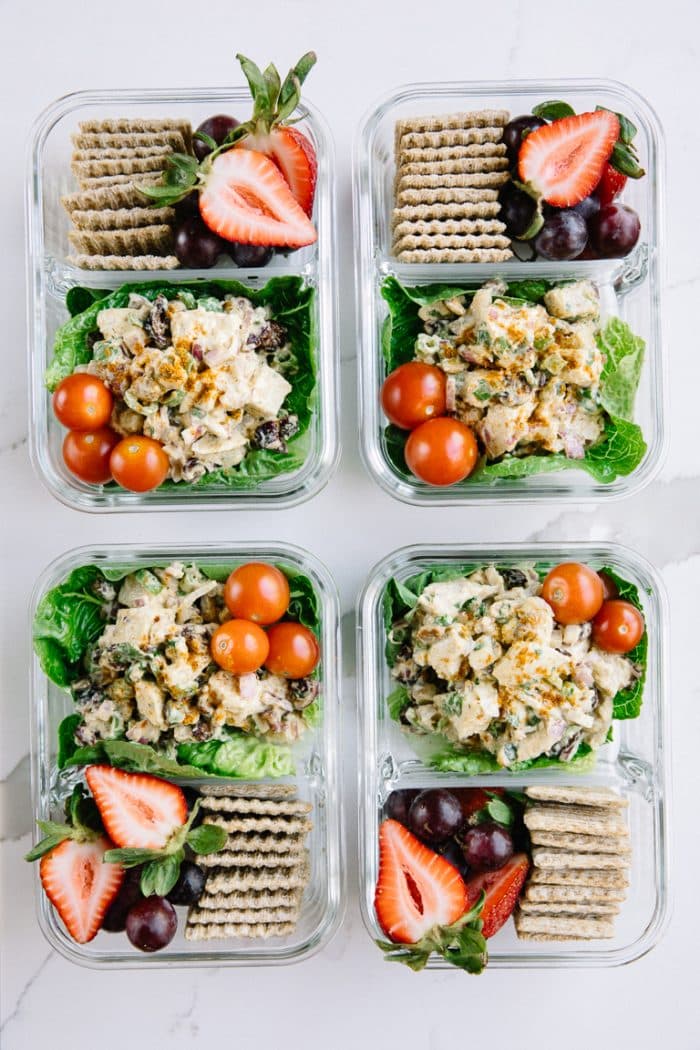 I don't know about you guys, but these meal prep bowls/trays/packs are pretty much rocking my life right now. So, naturally, it only made sense that I share my favorite curried chicken salad recipe with you today…in cute meal prep form.
Let's start with the curried chicken salad. What's in there?
Chicken (obvs!) Although, if you're all veg and no meat, that's ok, too! Swap the chicken for chickpeas and you won't know the difference (ok, you'll probably know that there isn't actually chicken in there, but you catch my drift…I hope).
Dried cranberries! You can also add some fresh grapes, but I find that if I plan to eat this over a few days, it's best to stick with the dried stuff. Raisins would also work.
Onion. Ok, so, I always add a boatload of green onion and red onion to my (chicken) salads but go with your gut on this one. If you're sensitive to onions, maybe dial it down a notch. If you really love onions (yay! #alltheonions) then you can absolutely add more.
Crunchy stuff. Celery and nuts. Celery and chicken salads go together like peas and carrots (which, now that I mention it, what does that even mean? I don't understand that super popular little saying) and nuts add a happy balance.
Cilantro and Jalapeño. You either love 'em or you hate 'em. Personally, I love both. If you don't, leave them out 🙂
As you can see, despite the name, there is a whole lot more than chicken in this salad. And, if you ask me, it would be a pretty boring curried chicken salad without at least half of those fun flavors jiving with the creaminess of the mayonnaise and spice from the curry powder.
But, then again, what do I know?
Except what I know…and I KNOW that this is one curried chicken salad not to be ignored. Just sayin'
As for these SNACK TRAYS FOUND ON AMAZON (affiliate link, sorry not sorry), fill them with whatever floats your boat. I loved the idea of fresh fruit and vegetables. If you plan to pack these for the week (or a couple days) I recommend picking fruits and vegetables that store well.
In other words, don't stick a peeled banana in there.
Or you could.
But don't.
If you love these CURRIED CHICKEN SALAD SNACK PACKS, you may also enjoy
Curried Chicken Salad Snack Pack (Meal Prep)
A classic lunchtime favorite, these healthy and delicious Curried Chicken Salad Snack Packs with fruit and crackers are an easy and affordable way to get ahead in your week.
Ingredients
FOR THE CURRIED CHICKEN SALAD
2

lbs

chicken breast

½

large

red onion

-

diced

½

cup

chopped celery

½

cup

chopped green onions

¼

cup

fresh cilantro

-

chopped

⅓

cup

pistachios

⅓

cup

dried cranberries

½

cup

mayonnaise

-

(I used low fat)

½

cup

low fat Greek yogurt

2

tablespoon

honey

Curry powder, Garlic powder, Onion powder, salt

-

to taste
FOR EACH SNACK PACK
Approx. 1 cup Curried Chicken Salad

Crackers, Fruit, Lettuce, Tomatoes
Instructions
FOR THE CURRIED CHICKEN SALAD
Bring a large pot of water to a boil over high heat. Once boiling, carefully transfer the chicken breasts and return to a boil. Cover and remove from heat. Allow chicken to poach for approximately 25-30 minutes, or until chicken is fully cooked. Use tongs to remove cooked chicken from the pot and set aside on a clean plate to cool.

As the chicken cooks and cools, place the red onion, chopped celery, green onion, cilantro, pistachios, and dried cranberries in a large mixing bowl. Gently toss to combine.

In a separate, smaller bowl, combine the mayonnaise, Greek yogurt, honey, curry powder, garlic powder, onion powder, and salt. Add additional curry powder, or other seasonings, as needed.

Once the chicken is cool enough to handle either shred with two forks or chop into small cubes. Transfer to the bowl with the mixed onions and cranberries and stir in the mayonnaise mixture until fully combined.
PUT IT TOGETHER
To each meal prep snack tray add a few pieces of lettuce, fresh cherry tomatoes, crackers, favorite fruits and other veggies, and, of course, a hefty scoop of the curried chicken salad.
Nutritional Information
Calories:
595
kcal
|
Carbohydrates:
22
g
|
Protein:
53
g
|
Fat:
32
g
|
Saturated Fat:
5
g
|
Cholesterol:
158
mg
|
Sodium:
455
mg
|
Potassium:
978
mg
|
Fiber:
1
g
|
Sugar:
17
g
|
Vitamin A:
335
IU
|
Vitamin C:
5.9
mg
|
Calcium:
64
mg
|
Iron:
1.5
mg
(Nutrition information provided is an estimate and will vary based on cooking methods and specific brands of ingredients used.)