Learn how to cook this Healthy Thai Veggie Soup with Spicy Thai Meatballs!
I had such high hopes for the weekend. The sun was shining, everyone was relatively well and happy (despite an ear infection in my always-sick child) and there were no pressing deadlines or plans for anyone.
Then Saturday morning rolled around. From the moment I scrambled out of bed to the noise of my toddler climbing up the refrigerator, I knew I was in for a long few days. Every few months I sleep on my shoulder wrong. Now, before you roll your eyes and tell me to get some cheese with my wine, hear me out.
Sometimes the pain is manageable with tylenol and heat and time. Those are the good times. These are the times when the pain sucks, but I can manage with my life.
Then there are the other times.
I don't have a name for it, so I don't even know what to call it. It starts at one point in my shoulder and over the course of a few hours spreads up my neck, down my arm and my ribcage, to my hip, and eventually, to my knee and foot. Stretching doesn't help, tylenol doesn't help, laying down, sitting down, standing up, nothing helps. There is no relief.
So, about 8 months ago, after living with this for about 6 days with no relief, I finally went to the doctor. She said I was having muscle spasms and prescribed me to medication to help both the spasms and the pain. I took these medications once, before bed, woke up feeling like a new person and haven't needed them again since.
Until this weekend. This weekend was unbearable.
Unfortunately, try explaining this to a husband and toddler (who, apparently, is so used to feeling crummy that he doesn't even notice anymore). They don't get it. I mean, I understand. If I hadn't experienced the pain for myself I wouldn't get it either and may even tell my dear husband to suck it up.
So I did that, saving the drugs for Saturday evening. Sunday was different. On Sunday I couldn't suck it up anymore. By this point I was clearly on my way to sickness and the pain was at its peak. Must have pain meds.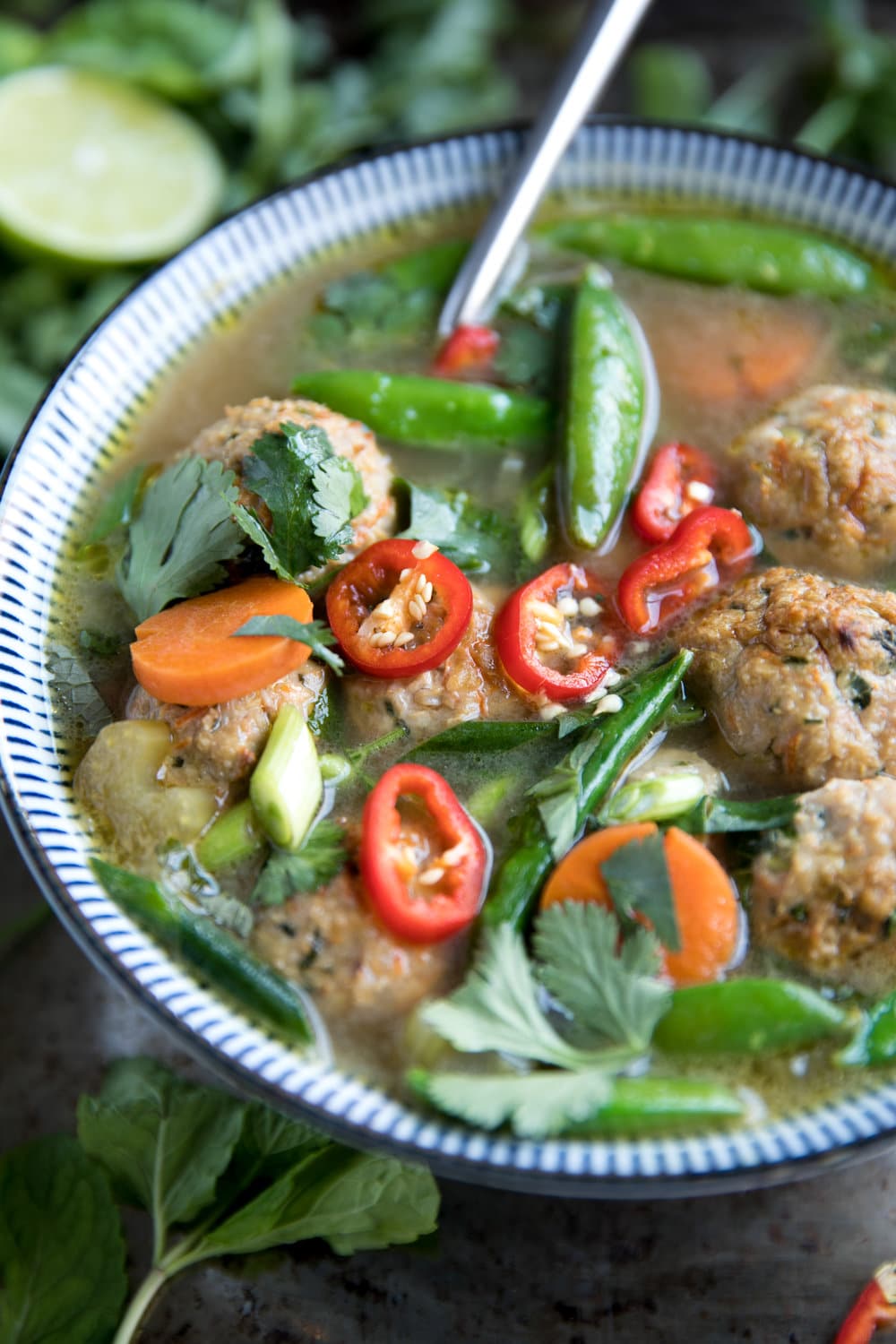 So, you may be wondering, where am I going with this?
Well, our task on Sunday was a fun family project to make photo backdrops. Honestly, I don't know who was more excited about this project, me or my child? Ok, probably Octavian. Home Depot is his favorite store in the whole world, and a trip there with his mom AND dad?
Heaven.
Well, most of my work was spent on my knees, on the concrete, sanding and staining and painting. My knees didn't feel a thing at the time. When I tried to stand up this morning, however, I practically fell over.
Oh my gosh, you guys. DO NOT spend hours on your knees on the concrete while under the influence of pain meds. Better yet, get knee pads.
The good news? I now know how to make my own food photography backgrounds! A DIY project I have wanted to do for YEARS. As for my shoulder and neck? Much better 🙂 Except now my entire body hurts thanks to an ongoing fever since last night. Win some, lose some…
Speaking of winning, this soup is a serious winner. If you love soup, vegetables, meatballs and Thai flavors, you will LOVE this soup. Healthy, yet filling. Simple, yet bursting with flavor. It's the perfect sick day soup.
Healthy Thai Veggie Soup with Spicy Thai Meatballs
Learn how to cook this Healthy Thai Veggie Soup with Spicy Thai Meatballs!
Ingredients
FOR THE MEATBALLS
1.5

pounds

ground turkey/chicken/pork

-

I used a mix of turkey and chicken

2

carrots

-

finely grated

½

cup

finely chopped green onions

2

tablespoon

fresh mint

-

chopped

2

tablespoon

cilantro

-

chopped

2

tablespoon

ginger

-

minced

1

tablespoon

fish sauce

1

tablespoon

soy sauce

1

tablespoon

lime juice

4

cloves

garlic -

minced

2

teaspoon

red chili flakes

1

teaspoon

cayenne powder

1

large egg
FOR THE SOUP
1

tablespoon

olive oil

1

large yellow onion

-

chopped

3

large carrots

-

chopped

4

stalks celery

-

chopped

6

cloves

garlic -

minced

1

red chili

-

chopped (plus more for serving)

1

tablespoon

fresh minced ginger

1

lime juiced

1

tablespoon

low-sodium soy sauce

8

cups

low-sodium chicken stock or water

10

ounces

whole sugar snap peas

½

cup

green onions

-

chopped (plus more for serving)

Fresh chopped cilantro

-

for serving
Instructions
For the Meatballs:
Preheat oven to 400 degrees F and line a large baking sheet with parchment paper.

In a large bowl combine all the ingredients for the meatballs, mixing well until fully combined. Use your hands to form mixture into small balls. If the mixture is sticky and you have trouble forming balls, wet your hands with a little water and roll into balls.

Place each ball on a lined baking sheet and bake for 20-25 minutes, or until fully cooked and just starting to brown on the top

Remove from heat and set aside until ready to eat.
For the Soup:
In a large pot or Dutch oven, heat the olive oil over medium high heat. Add the chopped onion and sautè for 1-2 minutes, or until fragrant. Add the carrots and celery and mix well with the onion. Sautè for an additional 3-4 minutes, stirring frequently.

Add the minced garlic, red chili, ginger, lime juice and soy sauce. Sautè for 1-2 minutes, stirring frequently to prevent the garlic and ginger from burning.

Add the chicken stock or water to the pot and stir. Bring soup to a boil and cover, reducing heat to low. Allow soup to simmer for approximately 30 minutes or until vegetables are tender. Add the sugar snap peas and meatballs to the pot and simmer for an additional 5-10 minutes. Season to taste and remove from heat.

Top with chopped green onions, cilantro and chili, if desired.
Nutritional Information
Calories:
289
kcal
|
Carbohydrates:
20
g
|
Protein:
37
g
|
Fat:
7
g
|
Saturated Fat:
1
g
|
Cholesterol:
89
mg
|
Sodium:
730
mg
|
Potassium:
1112
mg
|
Fiber:
4
g
|
Sugar:
7
g
|
Vitamin A:
9845
IU
|
Vitamin C:
52.1
mg
|
Calcium:
99
mg
|
Iron:
3.6
mg
(Nutrition information provided is an estimate and will vary based on cooking methods and specific brands of ingredients used.)