Mexican Mole Sauce is made with layers of complex and bold flavors, simmered together over a long period of time before being blended until smooth. Learn how to make this delicious chicken mole and serve with warm rice, beans, wrapped in tortillas, or drizzled over your favorite tacos, nachos, and veggies.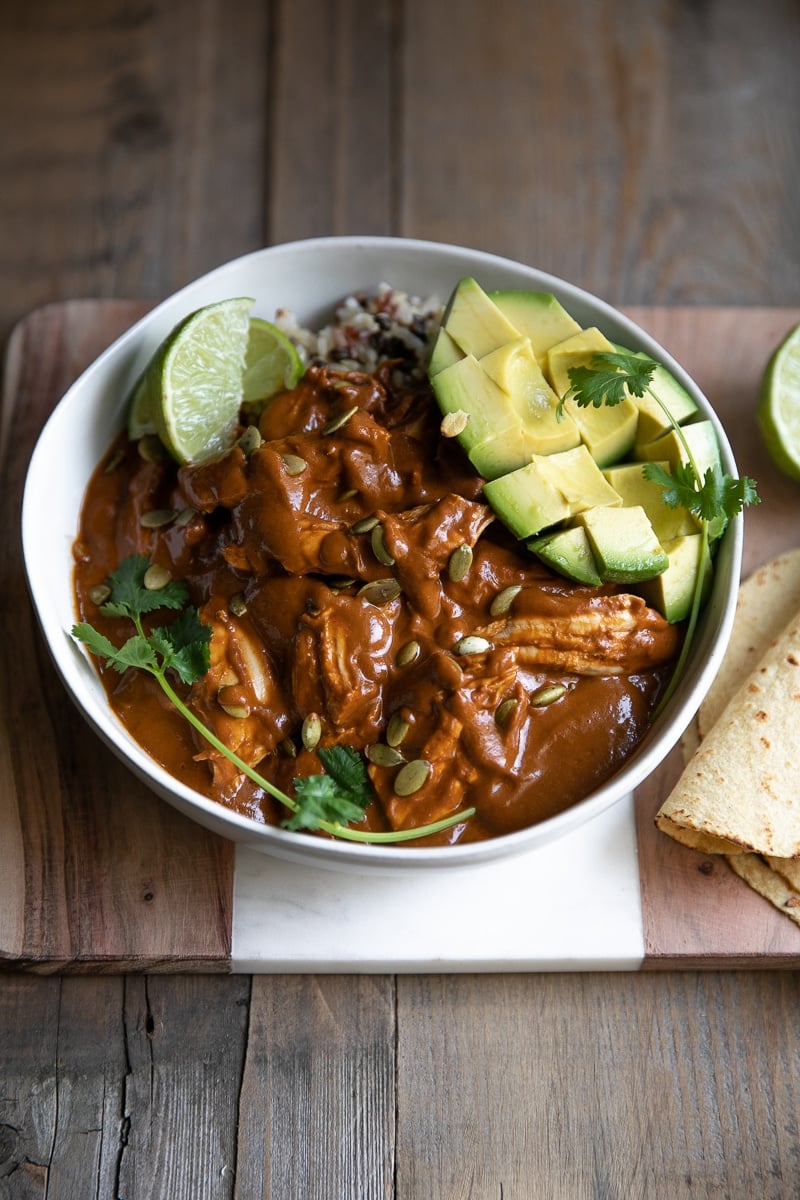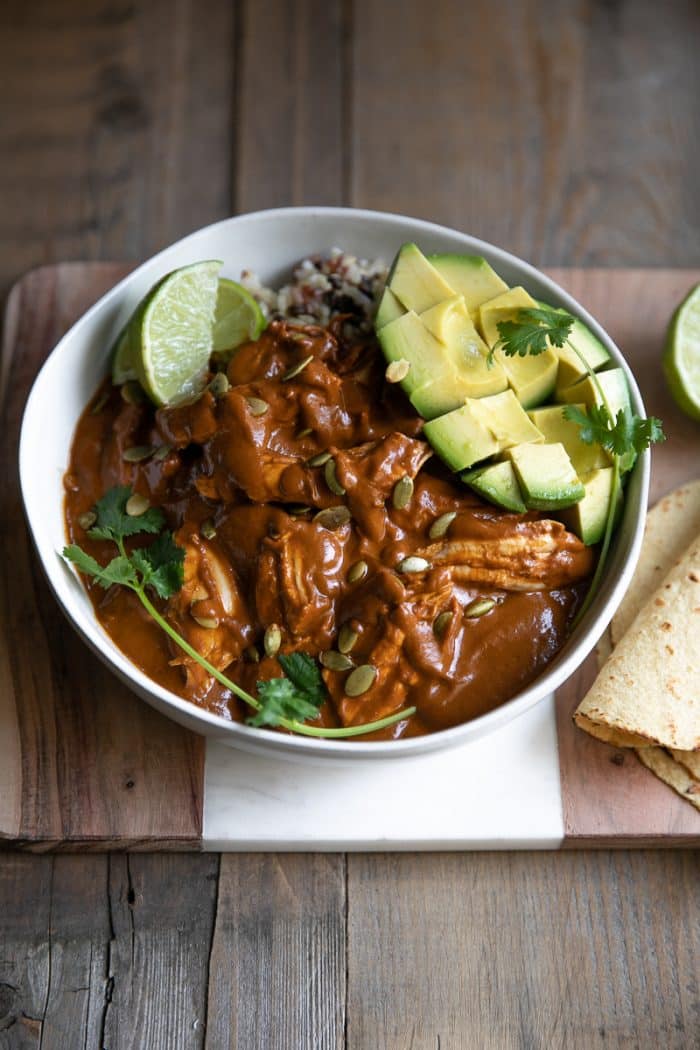 Mole Sauce Recipe
Comforting, complex, and extremely versatile, Mole (pronounced moh-lay) is one of my very favorite Mexican cuisine classics. A labor of love to prepare, making your own homemade mole sauce is a million times worth the effort.
This recipe, while not 100 percent traditional, isn't exactly fast and easy either. While one may expect to spend at least a day, if not days, to make the most traditional and authentic mole, you can expect to spend approximately 2 to 3 hours to get this awesome chicken mole recipe ready and on the table for you and your family to enjoy.
Aside from chicken, leftover mole sauce tastes fantastic with tostadas, chicken or veggie enchiladas, tacos, and burritos.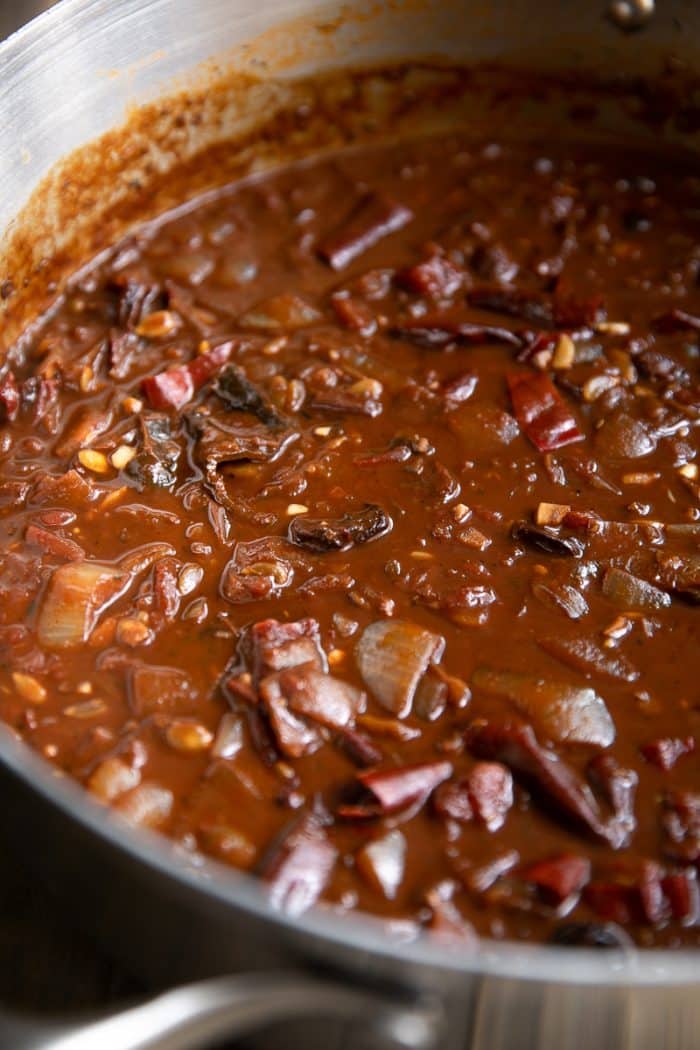 What is Mole Sauce?
Mole is a Mexican chile sauce. While the exact origin of mole sauce unknown, some argue that its origins date back to pre-hispanic Mexico to the time of the Aztecs. Others argue that mole sauce originated in Puebla or Oaxaca, Mexico.
Regardless of its origin, over the years mole has been highly influenced by family tradition and local preference. Found in countless versions and varieties, mole sauce ranges in color, ingredient type and amount of ingredients (some have well over 30 ingredients!), and consistency.
Mole poblano, native to the state of Puebla, is the most well-known of all mole varieties. Considered the national dish of Mexico, it comes packed with approximately 20 ingredients, including chocolate, and is often served over turkey.
Travel to the state of Oaxaca, Mexico, and you'll find seven different types of mole: negro, colorado, amarillo, verde, chichilo, coloradito, and mancha manteles.
Regardless of origin, however, most mole sauces contain fruit, chili peppers, nuts, several different spices, and (sometimes) chocolate. And though it is thought that mole was originally made without chocolate, the addition of a rich, dark, Mexican chocolate is the new normal.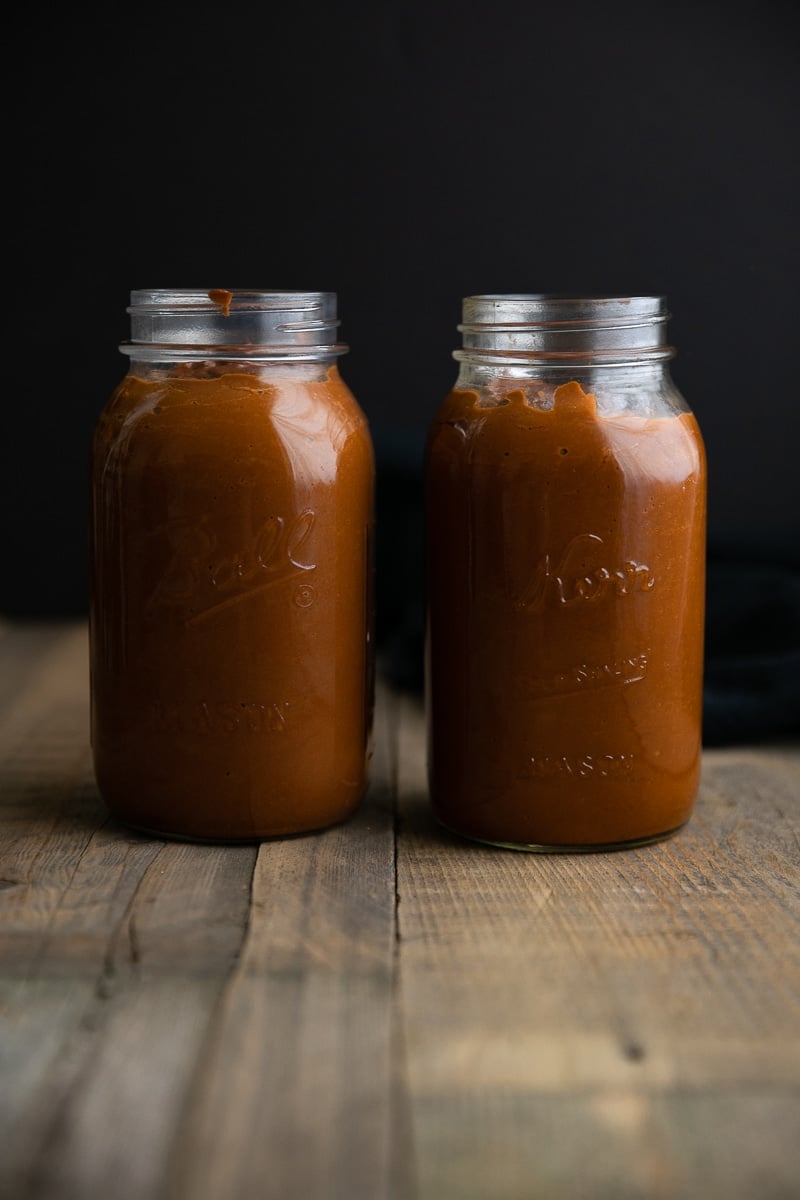 What Does Mole Sauce Taste Like?
What does mole sauce taste like? Is it spicy? sweet? sour?
The taste depends on what mole sauce your eating. Mole Verde (made with ingredients such as pepitas, parsley, green chilis like tomatillos, and jalapenos) will be much different from mole negro (which contains well over 30 ingredients including chicken, beef, pork head, and chocolate).
This particular mole sauce is made with chicken as the base and is loaded with different kinds of chilies, nuts, seeds, spices, dried fruit, and chocolate. The taste is best described as somewhat spicy, and bittersweet with earthy undertones. I would not consider this recipe to taste sweet.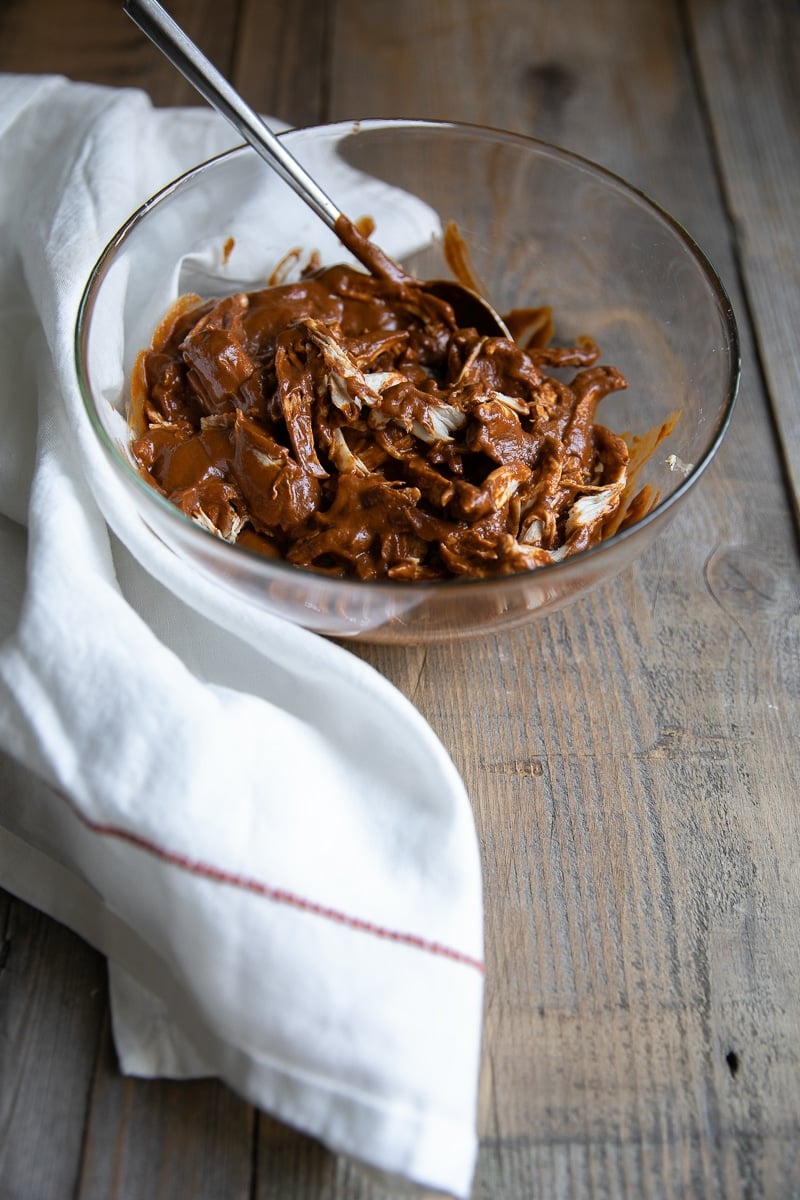 Ingredients in Mole Sauce
So, the ingredients- there's a lot of them. I know, you guys. And I know that the list may look totally intimidating. But DON'T RUN! If you love Chicken Molé, you'll be so super happy you made your own sauce. And this recipe makes extra, so you can easily make several different dishes out of it.
It has been explained that the ingredients required to make mole can be grouped into 5 distinct classes – chilies, sour, sweet (fruits and sugar), spices, and thickeners (nuts, seeds, tortillas).
Olive oil (or lard)
Chicken
Chicken broth or chicken stock
Orange juice
Garlic cloves
Onions
Pumpkin seeds and Almonds
Bay leaves
Raisins
Dried thyme
Dried oregano
Tomato paste
Dark Mexican chocolate (or just dark chocolate)
Where can I purchase all the ingredients to make homemade mole sauce?
Most major grocery stores will have most of the ingredients on this list, but probably not all of them. For me, I had to order several of the dried chilies online. However, if you have access to a Mexican market, you should be able to find everything you need there.
Is this recipe spicy?
This particular mole sauce can be quite spicy. Simple ways to mellow out the heat is by using fewer pasilla and chipotle chiles, or by cutting the pepper open and removing the seeds and the white ribs (wear gloves is strongly recommended).
Dried chili substitutions
Ancho chile pepper: substitute with Mulato chile or Pasilla chile
For added heat: add 1-2 dried guajillo chiles
Pasilla chile: the Pasilla chile is long, black, wrinkled, and a standard ingredient in nearly all mole sauces. Substitutes include ancho chile or Mulato chile. Note- it is common for ancho chiles to be mislabeled as pasillas.
Can you freeze mole sauce?
This recipe makes a generous amount of mole sauce. Thankfully, it freezes really well. Simply transfer leftovers to freezer-safe jars or containers and freeze for up to 4 months.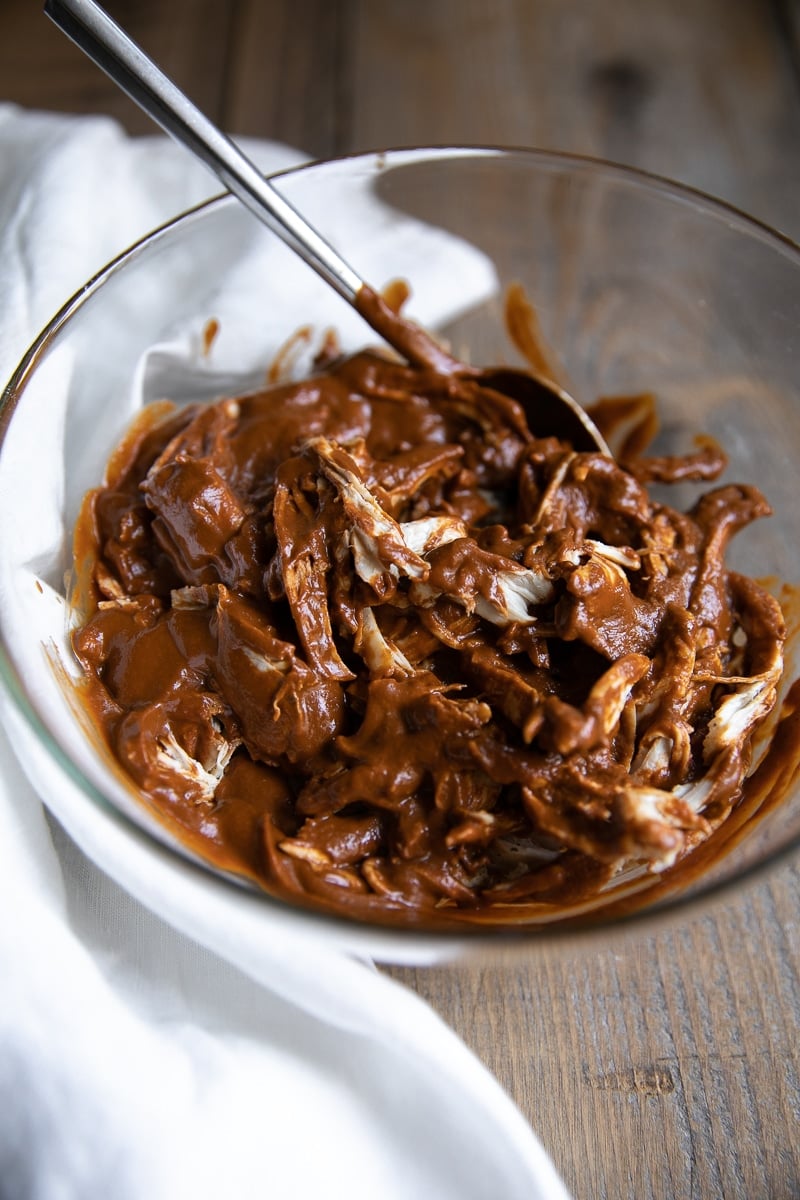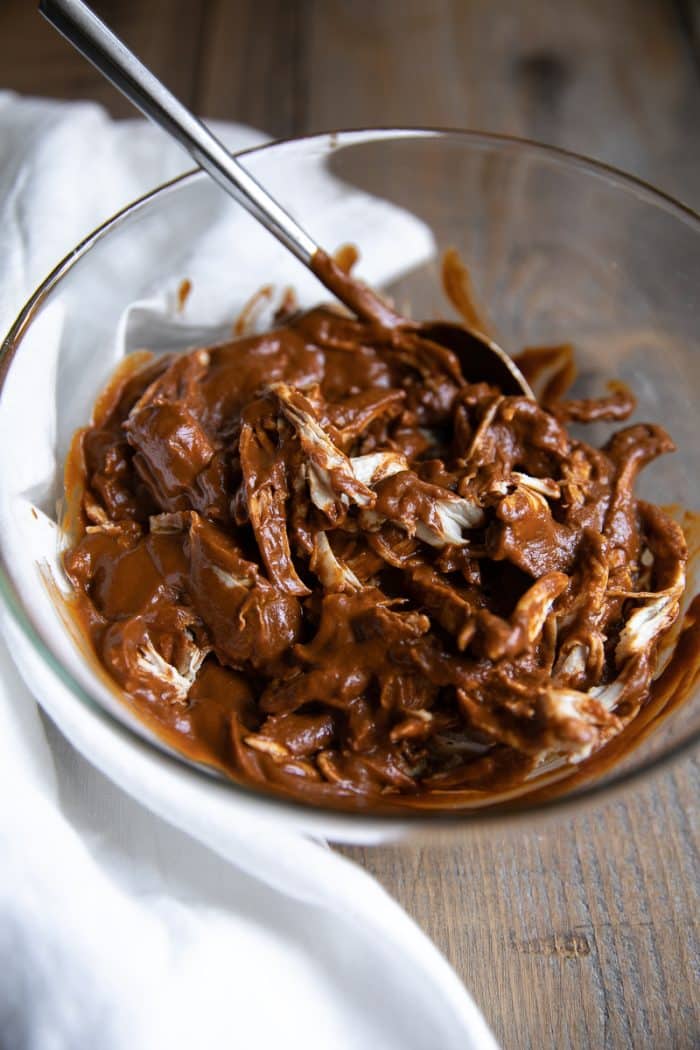 How to Make Mole Sauce
Once you've gathered all the ingredients, making this mole sauce recipe is actually quite easy. Decide if you want to add chicken breasts, chicken thighs, or even a whole chicken for your meat because the recipe starts by browning and cooking the chicken first.
You can easily do this the day before you make the sauce. Remember, however, that once the chicken is cooked, removed from the pot, and shredded, you want to reserve the leftover broth because it will be added into the mole sauce.
Once the chicken has been cooked, you're good to start the sauce. The sauce takes about an hour or so to prepare and cook. There are quite a few ingredients involved so I recommend getting everything together before getting started to prevent any confusion.
You'll notice that I don't add any salt to the sauce until the end. You are free to add as you go or add to taste at the end. Entirely up to you. Just keep in mind that this sauce will need some salt to help balance the flavor. How much is up to you and your taste buds.
Also, note that I didn't include any added sweetener other than orange juice. If you find your mole to taste too spicy or "unbalanced" try adding a couple of tablespoons of honey, maple syrup, or brown sugar – just be careful not to add too much.
Once your sauce has been simmered and pureed, you can use it however you'd like. Drizzle, dip, or completely smother. Add you chicken mole to tacos, enchiladas, tostadas, nachos, and bowls.
How to Serve with Chicken Mole
Whether you choose to shred your chicken and mix it with mole sauce or bake chicken and serve your sauce on the side, there is no wrong way to enjoy this amazingly complex Mexican classic.
Serve with a side of cilantro lime rice, Mexican rice, warm tortillas, and avocado for a simple and delicious anytime dinner (which easily doubles as a week of meal prep).
Add a side of homemade refried beans or drunken beans with poblanos, homemade salsa or pico de gallo, and my irresistible homemade guacamole.
Finally, let's not forget the cocktails! Classic margaritas are my favorite, but Palomas are just as delicious and hugely refreshing.
Of course, mole sauce is delicious served with something as simple as a side of fried eggs, roasted vegetables, and corn tortillas.
More Mexican Favorites,
Easy Chicken Tortilla Soup Recipe
Enchilada Sauce Recipe (How to Make Enchilada Sauce)
Refried Beans (How to Make Refried Black Beans)
Mexican Birria Recipe (How to Make Birria)
Caldo de Pollo Recipe (Mexican Chicken Soup)
If you try making this Chicken Mole with Homemade Mole Sauce, please leave me a comment and let me know! I always love to hear your thoughts.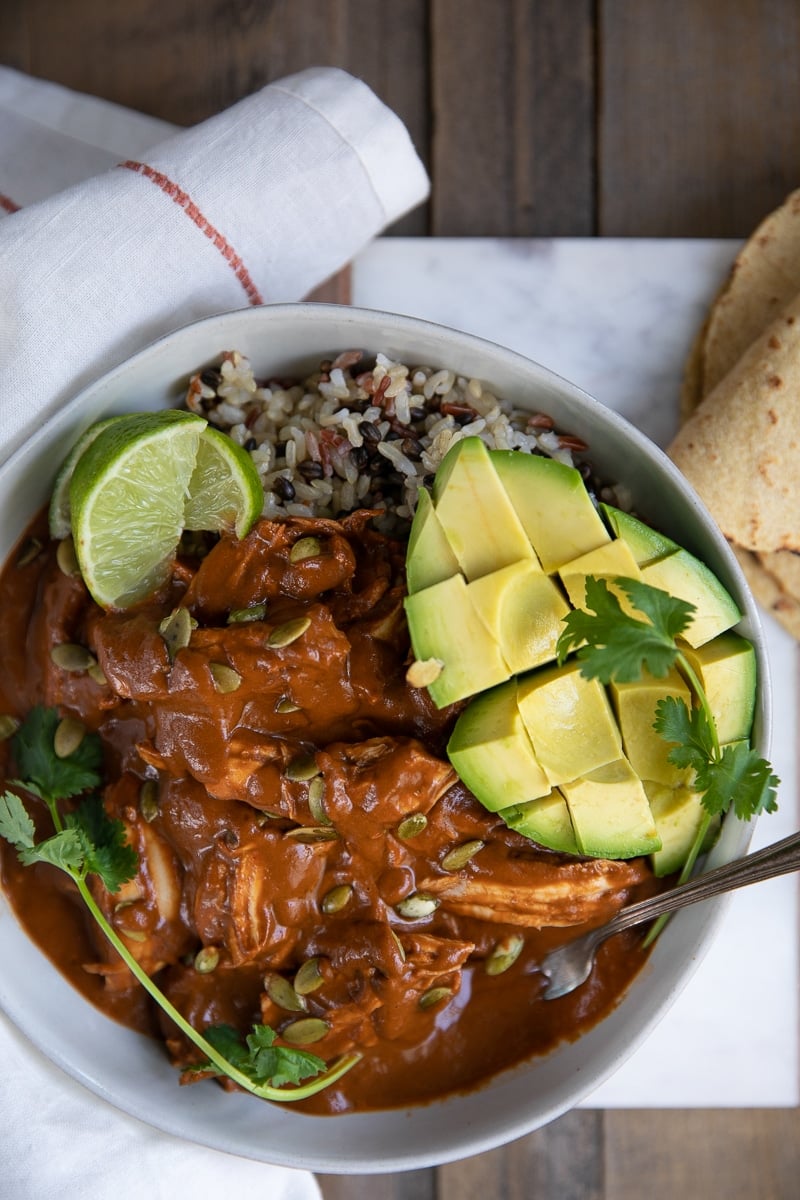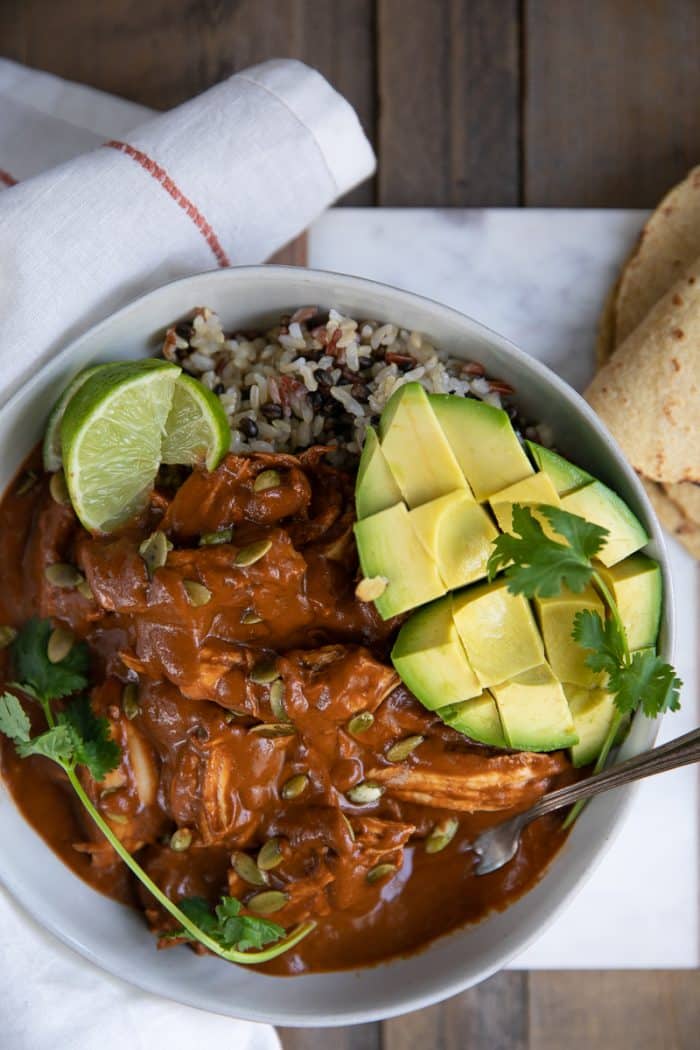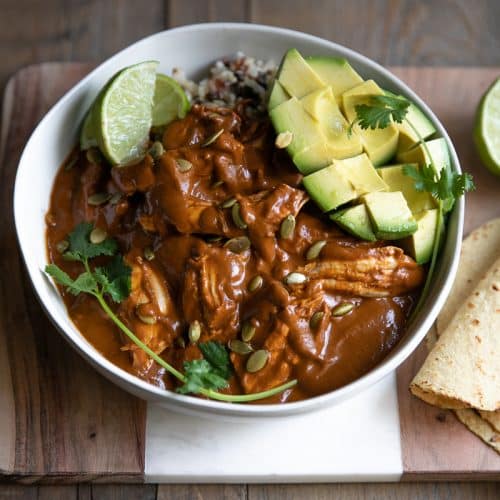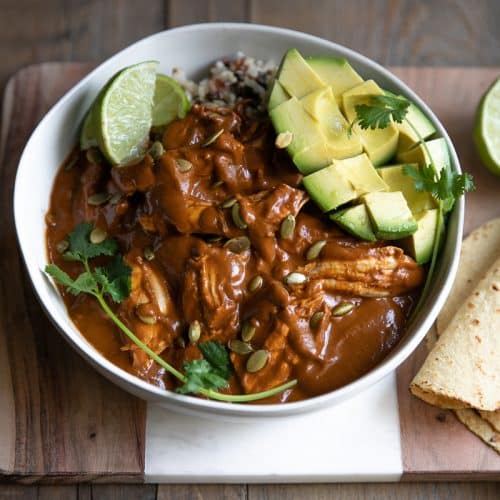 Chicken Mole with Homemade Mole Sauce
Authentic Mexican Mole Sauce is made with layers of complex and bold flavors, simmered together over a long period of time before being blended until smooth. Learn how to make this delicious chicken mole and serve with warm rice, beans, wrapped in tortillas, or drizzled over your favorite tacos, nachos, and veggies.
Ingredients
For the Chicken
2

tablespoon

olive oil

5

pounds

chicken

-

boneless skinless chicken breast, chicken thighs, legs, whole chicken, combo, etc)

3

cups

chicken broth

3

cups

orange juice
For the Sauce
1

tablespoon

olive oil

2

medium

onions

-

chopped

¼

cup

pumpkin seeds

-

or pepitas, or sesame seeds

⅓

cup

sliced almonds

8

cloves

garlic

-

sliced

4

teaspoon

cumin seeds

4

teaspoon

coriander seeds

1

teaspoon

whole anise seeds

4

whole

cloves

5

ounces

dried pasilla chiles -

stem removed, seeded (optional), torn into 1-inch pieces, rinsed

1

ounce

dried ancho chiles -

stem removed, seeded (optional), torn into 1-inch pieces, rinsed

1

ounce

dried chipotle chiles -

stem removed, seeded (optional), torn into 1-inch pieces, rinsed

1

cinnamon stick

2

bay leaves

½

cup

raisins

1

teaspoon

dried marjoram

1

teaspoon

dried thyme

2

teaspoon

dried oregano

2

tablespoon

tomato paste

3.1

ounces

dark Mexican chocolate (or just dark chocolate) -

chopped

Fresh chopped cilantro

-

for serving
Instructions
First cook the chicken
Heat a large heavy-bottomed pot or Dutch oven over medium-high heat. Add the olive oil to the pot, swirling to cover the entire surface. Working in batches, sauté the chicken on each side until lightly browned, approximately 3-4 minutes. Transfer chicken to a large bowl. Sauté the remaining chicken breasts, adding additional olive oil to the pot, as needed.

Return the chicken with its juices back to the pot or Dutch oven. Add the chicken broth and orange juice to the pot and bring to a boil. Reduce to low heat, cover with a tight-fitting lid, and simmer until the chicken is fully cooked. Approximately 25 minutes.

Carefully remove chicken to a clean bowl and set aside. Reserve broth for later use.
Then cook the sauce
Heat the olive oil in a separate large, heavy-bottomed saucepan over medium-high heat. Add the onions and sauté until golden brown and just starting to caramelize, approximately 12 minutes, stirring frequently. Reduce medium heat. Add the pumpkin seeds, sliced almonds, garlic, cumin seeds, coriander seeds, whole anise seeds, and whole cloves to the saucepan. Sauté for 1-2 minutes, until garlic becomes fragrant, stirring continuously.

Add the dried chiles to the pot and stir to combine. Sauté for approximately 2-3 minutes or until chiles start to soften.

Grab the reserved chicken and orange juice broth and carefully pour the liquid into the saucepan with the onion and chiles. Reserve pot for later. Add the cinnamon stick, bay leaves, raisins, marjoram, thyme, and oregano to the saucepan and mix well. Bring to a low boil, cover, and reduce to a simmer. Cook until chiles are very soft, approximately 30-35 minutes.

Stir in the tomato paste and cook for an additional 1-2 minutes. Remove from heat. Add the chocolate. Allow sauce to cool for 10 minutes and the chocolate to melt.

Working in batches, transfer sauce mixture to the bowl of a blender and puree until smooth. Avoid overfilling. Transfer mixture to the reserved pot. Repeat until all sauce is processed. Season with salt and pepper, to taste.
Finally, put it all together
Shred the cooked chicken and combine it with approximately half of the sauce mixture. Add more sauce, if desired. Reserve the remaining sauce for later use.

Best served warm with rice or warm tortillas and sprinkled with fresh cilantro and pumpkin seeds.
Jessica's Notes
This recipe makes a lot of extra sauce. I recommend freezing the remaining sauce in small jars for later use. It tastes fantastic in enchiladas, burritos, rice casseroles, etc.
Leftovers will keep for up to 5 days when stored in the refrigerator.
This mole sauce recipe is gluten-free and dairy-free.
Updated on April 7, 2019, and July 26, 2020
Nutritional Information
Calories:
491
kcal
|
Carbohydrates:
29
g
|
Protein:
53
g
|
Fat:
18
g
|
Saturated Fat:
4
g
|
Cholesterol:
145
mg
|
Sodium:
561
mg
|
Potassium:
1414
mg
|
Fiber:
5
g
|
Sugar:
13
g
|
Vitamin A:
1160
IU
|
Vitamin C:
69.7
mg
|
Calcium:
85
mg
|
Iron:
4.2
mg
(Nutrition information provided is an estimate and will vary based on cooking methods and specific brands of ingredients used.)