Learn how to make a Honey Orange Mustard Chicken Stir Fry with this fun recipe!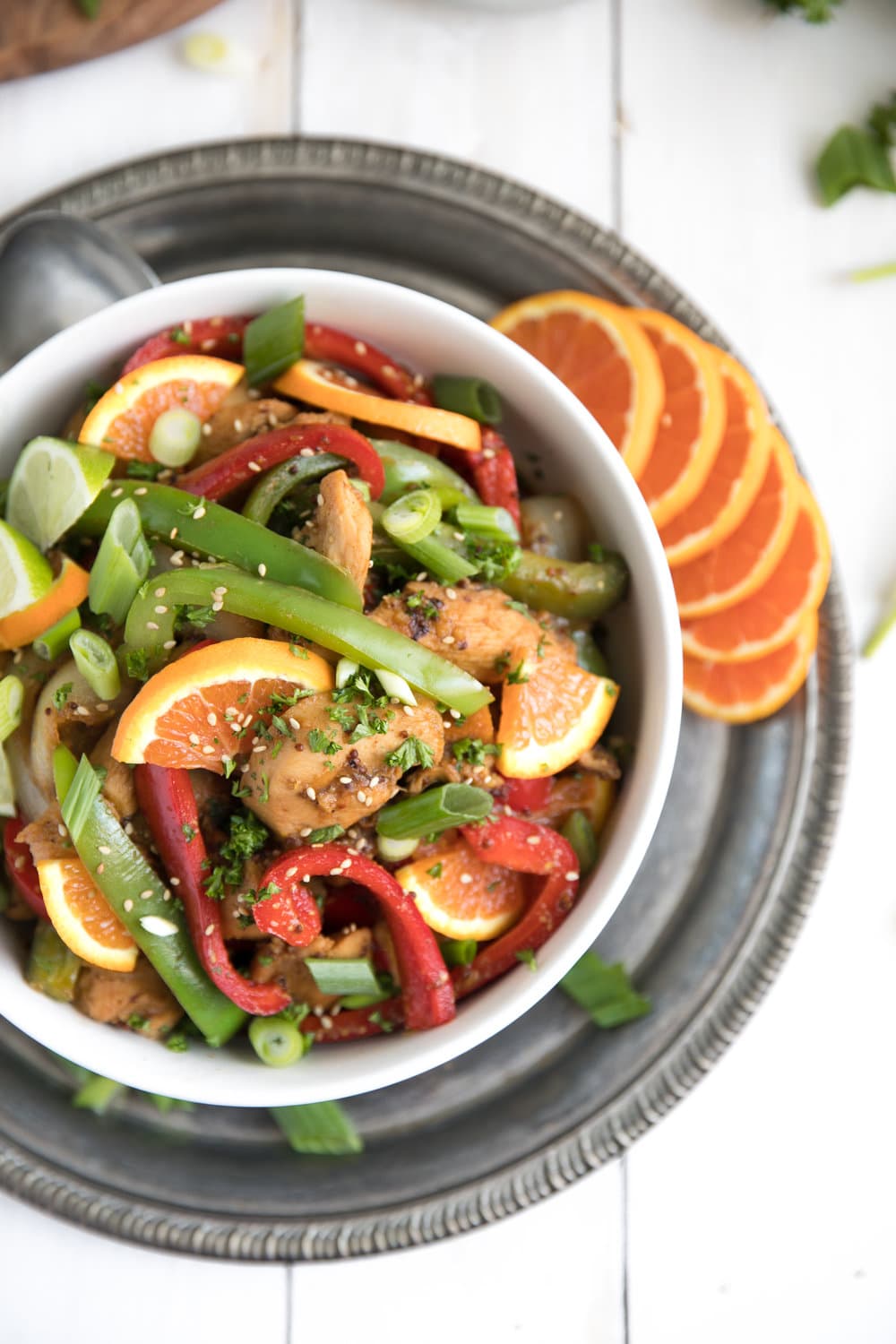 I literally just realized that I am all about oranges right now. I don't usually eat oranges plain, but in cooking? I am all about cooking with oranges. The wonders of citrus, you guys, it's a beautiful thing. So when I felt myself craving a stir fry the other day and just so happened to have a pile of perfect oranges sitting in front of me, I thought, hmm, well that could be awesome. So, I made the stir fry and it was, indeed, amazing. It may actually be my favorite homemade stir fry to date.
Already a pretty darn easy dinner to throw together, you can actually make it easier by preparing and marinating the chicken ahead of time. Anyway, there is nothing short of delicious flavors in this stirfry. Sweet (but not too sweet), fresh citrus with crisp green onion and so much veggie goodness.
Anywho, Octavian started soccer today. This is just fun trial practices before the pee wee league starts next month. As we were leaving the house he says to me,
"hey mama! which should I bring, my lawnmower or my weed trimmer?"
"neither. this is soccer."
"ohhhh, but mama" (insert sad voice) "I have so many jobs to do. The grass will grow bigger and bigger and BIGGER!"
After continued back-and-forth, I finally got my 38 pound child in the car. We were only 5 minutes late. He managed to seem at least partially interested in what was going on until about half way through. Given that each "practice" is just 30 minutes long and we were 5 minutes late, well, I'm not so sure what i'm thinking about my child gardener obsession/compulsion at the moment.
One thing I do know for sure- my child is definitely a bit of a loner. Completely wild and curious and smart, but a total introvert who beats to the sound of his own drum. I can't says i'm complaining, so much of that makes me very very happy.
Now, if only I could get my wild child to be more adventurous in the food department…
On that note, my husband is out of town for the evening and I have complete control of the television. Please excuse me while I fold 4 piles of clothing, reward myself with ice cream and pie and watch the dumbest thing I can find just because I can 🙂
Orange Chicken Stir Fry
For this mouthwateringly delicious Orange Chicken Stir Fry, tender, juicy, and flavorful chicken breasts are seared and simmered with a medley of fresh vegetables and perfectly balanced with Asian seasonings.
Ingredients
2

pounds

boneless skinless chicken breasts

-

sliced into strips

2.5

tablespoon

low-sodium soy sauce

2

tablespoon

Hoisin sauce

4

cloves

garlic -

minced

1

yellow onion

-

chopped

1

orange

-

cut into thin slices and quartered

1

red bell pepper

-

seeded and sliced

1

green bell pepper

-

seeded and sliced

Fresh chopped parsley

-

for serving

3.5

green onions

-

chopped

1

lime

-

sliced (for serving)

Sesame seeds -

to garnish
Instructions
Whisk together all the ingredients for the marinade in a medium mixing bowl. Transfer the marinade and the sliced chicken to a large ziplock bag and seal completely, removing all the air from the bag. Mix around the chicken with the marinade so that each piece is evenly coated. Place the ziplock bag on a large plate or in a shallow dish and refrigerate for at least 30 minutes to overnight.

When ready to cook, remove chicken from the refrigerator and allow it to come to room temperature. Heat a large skillet or wok over medium high heat. Add 1 tablespoon of olive oil to the pan and swirl around to evenly coat the entire surface of the skillet.

Carefully add the chicken with the marinade to the skillet and bring the contents to a low bubbly boil. Reduce heat to medium low and continue to cook, uncovered, for 10 minutes. Stir occasionally.

After approximately 10 minutes, stir in the soy sauce, hoisin sauce, minced garlic, chopped onion and orange slices. Cook for an additional 10 minutes, stirring occasionally.

Once sauce has thickened to desired thickness, add the red and green bell peppers to the chicken and cook for an additional 5 minutes, or until vegetables are cooked to desired doneness (I like mine with a little bite to them).

Remove skillet from heat and garnish with fresh chopped parsley, green onion, sesame seeds and lime wedges.
Nutritional Information
Calories:
476
kcal
|
Carbohydrates:
52
g
|
Protein:
51
g
|
Fat:
7
g
|
Saturated Fat:
1
g
|
Cholesterol:
145
mg
|
Sodium:
1154
mg
|
Potassium:
1290
mg
|
Fiber:
4
g
|
Sugar:
41
g
|
Vitamin A:
2420
IU
|
Vitamin C:
108.5
mg
|
Calcium:
78
mg
|
Iron:
2.4
mg
(Nutrition information provided is an estimate and will vary based on cooking methods and specific brands of ingredients used.)