These Healthy Snack Ideas have been sponsored by Foster Farms. All thoughts and opinions are my own.
Eating healthy on-the-go has never been easier with these delicious, colorful, and nutritious Meal Prep Snack Ideas. Filled with crunchy vegetables, fresh fruit, or your favorite protein, don't forget to enjoy any snack pack with Foster Farms NEW! Bold Bites for an extra 15 grams of protein. Perfect for growing kiddos or as a post-workout recharge!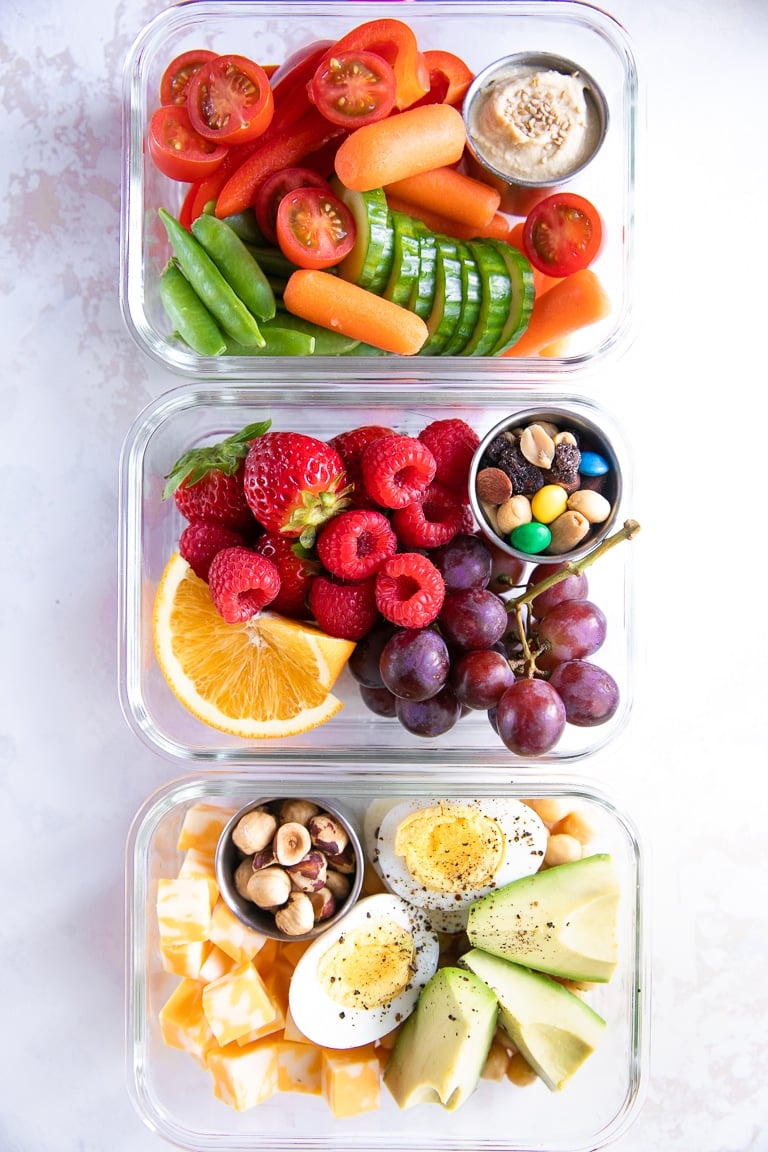 Healthy Snacking
Let's have a quick chat about snacks. Yes? Because I don't know about you guys but snack time is probably the most important (and confusing and exciting) part of my day.
Some days, I really have my snacks in check. In other words, I know what I want, I have it available, and it's something healthy and nutritious. Other times (most times) it's the complete opposite. As a result, I end up eating too much of a really good (but ultimately bad) thing, or I eat nothing at all. Not really beneficial for anyone, right?
But, enough about me. What about my 5-year-old? I heard about it before becoming a mom, but it really is true what they say, kids are always hungry! Keeping healthy snacks readily available for this kid is not as much fun as it sounds.
Well, you guys, I realized I've been doing it all wrong. Snacks, like lunch and dinner, have to be planned ahead of time. Ok, that's not true, they don't have to be planned in advance, BUT if you want to eat healthily and stay prepared, then you really need to meal prep your snacks.
Benefits to snack time meal prep
More variety. I'm guessing we all have our 1-2 favorite snacks that we always fall back on. For me, it's crackers and chocolate. Not exactly filled with variety when eaten daily.
Less stress. Yes! stress! Finding a healthy snack to hold me (or my always-hungry 5-year-old) over until dinner can be stressful. I don't want to feed him garbage, but it's not like I can cook him a chicken while driving between activities.
Portion control. Anyone else struggling with this? Yep, thought so.
Less waste. Plan it out, make a list, and buy what you need. Anytime I walk into a grocery store without a list, I always walk out with…the store.
How to Meal Prep Snacks
Today I'm showing you a few go-to Meal Prep Snack Ideas that I keep in my house. These snack packs are perfect for anyone but especially beneficial for those of you that love to workout, have growing kids, or take frequent family day trips and need snacks to keep in the car.
Here are a few simple tips and tricks.
Make a list of all the snacks you would like to add to each snack pack.
Decide how many of each you would like to make.
Prepare them the

same day

you go grocery shopping (trust me on this).
Have the kids join in and help!
Remember that fruits and vegetables will stay fresher for longer in the refrigerator when compared to meats or proteins (hardboiled egg, cheese, avocado, etc.) I highly recommend enjoying anything with eggs and cheese within 2 days. Fruits and vegetables will last up to 4-5 days.
Or, keep things super easy and convenient with Foster Farms Bold Bites!
Foster Farms Bold Bites
Oh my gosh, you guys! Have you seen these yet? They're new, so it's ok if you haven't, but I can't even express how excited they make me feel inside! I know…I've been playing it calm, cool, and collected throughout this whole post, and now I'm practically shouting and (most definitely) talking with my hands.
Anyway, I'm new to the Bold Bites club, but they are officially the most convenient little snack I have ever purchased in my life!
Here's why I love them so much,
Made with chicken that is responsibly raised by local farmers in California.
Made from whole chicken breasts!
NO ADDED NITRATES, NITRITES, ARTIFICIAL COLORS OR FLAVORS.
15 grams of protein per pouch!!
Perfectly portioned. Remember how I mentioned that as one of the benefits to meal prepping snacks. Welllll, Bold Bites makes this easy!
More variety. Oh, wait! Another benefit. These delicious little bite-size pieces of chicken come in FIVE varieties (Cajun Style, Caribbean Jerk Style, Chile Verde, Korean BBQ Style, and Parmesan Garlic).
Less stress. Way less stress, you guys, and here's why. My child loves chicken. Like, LOVES chicken. He also loves fruit. His favorite snack officially is a fruit snack pack with Parmesan Garlic Bold Bites. This makes keeping him fed so much easier!
Less waste. Thanks to the convenience and small portions, they're the perfect snack size. Just enough to keep you satisfied, but not too much that you'll be tossing extras in the trash.
Currently sold on the west coast (California, Oregon, Washington, Arizona, Nevada, Utah, Texas, Colorado, Wyoming, New Mexico, Idaho, Montana, Hawaii) and at the following retailers, Wal-Mart, Target, Kroger, Safeway, Save Mart, Lucky's, Albertsons, and Vons.
Find Bold Bites at a store near you!
Basically, I think you guys will really love them.
Meal Prep Snack Ideas
Fortunately, the ideas are endless when it comes to meal prep and snack ideas. Of course, it's important to keep in mind that you're preparing a snack rather than a full meal and that this will look different for every member of the family. For example, my husband will eat a much larger snack than my 5-year-old. However, my 5-year-old may need smaller, more frequent snacks.
With that said, I thought it would be fun to give three different snack ideas- one for the veggie lover, one for the fruit lover, and one for the protein packer. These are just examples. Feel free to mix and match or add whatever you love most!
Veggie Lover– cucumber, baby carrots, cherry tomatoes, sliced bell pepper, sugar snap peas, and hummus. The perfect crunchy combination for anyone trying to eat more veggies. Prepare and chop in bulk and save yourself loads of time in the long run. I love snacking at my desk with this and a Foster Farms Bold Bites pouch for a little-added protein to help hold me over.
Fruit Fanatic– Sliced oranges, strawberries, raspberries, grapes, and trail mix. Of course, there are loads of other delicious fruits that can be added to these snack packs, but these are just a few of my favorites. This snack pack, with a Foster Farms Bold Bites pouch, is my sons favorite mid-afternoon snack. Super easy to transport to the park, the beach, or running around town, this helps keep me sane.
Protein Packer– For all you protein lovers, this one's is for you. My husband and I love to pack one of these and share after a hard workout.
Other snack ideas?
Banana + Bold Bites
Apple + Peanut butter + Bold Bites
Bold Bites salad wrap
Egg salad + Bold Bites
Meal Prep Tools and Equipment
First and foremost, unless you plan to enjoy your snack pack and Bold Bites right away, please keep them cool. It's just a safety thing. You'll need some kind of lunchbox and icepack. It doesn't really matter what kind of lunch box you use, but this is probably one of the coolest ones I have seen so far. Perfect for day trips!
Meal Prep Bowls: You will need something to store and hold all your snacks when you're on-the-go, right? These are my recommendations.
Other recommended items that will help make planning easier and help the environment!
Plastic cups with lids– these little cups will keep things like salad dressing, sour cream, guacamole, etc. separate from the other food. This is especially important when meal prepping salad bowls as the last thing you want for lunch is soggy lettuce.
Planet-Friendly Reusable Dipping Sauce Cups with Lids– perfect for salad dressings or dips, these adorable little containers are leak proof and reusable!
Spork– if you've ever wondered where the name of my blog came from…Anyway, attach this to your keychain or backpack and take it everywhere.
Reusable Insulated Water Bottle– I have several different brands. I have carried the same Kleen Kanteen for years, but I love my Insulated Rtic Water Bottle because it keeps ice frozen forever.
Love meal prep? Try these,
If you try Foster Farms Bold Bites, please leave me a comment and let me know! I always love to hear your thoughts.
REMEMBER TO SUBSCRIBE TO THE FORKED SPOON NEWSLETTER FOR FREE AND RECEIVE WEEKLY RECIPE NOTIFICATIONS DELIVERED STRAIGHT TO YOUR INBOX!