Learn how to easily make Rhubarb Chia Jam in 30 minutes!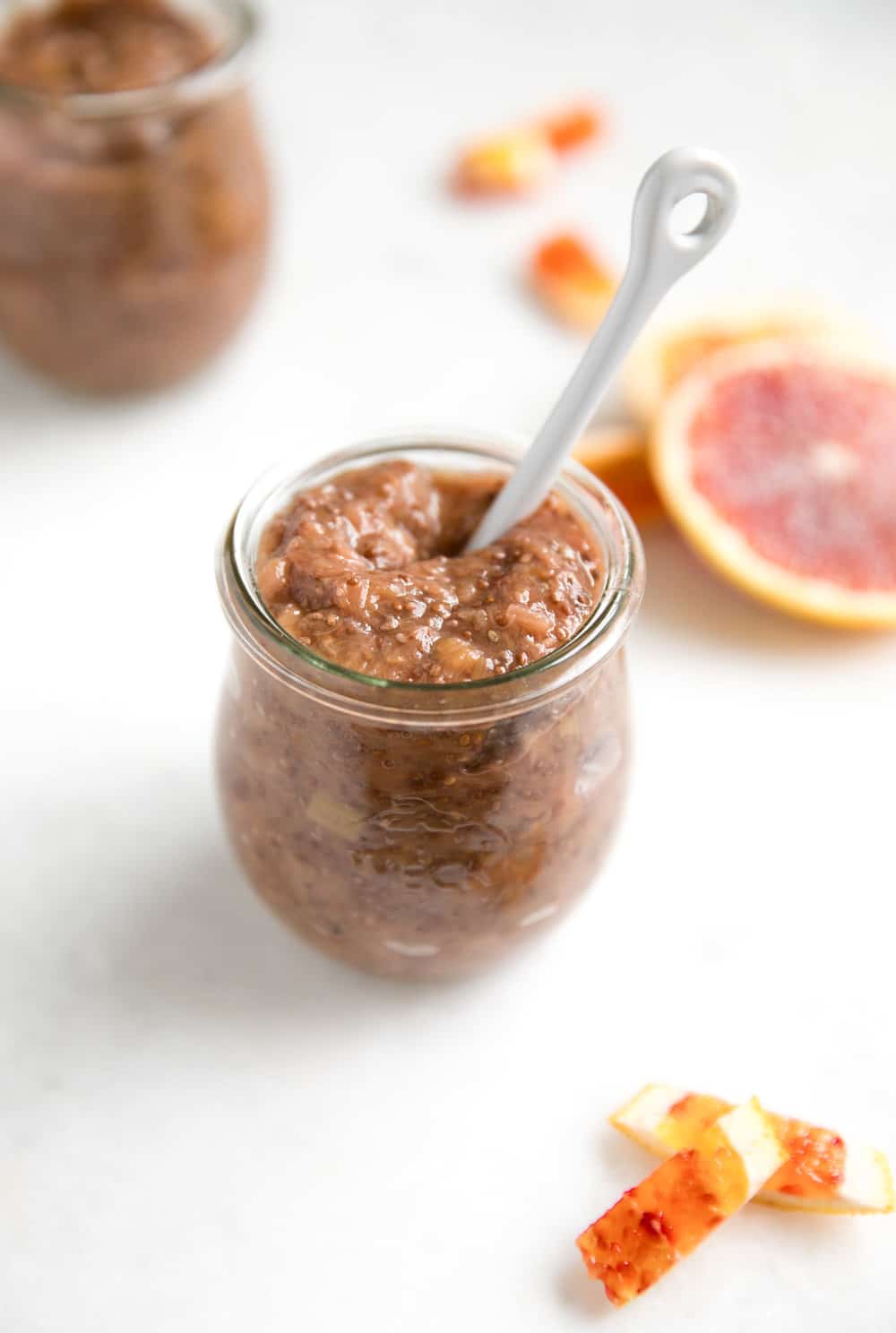 I hated jam and jelly as a kid. It freaked me out. Soft, mushy chunks of fruit? No, thank you.
But I am old now. And much much wiser. Ok, at least a little wiser, but definitely more adventurous in the food (eating) department. These days, I will eat just about anything. Jam included.
Go to a market and you may have noticed the zillion varieties of jams and jellies lining the shelves. You guys, there is no shortage of the stuff. Now, I am no expert in making of this sweet breakfast spread; in fact I have never made canned jam in my own home. One thing I do know how to make, however, is chia jam.
Chia jam is not new to the world of food blogging. In fact, I'm going to bet there a billion other rhubarb chia jam recipes out there, but what's one more right?
If you are new to chia jam, however, let me share three reasons why it's the best thing to happen to jam since, well, sliced bread…
WAY less added sugar. For real, you guys. Unless, of course, you want to go crazy with the sugar. In that case, I can't help you.
No need to mess with sterilizing jars (or whatever it is you need to do when you can jam).
Less than 30 minutes start to finish.
Ok, so rhubarb chia jam. It's the season favorite. I added some fresh orange juice and zest in there too, because, well, rhubarb and orange go really well together. Plus, there's enough Strawberry rhubarb out there (even for me). Although, if you are looking for a some seasonally appropriate strawberry recipes, I can help with and Strawberry Rhubarb Cobbler with Honey Butter Biscuits.
On that note, what are some of your favorite rhubarb recipes?
Rhubarb Chia Jam
Learn how to easily make Rhubarb Chia Jam in 30 minutes!
Instructions
Chop enough rhubarb into very small pieces to equal approximately 6 cups**

Place the rhubarb in a medium sized pot with the water and maple syrup. Bring liquid to a low simmer over medium heat and cook, stirring frequently, until rhubarb has softened and liquid starts to be absorbed, approximately 10 minutes.

Reduce heat to medium low and add the orange juice and zest and the chia seeds. Continue to cook, stirring frequently to prevent the bottom from scorching, until jam has thickened, approximately 15 minutes

Transfer jam to a clean canning jar and store in the refrigerator. Keeps well for up to two weeks.

Delicious served on toast, with oatmeal, ice cream, or mixed in a big bowl of yogurt.
Jessica's Notes
I get really excited whenever I see rhubarb at the market and often buy up the whole lot. Unfortunately, that means I also forget to weigh how much rhubarb I'm buying. That said, if you don't have exactly 6 cups, no biggie.
Nutritional Information
Calories:
238
kcal
|
Carbohydrates:
45
g
|
Protein:
5
g
|
Fat:
5
g
|
Sodium:
17
mg
|
Potassium:
888
mg
|
Fiber:
10
g
|
Sugar:
25
g
|
Vitamin A:
305
IU
|
Vitamin C:
35
mg
|
Calcium:
356
mg
|
Iron:
1.8
mg
(Nutrition information provided is an estimate and will vary based on cooking methods and specific brands of ingredients used.)