Filled with fresh vegetables and juicy sausage, this delicious and colorful Sausage and Vegetable Soup with Easy Basil Pesto simmers together in no time any day of the week!
This post has been sponsored by Made In Cookware but all thoughts and opinions are my own. Thanks for reading!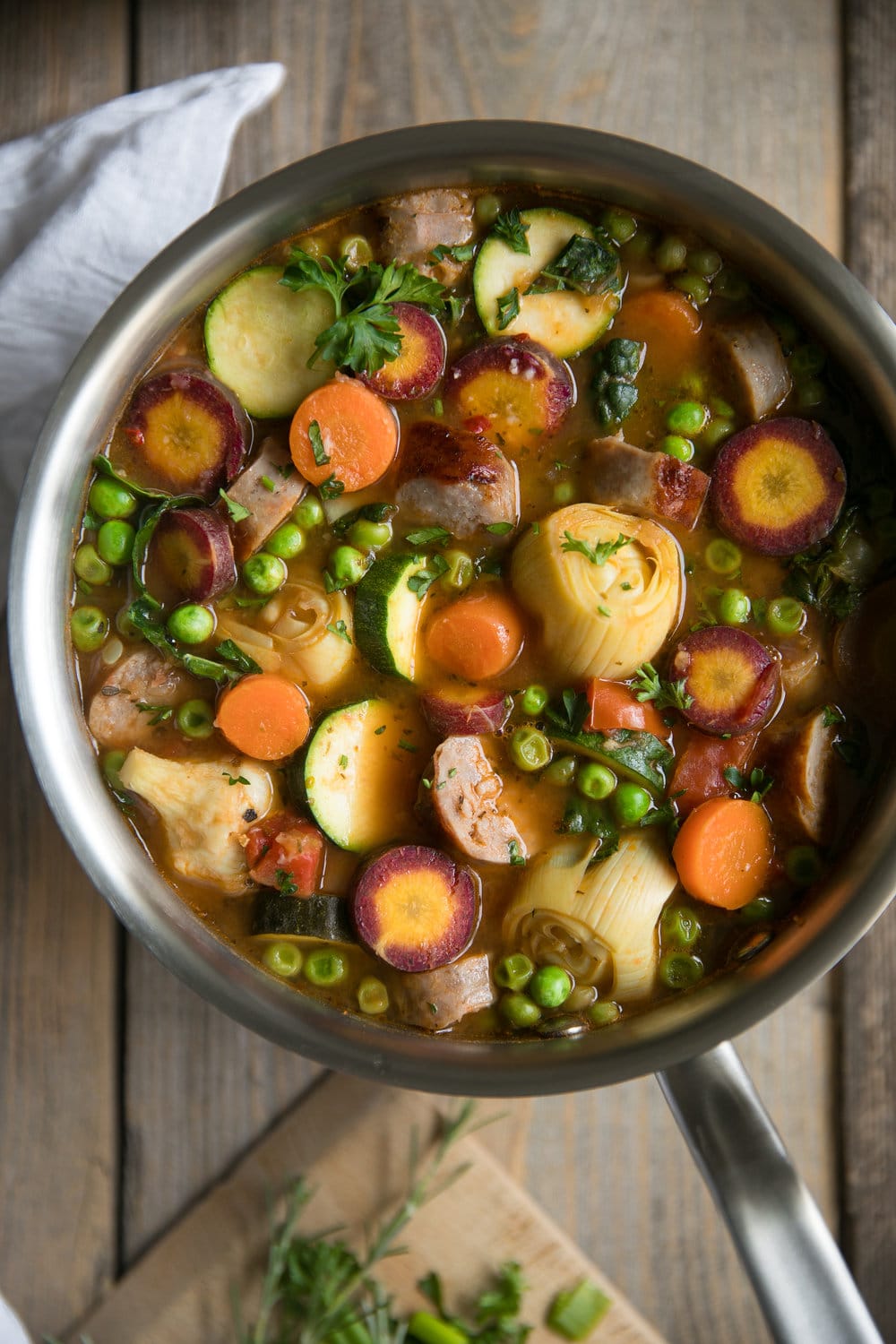 After Thanksgiving is all said and done and I have cleaned out the refrigerator from the neverending leftovers, I love to make a nice pot of healthy, vegetable-filled soup. After so many days of heavy eating, my body begs for a restart. Soup, I've come to learn, is also one of the best meals to have ready and waiting if you're still hosting guests, but you've mentally checked out of feeding a large group. Set the pot on the stove and allow people to come and go as they please. No need for a fancy invitation or special orders.
Honestly, if it weren't for big pots of soup, we would probably eat out a whole lot more right after the holidays. People are tired (me. I'm tired.) and my body needs a couple days away from cooking and neverending dishes.
Besides, home cooked meals are always better. They're healthier, come from fresher ingredients, cost less and (usually) taste better overall. Not to mention the memories… Some of my favorite memories include cooking with my mom and siblings around special holidays. Simple meals like a grilled cheese to whole entire elaborate Christmas feasts.
It's no wonder that I cook from home so much.
However, if there is one thing I have learned about cooking over the years, it is this- quality cookware is key. In fact, I have become a wee bit obsessive about the type of cookware I use. Why?
Simply put- the food always turns out better.
From seared steak or chicken to cooked rice, or a nice pot of hot soup, quality cookware is key.
Made In Cookware has officially topped my charts for all-time favorite cookware (especially the skillets and fry pans! They are a seriously beautiful thing.)
The first step in preparing this soup is to pan-fry the sausage. In years past I have often found that I need to add water to the skillet and cover with a lid to get the sausages to cook fully without burning. Thanks to Made In Cookware 10-inch Frying Pan, each sausage cooked evenly and completely without burning.
Here's what sets Made In Cookware apart from other brands-
Made in America.
An even heat throughout- Made In Cookware combines 5 layers of thick made in America stainless steel and aluminum, which outperforms and outlasts those cheaper big box cookware sets.
Premium craftsmanship from handles to rivets- what does this mean? NO HOT HANDLES! Plus a LIMETIME manufacture's warranty. Yes, you read that correctly. Plus, they feel really good when you old them in your hand- seriously.
Longevity- sourced from premium American products with a high content of rust and corrosion fighting, Nickel. What this means for you is long lasting, reliable pots, pans, and skillets. Check out the entire collection here.
Versatility- They also come in non-stick 🙂
Affordability- For high-quality cookware, Made In Cookware is absolutely affordable.
Now that you know my little secret to getting the most out of my food, there's one last element to this Sausage and Vegetable Soup that I love. The basil pesto! Actually, it's not a true traditional pesto, but it has at least a few of the key elements and it's whipped together in about 2 minutes flat! While this Sausage and Vegetable Soup doesn't need it, I highly recommend a little scoop with each bowl.
Finally, the tags! Don't toss those out. And don't be like me and live life if such a hurry that you fail to read the tag.
Ok- story time. I unpacked the pans from the box and noticed they each come with a tag. Well, long story short, I thought they had mold spots or something on them because they were speckled. Finally, a couple hours later, I finally READ the tag and saw that those tiny speckles are seeds.
YOU GUYS! The tags are printed on compostable paper and are meant to be planted! Any guesses what will grow? BASIL! So amazing, right!?
For more information about this amazing cookware, head over to their site HERE.
Sausage and Vegetable Soup with Easy Basil Pesto
Filled with fresh vegetables and juicy sausage, this delicious and colorful Sausage and Vegetable Soup with Easy Basil Pesto simmers together in no time any day of the week!
Ingredients
For the Soup
2

tsp

olive oil

(divided)

3

sweet Italian sausage

.5

yellow onion

(diced)

3

cloves

garlic

(minced)

2

carrots

(chopped)

salt + pepper

(to taste)

1

tsp

Italian seasoning

1

tsp

rosemary

(fresh chopped)

6

cups

chicken or vegetable broth

.5

cup

marinara sauce

15

oz

canned artichokes

(drained)

1

roma tomato

(chopped)

2

zucchini

(chopped)

.5

cup

frozen peas

1-2

cups

kale

(chopped. Stems remvoed)
Instructions
Heat the Made In Cookware 10-inch Frying Pan over medium-low heat. Once hot add the olive oil and sausage to the pan and cook low and slow on each side for approximately 5-6 minutes, or until fully cooked. When finished cooking remove the pan from heat and set aside to cool.

Meanwhile, as the sausage cooks, place a Made In Cookware Sauce Pot (for smaller portions) or Made In Cookware Stockpot (for larger portions) over medium heat. Add the remaining olive oil and diced onion to the pot and sauté for 2-3 minutes, or until onions are softening and translucent. Add the minced garlic, chopped carrot, chopped celery, salt, pepper, Italian seasoning, and rosemary to the onion and mix well to combine. Continue to sauté for 6-7 minutes, stirring frequently.

Add the chicken or vegetable broth, marinara sauce, artichokes and diced tomato to the pot. Cover the pot with a tight-fitting lid and bring to a low boil. Reduce heat to low and simmer for 10-15 minutes, or until root vegetables are softened.

As the soup cooks, prepare the pesto. In a small food processor combine the basil, pine nuts, and olive oil and process on high, scraping down the sides as needed, until fully blended. If needed add 1-2 teaspoons of water to help move things along. Set aside.

When the vegetables are cooked, add the zucchini, frozen peas, chopped kale, and chopped sausage to the pot and continue to cook for an additional 5-10 minutes. Season to taste.

Remove from heat and garnish with homemade basil pesto and pesto, if desired.
Nutritional Information
Calories:
634
kcal
|
Carbohydrates:
21
g
|
Protein:
20
g
|
Fat:
53
g
|
Saturated Fat:
11
g
|
Cholesterol:
51
mg
|
Sodium:
1058
mg
|
Potassium:
999
mg
|
Fiber:
5
g
|
Sugar:
7
g
|
Vitamin A:
6995
IU
|
Vitamin C:
62.2
mg
|
Calcium:
111
mg
|
Iron:
4
mg
(Nutrition information provided is an estimate and will vary based on cooking methods and specific brands of ingredients used.)
If you love this Sausage and Vegetable Soup, you may also enjoy-
Turmeric Broth Soup with Wild Rice and Vegetables
Cambodian Pork and Cucumber Soup
Healthy Roasted Broccoli Carrot Soup