This Shrimp Pasta Recipe is made with Sun-dried Tomato Basil Pesto – it is bursting with flavor and sure to be a crowd-pleaser!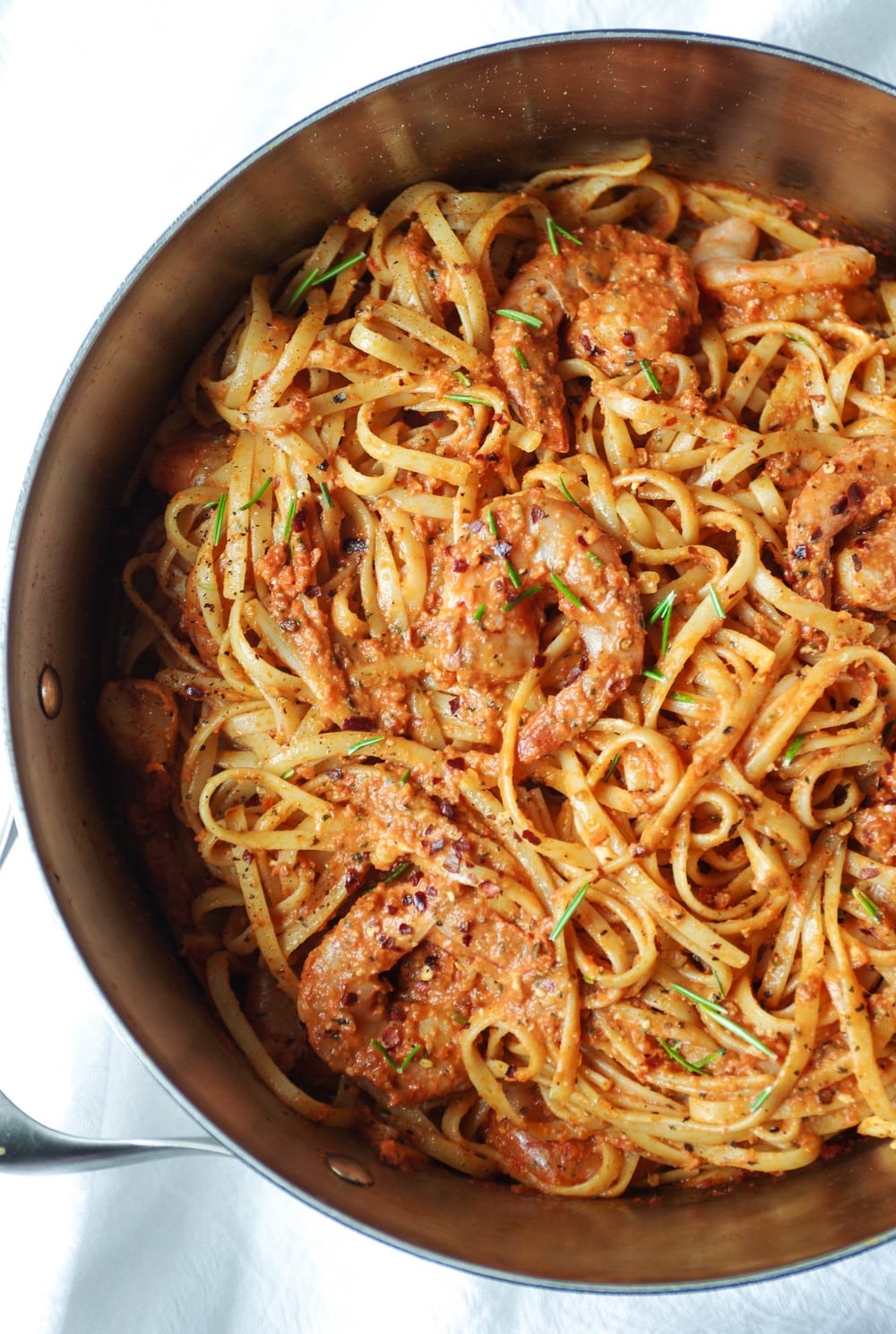 Normally, I start my posts with a little story or update about what's going on in my super exciting life (insert sarcasm), but this afternoon this pasta had to come first. Today I have for you guys a creamy sun dried tomato and basil pesto pasta with shrimp so yummy that everything else I am about to write really doesn't matter. In fact, if I were you, I would just jump right down to the ingredient list and directions and make this for dinner.
You're welcome.
However, if you care to read about what makes this pasta so awesome and probably some other random stuff, I've got that for you too.
So, I love pasta. I wouldn't consider myself a picky pasta eater, but you'll never find me ordering pasta from a restaurant unless that restaurant is known for its pasta. Since good Italian restaurants are usually on the fancy side and way overpriced, the last time I ate amazing pasta was when I was in Italy.
You guys, this sun dried tomato and basil pesto pasta is amazing. Ok, maybe not as good as the homemade, fresh pasta noodles that I ate in Italy, but the sauce far exceeds any restaurant pasta I have eaten here in the US.
Yes, it is THAT good. I promise.
It's creamy and so full of delicious flavors that I, not once, reached to add extra cheese (and I really love cheese).
While the best part about this pasta is its amazing flavor and undeniable signals to the brain to "take one more bite…take one more bite…ok, forget it. just fill up the bowl", the second best part is that it takes less than 30 minutes to put on the table start to finish.
Having a toddler, hungry and hardworking husband and a very busy schedule of my own, I can't survive without a handful of fast and easy recipes like this.
I will warn you- this pasta is addicting. I ate two bowls and then continued to eat from the pan while doing the dishes. I have amazing self control but all was lost to this pasta.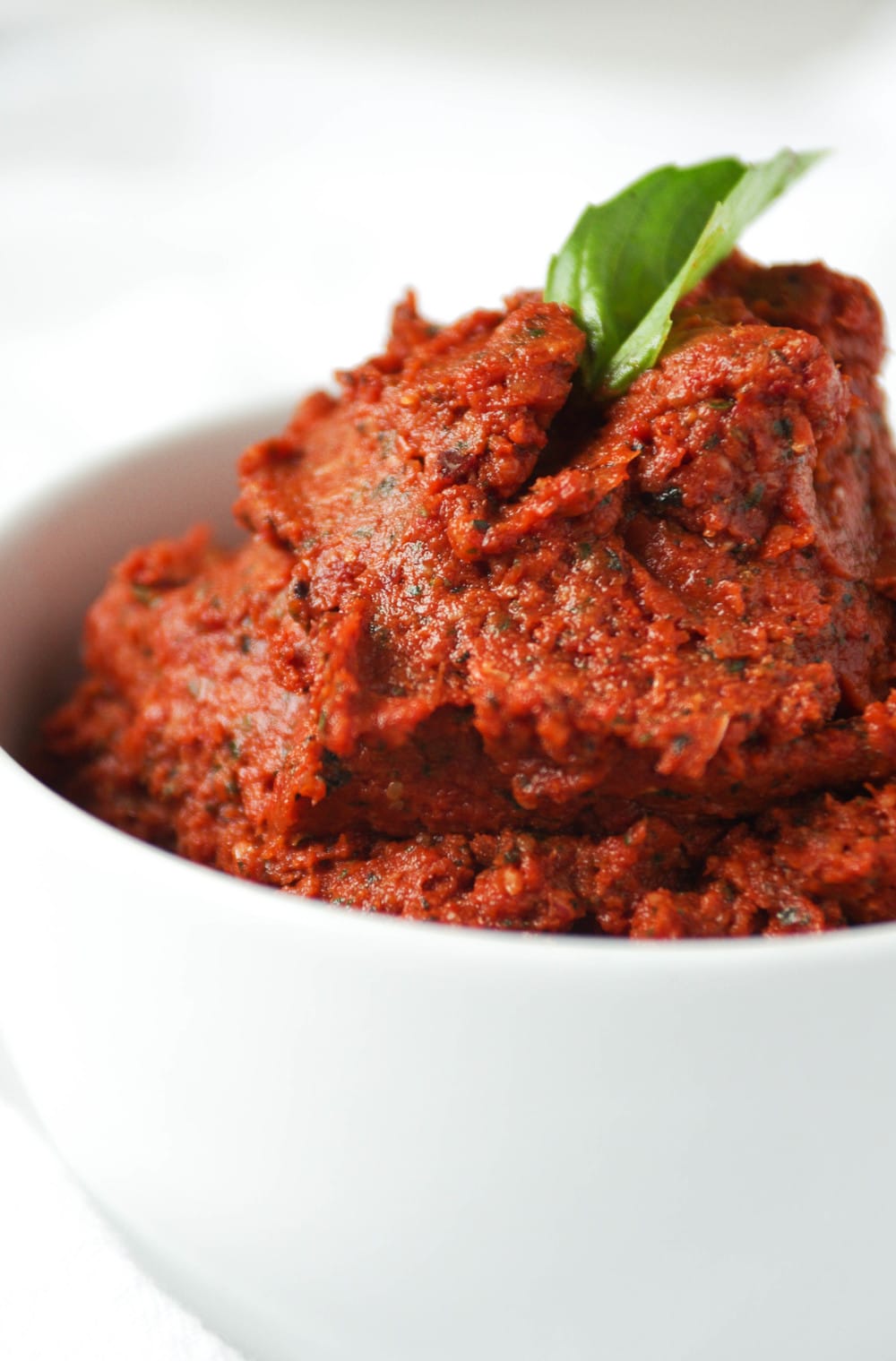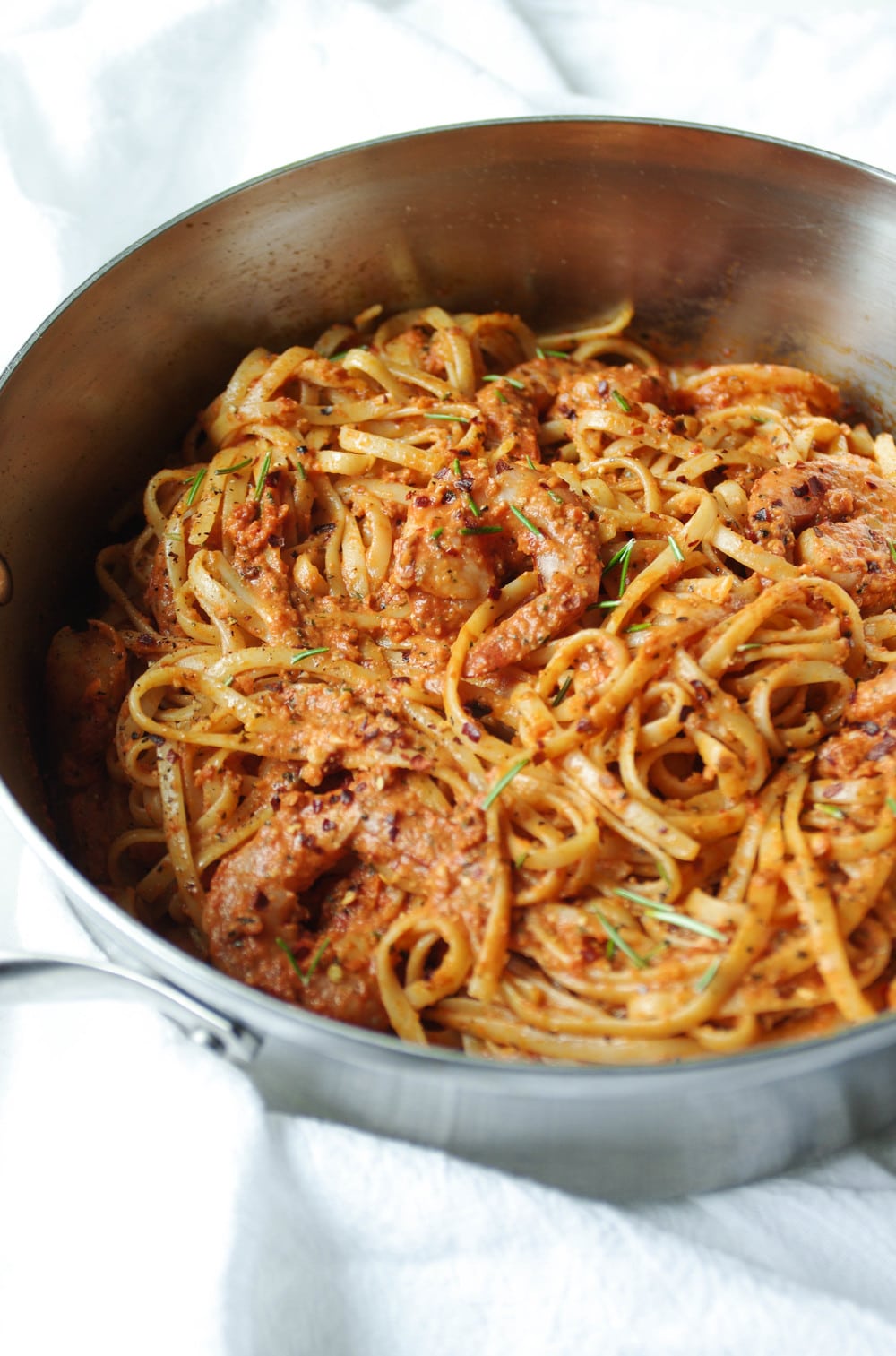 In other news, my child has the most adorable little lisp when he talks. I had one until I went to speech therapy when I was in the 5th grade, so I know I shouldn't encourage it, but you guys, it is so cute!
He also calls badgers, "banjos" and tennis rackets, "rakes".
Other random thoughts? I wish my wardrobe was as awesome as my childs. But, he wears it better than I do, so it only makes sense that he get all the clothes (plus, you know, the growing part). I have another laundry mountain that needs to be folded, three bathrooms in desperate need of some love and scrubbing (oh wait, no, that would be the whole house), and need to get my child signed up for swimming lessons asap- he thought it was funny to run straight into the pool yesterday.
I almost died of a heart attack.
Thank goodness for delicious pasta and juicy shrimp.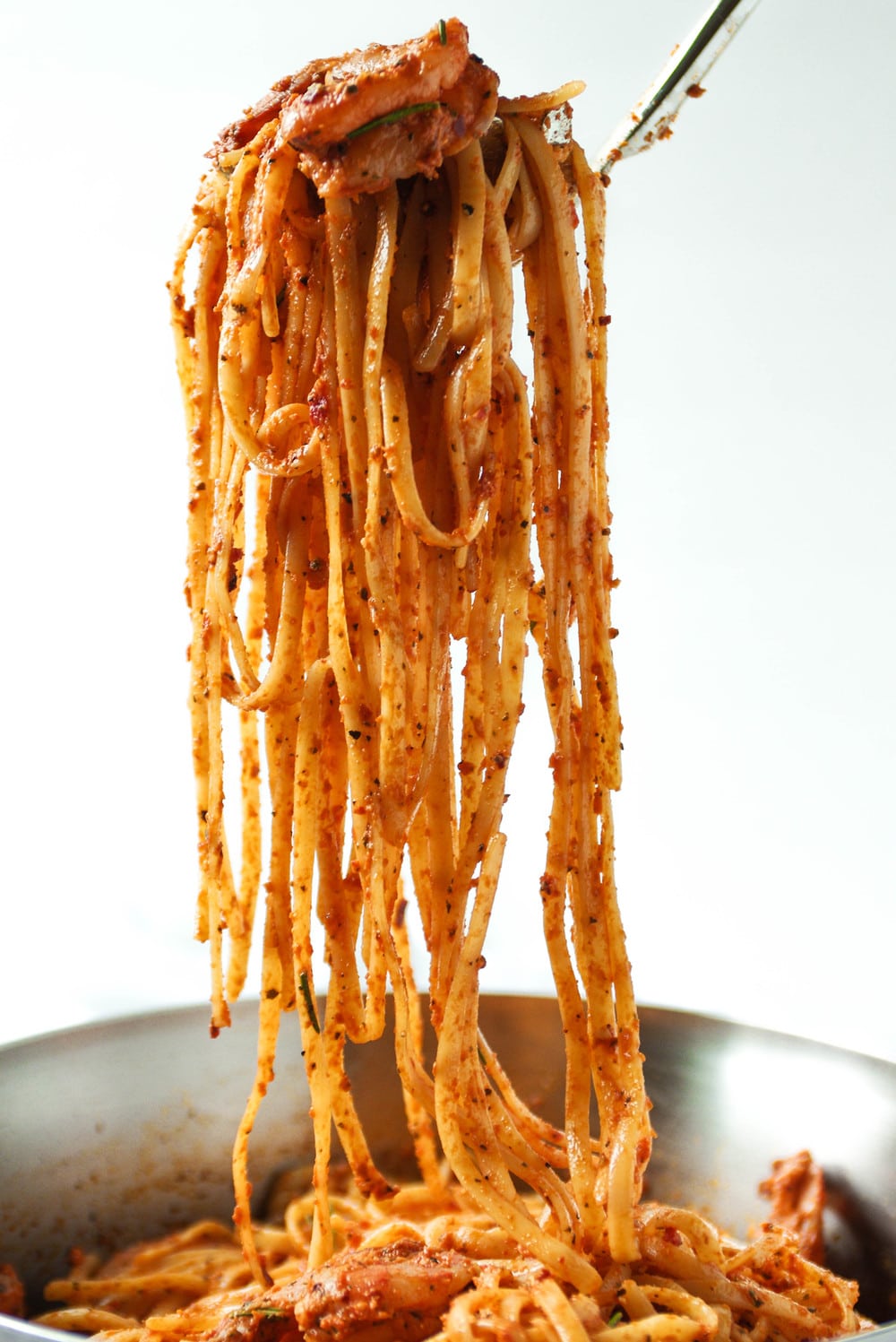 Sun-dried Tomato Basil Pesto Pasta with Shrimp
This Shrimp Pasta Recipe is made with Sun-dried Tomato Basil Pesto - it is bursting with flavor and sure to be a crowd-pleaser!
Ingredients
For the Pesto:
8.5

oz

sundried tomatoes in oil

-

one 8.5 oz can

1

cup

fresh basil

-

packed

2

tablespoon

balsamic vinegar

6

cloves

garlic

-

chopped

2

shallots

-

peeled and chopped

3

tablespoon

pine nuts

2

tablespoon

tomato paste

1

teaspoon

red pepper flakes

1

teaspoon

dried oregano

salt

-

approximately 1 teaspoon
For the pasta:
1

pound

linguine

-

or other favorite pasta, cooked according to package instructions

1

pound

shrimp

1

cup

reserved pasta water

½

cup

freshly grated parmesan cheese
Instructions
Bring a large pot of salted water to a boil. Cook pasta according to package instructions. Once finished (not soggy!), drain, and reserve 1 cup of the pasta cooking water.

Meanwhile, in the bowl of a large food processor or high powered blender, add pesto ingredients. Blend until completely processed.

Heat a large skillet over medium heat. Once hot, add half of the sun dried tomato basil pesto and saute for approximately 1 minute. Add shrimp and continue to sauté until shrimp are pink and nearly cooked. Stir in Parmesan cheese until just starting to melt along with a few tablespoons of the reserved pasta water. Add the pasta to the pan and toss to coat. Slowly add more water as needed.

Garnish with freshly grated Parmesan cheese and red chili flakes.
Nutritional Information
Calories:
795
kcal
|
Carbohydrates:
107
g
|
Protein:
47
g
|
Fat:
20
g
|
Saturated Fat:
4
g
|
Cholesterol:
294
mg
|
Sodium:
1324
mg
|
Potassium:
1519
mg
|
Fiber:
8
g
|
Sugar:
6
g
|
Vitamin A:
1460
IU
|
Vitamin C:
71.2
mg
|
Calcium:
399
mg
|
Iron:
7
mg
(Nutrition information provided is an estimate and will vary based on cooking methods and specific brands of ingredients used.)