Oven Roasted Asparagus lightly seasoned freshly cracked black pepper, sea salt, and fresh lemon juice. Learn how to roast asparagus perfectly every time, and brighten your dinner plate with this springtime favorite.
Easy Oven-Roasted Asparagus
I am a huge fan of asparagus. It's easy to cook, naturally delicious, low in calories, carbs, and is basically fat-free. And even though it makes our pee smell kinda stinky, it's not its fault (more on that below).
Just like air fryer asparagus, roasting asparagus in the oven is super easy to do with easy clean-up. All you need is a sturdy baking sheet, aluminum foil (or parchment paper), and an oven! Enjoy it with all your favorite mains or chow down on a big plate for a veg-heavy meal.
Why does asparagus make your pee stink?
Do you have stinky pee after eating this green veggie? The cause is aspargusic acid, an acid found only in asparagus.
After you eat asparagus, aspargusic acid is digested and broken down into byproducts containing sulfur. And sulfur, well, stinks. Studies predict that 20-50% of people experience the smelly after-effects of eating asparagus. Do you?
How to Roast Asparagus
Wash, dry, and trim about an inch from the ends of the asparagus spears. Transfer to a baking sheet lined with parchment paper or aluminum foil and drizzle with a little EVOO. Toss to coat then season with the minced garlic, salt, black pepper, and red chili flakes (if using).
Cook in a preheated 400 degree Fahrenheit oven for 10-15 minutes, or until the asparagus is easy to pierce with a fork, but not mushy. Garnish with fresh parsley, lemon juice, or parmesan cheese, if desired.
Tips for Cooking Roasted Asparagus
If you don't have any fresh minced garlic, try seasoning with a half of a teaspoon of garlic powder instead.
When roasting asparagus at higher temperatures, avoid using skinny spears. Instead, use fatter, thicker spears that will resist drying out from the high temperature of the oven.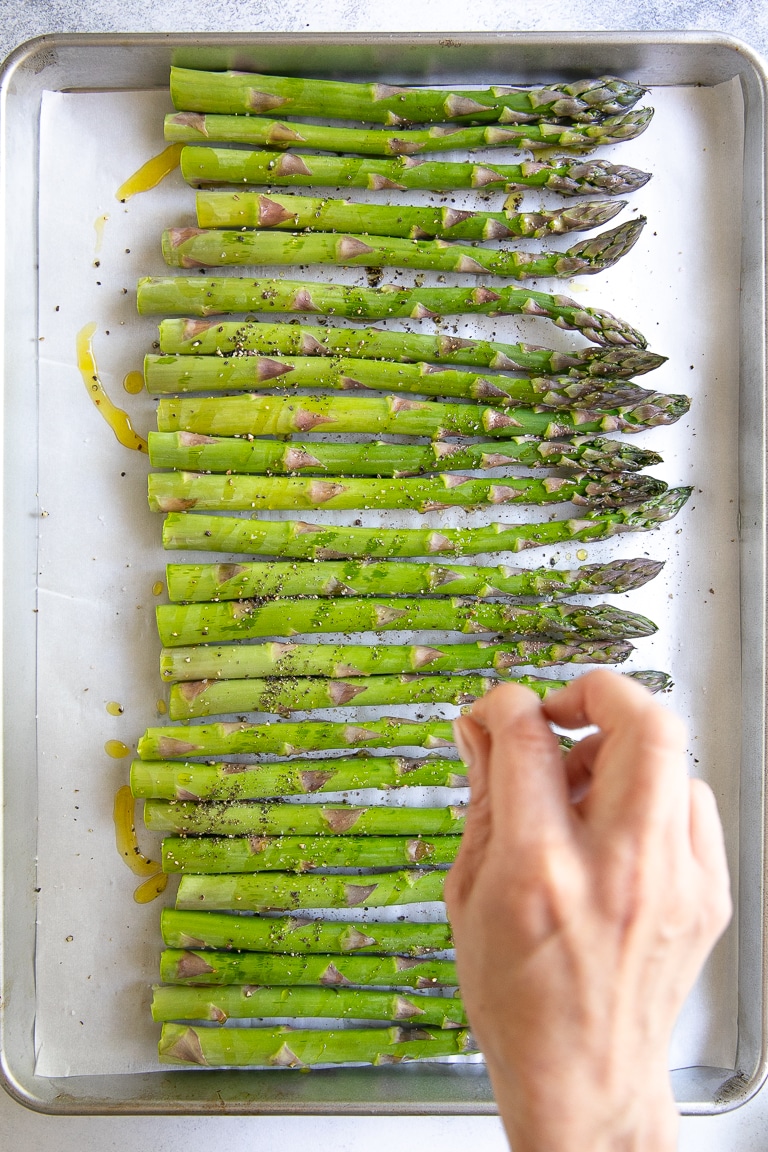 How to Trim Asparagus
If you've ever had the (un)pleasure of biting into a tough, woody asparagus end, then you'll know what I mean when I say that it isn't always enjoyable. Stringy, chewy, borderline choking hazard, no one wants that.
Since each bunch of asparagus is a little different, knowing exactly how much to trim off the ends of the asparagus will vary from one asparagus spear to the next.
Rather than guessing and chopping off the ends, simply bend (or snap) the asparagus near the base. Don't worry, the asparagus will snap in the right place. Unfortunately, when asparagus is not in season or it's an especially bad batch, this may mean you lose a third or more off the end.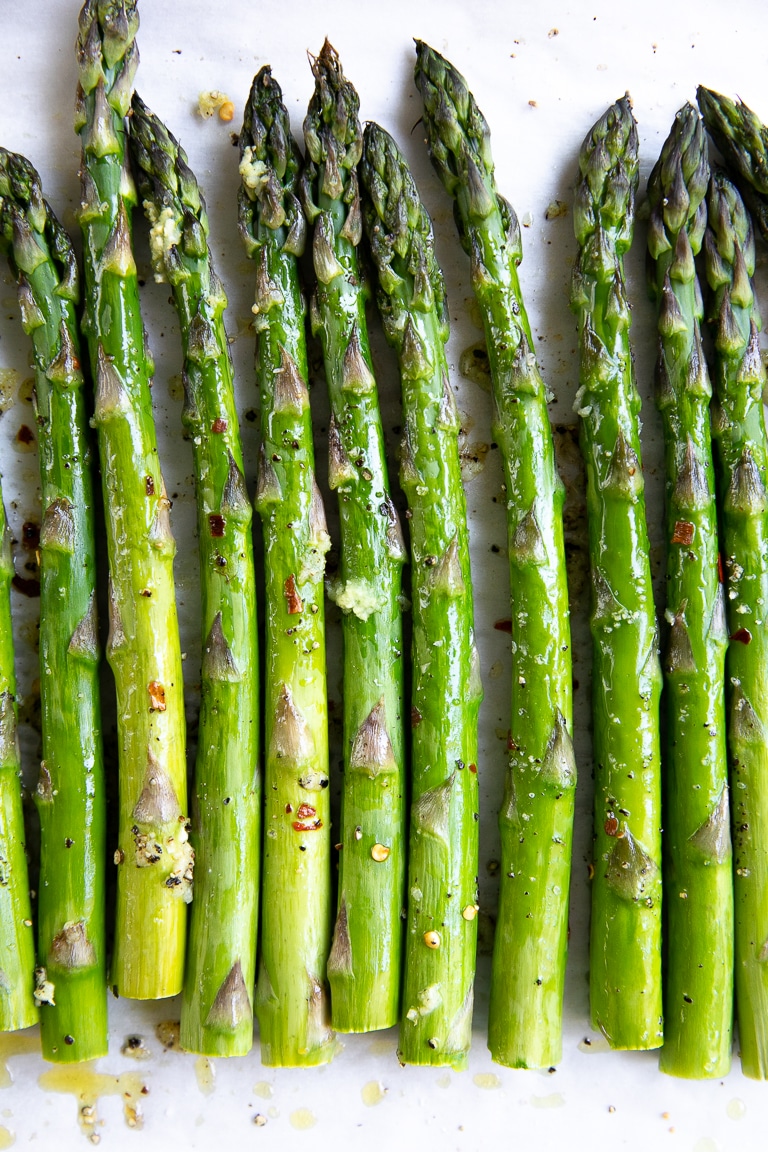 Have you tried making this Oven-Roasted Asparagus Recipe?
Tell me about it in the comments below! I always love to hear your thoughts. And tag me #theforkedspoon on Instagram if you've made any of my recipes, I always love to see what you're cooking in the kitchen.
Roasted Asparagus Recipe
Delicious Roasted Asparagus Recipe made with fresh seasonal asparagus spears, olive oil, garlic, salt, pepper, and fresh lemon juice.
Instructions
Preheat oven and prepare asparagus. Preheat oven to 400 degrees F. Line a large baking sheet with parchment paper and set aside. Wash the asparagus spears and trim the tough woody ends with a sharp knife or simply snap off (see notes).

Prepare asparagus for baking. Transfer asparagus to your prepared baking sheet and arrange in single layer. Drizzle with olive oil and carefully toss/rub to coat. Sprinkle the asparagus with the minced garlic, salt, and pepper (and red chili flakes, if using) and rub over each spear to evenly spread the garlic among all the asparagus.

Roast. Transfer your baking sheet to the oven and bake for approximately 10-15 minutes. Total time will vary depending on how thick your individual asparagus spears are. They should be easy to pierce with a fork, but not mushy. Some light browning is good for flavor.

Garnish and serve. Remove asparagus from the oven. Sprinkle with fresh parsley and lemon juice, if desired. Serve and enjoy!
Jessica's Notes
Some asparagus ends are tougher than others. Typically, the light-green to white-colored ends probably to be removed. A good starting point for me is usually about an inch. If you have especially thick asparagus spears with extra-thick ends, you may also use a vegetable peeler to peel away the tough outer layer.
Originally published July 1, 2019
Nutritional Information
Calories:
44
kcal
|
Carbohydrates:
6
g
|
Protein:
3
g
|
Fat:
2
g
|
Saturated Fat:
1
g
|
Sodium:
148
mg
|
Potassium:
248
mg
|
Fiber:
3
g
|
Sugar:
2
g
|
Vitamin A:
895
IU
|
Vitamin C:
14.4
mg
|
Calcium:
32
mg
|
Iron:
2.5
mg
(Nutrition information provided is an estimate and will vary based on cooking methods and specific brands of ingredients used.)