One of the most widely used ingredients out there, salt has been used since ancient times to preserve and season food. But not all salt is the same. In this post, we'll learn what salt is, where it comes from, and I'll walk you through the four different types of salt: Himalayan, kosher, sea salt, and regular salt.
What is Salt?
On the most basic level, salt is a mineral made up of sodium and chlorine (NaCl). Most of the salt we consume comes from evaporated saltwater or salt mines.
Salt is used to season our favorite recipes from hearty stews to delicious sweets, sauces, and even the rim of our most beloved cocktails (like the classic margarita). It can draw out the flavors of other ingredients found in the dishes we eat and certain properties of salt allow it to release different food molecules, providing some of our favorite meals with their distinct aromas!
In small amounts, salt can reduce the bitter taste of food and increase the amount of sweet, sour, and umami flavors. In larger amounts, salt can eliminate the sweet flavor of food and enhances the umami flavor.
Sometimes salt is used to preserve different kinds of foods like fruit, vegetables, or fish. For example, codfish, a staple in Norway, is preserved with salt. Check out our Norweigan salt cod stew to learn a little bit about how cod is preserved with salt and see a yummy way to incorporate it into a delicious stew!
WHY WE NEED SALT
Sodium and chlorine, or NaCl, are the two elements that make up all salt. These two elements are essential to life, meaning we need them to survive and perform countless critical biological processes, including:
Regulating blood pressure
Fluid balance by regulating the amount of water that's in and around your cells
Carrying nutrients into and out of your cells
Helping the brain function
Nerve transmission
Aiding digestion and metabolism
Supporting adrenal function
Types of Salt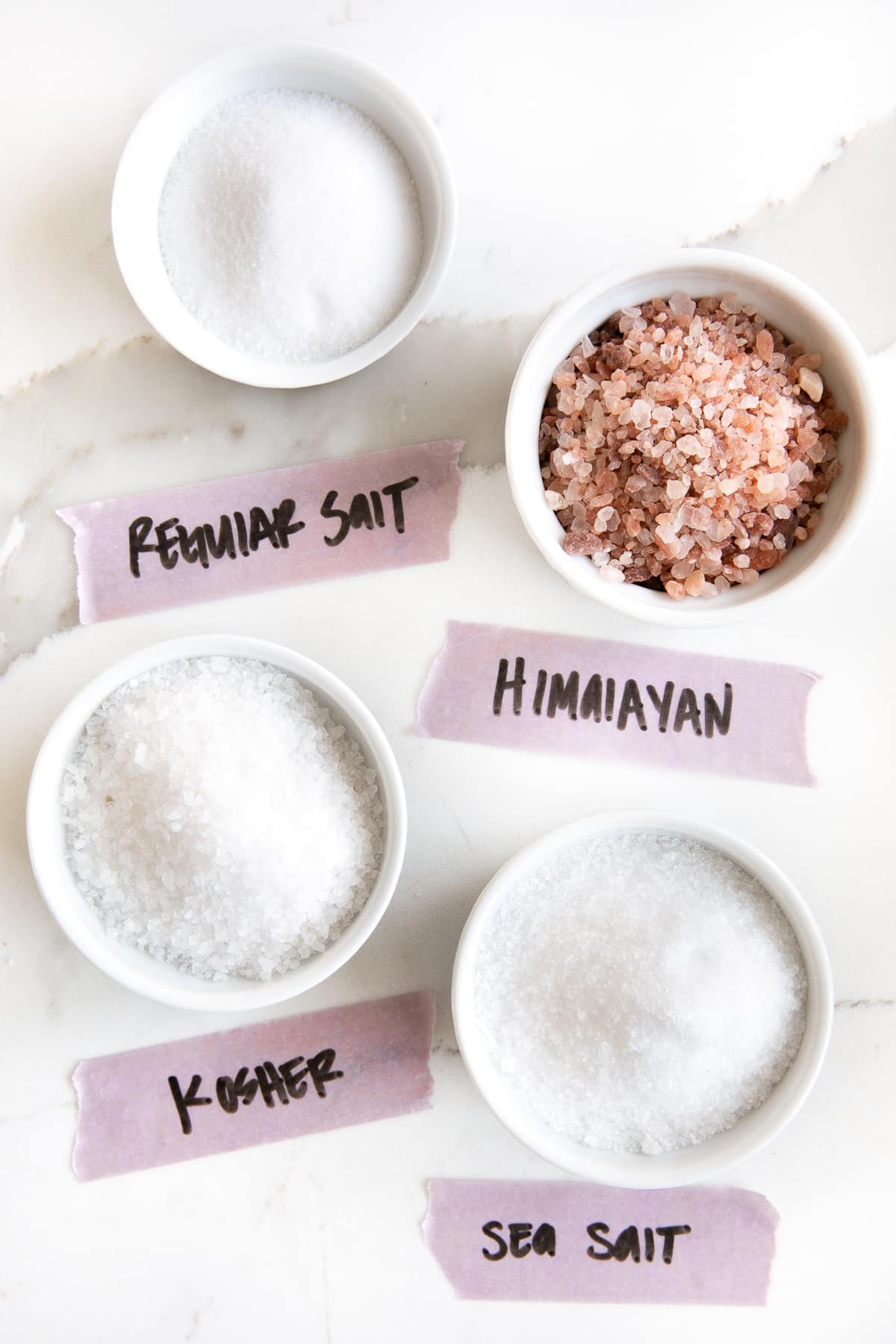 Himalayan Salt
Himalayan salt is by far the most distinctive type of salt because of its unique pink color! Although Himalayan salt can be anywhere from white to rich pink color, most folks are drawn to the beautiful pink varieties. Super small amounts of iron oxide give Himalayan salt its pink hue.
Unlike other types of salt, Himalayan salt is only found in one place: the Khewra Salt Mine in Pakistan. Believe it or not, the gorgeous Himalayan salt we buy in the store was maturing in the ground for over 250 million years!
The pink salt from this mine is incredibly mineral-rich and often called the purest form of salt in the world because it is mined and washed by hand and is unprocessed. Minerals like potassium, calcium, and magnesium are all found in Himalayan salt. Because of its high mineral content, Himalayan salt is often considered to be the healthiest salt variation.
Uses
Himalayan salt can be used in cooking and as a finishing salt to give your meal a wonderful pink finish! In addition to its uses in food, Himalayan salt is also made into blocks which are incredibly versatile because they can be heated and cooled to extreme temperatures without breaking or crumbling.
Outside the culinary world, Himalayan salt is also used in baths to rejuvenate skin and put in lamps to purify the air.
Kosher Salt
Kosher salt is easily identifiable by its large, flaky grain size. Originally used for Jewish religious purposes, kosher salt was used to draw out the blood from the surface of the meat, a process called koshering. This would, in the end, make the meat "Kosher".
Koshering is a time-consuming process and can take up to 72 hours. If you'd like to eat kosher meat but think you might not have the time to do it at home, don't worry! Several butchers sell meat that's already been koshered for you.
Kosher salt originates from either evaporated seawater or underground mine deposits, similar to table salt. However, the two salts are different in that kosher salt does not contain iodine (an essential nutrient) and usually doesn't contain anti-caking agents. The result is that kosher salt is more likely to stick together as it absorbs moisture from the air compared to granules of regular salt.
Uses
The most common use for kosher salt are two: cooking and drying meats.
A fan favorite, kosher salt dissolves very quickly and adds a great burst of flavor when sprinkled on top of your favorite types of meat.
A lot of chefs love kosher salt because they find it easier to cook with given that the flakes are larger than those of regular salt. But if you're cooking with kosher salt, remember that the large flake size of kosher salt means that it weighs less than regular salt so make sure you adjust the measurements accordingly.
Sea Salt
Sea salt is harvested from evaporated seawater. It is unique from other types of salt in that it often contains trace minerals such as zinc, potassium, and iron. The total amount of these trace minerals, of course, depends on the source of seawater that the salt has been evaporated from.
Minimally processed, you'll find that sea salt has a coarser grain than regular (table) salt, but is softer than kosher salt.
Types of Sea Salt
– Celtic Sea Salt: You can easily identify this type of salt by its greyish hue. Although it's called Celtic sea salt, it's actually harvested from tide pools off the coast of France. Compared to other types of salt, Celtic sea salt is quite moist.
– Fleur de sel: Fleur de sel (which translates to "flower of salt") is also harvested in France. Known as the caviar of the salt world, this is by far the most expensive type of salt because of its very labor-intensive harvesting process. This type of salt will cost you about $30 per pound!
– Flake salt: This type of salt, as you might've guessed, is distinguishable by its flaky shape. The flakes make this type of salt crunchy and a perfect finishing salt.
Uses
Sea salt is commonly used in cooking and, for the most part, can be used anytime you see salt in a recipe. With a crunchier texture and bolder flavor, it pairs especially well with chocolate (as in these chocolate chunk cookies with sea salt), fish, and veggies and is a wonderful, multi-purpose salt. Outside of the kitchen, sea salt is also commonly used in baths, scrubs, and many other beauty products to help brighten and exfoliate the skin.
Regular Salt
Last, but certainly not least, we have regular salt, also known as refined salt or table salt. This is the type of salt that comes to most folks' mind when they hear the word salt. It is highly processed and typically contains anti-caking agents as well as iodine. This refining process strips the salt of a lot of its nutrients and minerals. In fact, table salt is not pure at all, it is 97.5 percent sodium chloride and 2.5 percent chemicals.
WHY IS IODINE ADDED TO SALT?
Iodine is added to regular (table) salt to help prevent iodine deficiency. In the 1920s parts of the United States started adding iodine to salt when parts of the country started experiencing severe iodine deficiencies. When your body doesn't get enough iodine it can lead to loads of health-related problems including an enlarged thyroid (goiter) and thyroid disease. Fortunately, these days it's much easier to get iodine naturally from foods like saltwater fish and dairy.
Uses
In general, regular salt is best when used in small amounts. Great for baking cakes or bread or added to different seasonings, marinades, and sauces – like this homemade taco seasoning and chimichurri recipe.
Recommended Daily Salt Intake
Salt, like most things, is necessary for your body but has to be consumed in moderation. Unfortunately, the majority of people end up eating too much salt due to processed foods. So next time you're tempted to buy taco seasoning from the store, we recommend trying our recipe instead!
According to David Trachtenbarg, MD of UnityPoint Health, the recommended salt intake for an average adult per day is 2,300 milligrams. The effects of too much salt consumption can be, but aren't limited to:
High blood pressure
Worsening of heart and kidney disease
Increased risk of diabetes
THE TAKEAWAY
There are four main types of salt: Himalayan, kosher, sea, and regular salt. Their main differences involve color, texture, grain size, and taste and are harvested in several different ways. Although unrefined salt contains fewer additives and is often touted as being "healthier", there is very little nutritional difference between the various types of salt.
Salt is a necessary part of a healthy diet as it is necessary to perform countless critical biological processes.
Salt helps bring life, flavor, and aroma to many of our favorite foods. Feel free to experiment and choose the salt that's right for you.
Do you have a favorite type of salt?
Tell me about it in the comments below! I always love to hear your thoughts. And tag me #theforkedspoon on Instagram if you've made any of my recipes, I always love to see what you're cooking in the kitchen.