This morning as the husband and I were shuffling around the kitchen trying to get the coffee ready, oatmeal prepared, and the dog fed. You know, the usual. Octavian did what he does every morning, barricade my path with his little body and stubbornly refuse to move, "Mama, up. Mama, up! MAMAAA! UPPP!" In order to get to my coffee, I obliged and did what I was told.
Sometimes, when I hold my dear child he gets so excited that he hugs so tight and excitedly that his hugs also include lots of clawing and pinching and hair pulling. He just really loves me, don't worry. At least we've gotten the biting under control.
So, when the husband saw this go down he reminded Octavian, "Hey, Buddy, be gentle with Mama. Mama's delicate." To clarify, Octavian responded back, "Mama delicate? Like a decowation?"
I stopped, looked at my husband, looked down at Octavian and thought, who are you? when did my baby get so big?
So, I made a mental note of the moment, thinking blog about this or you'll forget about it, and then I said to him, "Yes, smart child, like a decoration."
Our morning was followed by this lovely littleBroccoli Edamame Salad with Peanut Sauce in the afternoon for lunch. Octavian loves broccoli, so I was hoping to be sneaky and introduce edamame to him since it, too, is green and would be mixed in with the broccoli. Well, like so many of my sneaky vegetable plans, my not-to-be-fooled toddler wasn't interested.
Oh well, more creamy Broccoli Edamame Salad with Peanut Sauce for me.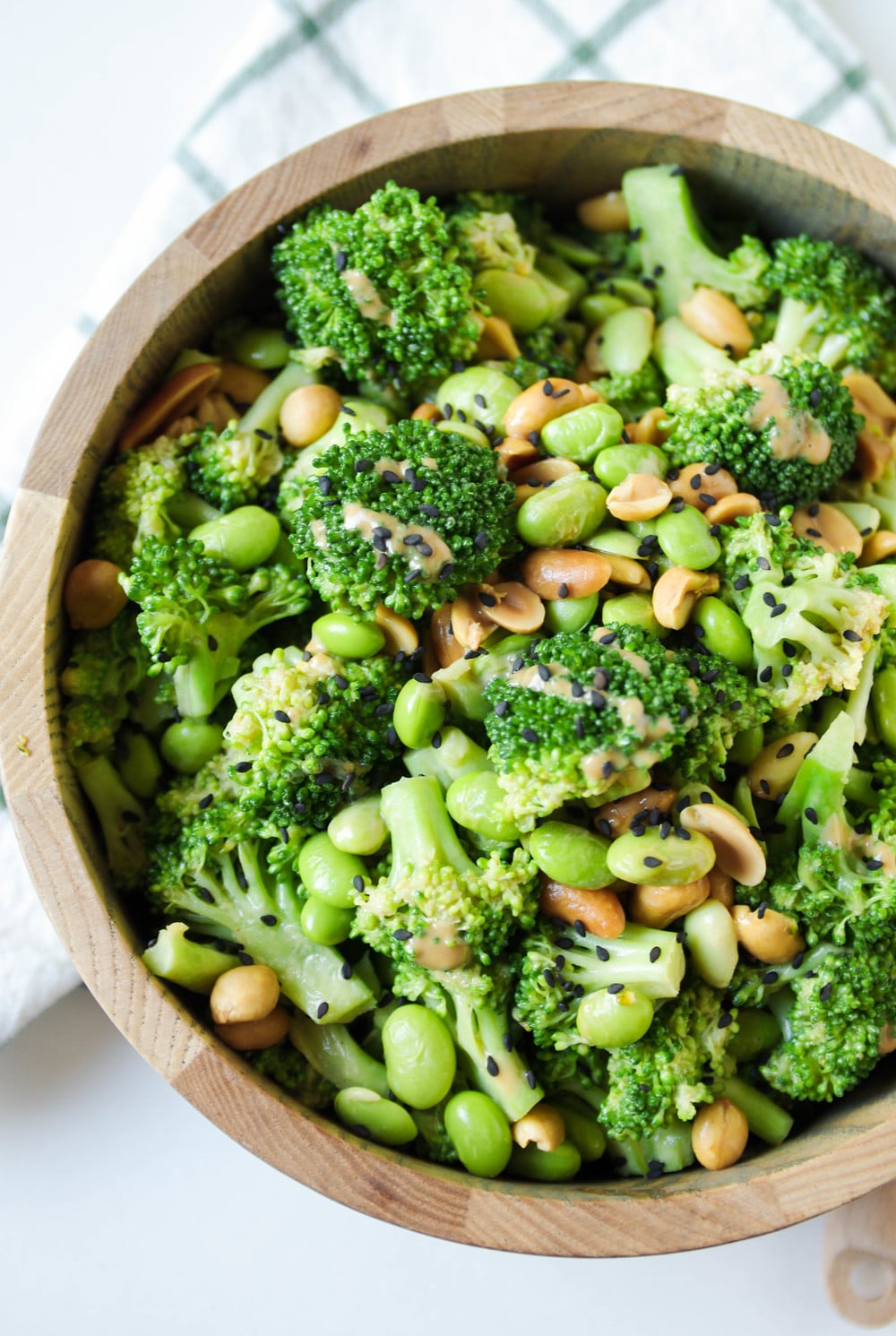 Broccoli Edamame Salad with Peanut Sauce
Fresh bright broccoli, protein-packed edamame, crunchy peanuts, and just 15 minutes is all it takes to make this Broccoli Edamame Salad with Peanut Sauce.
Print Recipe
Pin Recipe
Rate Recipe
Ingredients
For the Salad
5

cups

broccoli

-

cut into small florets

1

cup

shelled cooked edamame

1/2

cup

green onions

-

chopped

1/2

cup

salted peanuts

3

tbsp

cilantro

-

chopped
Instructions
Heat a large pot of water and bring it to a boil. Add the broccoli florets and boil for approximately 1-2 minutes (do not over-boil!) Carefully drain boiling water and transfer broccoli to a large bowl of ice water to stop cooking. Once cooled completely, drain and set aside in a large bowl.

To the bowl of broccoli, add the edamame, green onion, peanuts, and cilantro. Mix well and set aside.

To make the peanut sauce whisk all ingredients together until fully combined. If dressing is too thick, whisk in more hot water one teaspoon at a time until you reach the desired consistency (I find that thicker is a little better).

Toss with broccoli salad until everything is completely coated. Add salt and pepper to taste and garnish with white and black sesame seeds, if desired.
Nutrition
Calories:
253
kcal
|
Carbohydrates:
22
g
|
Protein:
12
g
|
Fat:
15
g
|
Saturated Fat:
2
g
|
Cholesterol:
0
mg
|
Sodium:
560
mg
|
Potassium:
575
mg
|
Fiber:
5
g
|
Sugar:
12
g
|
Vitamin A:
570
IU
|
Vitamin C:
70.8
mg
|
Calcium:
76
mg
|
Iron:
2
mg
(Nutrition information provided is an estimate and will vary based on cooking methods and specific brands of ingredients used.)
Did you Make this Recipe? Tag it Today!
Tag @theforkedspoon and hashtag it #theforkedspoon and please leave your star rating in the comment section below.
If you enjoy this Broccoli Edamame Salad with Peanut Sauce, you may also love-
Easy Chopped Mediterranean Salad
CREAMY PEA SALAD WITH BACON(+ video)
Grilled Peach, Corn, Zucchini and Asparagus Summer Salad with Strawberry Vinaigrette
Inspired by Gimme Some Oven