Learn how to make a Classic Reuben Sandwich with this easy follow recipe!
I am totally having one of those days, you guys. My feet feel like they are stuck to the floor, unable to move. So I stand there and just watch as time carelessly floats by. Ugh, time.
These days are the worst. I have so much to do, so much to do, and my feet are stuck, my hands are tied, my brain is mush.
So, what would any logical, well-thinking food blogger do? Go antique shopping. Yes, you guys, that's what I did. My camera battery died and my sinuses are so clogged my head feels like it could pop at any second, so, I went antique shopping.
It was either that or cuddle up with a box of cookies and The Bachelor. I decided photo props were a much much better idea. Except that I walked out empty handed. Apparently I was not in a spending mood because everything was too rich for my frugal blood. And $22 for an old used pot? I just couldn't (even though it was exactly what I was looking for).
So what does any logical food blogger do next? Well, I pick up my kid and we go to Home Depot to pick out paint and stains for the 7 double sided wood boards we've built the past two weeks. Did I need more pain and stain? No. But apparently I was on a mission today to buy something. Six colors and two stains later, success!
All of my #firstworldproblems aside, I made you guys a sandwich 🙂 There is nothing new or fancy here, just a classic, delicious Reuben on rye. With simple ingredients, it's all about the execution.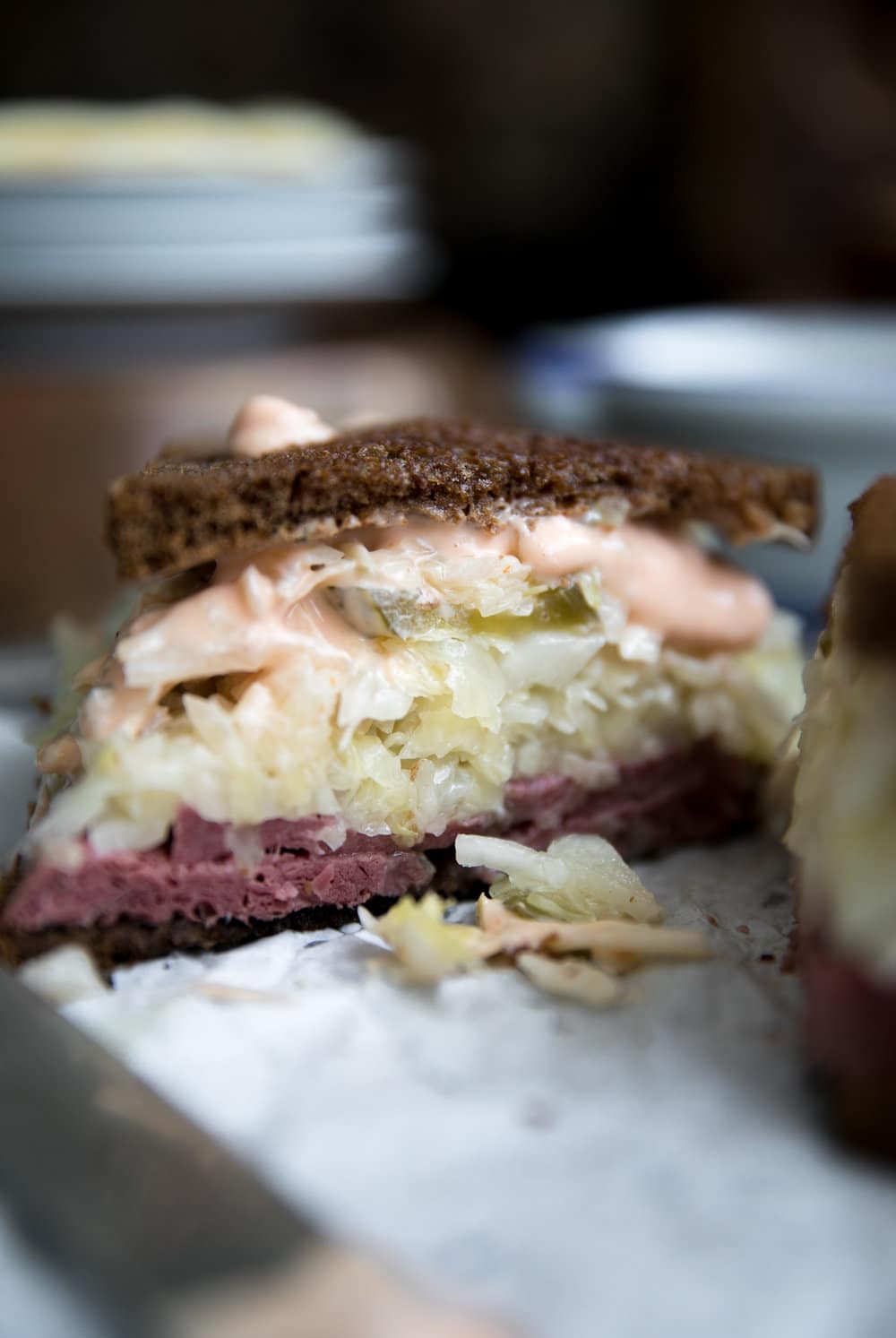 Reuben Sandwich
A hearty and delicious homemade Reuben Sandwich is a classic deli favorite made with corned beef, sauerkraut, melted Swiss cheese, and Thousand Island dressing.
Ingredients
2

slices

dark Rye bread

8

oz

thin slices corned beef

-

approximately 4 thin slices

¾

cup

Sauerkraut

-

drained

1.5

slices

swiss cheese

2

tablespoon

Thousand Island dressing

Butter

-

for frying
Instructions
Heat a large cast iron skillet over medium heat. When the skillet is warm, add at least 1 tablespoon of butter to the skillet and add two slices of bread to the skillet. To one slice of bread add the sliced Swiss cheese.

Meanwhile, heat a second skillet and add 1 tablespoon of butter. Swirl the butter around and add the corned beef to the skillet. Heat both sides of the corned beef slices until heated through. Push to the side and add the sauerkraut to the pan. Form the Sauerkraut into a lump, flipping once to heat the other side.

Working quickly, transfer the corned beef to the toasting piece of bread without cheese. After flipping, gently place the sauerkraut lump on top of the corned beef and top with a generous heap of Thousand Island dressing. Top with the other slice of rye, cheese side down.

Cut in half and serve immediately.
Nutritional Information
Calories:
913
kcal
|
Carbohydrates:
42
g
|
Protein:
51
g
|
Fat:
58
g
|
Saturated Fat:
20
g
|
Cholesterol:
169
mg
|
Sodium:
4206
mg
|
Potassium:
960
mg
|
Fiber:
7
g
|
Sugar:
9
g
|
Vitamin A:
415
IU
|
Vitamin C:
76.9
mg
|
Calcium:
427
mg
|
Iron:
7.6
mg
(Nutrition information provided is an estimate and will vary based on cooking methods and specific brands of ingredients used.)