This recipe for Easy Curried Lamb Meatballs is sponsored by Mariani™ Family Orchards, all thoughts and opinions expressed here are my own.
These Curried Lamb Meatballs are made with a mixture of ground lamb, ground beef, fresh herbs, spices, rustic bread, and creamy unsweetened Walnutmilk. Bursting with all the scents and flavors of the Middle East, these lamb meatballs are delicious right out of the oven or with this Saffron Tomato Sauce and a side of Couscous.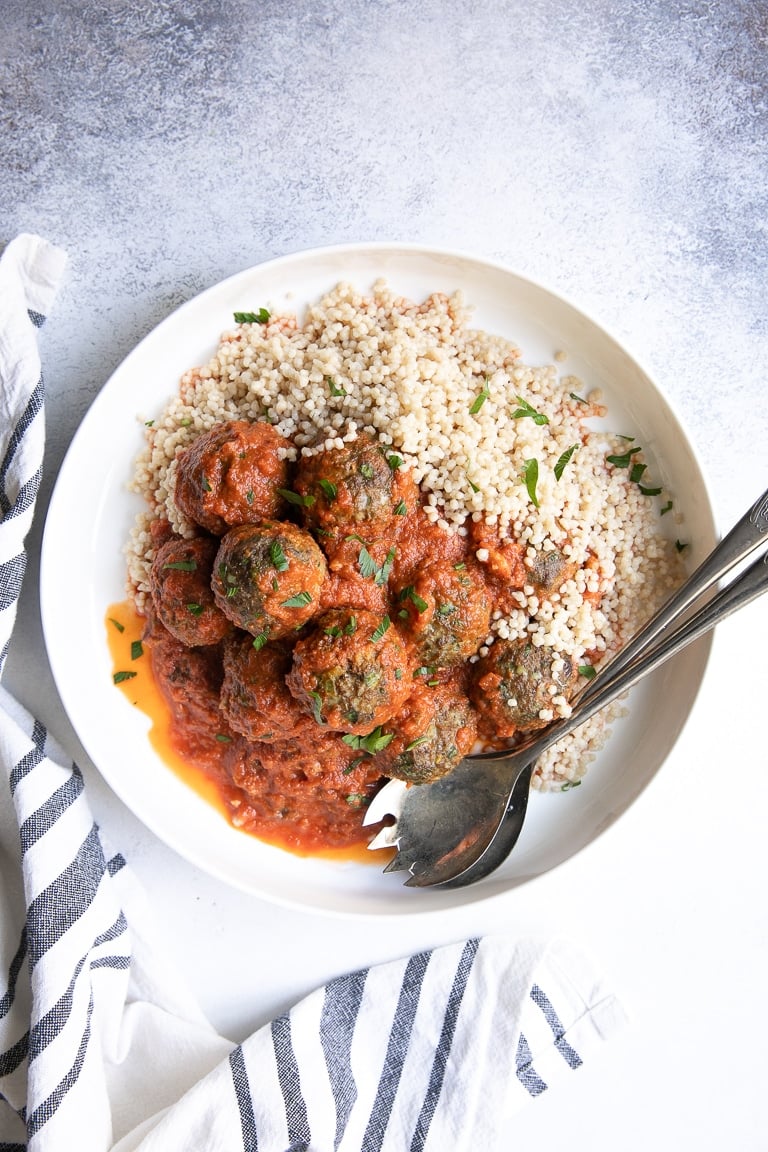 As I prepared these totally incredible Curried Lamb Meatballs the other afternoon, I realized that I think I may have a small meatball obsession. You guys, I wish you knew how ironic this truth actually is.
For starters, no one in my family ever made homemade meatballs when I was little, so the only meatballs I ever really knew were those in songs and Disney movies. When I finally learned about the meatball, making my own seemed like a tedious and messy all-day affair. It didn't seem worth it.
But then I learned a thing or two about the meatball, and well, as the saying goes, the rest is history…except that it's not because today I have these crazy good curried lamb meatballs with a saffron tomato sauce that I am going to tell you all about.
Totally dairy-free, these meatballs are a mixture of freshly toasted bread that has been soaked in creamy, delicious Walnutmilk, spices, garlic, lamb, beef, and fresh herbs. Eat these beauties plain or, even better (no, definitely better), with this super easy homemade saffron tomato sauce.
Ingredients in these Curried Lamb Meatballs
Ok. Before you look at the list do not freak out. I know the list is long. Most of the ingredients for this recipe are already in your pantry and if they're not then I'm guessing they are probably at your local market.
Bread.
Ground meat- I used lamb and beef
Eggs
Garlic
Sweet paprika
Ground ginger
Ground turmeric
Cumin
Ground cinnamon
Ground Cloves
Ground coriander
Italian parsley
Cilantro
Green onions
Once you have all your ingredients, all it takes to make meatballs is some measuring, dumping, mixing, and molding into little balls. Meatballs really are that easy. Silly (younger) me had no idea what she was talking about.
Anyway, I decided to bake these lamb meatballs. Of course, meatballs can be fried, too, but baking is so much easier! Not to mention healthier.
Ingredients in the Saffron Tomato Sauce
Onion
Garlic
Cumin
Crushed tomatoes
Tomato paste
Saffron (read more about saffron below)
Cinnamon sticks
Chicken broth
Honey
Walnuts
Raisins
If you've ever made homemade pasta sauce then you already know how easy it is to make a homemade tomato sauce. Fry an onion with some garlic and spices, add some canned tomatoes and tomato paste and puree. Ok, you don't always blend it, but for this recipe, I wanted a smooth sauce. The rest of the sauce-making process is pretty much just adding the rest of the ingredients to the pot and (im)patiently waiting for all the flavors to mesh together so that you can finally eat! Trust me, it's worth it!

What is Walnutmilk?
Walnutmilk is a plant-based non-dairy milk alternative and it is delicious. Made from walnuts, this recipe uses none other than California-grown Mariani Unsweetened Walnutmilk.
What exactly makes Mariani Walnutmilk so awesome?
It's a rich source of calcium.
Significantly less sugar than dairy milk or other plant-based milk (1 cup of Original Mariani Walnutmilk has 4 grams of sugar, Unsweetened has 0 grams, and Vanilla has 8 grams).
Only 45 calories per eight-ounce serving.
Walnuts are a significant source of ALA, a plant-based omega-3 fatty acid that has been found to benefit heart health.
Mariani Walnutmilk is gluten, dairy, lactose, and soy-free.
Non-GMO.
No artificial colors, flavors, or carrageenan.
And it's made with 100% California-grown walnuts.
I have tried all three and find that all three taste amazing. Creamier and much smoother than other non-dairy milk, but not too thick. After all, who wants to feel like they're drinking buttermilk?
What makes these the best Lamb Meatballs
They are a protein powerhouse. But, I guess that's obvious since they're made with meat and all.
The spices. You guys I know that that's a lot of spices listed up there but I promise it's not too many. There's a reason why these awesome spices have stuck around after all these centuries- they make food better! (at least that's the reason I tell myself)
Those Walnutmilk-soaked cubes of toasted bread. I don't know what it is- the Walnutmilk, the big chunks of bread, or the combination (probably the combination), but the soggy bread adds so much to these lamb meatballs.
They're meatballs made with lamb. Yes, this is obvious and no, this is not a requirement, but lamb is such a huge part of Middle Eastern cuisine that any other meat would just feel wrong.
Meal prep! obviously.
Can these Lamb Meatballs be Gluten Free?
Yes! Absolutely. The only part of this recipe that contains gluten is the bread used for the meatballs. You can easily replace gluten-containing bread with your favorite gluten-free bread brands, just be sure to check labels and use a brand you trust if you have a severe gluten sensitivity. Also, take note that couscous is not gluten-free. Alternatives include rice or quinoa, or better yet, riced broccoli or cauliflower.
Can these meatballs be made with just beef instead of lamb?
If you've tried lamb and you know you don't like it, ground beef would be the best alternative. That said, any ground meat can be used to make these meatballs. If you have never tried ground lamb, or you're new to the lamb club, I great way to introduce yourself (and your family) is to mix it with a more familiar meat, such as beef or turkey (like I did in these curried lamb meatballs).
Is there a good substitute for saffron?
You guys, I've researched this one for you because I have a feeling some of you have no idea what saffron is or where to purchase it. The short story on saffron is that it is produced from the flower crocus sativus. Each flower only produces three tiny stigmas and only once per year. This, plus the incredible red-orange hue that it produces, makes saffron one of the most luxurious and expensive spices in the world.
Good thing we only need a tiny pinch.
If you can't find saffron at your local market, find it on Amazon. Some people suggest using a small amount of turmeric as a substitute for saffron, but I would discourage that as saffron offers such a unique and subtle flavor; whereas turmeric does not.
Don't forget to check out these other meatball recipes
LOOKING FOR SOMETHING SPECIFIC? CLICK HERE TO SEARCH BY INGREDIENT
REMEMBER TO SUBSCRIBE TO THE FORKED SPOON NEWSLETTER FOR FREE AND RECEIVE WEEKLY RECIPE NOTIFICATIONS DELIVERED STRAIGHT TO YOUR INBOX!
If you try a recipe, please share it using the hashtag #theforkedspoon or by tagging @theforkedspoon.
Middle Eastern Curried Lamb Meatballs
These Curried Lamb Meatballs are made with a mixture of ground lamb, ground beef, fresh herbs, spices, rustic bread, and creamy unsweetened Walnutmilk. Bursting with all the scents and flavors of the Middle East, these lamb meatballs are delicious right out of the oven or with this Saffron Tomato Sauce and a side of Couscous.
Ingredients
For the Lamb Meatballs
2.5

cups

fresh rustic bread

-

cubed

1.5

cups

unsweetened Mariani™ Walnutmilk

1.5

pounds

ground lamb

1

pound

ground beef

2

eggs

8

cloves

garlic -

minced

½

teaspoon

salt

½

teaspoon

pepper

1

tablespoon

sweet paprika

2

teaspoon

ground ginger

1.5

teaspoon

ground turmeric

1

teaspoon

cumin

¼

teaspoon

ground cinnamon

¼

teaspoon

ground cloves

½

teaspoon

ground coriander

¼

cup

fresh Italian parsley

-

finely chopped

¼

cup

cilantro

-

finely chopped

¼

cup

green onions

-

finely chopped
For the Saffron Tomato Sauce
Instructions
For the Meatballs
Preheat oven to 350 degrees F. Scatter the chopped bread onto a baking sheet and toast for approximately 10-15 minutes or until the bread is dry and no longer moist and soft. When finished toasting remove the bread from the oven and transfer to a large mixing bowl.

Allow the bread to cool for approximately 5 minutes before drizzling with the 1.5 cups unsweetened Mariani™ Walnutmilk. Mix well until the toasted bread is fully coated in milk and all milk has been absorbed.

Mix well until the toasted bread is fully coated in milk and all milk has been absorbed.


To the same mixing bowl add the lamb, beef, eggs, garlic, spices, and fresh chopped herbs.

Using your hands, mix well to thoroughly combine the meat, bread, and spices.

Preheat Oven to 375 degrees F. and line two large baking sheets with parchment paper. With damp hands, roll the meat mixture into approximately ping-pong size meatballs. Transfer each meatball to the prepared baking sheet, repeating the process until no meat remains. Transfer baking sheets to preheated oven and bake for approximately 20 minutes, or until internal temperature registers 160 degrees F. Rotate baking sheets once during cooking. Remove from oven and set aside.
For the Saffron Curry Sauce
Heat olive oil in a saucepot or Dutch oven over medium-high heat. Add the onion to the pot and sauté until soft and translucent, approximately 5 minutes. Add the garlic, cumin, salt, and pepper to the onions and mix well to combine. Cook for an additional minute, stirring continuously.

Add the crushed tomatoes to the onions and mix well. Allow tomato juices to come to a low boil before adding the tomato paste. Mix well to combine.

Remove the onion and tomato mixture from the heat and transfer to a large high-speed blender (an immersion blender will work well, too). Process on low to medium-low until fully blended. Return pureed tomato sauce back to the original pot over medium heat.

Add the saffron, cinnamon sticks, chicken broth, and honey to the sauce and mix well to combine. Cover and simmer for approximately 10 minutes, stirring occasionally.

Remove the cinnamon sticks from the sauce and stir in the Mariani™ Walnutmilk, mixing well to combine. Add the chopped walnuts and golden raisins, if desired. Return sauce to a low simmer before adding the pre-cooked curried lamb meatballs to the pot.

Allow the meatballs and sauce to simmer for 5 minutes before garnishing with additional chopped fresh parsley. Serve with warm couscous or other favorite grain, if desired. Enjoy!
Jessica's Notes
The recipe can be prepared with any type of ground meat- beef, pork, turkey, or lamb.
The nutrition information is per meatball with sauce. Unfortunately, I do not have the exact amount of sauce per serving (which in the case of this recipe, is the sauce total divided by 40).
Nutritional Information
Calories:
129
kcal
|
Carbohydrates:
6
g
|
Protein:
6
g
|
Fat:
8
g
|
Saturated Fat:
3
g
|
Cholesterol:
30
mg
|
Sodium:
197
mg
|
Potassium:
209
mg
|
Fiber:
0
g
|
Sugar:
4
g
|
Vitamin A:
210
IU
|
Vitamin C:
3.2
mg
|
Calcium:
43
mg
|
Iron:
1.1
mg
(Nutrition information provided is an estimate and will vary based on cooking methods and specific brands of ingredients used.)