Ginger Garlic Miso Ramen Noodles with Poached Egg is a quick and easy vegetarian dinner made with zucchini and ramen noodles, miso, your favorite chili sauce, and runny eggs. Comforting and healthy, this amazing miso ramen is ready in just 20 minutes!
Ramen Noodles make a frequent appearance on my dinner table, including Veggie Ramen Noodle Stir Fry with Tempeh and Poached Egg, Ramen Glow Bowl with Miso Tahini Dressing, and Kimchi Ramen Noodle Soup.
I'm going to start this post by saying that I have so much to say about these amazing, delicious, addicting miso ramen noodles. OH. MY. GOSH. So much. I'm actually having a hard time focusing because I don't want to mess this up. You know, no pressure.
So, let's start at the beginning.
Ingredients in this Ginger Garlic Miso Ramen Noodles with Poached Egg
Ramen Noodles (more on these below)
Zucchini noodles
Garlic
Ginger
Miso paste
Soy sauce
Green onion
Eggs
Red chili flakes
That is pretty much the gist of it. Of course, you can always add other veggies (like bell pepper, carrot, broccoli) or other protein sources (tofu, chicken, shrimp), but, to be totally honest, the whole point of these ginger garlic noodles is to keep life simple.
Simple is good. Right? Maybe not all the time or for all occasions, but simple is as simple does annnnnd, well, that's my fav movie, so that's that.
Are Ramen Noodles Bad for you?
The kind of ramen noodles that you purchase in a styrofoam cup or as a deal buy 1 get 3 FREE, yeah, that's the bad stuff. There is nothing good there.
But, not all ramen is created equal.
So, my advice (full disclosure- I am not a doctor or health expert, just a regular person that believes in balanced eating) read the label. What are the ingredients? And never include the seasoning packet.
Like, never.
Here are some brands I trust, use, and feed to my own family-
KOYO– if they're sold out of the plain stuff, that's ok. They're "flavored" ramen has the same noodles just be sure to ditch the seasoning packet.
HAKUBAKU– they are prob my fav brand for all things Asian noodles. Sure, the Ramen is squiggly, but the quality is top shelf.
LOTUS FOODS– one of my other favs. I actually have this pack of 10 in my pantry and have tried all three varieties. One thing to note- since these are not "traditional" rice noodles and are gluten-free, they get soggy fast. So do NOT over boil. Just don't.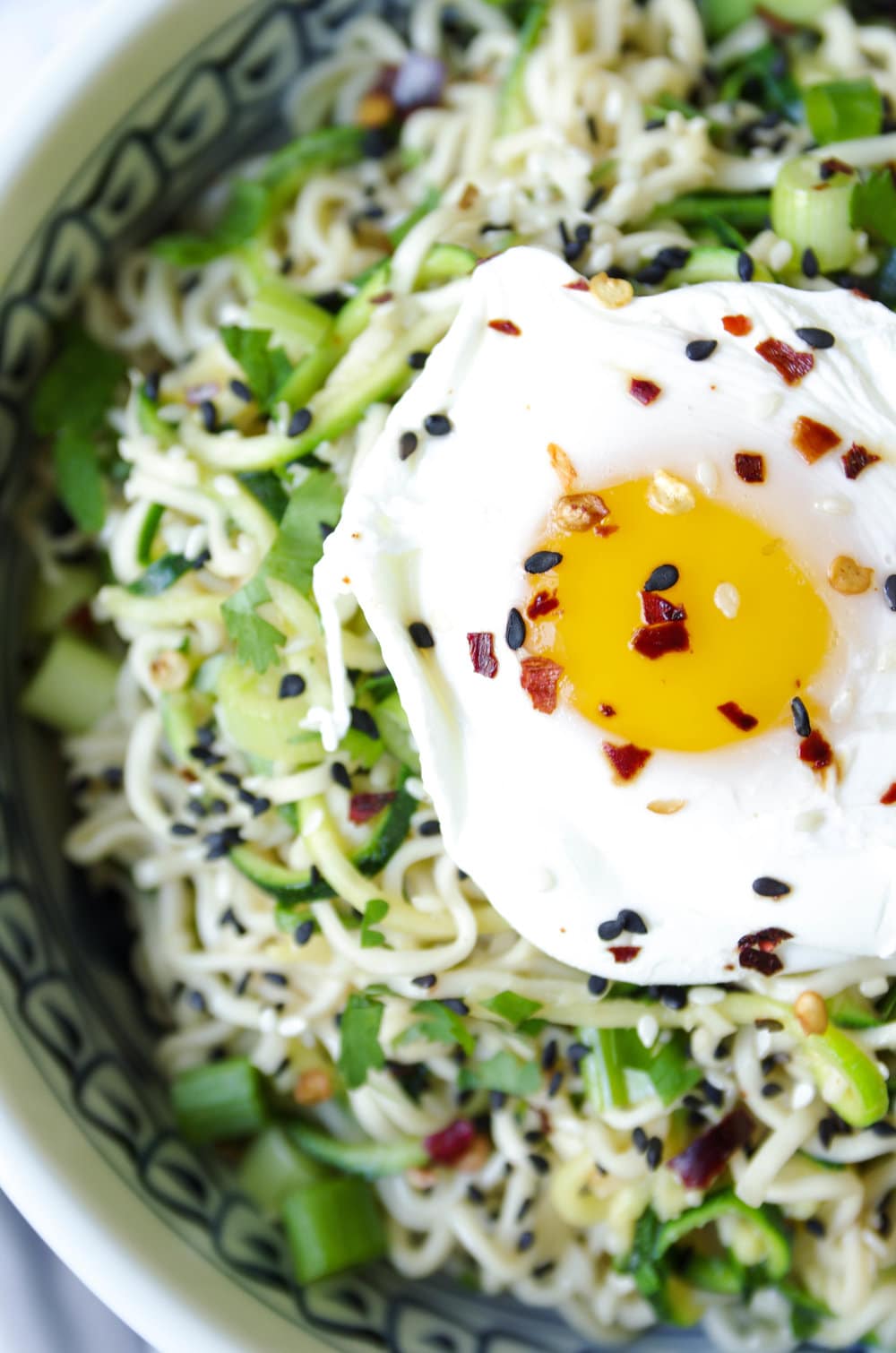 Why Would I want to add Zucchini Noodles?
To be fair, you may not want to add zucchini noodles at all, and that is totally up to you. However, when I cook, I always try to think of new ways to incorporate more vegetables into my diet, and zucchini noodles make it so darn easy. Also…
Zucchini is super healthy.
Happily absorbs the flavor of the dish without contributing much of its own.
Low in calories.
When spiralized, zucchini even looks a little like ramen noodles (not important at all).
Why you need this Ginger Garlic Miso Sauce
Basically, ginger + garlic + miso paste + a few other ingredients make the very best sauce on this planet.
It's deeply complex and layered, salty (without tasting like you've added a bunch of salt), and beautifully creamy.
This Ginger Garlic Miso Taste Great with:
noodles
soup
chicken and beef and all the meat
salads
wraps
Basically anytime you need a little extra something, ginger garlic miso is there to save the day!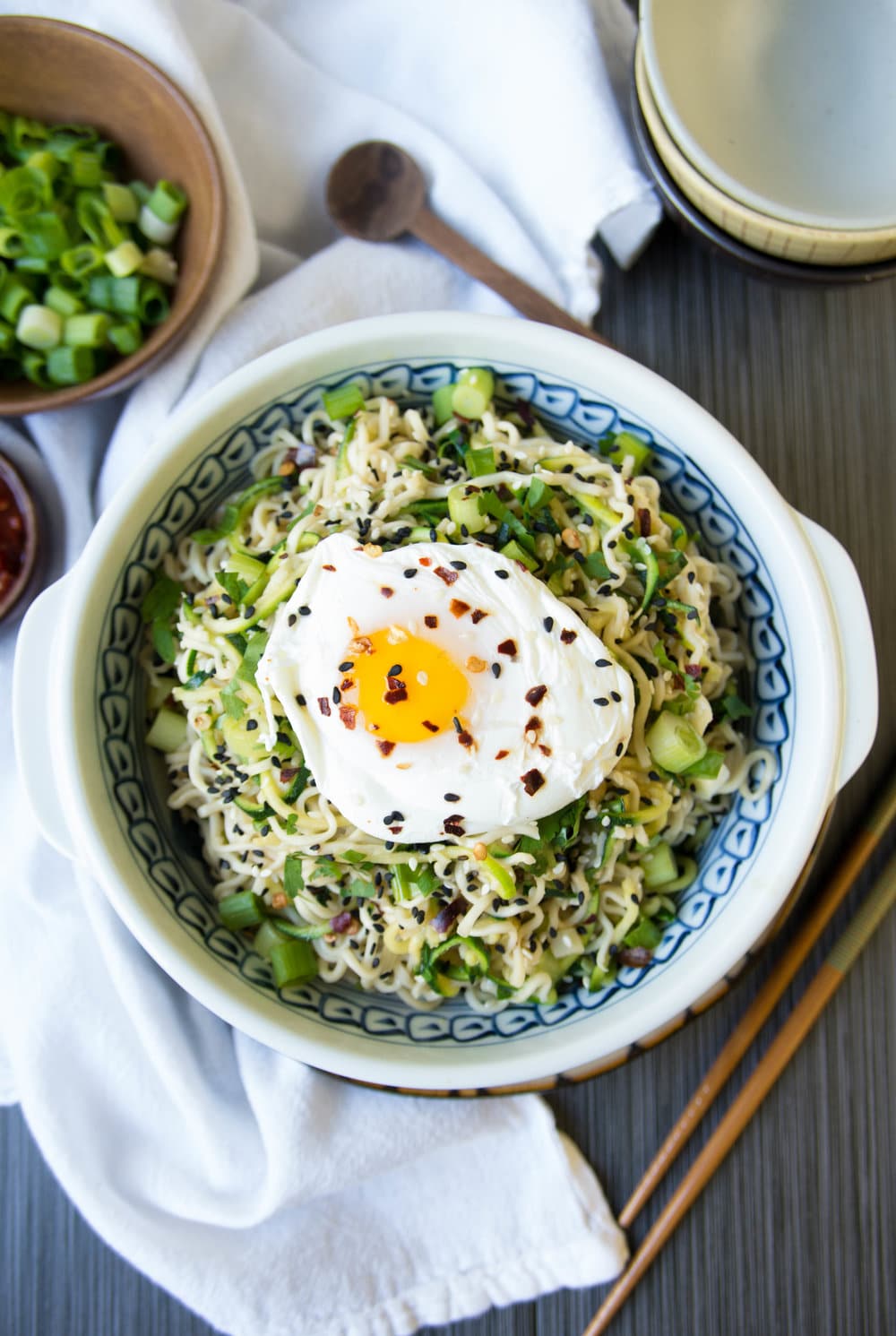 Finally, last but not least…
DO NOT FORGET THE EGG!
This is my serious voice now. Can't you tell? I even put it in caps and bold writing.
But seriously. Don't just don't, forget the egg. Eggs literally make everything better.
Tons of protein and way less cooking time which keeps this knock your socks off dinner the easiest and quickest dinner EVER!
If You Love These Ginger Garlic Miso Ramen Noodles with Poached Egg, You May Also Enjoy:
Ramen Noodles with Spicy Chili Sauce
Ginger Garlic Noodle Soup with Bok Choy
Vietnamese Chicken Salad with Rice Noodles
Ginger Garlic Miso Ramen Noodles with Poached Egg
Ginger Garlic Miso Ramen Noodles with Poached Egg is a quick and easy vegetarian dinner made with zucchini and ramen noodles, miso, your favorite chili sauce, and runny eggs. Comforting, healthy, and ready in just 20 minutes!
Ingredients
6

oz

ramen noodles -

seasoning packet discarded if included

4

tablespoon

butter

6

cloves

garlic -

minced

2

tablespoon

fresh ginger

-

peeled + grated

1

tablespoon

white miso paste

2.5

tablespoon

low sodium soy sauce

3.5

small to medium zucchini

-

spriralized

4

green onions

-

chopped

3

eggs

-

poached

fresh cilantro

-

for serving

fresh basil

-

for serving

toasted sesame seeds -

for serving
Instructions
Bring a large pot of salted water to a boil. Add the ramen noodles (no seasoning packets) to the boiling water, and cook for 2-3 minutes, or until the noodles are al dente (not soggy!). Drain the noodles and rinse under cold water to prevent further cooking.

In the meantime, heat a large skillet over medium heat. Add the butter and garlic and cook for 3-4 minutes, stirring constantly to prevent the garlic from burning. Mix in the ginger and miso paste and cook for 1 minute. Carefully toss in the zucchini and add the soy sauce and mix to coat. Cook for 3-4 minutes. Gently toss the cooked ramen noodles and chopped green onions with the zucchini noodles.

Remove from heat and top each bowl with one or two poached eggs, sesame seeds, fresh chopped cilantro and Sriracha (optional).
Nutritional Information
Calories:
520
kcal
|
Carbohydrates:
50
g
|
Protein:
16
g
|
Fat:
29
g
|
Saturated Fat:
15
g
|
Cholesterol:
204
mg
|
Sodium:
2030
mg
|
Potassium:
882
mg
|
Fiber:
4
g
|
Sugar:
7
g
|
Vitamin A:
1330
IU
|
Vitamin C:
45.8
mg
|
Calcium:
105
mg
|
Iron:
4.6
mg
(Nutrition information provided is an estimate and will vary based on cooking methods and specific brands of ingredients used.)