Mediterranean Baked Fish with Artichokes and Olives is an easy, fast, and incredibly healthy dinner perfect for any night of the week. In this beautiful dish, you will discover tender baked white fish smothered in a light tomato sauce and topped with delicious artichoke hearts, capers, lemon, and feta cheese.
Mediterranean cuisine, known for their fresh and healthy ingredients, has been the inspiration behind several other recipes on TFS including Easy Chopped Mediterranean Salad and Easy Mediterranean Chicken Wraps with Hummus.
What has flaky white fish, juicy artichokes, tangy feta cheese, and can be cooked in one pan? Ah, and takes just 35 minutes to throw together? THIS, my friends. This amazingly delicious and ridiculously healthy Mediterranean Baked Fish.
But this isn't just any old baked fish recipe. This baked fish recipe is actually more of a poached fish recipe. A poached white fish in a garlicky tomato sauce with artichokes, olives, capers, and feta cheese.
I know, it sounds just awful.
INGREDIENTS IN MEDITERRANEAN BAKED FISH
Olive oil
Onion
Garlic
Tomatoes
Basil
Sustainably sourced, wild, fish
Kalamata olives
Capers
Lemons
Artichoke hearts
Feta cheese
So I'm just a little curious…how many of you guys keep at least two of these things in your house at ALL times? Would you believe me if I told you I keep all of these things in my house at all times?
True story.
Long story short, when I originally posted this recipe back in March 2016 it was one of those "accidental" awesome recipes. Five o'clock rolled around at my house and I had hungry people to feed. So, I turned to my always well-supplied pantry (hoarding tendencies) and started pulling anything that would taste good together.
I grabbed canned artichokes, Kalamata olives, capers, canned tomato, and basically everything else you see on that list (aka operation refrigerator cleanout).
The result was a delicious Mediterranean Baked Fish that the whole family loved.
WHY YOU'RE GOING TO LOVE THIS MEDITERRANEAN BAKED FISH WITH ARTICHOKES AND OLIVES
You can easily make this baked fish in just one skillet. Read how below.
Or, you can double the servings and bake it in a larger casserole dish.
This baked fish recipe is easily customizable. If you don't like olives, simply leave them out. The only ingredient you can't really leave out of this recipe is the tomatoes.
Mediterranean baked fish is gluten-free.
And super low in carbohydrates.
But packed full of nutrients and protein.
It reheats beautifully.
Which reminds me, MEAL PREP! Add some quinoa or noodles to a reusable container and top with some leftover baked fish and you've got lunch.
HOW TO COOK MEDITERRANEAN BAKED FISH
There are two (practically identical) ways to make this Mediterranean Baked Fish. The first method involves one (oven-safe) skillet and the second is made with a skillet and a casserole dish. Each process is literally the same.
The recipe card below details instructions for the one-skillet method. The images below show you method number two, step-by-step.
METHOD 1: OVEN SAFE SKILLET
For this method, you will need a large oven-safe skillet. I love my Calphalon 12-inch pan, but I literally could not live without my Cast Iron Skillet either.
Preheat oven to 375 degrees F. In your favorite oven-safe skillet, prepare the sauce. One the sauce is hot, and bubbly, remove from heat.
To the same skillet, arrange the fish on top of the tomato basil sauce and sprinkle with feta cheese.
Arrange the drained artichokes and chopped tomatoes between and among the fish and top with lemon slices.
Sprinkle with olives, capers, fresh basil, and additional feta cheese, if desired.
Bake fish for approximately 20 minutes.
METHOD 2: SKILLET TO OVEN SAFE BAKING DISH
For this method, you will need a baking dish. Depending on how much you plan to make, you can use a square 9×9-inch baking dish or larger 13×9-inch baking dish (note- it's better for your dish to be a little too large, rather than too small).
one. Prepare delicious tomato basil sauce in your skillet. Once warm and bubbly, remove skillet from heat.
two. Add half the tomato sauce to the bottom of your favorite baking dish. Add half the artichokes and sprinkle with capers.
three. Place fish directly on top of artichokes and capers (I had a lot of fish- if you don't have this much fish, don't worry). Season with salt and pepper and sprinkle with feta cheese.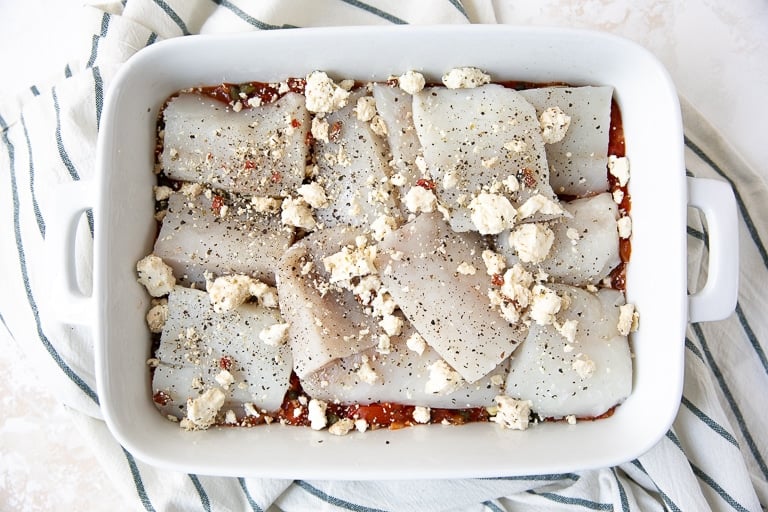 four. Top with olives, more artichokes, and chopped Roma tomatoes.
five. Sprinkle with fresh chopped basil, capers, and lemon slices.
six. Add remaining tomato basil sauce and top with additional olives, if desired.
seven. Sprinkle with feta cheese and fresh basil, if desired. Bake for approximately 20 minutes or until fish is fully cooked.
HEALTH BENEFITS OF EATING WHITEFISH
Let me preface this by saying that I understand wild-caught fish may not always be available depending on where you live. Fortunately, I live in a location where sustainably sourced seafood is easy to locate. If you cannot find this particular fish, any white fish will do.
Download your own SEAFOOD WATCH GUIDE which will help you find sustainable fish and seafood wherever you live or travel.
Omega 3s
Low in fat when compared to other animal sources of protein.
Protein (and lots of it!)
Vitamin B-3
Magnesium- great for bones and for muscles
High levels of Pantothenic acid which is believed to help with depression and anxiety.
Vitamin A, Choline, Selenium
You may also enjoy these other fish recipes,
WHAT IS THE MEDITERRANEAN DIET?
I've heard of The Mediterranean, but The Mediterranean Diet? Yes, it's a thing and while I am not here to encourage or support a diet of any kind unless recommended by a well-qualified doctor, I thought I would give you the facts, since, well, I'm serving Mediterranean Baked Fish.
The Mediterranean Diet is one which follows similar eating habits to those in Greece, Southern Italy, and Spain in the 1940s and 1950s.
In the Mediterranean Diet people typically consumer larger amounts of olive oil, fruits, vegetables, legumes, unrefined cereals, and fish, and moderate consumption of dairy products (cheese and yogurt) and wine.
Foods not typically eaten include non-fish protein sources, eggs, processed foods, and sugar.
Health Benefits are believed to include things such as a lowered risk of heart disease, cancer, and type 2 diabetes.
I don't know, do you think you could do it? I mean, it practically encourages you to drink wine. But no eggs? I don't know if I could do that.
If you try cooking this Mediterranean Baked Fish with Artichokes and Olives Recipe, please leave me a comment and let me know! I always love to hear your thoughts.
For more seafood recipes check out,
For more Mediterranean recipes check out,
DON'T FORGET TO PIN AND SHARE THIS MEDITERRANEAN BAKED FISH WITH ARTICHOKES AND OLIVE TO MAKE FOR A FLAVORFUL AND HEALTHY DINNER THE WHOLE FAMILY WILL LOVE.
Mediterranean Baked Fish with Artichokes and Olives
Mediterranean Baked Fish with Artichokes and Olives is an easy, fast, and incredibly healthy dinner perfect for any night of the week.
Ingredients
1.5

tablespoon

olive oil

½

yellow onion

-

chopped or 2 large shallots, chopped

6

cloves

garlic -

minced

28

oz

chopped tomatoes

-

two 14 ounce cans , liquid drained

¼

cup

fresh chopped basil

-

packed

salt + pepper

16

oz

White fish

-

I used cod fillets, 4 fillets

½

cup

feta cheese

-

crumbled

15

oz

artichoke hearts -

liquid drained

2

Roma

tomatoes

-

roughly chopped

4

ounces

kalamata olives

2

tablespoon

capers

1

lemon

-

sliced

additional feta cheese, basil, and capers

-

for serving
Instructions
Preheat oven to 375 degrees F.

In a large oven-safe skillet, heat olive oil over medium heat (if you do not have an oven safe skillet, that's ok. You will just need to use two dishes). Once warm, add onion (or shallots) and garlic and sauté until fragrant, approximately 1-2 minutes. Add chopped tomatoes, basil, salt and pepper and mix well. Bring to just a boil and remove from heat.

In the same (oven-safe) skillet, place fish on top of the fresh basil tomato sauce. Sprinkle with feta cheese.

Gently place artichokes and chopped Roma tomatoes in the tomato sauce between the fish fillets, and place thin slices of lemon on top of the fish. Add the drained olives and capers on top of the fish and tomatoes.

Place skillet in the center of your preheated oven and bake for approximately 15-25 minutes, or until fish flakes easily with a fork (the time will vary depending on the size and thickness of your fish).

Garnish with fresh basil and feta cheese and serve with a side of fresh bread, couscous or quinoa.
Jessica's Notes
**There are two methods of making this recipe.
Bake the fish in the same oven-safe skillet that you prepared the tomato sauce. The instructions in this recipe card reflect that cooking method.
Bake the fish in a separate (casserole) baking dish. This cooking method is reflected in the pictures. The only difference here is that you will need to transfer the sauce from the skillet to the baking dish.
NOTE: The recipe was doubled for the images shown. I recommend a smaller 9x9-inch baking dish
Nutritional Information
Calories:
417
kcal
|
Carbohydrates:
20
g
|
Protein:
29
g
|
Fat:
25
g
|
Saturated Fat:
5
g
|
Cholesterol:
73
mg
|
Sodium:
1509
mg
|
Potassium:
814
mg
|
Fiber:
6
g
|
Sugar:
8
g
|
Vitamin A:
1565
IU
|
Vitamin C:
57.8
mg
|
Calcium:
222
mg
|
Iron:
3.9
mg
(Nutrition information provided is an estimate and will vary based on cooking methods and specific brands of ingredients used.)