Packed full of nuts, seeds, dried fruit, and oats, these perfectly sweet Superfood Oat Bars are gluten-free, dairy-free, and make the best snack ever!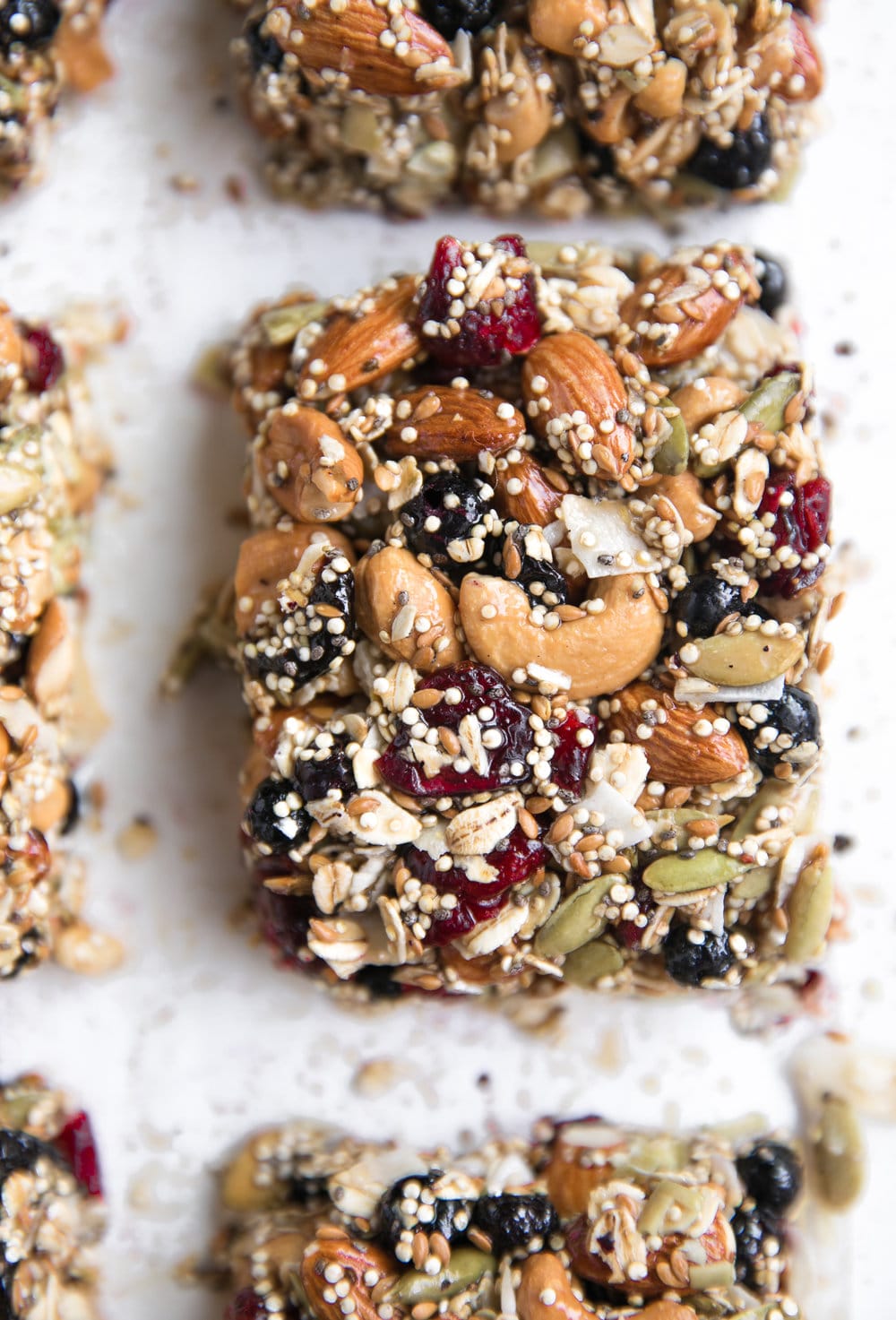 I picked up Octavian from school this afternoon, as I usually do, and was about 10 minutes late, as I usually am. After a long run with the dog (it was long overdue for the both of us) I knew I had about 10 minutes to get my you-know-what together before I would have to leave the house to get to his school on time. Well, as I was chugging water and scrolling through my Instagram feed (always multitasking over here) I realized the microwave was beeping at me.
my coffee! It was getting late. crap! if I wanted my last latte for the day, I needed to drink it and I needed to drink it fast. I like my coffee hot, however (unless I'm making a proper iced coffee). Rather than drinking my joe and getting on my way, what did I do? I microwaved my coffee for a minute. I didn't even check to see what scale of cold the coffee was on.
Well, of course, my microwave decided to work extra hard for that 1 minute and warm my coffee to a level so burning hot that I burned my throat off. Rather than think logically and add an ice cube or more cold milk, I sat there, editing images on my computer, taking small sips of my molten lava coffee.
What is important about this. nothing. sorry, guys. Unless, you're a parent out there, then perhaps you can relate to the joy and happiness that is coffee, but the total pain in the ass of getting a cup of coffee to just the right temperature at the time you have 1 free minute to drink it.
Ten minutes later, I finally gave up, threw my coffee in a thermos (is that what they're called these days?) and resigned to drinking my remaining coffee cold. Because it was, since I forgot about it.
When I arrived, I drove up to find my wild child trying to hop the fence and break free of the place. Ok, I exaggerate. He saw me, and was definitely trying to hop the fence, but it was just because he wanted to "snuggle my face". Then he proceeded to run around in tiny little circles, open up drawers, grab scissors and start unraveling the paper towels so he could "scissor them", and raid the front desk of its pencils.
Have I mentioned that my kid is fast and has serious selective hearing? Well, now you know 🙂
The plan was to go to the zoo. So I asked him if he wanted to go home, or go to the zoo. He said he wanted to go home. I was in no mood for the zoo, so I thanked the Universe and then asked if he wanted to go to the market? "No! I wanna go straight home." Of course you do (so do I, obvs). So I bribed him with yogurt pouches and told him he could help mommy pick out the best rainbow carrots.
Then, as we were driving home he asked, "How do the baby come out of the mommy?"
No, kiddo. Not yet.
Anywho, I love love love nuts. Like, seriously. Plain, buttered, mixed. Give me nuts, and I will eat. The same applies to dried fruit. I never really appreciated dried fruit until the past year or two, but the more and more I cook/bake/eat them, the more I want to cook/bake/eat them. They add that little bit of somethin' that many dishes are screaming for. So I made some Nutty Superfood Oat Bars. These are tasty little bars, you guys, and just what I need for moments like today, post-run, when I have just a few minutes to eat before I'm off to the next thing!
Nutty Superfood Oat Bars
Packed full of nuts, seeds, dried fruit, and oats, these perfectly sweet Superfood Oat Bars are gluten-free, dairy-free, and make the best snack ever!
Instructions
Preheat oven to 315 degrees F and line a large baking sheet with parchment paper. Additionally, line an 8x8 pan with parchment paper and set aside.

Place almonds, cashews, oats, pepitas, quinoa and flaxseeds (if not already toasted) on the pre-lined baking sheet. Bake for 12-15 minutes ot until everything is nice and toasty.

As everything is toasting, whisk together the brown rice syrup, maple syrup and sea salt in a small bowl. Whisk until all ingredients are fully combined.

When the nuts and oats are finished toasting, remove sheet from the oven and carefully transfer all ingredients to a large bowl. Add the dried blueberries, cranberries, cherries and toasted coconut.

Pour the brown rice and maple syrup mixture over the nuts and seeds and mix until fully incorporated (it will be sticky).

Pour the mixture into your prepared 8x8 pan and press down firmly. I used the flat bottom of my measuring cup. Continue to press down until it is nice and packed down tight.

Place in the fridge for an hour or the freezer for at least 30 minutes to help firm up the bars and keep them together (I recommend the freezer).

Slice into 12 bars and serve.
Nutritional Information
Calories:
347
kcal
|
Carbohydrates:
46
g
|
Protein:
8
g
|
Fat:
16
g
|
Saturated Fat:
3
g
|
Sodium:
115
mg
|
Potassium:
356
mg
|
Fiber:
6
g
|
Sugar:
25
g
|
Vitamin A:
180
IU
|
Calcium:
88
mg
|
Iron:
2.5
mg
(Nutrition information provided is an estimate and will vary based on cooking methods and specific brands of ingredients used.)
If you love these Superfood Oat Bars, you may also enjoy-
Awesome Charcuterie Board (for Kids!!)
RITZ Cracker, Brie, and Jam Bites