With fall on the horizon, we begin to trade in our summer vegetables for warm, comforting potato dishes, and today we are comparing two of our favorites – Scalloped Potatoes vs. Au Gratin Potatoes.
While these two popular side dishes share many similarities, you may be surprised to learn that they have entirely different origins and just a few minor distinguishing features.
Let's take a look at the differences and similarities between scalloped potatoes and au gratin potatoes, and how to master each one.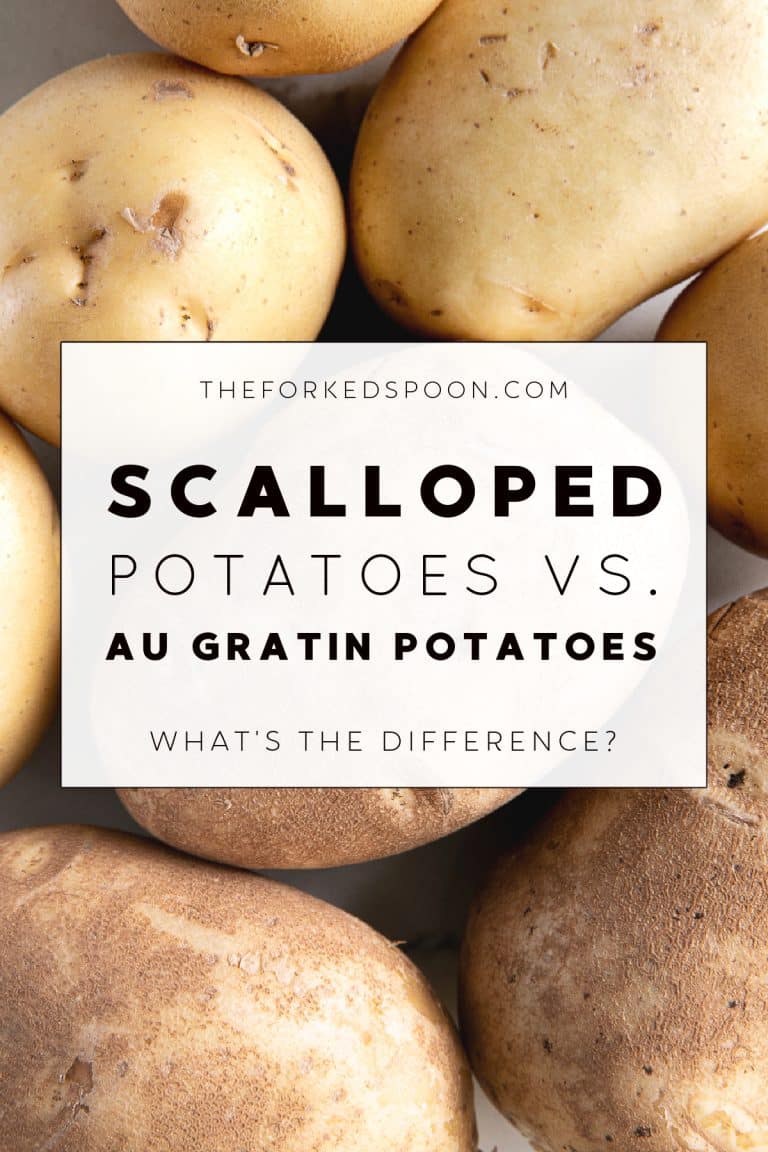 Scalloped Potatoes vs. Au Gratin Potatoes: What's the Difference?
Let's start with what these comforting side dishes share in common. Both are made with the same core ingredients: potatoes, milk, cream, and butter.
The key factor to keep in mind when deciding between scalloped potatoes and au gratin potatoes is whether to include cheese in the equation.
Here lies the primary difference between the two dishes: cheese! Au gratin potatoes include grated cheese. Scalloped potatoes do not.
Again, they both use milk or heavy cream (or both), and equal amounts of flour and butter to make a roux. Like these scalloped root vegetables, no cheese is added, and it has the quintessential "scalloped" edge.
Also, scalloped potato slices tend to be thicker than those of au gratin. Traditionally, au gratin potatoes are sliced thin to achieve that satisfying effect of biting through many layers.
Who wouldn't want cheese in all their potatoes? Fair question. But sometimes, you want the natural flavors of delicate, waxy potatoes to shine through. Going cheese-free also lightens up the dish if you're already serving up a heavy main course.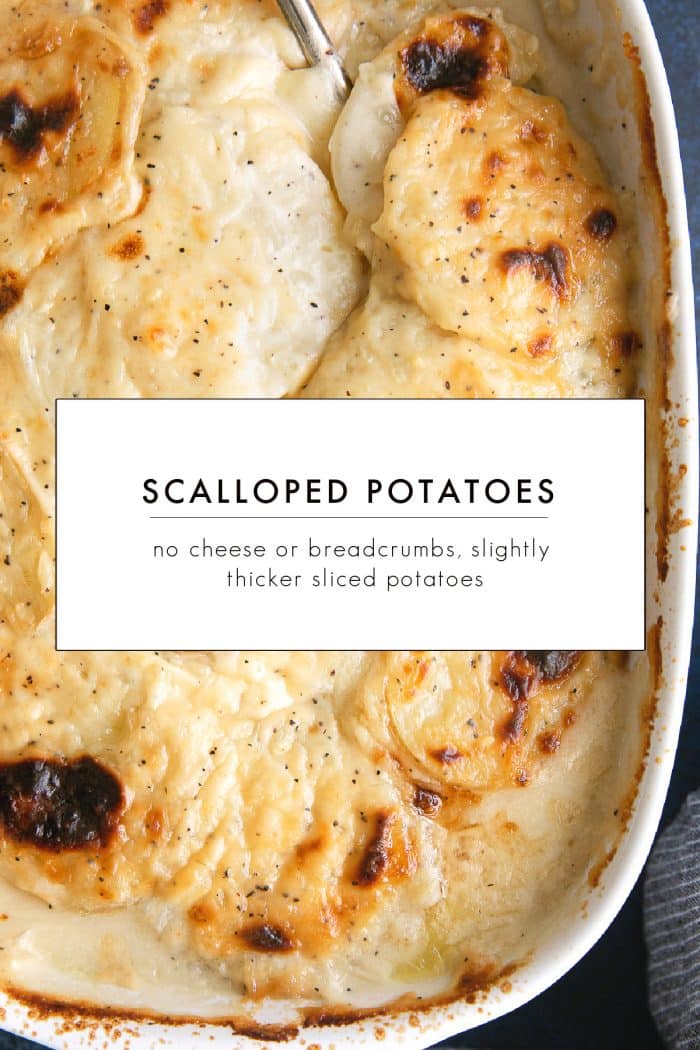 History
The word scalloped is a common cooking term, and only sometimes applies to potatoes. The technique is often used in baking to describe the semicircle shape of the edge, like a pie crust.
The exact origin of scalloped potatoes is unknown, although it is believed to have originated in England. One additional theory is that scalloped potatoes, and all other "scalloped" dishes, are derived from the same original dish: baked oysters with bread crumbs. It is likely a mixture of many influences, and recipe books each have their own takes.
Au gratin potatoes have a much more definitive origin story.
Potatoes au gratin, also known as gratin dauphinoise, is a decadent French dish of sliced potatoes baked with cream and grated cheese and dates back to 1788 in the southeastern region of Dauphiné in France.
This famed recipe made its first appearance at a sophisticated state dinner and supposedly included a little bit of Gruyere cheese!
Like many French culinary contributions, there is still some debate among world-renowned chefs regarding which cheese au gratin potatoes should include.
Origin aside, the word gratin itself refers to the culinary technique in which an ingredient is topped with a browned crust. A prime example from our own archives combines potatoes and Brussels sprouts for a creamy and cheesy alternative with the added health benefits of veggies.
A rather traditional gratin is crunchy asparagus topped with cheese and broiled until crispy. Easy, delicious, and very much au gratin! These dishes are often topped using breadcrumbs, grated cheese, egg, or butter to achieve that signature first-bite crunch.
Potatoes in America
While the origin of these two dishes is still a bit cloudy, we can tell you how they became a staple side dish in the American household.
Potatoes are a robust, high-yield crop known for their caloric density and starchy satisfaction that can feed a lot of people fast, which was perfect to help America grow in the 20th century.
By the 1950s, America found its green thumb, and potatoes were growing heartier than ever.
As time progressed, and with more available time and money, old potato recipes were set aside for newer, fancier preparations like au gratin and scalloped potatoes.
We can thank Betty Crocker for making these technical dishes a daily possibility for American families and were a big help as women headed off to the workforce.
Affordable, quick, and readily available meals became a necessity in the 1970's home when eating together was still a priority.
The humble American origins of these dishes may not match those of French nobility, but they have earned their rightful place as some of our most unforgettable comfort foods.
Nutrition
I strongly suggest passing over the nutritional information and embrace every single bite of these delectably cheesy potato dishes- they are definitely not for anyone counting calories.
However, with all the similarities in these two potato dishes, you can be assured that their nutritional values are quite similar.
With the sheer amount of available fall vegetable varieties, creamy and cheesy potatoes might not be the perfect choice if you are creating a healthy meal for your family or friends. Branch out with substitutions if necessary.
As far as calories are concerned, neither dish can be considered light.
The added fat and flavors give these dishes their hearty and savory signature. Consider the potatoes a vessel for creamy, cheesy umami and comfort all in one dish.
Potatoes themselves are not high-fat foods. They are typically low in sugar, and many varieties outside of the traditional white variety can actually be considered relatively healthy.
Let's consider the nutritional breakdowns of these dishes, keeping in mind that, in the end, all numbers will differentiate from one recipe to the next.
Nutritional Breakdown
The baseline nutritional info of scalloped potatoes will let us know our starting point, and what kind of caloric wiggle room we have for all those ingredients we know and love.
Here is a basic breakdown of the nutritional facts in a 1 cup (245 gram) serving of scalloped potatoes:
216 calories, 81 calories from fat

Total fat – 9 grams

Cholesterol – 29 mg

Sodium – 821 mg

Carbohydrates – 26 g

Protein – 7g
Again, this recipe is without cheese, so you can safely assume that an au gratin variation will include a few more grams of fat, and a tiny bit more protein.
There are some ways to make this dish slightly healthier if you wish.
You could consider swapping the heavy cream for almond milk, which contains fewer sugars and carbs. You could also use a healthy fat in exchange for butter, trying out an olive or avocado oil, though you'll miss that rich texture.
Make sure you stick with hard cheeses like parmesan or Gruyere, as they are not only lower in fat but contain robust flavors that pack a punch even in small amounts.
As I said before, this is not a dish to cut corners on.
I recommend going full speed ahead and making them as they are intended: full of cream and butter, and in the case of au gratin, full of cheese!
Technique
Achieving the perfect scalloped potato or au gratin potato is incredibly simple and doesn't have to involve complex tools.
You will need the following kitchenware:
A slicer, mandolin or a good old fashioned knife.

A shallow baking dish.

An oven.
There are only two key decisions you have to make with preparing this timeless dish. Will you be using cheese, and what thickness will you slice your potato? These factors have a significant effect on flavor, presentation, and cooking time.
I am a big fan of keeping the skins on for roasted potato dishes like this Crispy Herbed Roasted Butter Potatoes. However, traditionally scalloped potatoes and potatoes au gratin tend to call for skins off. This is simply a matter of taste, and I suggest skipping the peeler for added texture and some nutritional benefits.
Next, potato slice thickness is one of the traditional distinctions in whether you are preparing scalloped or au gratin potatoes. Usually, scalloped potatoes need thicker slices leaning against one another in a rustic but aesthetic fashion.
Alternatively, au gratin slices are incredibly thin, layered, and organized like dominos leaning on one another. This choice is up to you. Take into account when and where you are serving this dish and the amount of time you have before serving.
Toss the potatoes in the cream sauce, cover with bread crumbs and call it a day, or lay them out for those perfectly browned and crispy, cheesy edges.
Yummy!
Conclusion
While the line between scalloped and au gratin potatoes is often blurred in the culinary world, their delicious, autumnal, family meal vibes make either option a fantastic side dish anytime.
Instead of choosing between the two, go ahead and add both these dish styles to your dinner arsenal to fill in the gaps whenever the occasion calls.
I assure you there is no wrong answer, and that both of these dishes will fill bellies and warm up a chilly night. Keep reading to learn how to make my favorite scalloped potatoes and cheesy potatoes au gratin recipe. Your family will thank you.
More Potato Recipes,
Easy Twice Baked Potatoes Recipe
Baked Sweet Potato (How to Bake Sweet Potatoes)
Mashed Potatoes Recipe (How to Make Mashed Potatoes)
REMEMBER TO SUBSCRIBE TO THE FORKED SPOON NEWSLETTER FOR FREE AND RECEIVE WEEKLY RECIPE NOTIFICATIONS DELIVERED STRAIGHT TO YOUR INBOX!
If you try a recipe, please share it using the hashtag #theforkedspoon or by tagging @theforkedspoon.