Perfect for lunch or dinner, these fast and fresh 30 minute Sesame Ginger Shrimp Bowls with Asian Chopped Greens are a great way to add lean protein and extra greens to your diet.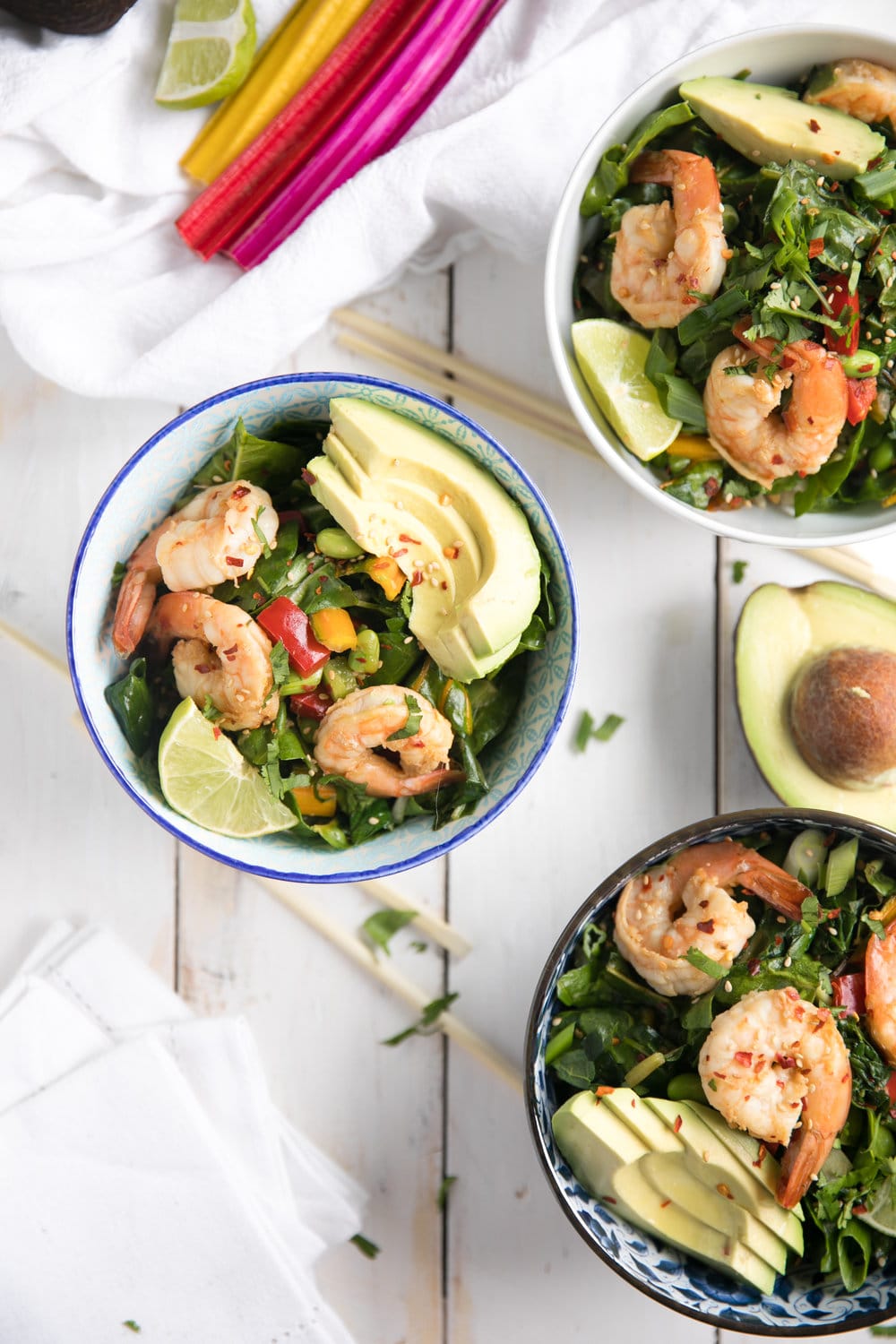 And just like that it's Friday (again)! Despite some serious crazy over at my house this week, the week has flown by!
Since I will be working most of the weekend, Mother's Day came a little early at my house. For any and all holidays I keep my expectations as low as they can go since my husband is the worst gift-giver on the face of this planet. It's not that he doesn't care, it's just not his thing. It's like the skill of shopping and buying for others (and himself, if I'm honest), was left out of his DNA.
Anywho, earlier in the week he tried to pass off a pair of sandals he picked up from Costco (and called me about first asking if I wanted or needed or liked, and then my size) as my gift. It was unwrapped and my child was not present. I said thanks for the shoes, but nice try (I actually didn't end up keeping the shoes).
I forgot about it and left the subject alone. Remember my expectations? I have none.
Then last night as I was shoveling food into my mouth for dinner (because, you know, #motherhood) he came down stairs with this…
Now, the first thing that struck me was the wrapping. I was totally impressed. My husband isn't a wrapper. That's my job. So the fact that he got most of the box covered was pretty awesome.
I then tried to figure out what was IN the box. Octavian guessed that is was "probably chocolate or cookies or something" (oh, bless that boy, he knows his mama so well). I agreed. Since my dear husband had to go back to Costco to return the shoes, he probably picked up something for me to eat (because he, also knows me so well).
YOU GUYS, I did not expect an Apple Watch. In fact, this was so far off my radar I was a little speechless. Then when I saw the little Nike swoosh I got really really excited. I had no idea what the Nike logo on the box meant exactly, but I knew it had something to do with running. And it does! Umm, yeah, best gift ever (ok, one of the best gifts ever). I am literally about to go on my first run wearing this bad boy and I can't wait! Plus, it reminds me to stand every hour. You would be surprised how many hours I can sit editing and sharing and posting before getting up. Lots of hours, guys, lots.
So, serious kuddos to my boys! They did good (even if my husband did make it clear that this covers the rest of the holidays for the year) <– insert laughing/crying emoji here.
Ok guys, since I'm pee-my-pants excited to run, I'm going to let this easy, healthy and 25 minute meal speak for itself.
I mean, just look at the colors on that rainbow chard! If that does't get you excited to cook, I don't know what will? But, if chard isn't your thing, spinach or kale make fantastic substitutes. And, if your meat-free, tofu and tempeh are excellent replacements 🙂
Have the best Friday ever! xo
Sesame Ginger Shrimp Bowls with Asian Chopped Greens
Perfect for lunch or dinner, these fast and fresh 30 minute Sesame Ginger Shrimp Bowls with Asian Chopped Greens are a great way to add lean protein and extra greens to your diet.
Ingredients
For the Shrimp Bowl
1

lb

large shrimp

-

thawed, peeled, and deveined

1

tablespoon

olive oil

1

red bell pepper

-

seeded and chopped

1

green bell pepper

-

seeded and chopped

12

oz

frozen shelled edamame

-

thawed

1

cup

chopped green onion

5

cups

fresh baby spinach

-

chopped

5

cups

rainbow chard

-

chopped with thick tough stems removed

6

cups

cooked brown rice

cilantro

-

freshly chopped for serving

2

large avocados

-

pitted and sliced

sriracha -

for serving

sesame seeds -

optional
Instructions
In a medium bowl whisk together the ponzu sauce, soy sauce, fresh grated ginger, garlic, sesame oil and red chili flakes. Add the shrimp to the bowl and toss well to coat. Place the bowl with the shrimp in the refrigerator and allow the shrimp to marinate for 30 minutes to 1 hour (or as much time as you can allow- not exceeding 1 hour). Meanwhile, prepare the vegetables.

Heat a large Dutch oven or wok over medium high heat. Add the oil. Add the shrimp to the pan in a single layer (reserving the sauce) and cook for 2 minutes, or until cooked on that side. Flip to the other side and cook for an additional 1-2 minutes more. Transfer shrimp to a clean plate or bowl when completely cooked. Repeat with any remaining shrimp. Set the shrimp aside.


To the same pan over medium high heat add 1 teaspoon of oil. Add the red and green bell pepper and cook for 2-3 minutes, stirring occasionally. Carefully add the remaining marinade to the pan and bring to a low boil. Allow the marinade to simmer for 3-4 minutes, or until liquid has reduced by half. Meanwhile fill each serving bowl with cooked rice and slice your avocado, if desired.


Once liquid has reduced, stir in the edamame, chopped green onion and the spinach. Allow them to cook until just starting to wilt, approximately 30 seconds. Finally, stir in the rainbow chard and cook for approximately 1 minute, stirring constantly. Add the shrimp back to the pan and remove from heat. Continue to stir a few more times, or until fully combined.


Divide the greens and the shrimp between the bowls and top with additional cilantro, green onion, sliced avocado, Sriracha and sesame seeds, if desired.

Nutritional Information
Calories:
806
kcal
|
Carbohydrates:
99
g
|
Protein:
45
g
|
Fat:
27
g
|
Saturated Fat:
3
g
|
Cholesterol:
285
mg
|
Sodium:
2222
mg
|
Potassium:
1826
mg
|
Fiber:
20
g
|
Sugar:
6
g
|
Vitamin A:
8075
IU
|
Vitamin C:
112.2
mg
|
Calcium:
353
mg
|
Iron:
9.4
mg
(Nutrition information provided is an estimate and will vary based on cooking methods and specific brands of ingredients used.)