Learn how to make this healthy grilled shrimp and veggie bowl here.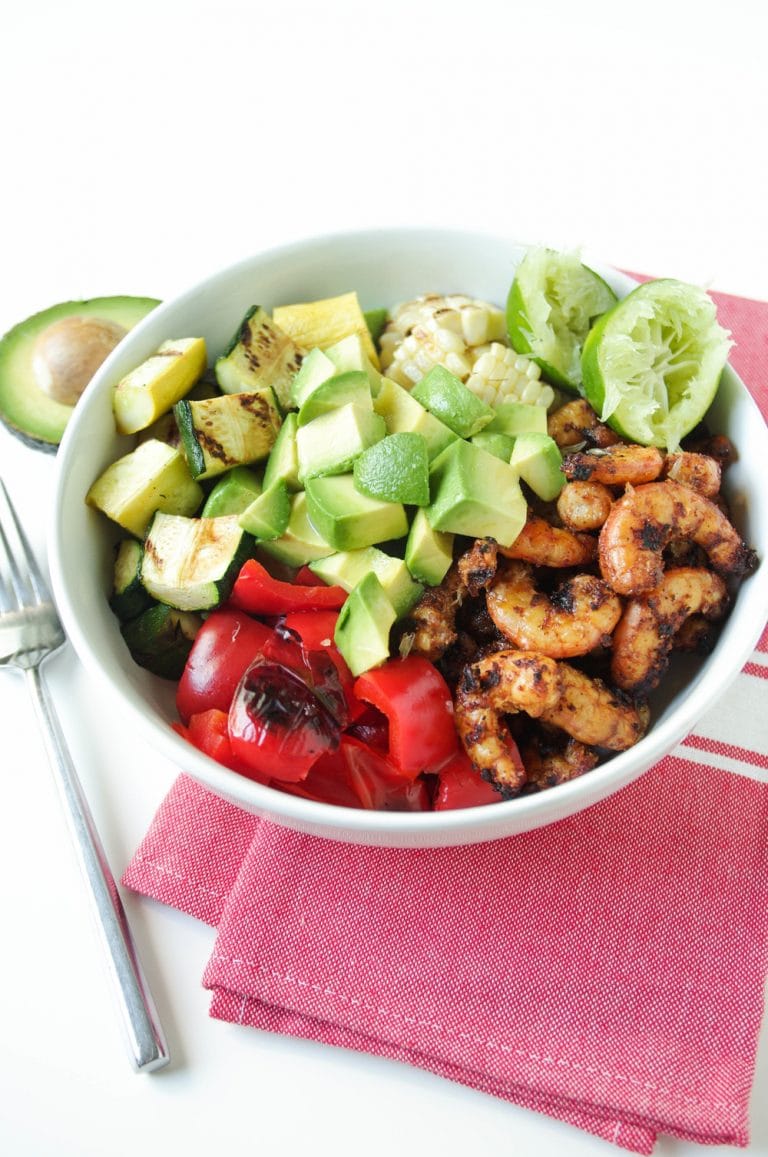 Yesterday was a hard day. A very very hard day. By its end I felt like a failure as Mom. I felt responsible for the tantrums, my child's hitting habit and overall out-of-control behaviour. As I watched my child fling himself to the floor of his bedroom at bedtime hysterically crying because I wouldn't go downstairs and read to him on the couch, all I could think was, this is my fault. I mean, obviously. right? Why else would he be so…disturbed?
I felt defeated.
I wasn't upset at my child and I wasn't even angry.
I felt guilty. I was failing him. I mean, what else could this be?
Now that a new day has started and we are all a bit more rested (for now), our spirits are high. In fact, at this moment, we are in the car driving to our home-away-from-home for the next three nights. We are camping. The husband is excited. Octavian is excited, except when I told him we would be sleeping there for 3 nights, at which point he said, "NO!", and I'm neutral. The memories will be amazing and parts will be fun, but I will absolutely keep my eyes open for the nearest motel just in case.
According to my husband, there will be no internet where we are going. Since so much of my life revolves around social media, this is going to be very very hard for me. BUT, so very good for me at the same time. A little break will do a body good.
But seriously, please send good sleep vibes my way and I'll be sure to pass it right along to my toddler 🙂
Now for food…
I have been all about healthy stuff lately. The healthier I eat, the more healthy stuff I want to eat. Even my beloved chocolate peanut butter cups have been losing their appeal (although chocolate cake and I will forever be bffs). Just a year ago I would have needed to drench these delicious grilled veggies in a heavy dressing or sauce, but I'm learning that with the right seasoning (simple is best sometimes) and avocado, anything is possible.
This grilled shrimp and veggie bowl is just that- simple, super healthy and delicious. Of course, no judgement from me for additions (balsamic vinaigrette would be delicious), but the main flavor bursters come from the grilled shrimp, avocado and fresh lime juice.
So good.
No carbs necessary, but sweet potatoes would be my first choice 🙂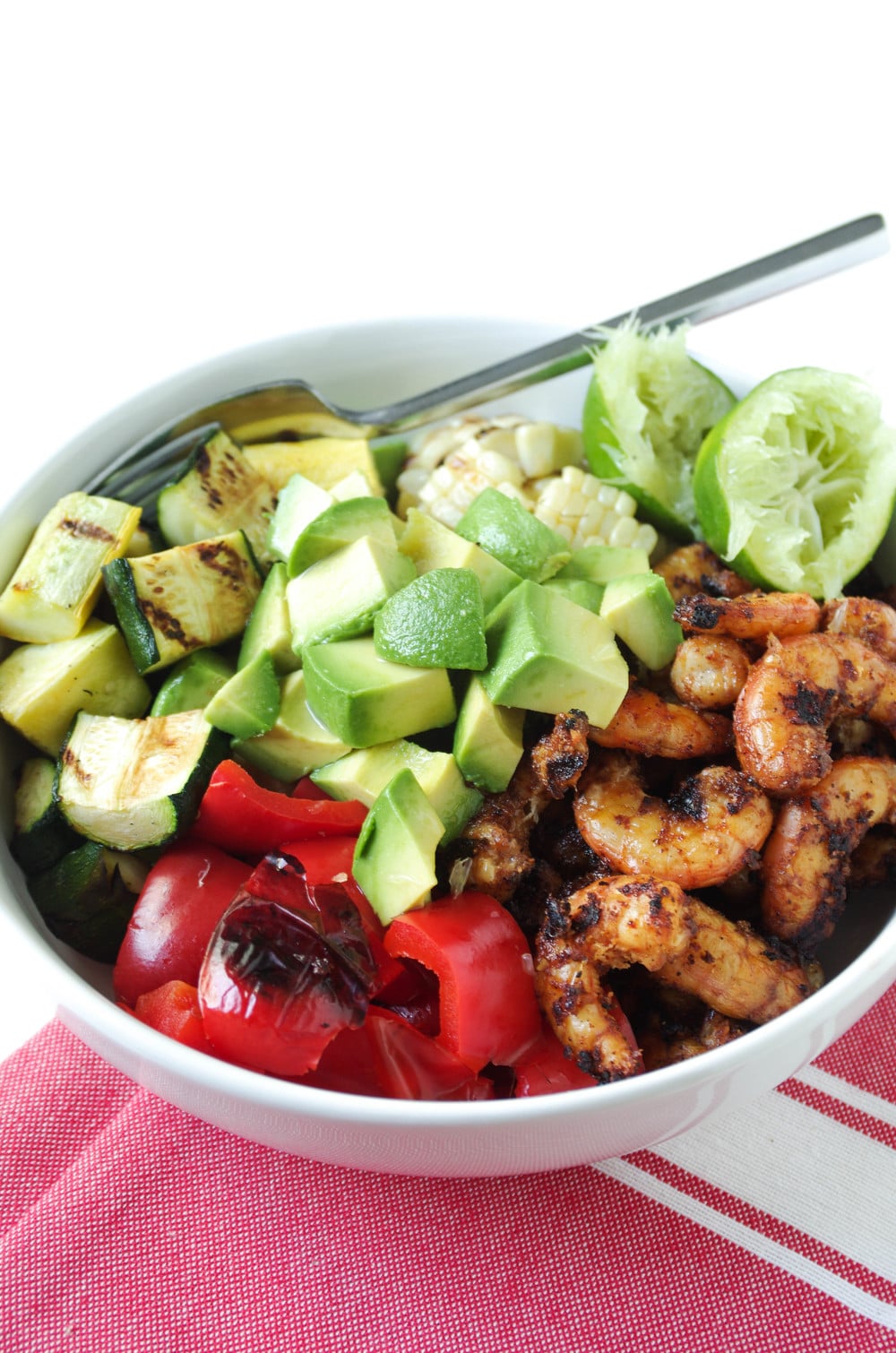 Shrimp Bowl
This Grilled Shrimp Bowl is so easy to grill and throw together for a healthy and delicious lunch or dinner. It's packed with a rainbow of veggies and the shrimp is bursting with spicy, garlicy flavor.
Ingredients
For the Veggies:
4

zucchini

-

quartered lengthwise

3

yellow squash

-

quartered lengthwise

2

corn cobs

-

husks removed

2

red bell peppers

-

halved and seeds removed

1

avocado

-

diced

Balsamic Vinegar

Salt + Pepper
Instructions
Gently pat shrimp dry with a paper towel and transfer them to a medium sized bowl. Add the olive oil and toss the shrimp to coat. Into the same bowl add in the onion powder, garlic powder, chili powder, cayenne pepper, salt, pepper, sugar and lime juice. Toss again to coat.

Skewer each shrimp onto presoaked wood or metal skewers and set aside until ready for grilling.

Over medium-high heat, grill the corn cobs, zucchini, yellow squash and bell pepper halves (you can optionally coat veggies with olive oil or butter. With or without works well). After approximately 4-5 minutes flip veggies and continue to grill for an additional 4-5 minutes.

Add shrimp and cook for approximately 2 minutes each side.

Remove everything from the grill. Carefully cut the corn from the cob and chop the veggies. Place everything in a medium sized serving bowl, top with avocado, fresh lime juice, and a pinch of salt and pepper. Toss to coat.
Nutritional Information
Calories:
771
kcal
|
Carbohydrates:
63
g
|
Protein:
61
g
|
Fat:
35
g
|
Saturated Fat:
5
g
|
Cholesterol:
571
mg
|
Sodium:
2425
mg
|
Potassium:
3027
mg
|
Fiber:
20
g
|
Sugar:
30
g
|
Vitamin A:
5915
IU
|
Vitamin C:
307.3
mg
|
Calcium:
467
mg
|
Iron:
9.2
mg
(Nutrition information provided is an estimate and will vary based on cooking methods and specific brands of ingredients used.)