Lighter and healthier, this Skinny Baked Popcorn Chicken Recipe with Creamy Garlic Aioli is baked, not fried, and loved by all ages. Enjoy this popcorn chicken for game day or as a fun and easy weeknight dinner.
Popcorn Chicken remains one of those feel-good foods that will forever remind me of childhood. Divorcing when I was just six, my parents decided that my dad would take me, my brother, and my sister every other weekend. It was a pretty crappy deal if you ask me, but now, as an adult, I can see through the crap and see the bigger picture (translation- I have always been incredibly fortunate).
Anyway, I'm not here to chat about my parents' divorce or how much I have matured in my three decades on this earth. Today I'm here to chat about chicken- specifically, popcorn chicken- and how this simple food with always remind me of these weekends with my dad.
So, every other weekend my dad would pick my siblings and me up for the weekend in his classic boxy Volvo and make our usual stop at the local Blockbuster (remember those days?) and then grab a bucket of fried KFC Popcorn Chicken. Ok, sometimes Popeyes Chicken. Or, other times it would be pizza or TV dinners, but same thing. We would all pile around the coffee table, eat some chicken and watch a movie. I still remember every detail of his apartment…
But, that was then.
Now that I am a mom to my own little nugget who would gladly eat nuggets for breakfast, lunch, and dinner (if I let him), I've decided to make a healthier version of this popcorn chicken from my childhood.
Ingredients in this Skinny Baked Popcorn Chicken Recipe
Chicken breast
Buttermilk
Hot sauce (optional)
Dried parsley
Eggs
Flour
Panko breadcrumbs
Salt + Pepper
Dried Italian seasoning
Creamy garlic aioli (recipe included below)
For this Baked popcorn chicken recipe, I wanted to keep the seasoning neutral. Not plain, no. And definitely NOT boring because that would completely defeat the purpose of eating. However, I wanted to make a popcorn chicken recipe that would,
Appeal to both kids and adults.
Taste great with an assortment of dipping sauces (because I love all the sauce).
Be easy to customize.
And taste better baked rather than fried.
In my opinion, I nailed each of these points. This easy baked popcorn chicken was practically inhaled my husband who nearly ate the whole plate before my son even had a chance to try them for himself. Ok, I exaggerate, but my husband does eat super fast when he loves something. And although I did make this particular batch with a creamy garlic aioli, they taste delicious with all the sauce (honey mustard, ranch, ketchup, buffalo, etc).
Why I love this Baked Popcorn Chicken Recipe
They're baked rather than fried and they still taste delicious. Being baked, not only are they healthier, they are also much easier to prepare as there is no need to deal with messy oil splattering all over the place.
You can season the flour and the panko breadcrumbs with your favorite seasoning. So, if you're looking for a Cajun seasoned popcorn chicken, go for it. What about a curry flavored popcorn chicken, why not?
These baked little popcorn chicken pieces are crispy! No soggy mess here.
Prefer chicken nuggets or chicken tenders? Same instructions apply (simply adjust cooking time accordingly).
My child loves them. Translation- I can stay the "cool mom" without feeding him uncool food.
But really, who doesn't love a good crispy breaded chicken recipe? Assuming, of course, you're not vegetarian or gluten-free. I'm guessing these would be a no-go under those circumstances. However, for those of you who already love a good chicken nugget meal, I'll wager a guess that you would also love this popcorn chicken recipe.
Don't forget to check out these other delicious Chicken Dinners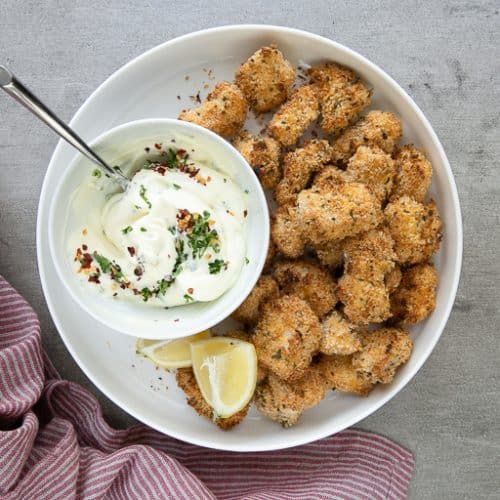 Skinny Baked Popcorn Chicken
Lighter and healthier, this Skinny Baked Popcorn Chicken Recipe with Creamy Garlic Aioli is baked, not fried, and loved by all ages. Enjoy this popcorn chicken for game day or as a fun and easy weeknight dinner.
Ingredients
For the Creamy Garlic Aioli
Instructions
For the Popcorn Chicken
Prepare the chicken- cut the chicken into small bite-size pieces (approximately the size of large pieces of popped popcorn). Transfer the chicken to a large zip-lock bag. To the same bag add the buttermilk, favorite hot sauce (if desired), and parsley. Seal the ziplock bag shut and mix the chicken with the buttermilk mixture, making sure every piece of chicken is coated with buttermilk. Set aside.

Preheat oven to 450 degrees F. Line a large baking sheet with foil and place a wire rack on top. Spray rack lightly with non-stick cooking spray. Set aside.

In three individual shallow bowls add the breadcrumbs, the eggs, and the flour, each to its own separate bowl.

Season the flour with one teaspoon of salt and one teaspoon of pepper, mix well to combine. To the panko breadcrumbs add one teaspoon salt, one teaspoon pepper, Italian seasoning, and Paprika. Mix well to combine. Season the egg with a pinch of salt and beat until eggs are smooth.


Working in batches, remove the chicken from the buttermilk mixture and transfer to the flour. Coat the chicken with the flour mixture and transfer to the egg wash. Coated in the egg wash, transfer the chicken to the seasoned panko breadcrumbs.

Transfer chicken to the prepared wire rack, spacing approximately 1/2-inch apart. Repeat with remaining chicken pieces until all chicken has been coated in flour, egg, and panko.

Transfer chicken to the oven and bake for approximately 12-14 minutes, or until chicken pieces are golden and fully cooked. Serve with the Creamy Garlic Aioli (below) or your other favorite dipping sauces. Enjoy!
For the Creamy Garlic Aioli
To a small food processor add the mayonnaise, olive oil, parmesan cheese, lemon juice, red pepper flakes, garlic, and a pinch of salt and pepper. Blend on high until mixture is smooth and creamy. Season with additional salt and pepper, to taste and sprinkle with fresh chopped parsley and red pepper flakes if desired. Store any remaining aioli in a sealed container in the refrigerator for up to 5 days.
Jessica's Notes
Nutritional information includes the Creamy Garlic Aioli.
Nutritional Information
Calories:
981
kcal
|
Carbohydrates:
44
g
|
Protein:
49
g
|
Fat:
66
g
|
Saturated Fat:
11
g
|
Cholesterol:
231
mg
|
Sodium:
2105
mg
|
Potassium:
842
mg
|
Fiber:
3
g
|
Sugar:
3
g
|
Vitamin A:
1025
IU
|
Vitamin C:
7.4
mg
|
Calcium:
190
mg
|
Iron:
4.6
mg
(Nutrition information provided is an estimate and will vary based on cooking methods and specific brands of ingredients used.)