Homemade Turkey Soup is an easy way to repurpose holiday leftovers into a nourishing and delicious dinner that will last you for days. Use what's left of your holiday turkey, add some vegetables and barley, and transform your leftover turkey dinner into soup in under an hour!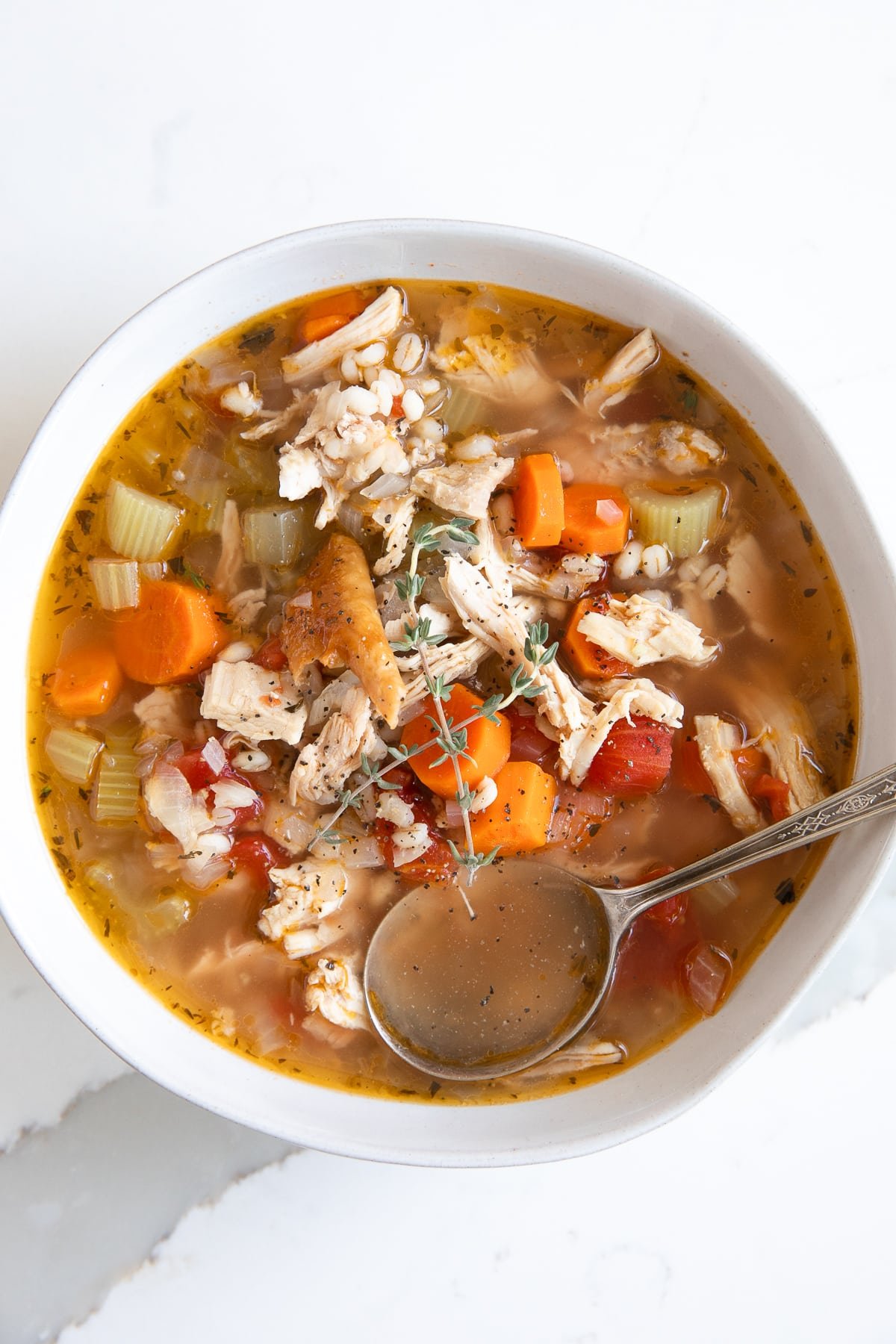 Leftover Turkey Carcass Soup
If you love chicken soup, then you're definitely going to love this yummy turkey soup recipe. Made with homemade turkey stock (don't forget to save your leftover Thanksgiving turkey bones), tender vegetables, juicy shredded turkey, and pearl barley, I love this soup for its delicate, bold flavor and nourishing hearty veggies.
This turkey soup is 100% delicious and what I consider to be the best turkey soup recipe out there. It's the perfect way to use up leftovers so that nothing goes to waste. The whole family will be begging for seconds – so an extra-large pot is highly recommended (especially when making homemade broth or stock).
No turkey bones to make your own stock? That's ok. Use your favorite store-bought turkey or chicken broth. Did you run out of turkey meat? Shredded chicken breasts or rotisserie chicken will also taste great.
Now, let's learn how to make this easy turkey soup.
How to Make Turkey Soup
The key to making great turkey soup is to first make homemade turkey stock from leftover turkey bones and meat. This post details everything you need to know about making homemade turkey stock, but the idea is pretty simple: simmer your leftover turkey carcass and bones for at least 3-4 hours in a large pot filled with water. Once they've finished simmering, strain the broth through a fine-mesh strainer and set aside. Meanwhile, pick any remaining meat from the bones and save it to be added to the soup later on.
Tip
You may store your turkey stock in the refrigerator for up to one week, or freeze it for up to 3-4 months.
With the broth ready to go, you can officially get started making your homemade turkey soup. Start by softening the vegetables (mirepoix) over medium heat in a little olive oil. For this recipe, I've added onions, carrots, and celery, plus a can of diced tomatoes. Feel free to add any other favorites including chard, spinach, potatoes, sweet potatoes, or even green beans. Once the vegetables have started to soften, stir in the minced garlic and season with salt and pepper.
When you can smell the garlic, season with a little poultry seasoning or Italian seasoning with a pinch of sweet paprika. Stir in the canned tomatoes and about 3 quarts of your homemade turkey stock. Stir in the bay leaves, increase the heat to high, and bring to a boil. Once boiling, reduce heat to a simmer, cover, and cook for approximately 15 minutes.
Tip
If you're short on time or you don't have a leftover turkey to work with, substitute with your favorite store-bought turkey broth or turkey stock.
Finally, add the leftover cooked and shredded turkey to the soup plus the pearled barley. Mix well to combine and cook until the vegetables are softened and the barley is tender.
FAQ
How to store leftover turkey soup?
I typically keep my soup right in the pot, cover it with a lid, and pop it in the refrigerator after it's cooled slightly. This makes for easy reheating the next day and fewer overall dishes. You may also place the soup in an airtight container and in the refrigerator until ready to reheat and serve. Best when enjoyed within 4-5 days.
Can I freeze leftover turkey soup?
Yes. Allow the soup to cool before transferring to freezer-friendly containers or ziplock bags. Freeze for up to 3 months.
Why barley? Can I add something else?
Barley is slightly chewy, nutty, and holds up well even after prolonged boiling. I've added pearl barley (or quick-cook barley) which also helps thicken sauces and stews (in this case just slightly). And though it isn't a whole grain (since it has been polished to remove some or all of the outer bran layer along with the hull), it is a delicious alternative to the more popular semolina pasta or rice commonly found in soup. You can replace barley with rice (brown rice or white rice), noodles, quinoa, etc.

Have you tried making this easy turkey soup recipe?
Tell me about it in the comments below! I always love to hear your thoughts. And tag me #theforkedspoon on Instagram if you've made any of my recipes, I always love to see what you're cooking in the kitchen.
Easy Turkey Soup Recipe
This Turkey Soup Recipe is an easy, comforting, go-to recipe after feasting for the holidays. Use what's left of the turkey carcass, add some vegetables and barley, and make a delicious leftover turkey soup!
Ingredients
2

tablespoon

olive oil

2

medium

onions

-

chopped

5

stalks

celery

4

large

carrots

3

cloves

garlic -

minced

2

teaspoon

poultry seasoning

1

(15 ounce) can

chopped tomatoes

3

quarts (12 cups)

turkey stock -

homemade or store-bought

2

bay

leaves

salt + black pepper

-

to taste

4-5

cups

shredded turkey

1

cup

pearled barley

-

quick-cook is fine

Fresh parsley, fresh thyme, shredded parmesan cheese

-

to garnish
Instructions
Soften the veggies. Heat 2 tablespoons of olive oil in a large stock pot or Dutch oven set over medium heat. Add the chopped onions and cook, stirring often, for 4-5 minutes or until the onions turn translucent. Add the carrots and celery and mix well to combine. Continue to cook over medium heat for 10-15 minutes, stirring often. In the last two minutes stir in the minced garlic and sprinkle with salt and pepper. Mix well to combine.

Add the stock and simmer. Sprinkle with about 2 teaspoons of poultry seasoning (Italian seasoning with a pinch of paprika will also work), and add the canned tomatoes (with their liquid) to the pot. Mix well and pour in approximately 3 quarts (12 cups) of stock (I used leftover turkey stock that I had made the day before) and add the bay leaves. Increase heat to high and bring to a boil. Reduce heat to a simmer, cover, and simmer for approximately 10 minutes.

Add the shredded turkey and barley. Add the leftover, cooked turkey plus 1 cup uncooked pearled barley. Stir to combine. Continue to cook until the barley is cooked and the vegetables are completely softened, about 15 minutes.

Serve. Season with additional salt and pepper, to taste, and garnish with fresh chopped parsley, thyme, and parmesan cheese if desired.
Jessica's Notes
Learn how to make your own homemade turkey stock and poultry seasoning.
You may also use store-bought turkey stock or turkey broth, or substitute with store-bought chicken broth or chicken stock.
This recipe is also great with rice (brown rice, white rice, or even wild rice), egg noodles, quinoa, couscous, or any small pasta. To prevent the noodles or pasta from becoming too mushy, I recommend cooking and serving them on the side.
Barley contains gluten. If you are sensitive to gluten-containing foods, omit the barley from this recipe to make it gluten-free.
Originally published December 7, 2020
Nutritional Information
Calories:
338
kcal
|
Carbohydrates:
37
g
|
Protein:
23
g
|
Fat:
11
g
|
Saturated Fat:
2
g
|
Cholesterol:
46
mg
|
Sodium:
593
mg
|
Potassium:
681
mg
|
Fiber:
5
g
|
Sugar:
8
g
|
Vitamin A:
1214
IU
|
Vitamin C:
4
mg
|
Calcium:
51
mg
|
Iron:
2
mg
(Nutrition information provided is an estimate and will vary based on cooking methods and specific brands of ingredients used.)