Homemade Poultry Seasoning Recipe – Learn how to make your own herb-based spice blend and transform bland and boring chicken or turkey into a bold and flavorful family meal.
Poultry Seasoning Recipe
This is my must-have, go-to, poultry seasoning, especially for oven-baked chicken breasts.
What I love about making my own homemade seasoning is that I have the freedom to add more or less of my favorite herbs and seasoning so that it tastes exactly how I like it. I can also make an extra-large batch so I don't have to worry about running out of one of my most-used seasoning blends right in the middle of cooking my favorite recipes like this Baked Chicken Parmesan or Baked Chicken Thighs.
What is poultry seasoning?
Poultry seasoning is a simple seasoning blend typically used to season chicken, turkey, or other Thanksgiving favorites, like stuffing! Often you'll see blends with higher ratios of sage and thyme but may also include black pepper, nutmeg, and ginger.
What is in poultry seasoning
The ingredients in homemade poultry seasoning include,
Dried Thyme – Earthy and more delicate flavoring. Thymes lemony undertones blend well with just about everything.
Dried Oregano – Oregano is more flavorful when dried than fresh. Aromatic, warm, the potential to be quite spicy and somewhat bitter, its intensity varies by quality and region of cultivation.
Dried Basil – Unlike oregano, basil has a much weaker flavor when comparing dried versus fresh. Still an essential part of any seasoning blend, its taste is more grass-like, a little like a mixture of hay and licorice.
Dried Marjoram – A member of the mint and oregano family, marjoram and oregano, when fresh, are often confused as they look quite similar. Unlike oregano, however, marjoram is typically sweeter, more delicate, and less spicy when compared to oregano.
Dried Rosemary – Stong, flavorful, and somewhat bitter, dried rosemary is woodsy, similar to thyme, but more bitter if too much is added.
Garlic Powder – Garlic powder, like fresh garlic, is super flavorful. I wouldn't add too much. To this recipe, I added just 1 tablespoon.
Paprika – Mild and somewhat sweet, this spice is used to season and color various dishes.
Onion Powder – dehydrated, ground onion, you'll find onion powder in all kinds of different spice mixes or seasoned salts.
Optional additions:
Dried Sage – (dried sage is actually highly recommended, approximately 2 tablespoons). Sweet and somewhat bitter with notes of eucalyptus and citrus. The most important thing to note about dried sage, however, is that dried sage does not have a long shelf life. In other words, it isn't recommended that you add year-old dried thyme to your homemade poultry seasoning.
Red Chili Flakes – I love just the tiniest little hint of heat. If you're not a fan or you're cooking for super sensitive kiddos, you may want to leave out the red chili flakes.
SHOULD YOU ADD SALT?
This is an excellent question. Personally, I decided to leave the salt out of this poultry seasoning recipe. Leaving out the salt out allows me to cook recipes with a blank (salt) slate. No need to worry about how much salt may or may not already be in there.
How to make poultry seasoning
Technically there are two ways to make homemade seasoning depending on how "blended" you prefer your herbs (particularly the rosemary).
Either way, making your very own personalized poultry seasoning blend is super easy and takes just a few minutes!
In the first method, gather all your spices, measuring spoons, and a small mixing bowl. Add all ingredients to the bowl and mix well to combine. That's literally it. You can add salt and pepper directly to the seasoning blend or wait and add the salt and pepper directly to the chicken.

For a more blended seasoning

, gather your dried herbs, measuring spoons, and a

small food processor

. Add all ingredients to the bowl of your small food processor and pulse until the desired consistency is reached. Again, that's

literally

all it takes.
The poultry seasoning you see in these images was not blended in a food processor. I didn't find it necessary, however, you do whatever works best for you.
Poultry seasoning uses
Just like my homemade Italian seasoning, this poultry seasoning is, without a doubt, one of the most frequently used ingredients on this site. Delicious sprinkled onto everything – not only chicken and turkey – some of my favorite recipes include:
How to store and how long does it keep?
It's important to store your homemade poultry seasoning in a dry, air-tight jar or container out of direct sunlight. Feel free to recycle old spice jars or use a small mason jar with twist-on lid.
Although this seasoning will last up to 6 months or so, I recommend using it within 4 months for the best results.
More chicken recipes,
If you try making your own Poultry Seasoning Recipe, please leave me a comment and let me know! I always love to hear your thoughts.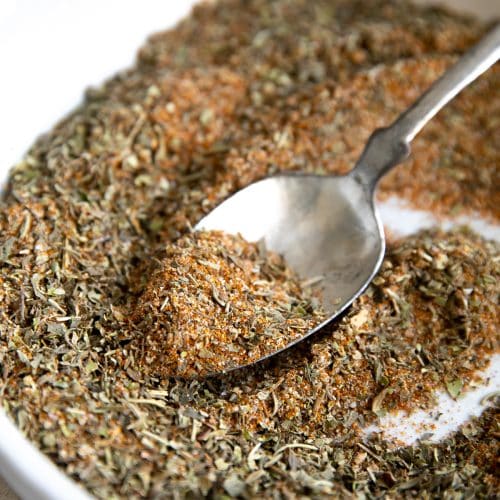 Poultry Seasoning Recipe
Poultry Seasoning Recipe - Learn how to make your own herb-based spice blend and transform bland and boring chicken or turkey into a bold and flavorful family meal.
Instructions
Combine - Add all ingredients to a small bowl. Mix well to combine.

Store - Transfer to an airtight jar or container and keep stored in a cool place for up to 6 months.
Jessica's Notes
Add salt and pepper to suit your own personal taste and preference.
If you prefer a more blended poultry seasoning, transfer the spices to small food processor and pulse until desired consistency is reached.
Recipe makes a total of 0.875 cups or 14 tablespoons.
Nutritional Information
Calories:
12
kcal
|
Carbohydrates:
3
g
|
Protein:
1
g
|
Fat:
1
g
|
Saturated Fat:
1
g
|
Sodium:
3
mg
|
Potassium:
71
mg
|
Fiber:
2
g
|
Sugar:
1
g
|
Vitamin A:
571
IU
|
Vitamin C:
1
mg
|
Calcium:
58
mg
|
Iron:
3
mg
(Nutrition information provided is an estimate and will vary based on cooking methods and specific brands of ingredients used.)