Veggie Skewers made with zucchini, red onion, and bell peppers are grilled to perfection and drizzled with tangy balsamic vinegar and brushed with a fresh garlic herb sauce. Hello, summer!
Meat and grilled veggie skewers are an easy and delicious way to eat all your favorite meals during the hot months of summer. Some of my favorites include Grilled Marinated Chicken Skewers with Fresh Herbs and Grilled Lamb Kebab Platter with Basil Goat Cheese.
I remember the first time I made veggie skewers. My husband and I were living in the Silicon Valley- I had just started working at Stanford University and my husband was thriving at his job. We moved from our first floor downtown apartment to one on the top floor overlooking the pool. Given our new digs, we started to grill…a lot.
At this same time, I started collecting new dipping sauces to try with, well, I wasn't sure. I just knew they sounded good so they had to be bought.
Anyway, the memories of those nights, eating those colorful veggies with all those glorious dipping sauces in an apartment that is probably renting for seven times what we were paying all those (7) years ago, has me feeling all the feels.
I think that's why I love food so much. Food is more than just food. Food tells the story of one's whole life…or something. You guys, it's one of those days. I just can't help myself.
INGREDIENTS IN THIS GRILLED VEGGIE SKEWER RECIPE
Red onion
Zucchini
Bell pepper- red, yellow, orange, green
Garlic
Fresh herbs
Olive oil
Balsamic vinegar
Yes, these are some pretty simple vegetable skewers. But simple does not mean boring. I promise these are not boring veggie skewers. Assuming that you actually kinda, sorta like vegetables, then you will love these grilled veggie skewers.
Rather than dipping in a sweet and sugary sauce, I decided to brush these beauties with a light and fresh garlic herb sauce. Similar to a chimichurri sauce, minus the vinegar and red chilis, this sauce is simple and made with garlic, herbs, olive oil, salt, and pepper. Of course, if you are a vinegar lover like me, balsamic vinegar (or in my case, pomegranate balsamic vinegar) is always there for a little zing.
WHAT ARE THE BEST VEGETABLES TO GRILL?
I feel like I have grilled most vegetables over the years. This is my list of vegetables that you should be grilling this summer.
Corn- this requires no explanation. I mean, it's corn.
Zucchini
Onions- red onions are my fav
Bell peppers- my advise it to make them in bulk and put them on all the things.
Mushrooms- especially portobello mushrooms
Tomatoes- big juicy heirloom tomatoes or tiny skewered cherry tomatoes are all delicious. The trick is getting them off the grill before they burst.
Eggplant
Broccolini- not to be confused with broccoli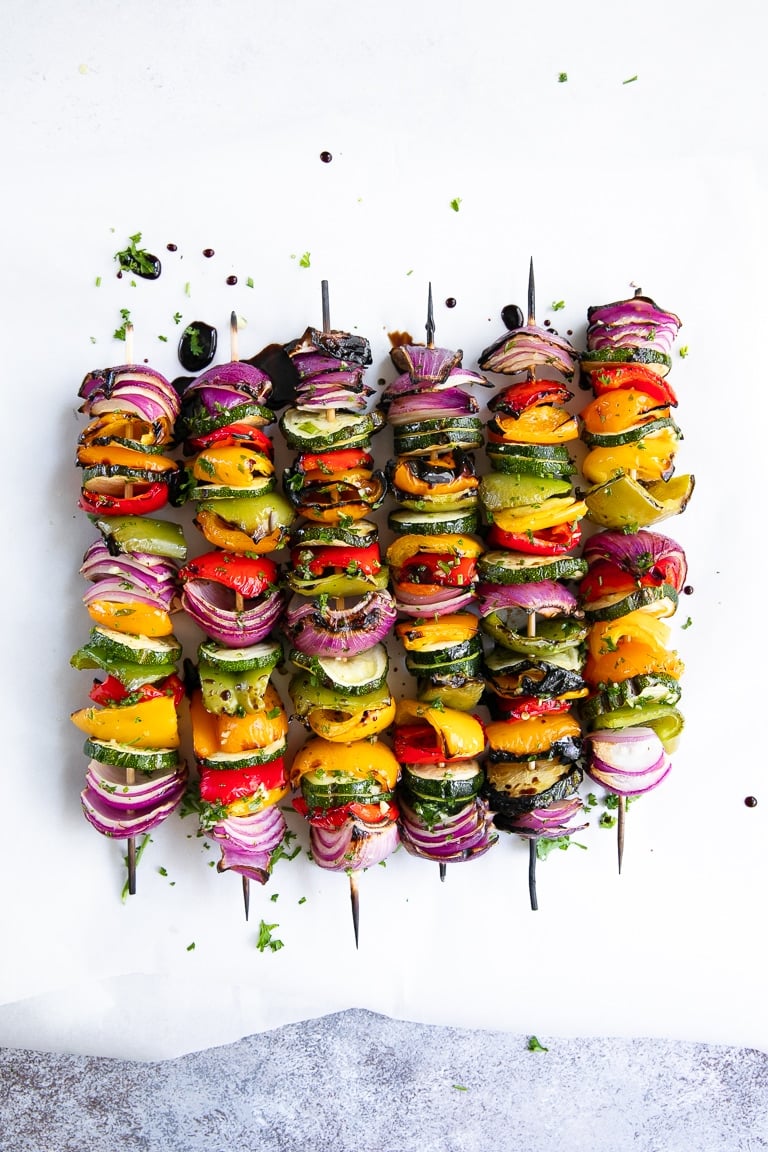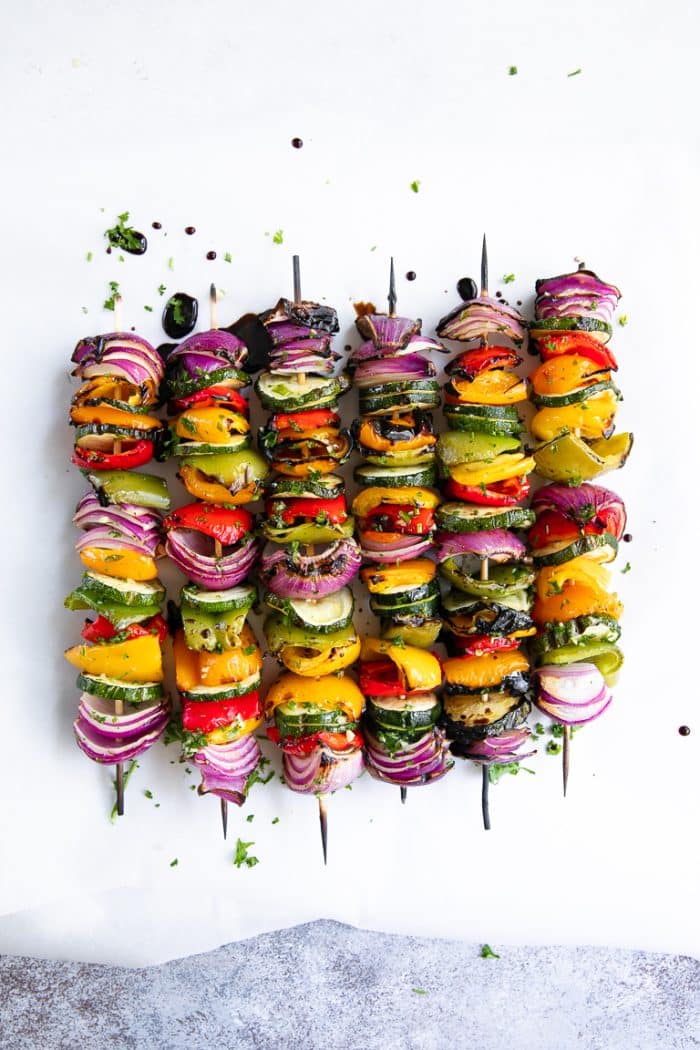 WHAT ARE THE WORST VEGETABLES TO GRILL?
Let's just say some vegetables are better left off the grill. People will do it, and some may even succeed, but probably not. If if they say they have, they're lying.
Brussels sprouts- they would need to be blanched first for sure. At that point, is it worth it? And I seriously doubt they would come out cooked enough anyway.
Potatoes- I am not talking about wrapping potatoes in foil and grilling. No. That would be cheating. Actual, grilled potatoes do not work.
Romaine lettuce- you guys, I've tried it. In fact, I think I have a recipe on this blog with grilled romaine lettuce and grilled watermelon. It was meh. Crisp, fresh, cold lettuce is so much better.
Carrots, parsnips, other hard root vegetables- duh
Tomatoes- yes. Tomatoes make both lists. If you grill tomatoes they will either turn out to be the most amazing thing in the world, or a deflated, sloppy mess.
TIPS FOR MAKING THE BEST VEGGIE SKEWERS
Most important- really try to chop all your vegetables so they are approximately equal in size and shape. Precision here is impossible but do your best.
Soak those wood skewers for at least 15 minutes.
Place the onion on each end.
Alternate between the different vegetables, leaving a small space between each- fortunately, onion and bell pepper have natural curves to them, preventing the vegetables from laying flatly on one another. If, however, you were to do a skewer of just zucchini, you would need to leave a small space between each zucchini round for air and heat to circulate.
Try to place vegetables with similar cooking times together on the same skewer.
For example, never ever place cherry tomatoes on the same veggie skewer as red onion. You'll end up with either delicious tomatoes and raw red onion, or melted tomatoes and perfect red onion.
Don't be scared of a little browning or charring around the edges.
But, don't let it take over.
SERVE THESE GRILLED VEGGIE SKEWERS WITH-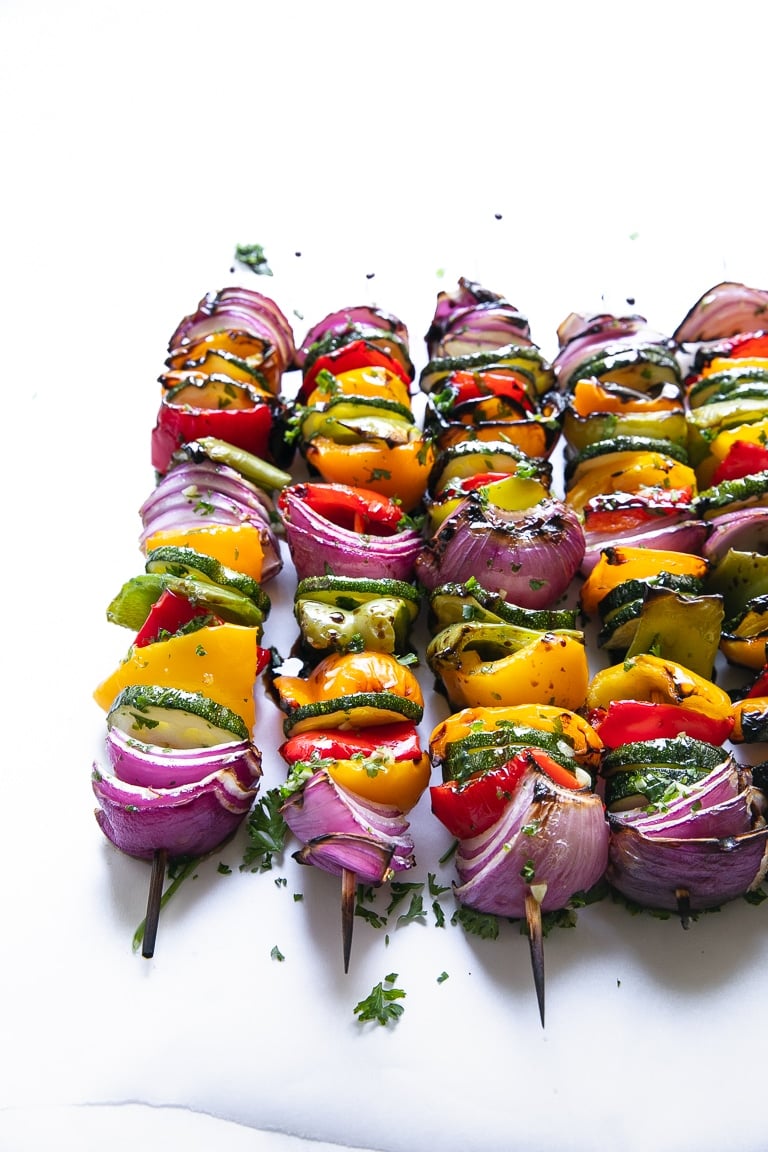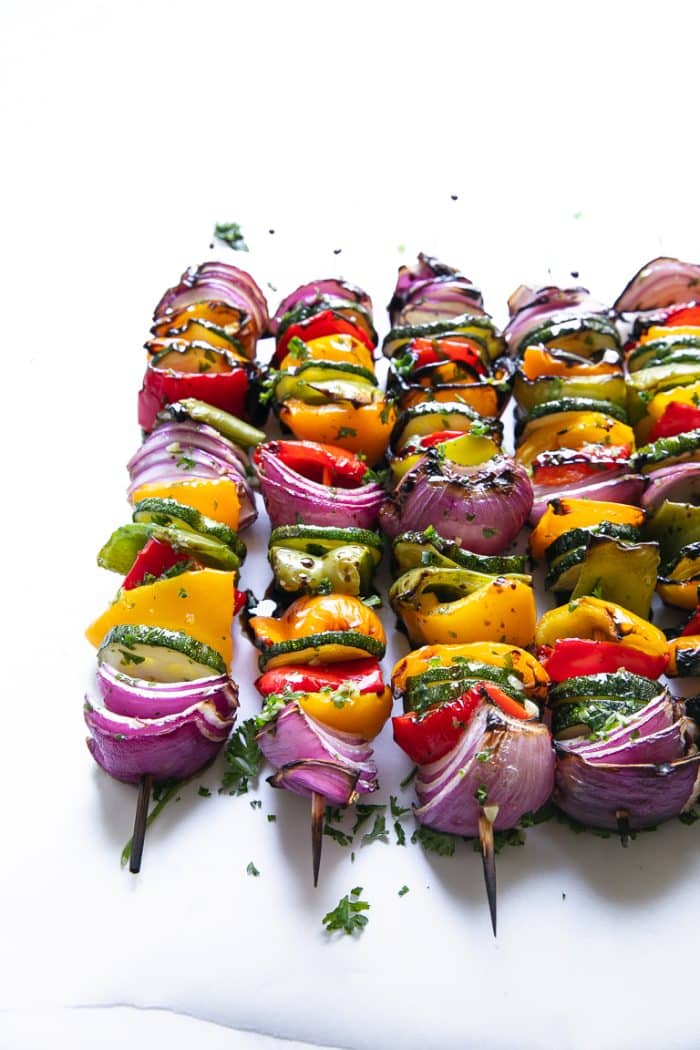 IF YOU LOVE THESE VEGGIE SKEWERS, YOU MAY ALSO ENJOY-
If you try making this Veggie Skewers Recipe, please leave me a comment and let me know! I always love to hear your thoughts.
Grilled Veggie Skewers
These easy Grilled Veggie Skewers are perfectly charred, drizzled with tangy balsamic vinegar and brushed with a fresh garlic herb sauce. Made with red onion, zucchini, and colorful bell peppers, these delicious vegetable skewers cook evenly thanks to their similar cooking time.
Ingredients
For the Vegetable Skewers
4

medium

red onion

4

medium

zucchini

-

sliced

2

red bell pepper

2

orange bell pepper

2

yellow bell pepper

2

green bell pepper

olive oil -

for brushing

Balsamic vinegar

-

for serving
For the Garlic Herb Sauce
Instructions
Soak approximately 8-12 wooden skewers in water for at least 15-30 minutes. The total number of skewers will vary depending on several factors, such as the size of each vegetable, the size of your vegetable pieces, etc.

Prepare the vegetables for the skewers. For each red onion, first peel, then slice in half. Chop each half into thirds, as if you were cutting a pizza (6 total pieces from one onion). Seed and chop each bell pepper into approximately 1-inch by 1-inch pieces. Finally, chop the zucchini into rounds.

Prepare the Garlic Herb Sauce- in a medium bowl whisk together the olive oil, minced garlic, parsley, cilantro, rosemary, salt, and pepper. Set aside.

Skewer the vegetables by alternating between red onion, zucchini, and the different colored bell pepper. Brush skewers with a light layer of olive oil.

Preheat grill to medium-high heat. Once the grill is hot, add skewers and grill for approximately 5-8 minutes per side, or until vegetables are just softening and browning around the edges.

Remove from heat, brush with garlic herb sauce and drizzle with balsamic vinaigrette, if desired. Enjoy!
Jessica's Notes
If using wooden skewers, you will need to soak them for at least 15-30 minutes before threading vegetables.
Get a head start on prep time and chop the vegetables the night before.
Place "sturdier" vegetables on the ends, such as the red onion.
Nutritional Information
Calories:
324
kcal
|
Carbohydrates:
36
g
|
Protein:
5
g
|
Fat:
19
g
|
Saturated Fat:
2
g
|
Cholesterol:
0
mg
|
Sodium:
26
mg
|
Potassium:
1023
mg
|
Fiber:
6
g
|
Sugar:
11
g
|
Vitamin A:
4715
IU
|
Vitamin C:
349.1
mg
|
Calcium:
63
mg
|
Iron:
2.1
mg
(Nutrition information provided is an estimate and will vary based on cooking methods and specific brands of ingredients used.)