Hey, you guys! How was your weekend?
When someone asked me this afternoon what I did I and how my weekend went, I couldn't remember. I couldn't recall what I did all day Saturday and Sunday. Even after a good five seconds trying to recall what in the world I did, I couldn't.
So basically, I did nothing. I knew it was raining, which meant crazy town in the house, but the details were unclear. Thankfully, I regained my memory a few minutes later and remembered that most of the weekend was spent running errands and cleaning the house.
So basically nothing. It makes sense that I couldn't remember.
Anyway, where am I going with all this? No where.
You guys, I need to get out more. You know, with grown ups. Some days the only adult interaction I get aside from my husbands (at which point I'm too tired to think) is with the checkout people at the market. Many days I don't even get that.
So who do I talk with all day? My 3-year-old. He's pretty darn cute and his social skills may be improving, but my brain is mush. Soppy mush all over the floor. Moms out there, you know what I'm talking about.
Anyway, let's talk soup. Do you like kimchi? Have you heard of kimchi? Just in case you've never heard of this traditional korean side dish, don't worry, there's nothing crazy about it. Kimchi is simply fermented vegetables with a variety of seasonings. I like it and my husband loves it, but it's not for everyone.
Whether you're new to kimchi or love it already, this ramen noodle soup is a great way to eat more. This soup has a rich, flavorful broth filled with noodles, greens, hard-boiled egg and, of course, kimchi!
Not enough protein? Add some tofu or shredded chicken and you're good to go 🙂
Healthy, delicious and just 25 minutes to make. At least I haven't lost my cooking powers…
Kidding!
Kimchi Ramen Noodle Soup
Prep Time: 5 minutes / Cook Time: 25 minutes
Total Time: 30 minutes
Yield: 2-4 servings
Type: Soup, Quick + Easy, Vegetarian, Noodles
Ingredients
2 teaspoons olive oil
1 tablespoon fresh ginger, minced
4 cloves garlic, minced
1 tablespoon rice vinegar
1/2 teaspoon Korean red chili flakes, plus more to taste (substitute with cayenne pepper)
1-2 tablespoons soy sauce
1 tablespoon honey
1/2 teaspoon sesame oil
6 cups water/vegetable/chicken broth
salt + pepper, to taste
1/2 cup well fermented kimchi
2-3 packets ramen (I used Koyo), seasoning packet discarded
Toppings:
Mung bean sprouts
Additional Kimchi
Scallions (shredded and soaked in cold water for 30 minutes)
Sesame seeds
Hard boiled eggs
Fresh greens
Instructions
Heat olive oil over medium heat in a medium sauce pan. Once hot add fresh ginger and garlic and sauté for approximately 1 minute, stirring constantly to prevent burning. Add rice vinegar, Korean red chili flakes, soy sauce, honey, sesame oil and water to the pot. Stir well. Increase heat to high, cover, and bring broth to a low boil.

Once boiling, reduce heat to medium and season to taste. Add the kimchi and ramen noodles (without the seasoning packets- toss those in the garbage!) to the pot. Continue to cook until the noodles are just cooked.

Remove from heat and divide soup between desired number of bowls. Garnish with toppings such as mung bean sprouts, additional kimchi, scallions, sesame seeds, hard boiled eggs and microgreens.
Enjoy!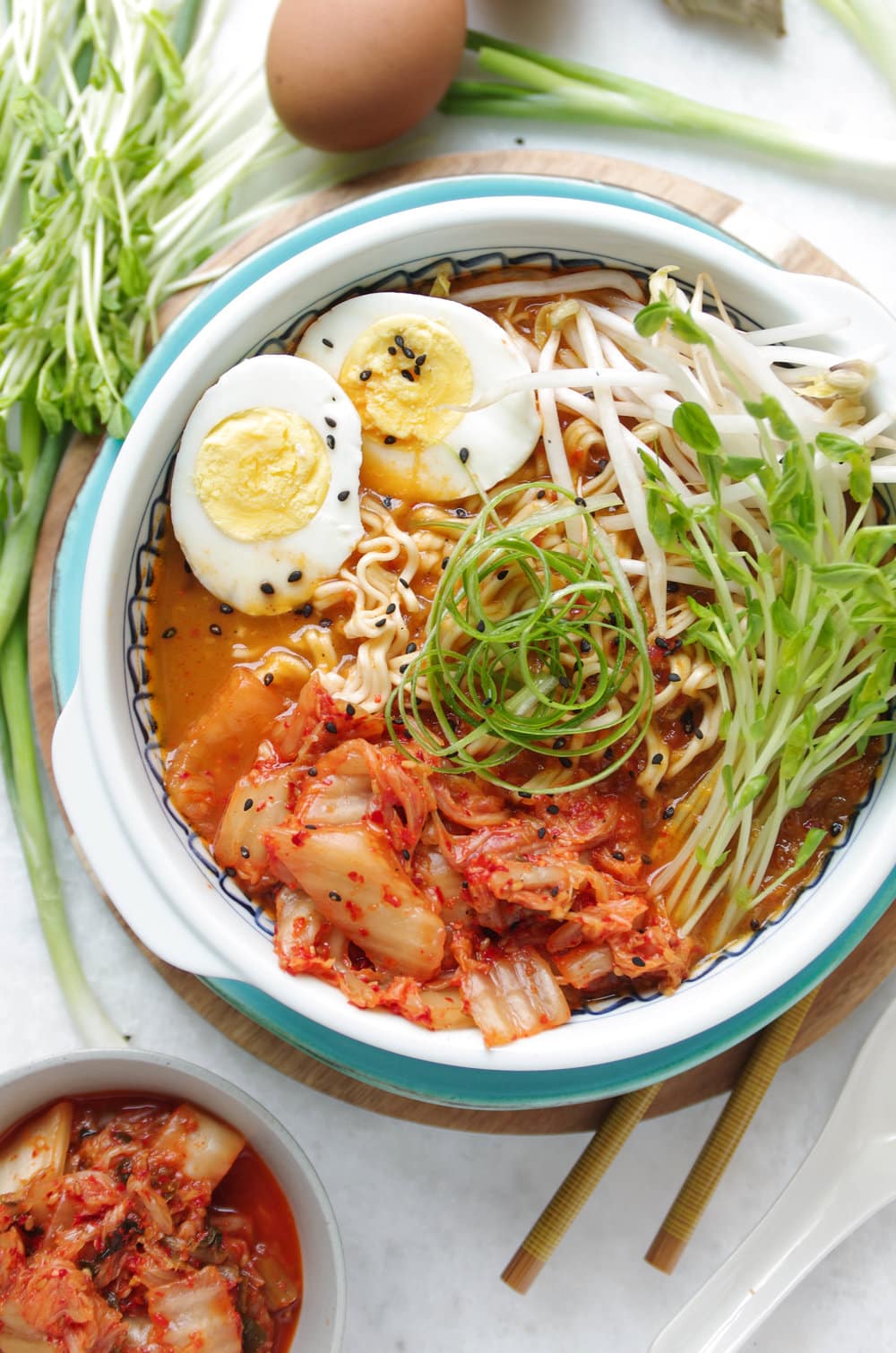 Hello! Let's be friends 🙂
Previous Posts.