This post has been sponsored by HORMEL® Bacon Toppings. All thoughts and
opinions are my own.
THE PERFECT NO-BAKE, FAST, EASY AND DELICIOUS SIDE DISH FOR ANY HOLIDAY PARTY OR SUMMER BBQ, THIS EASY PEA SALAD IS FILLED WITH CUBES OF SMOKED GOUDA, CRUNCHY CELERY AND PLENTY OF HORMEL® BACON.
I am a serial recipe changer.
In other words, give me a recipe and I will probably (definitely) change it at some point in the cooking process. Sometimes the final product will turn out similar to what was intended and other times the dish will turn out completely different.
You never know what you're going to get when you eat in my house.
My family- they're so lucky.
However, I do have a handful of favorites that are so awesome that any change would practically guarantee disappointment. They're few and far between, but sometimes, it happens.
Several years ago I volunteered to bring a side dish to a potluck party. It could be anything, really, but I had to bring something. New to cooking (I was just getting started in the food blog world) I had no idea what to bring. After all, I was not only new to cooking, but I was also new to potlucks.
Long story short, I played it safe and brought a fruit salad.
BUT, while I was at this potluck party my mouth happened upon a pea salad. It was my first time eating pea salad and my expectations were pretty low, but I figured, eh, what the heck? I'll take a scoop. This particular pea salad had all the things that most pea salads have- peas (obvs), red onion, mayo, cheese and bacon.
It was amazing.
Naturally, I got home and made it my mission to develop my own version.
And, several pea salads later, I had found the one.
Changes included the addition of green onion, chopped parsley, crunchy celery, and a less mayonnaise focused sauce. I also ditched traditional cheddar cheese for cubes of smoked gouda.
OMG, YOU GUYS! Smoked gouda cheese with bacon is pretty much the best flavor combo in the universe. Not even kidding. Pretty soon you'll be adding smoked gouda and bacon to everything you eat.
Which brings me to my next change- the BACON!
Bacon is an essential part of making this pea salad so amazing. It's just the truth. Originally, I made this salad with cooked bacon chopped into small pieces, but one day, while browsing the salad aisle at the grocery store, HORMEL® Bacon Bits and Pieces caught my eye. I decided to grab a couple jars and give them a try.
Growing up I remember my mom and dad always buying jarred bacon, but for whatever reason, as an adult, it never really crossed my mind.
Big mistake. After all, mom and dad know best, right?
So one day I compared the two. Yes, you guys, I compared the salads- one with cooked bacon and one with HORMEL Bacon Pieces. And then I asked my husband to try each (without telling him which was which).
I was a biologist before I got into motherhood and food blogging, so I guess you could say it's in my nature to experiment.
The winner? HORMEL Bacon Pieces. Hands down. There wasn't even any hesitation (and my husband can be a tough cookie).
So what makes the HORMEL Bacon Pieces better? Flavor. The HORMEL Bacon Pieces give all the awesome taste and flavor of bacon, without turning the salad into a bacon salad. In other words, you get the bacon flavor, the smoked gouda flavor, the red onion flavor… you get all the flavors. No one taste overpowers the other.
Taste aside, there are other reasons why I have a newfound love for HORMEL bacon bits and pieces-
Convenience- it's there whenever, wherever. I now keep a jar in the house at all times.
I don't have to cook it! Or touch raw bacon!
40% less fat than pan-fried bacon
It's 100% REAL bacon! No funny business here.
It's a fantastic addition to a variety of dishes like SOUP, EGGS or CHICKEN (aka bacon goes with almost everything).
So, tell me, have you tried HORMEL bacon bits and pieces? What's your favorite way to eat them?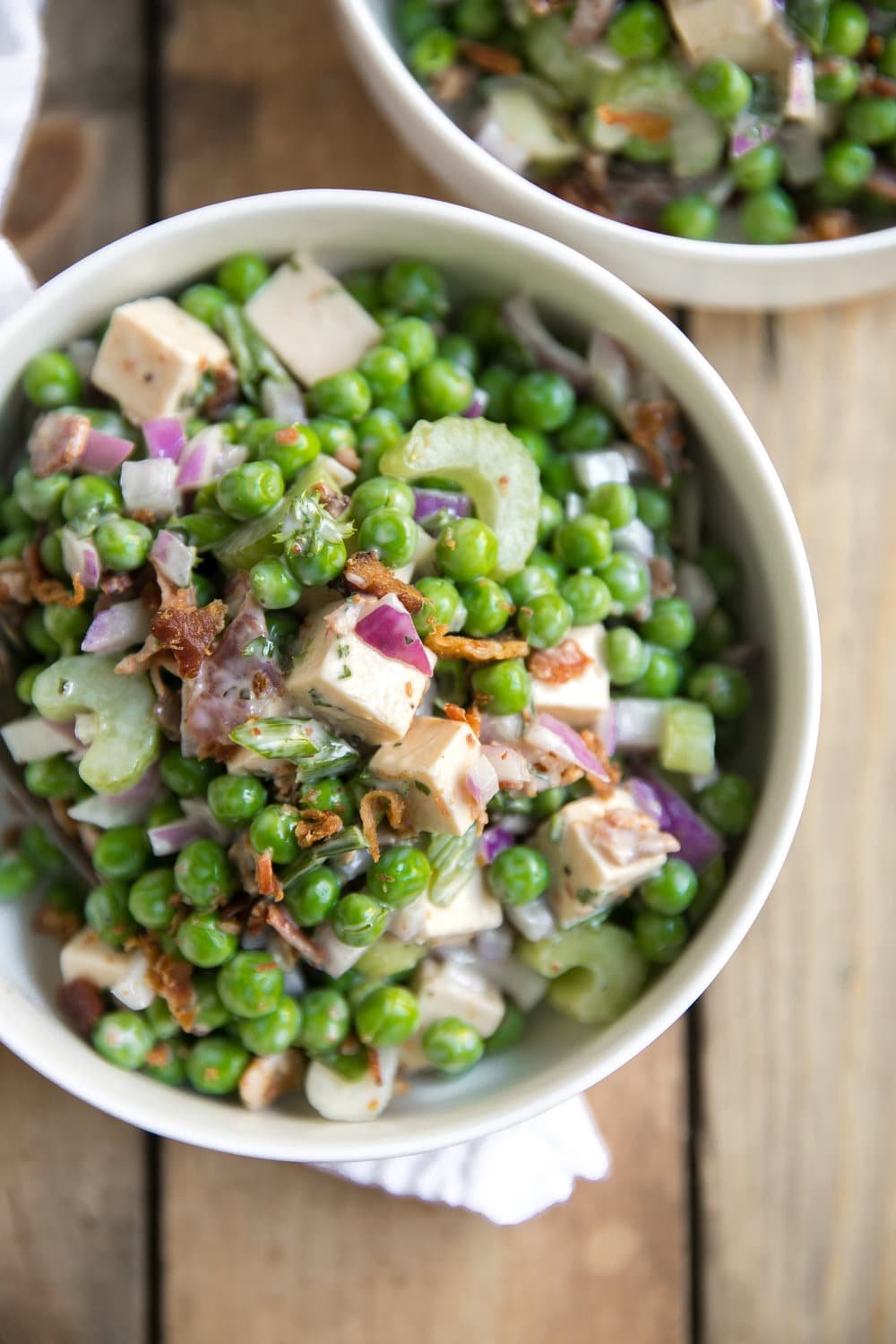 Creamy Pea Salad with Hormel® Bacon Pieces
The perfect no-bake, fast, easy, and delicious side dish for any holiday party or summer BBQ, this Easy and Creamy Pea Salad is filled with cubes of smoked gouda, crunchy celery and plenty of bacon!
Print Recipe
Pin Recipe
Rate Recipe
Ingredients
1/4

cup

Zesty Italian Dressing

1/2

cup

mayonnaise

1/4

teaspoon

salt

1/2

teaspoon

fresh ground black pepper

1

tablespoon

fresh parsley

-

finely chopped

2

lbs.

frozen peas

-

nearly thawed

1/2

large red onion

-

finely chopped

4

stalks celery

-

chopped

1

cup

Smoked Gouda

-

diced into small 1/2' cubes

1/3

cup

green onion

-

chopped

2.8

oz

HORMEL Real Bacon Pieces -

2.8 oz jar
Instructions
In a large mixing bowl whisk together the Italian dressing, mayonnaise, salt and pepper, and chopped parsley. Whisk well to combine.

Add the (nearly) thawed peas, red onion, celery, smoked gouda, green onion and HORMEL Real Bacon Pieces to the bowl with the dressing mixture and carefully mix to combine.

Sprinkle with additional HORMEL Real Bacon Pieces, if desired.
Nutrition
Nutrition Facts
Creamy Pea Salad with Hormel® Bacon Pieces
Amount Per Serving
Calories 347
Calories from Fat 198
% Daily Value*
Total Fat 22g 34%
Cholesterol 43mg 14%
Sodium 630mg 26%
Potassium 436mg 12%
Total Carbohydrates 19g 6%
Protein 16g 32%
* Percent Daily Values are based on a 2000 calorie diet.
(Nutrition information provided is an estimate and will vary based on cooking methods and specific brands of ingredients used.)
If you love this Pea Salad with Bacon recipe, you may also enjoy-
Zucchini avocado salad with garlic herb dressing and roasted chickpeas
Coriander Quinoa Soup with Chicken and Peas (Peruvian Aguadito)
Spring Pea Pasta with Prosciutto and Burrata Cheese