This easy Bruschetta Chicken Recipe is made with tender, juicy chicken breasts seasoned with Italian herbs and spices and topped with a fresh tomato and basil bruschetta topping. Ready in just 30 minutes, enjoy this low-calorie, low-carb, and gluten-free weeknight dinner with a side of sautéed zucchini zoodles and drizzle of balsamic glaze.
Balsamic Bruschetta Chicken
Garlic and herb-seasoned chicken topped with fresh and juicy tomatoes with sweet basil, parmesan cheese, and balsamic glaze. This crazy delicious and flavorful bruschetta chicken is one of those recipes that are somewhat unexpected…in the best possible way.
Packed with bold flavors and made with simple ingredients, bruschetta chicken, like this shrimp and asparagus stir fry or this tomato basil soup, is perfect for anyone looking to eat healthy without wanting to feel like they're actually eating healthy food.
(translation- everyone)
Ready in just 30 minutes, I often prepare this recipe for a busy weeknight dinner or double the recipe and meal plan for the whole week! No matter how you enjoy this easy chicken recipe – lunch, dinner, or leftover – it's a reader and family favorite! Soooo good!
What is Bruschetta?
Bruschetta is a starter dish or appetizer (antipasto) with its origins in Italy. Typically made with grilled bread that has been rubbed with fresh garlic, olive oil, and salt, the most popular Bruschetta variations come topped with some combination of meat, cured meat (such as prosciutto), beans, vegetables, or cheese.
Or, in some cases, you may even find Bruschetta topped with cherries!
The most popular and well-known Bruschetta variation here in the United States includes the same delicious grilled bread topped with a mixture of fresh chopped tomatoes, basil, garlic, onion, and mozzarella cheese. Often, you'll find Bruschetta drizzled with balsamic vinegar for a yummy tangy layer of flavor.
In this bruschetta chicken recipe, I've borrowed my favorite parts of this classic Italian appetizer and turned it into a delicious, low-carb, and easy family dinner.
Ok, just kidding…the bread is my favorite part also…but, low-carb and healthy, remember?
Besides, we can always eat a warm buttery chunk of crusty bread on the side.
Ingredients
Chicken breasts
Olive oil
Garlic
Italian seasoning
Fresh tomatoes (I used Roma, but Heirloom are always a good idea)
Lemon
Red onion
Fresh basil
Parmesan cheese
Zucchini
Balsamic glaze
Salt + Black Pepper
What is Balsamic Glaze?
Balsamic glaze, also known as a balsamic reduction, is a simple sauce made from simmering balsamic vinaigrette until thick and reduced. Often, people will add brown sugar to sweeten it up just a bit, but this is entirely optional.
To make homemade balsamic glaze all you need is a small pot, balsamic vinegar, and approximately 30 minutes. Simmer over low heat until reduced and thickened.
Of course, you may also find premade balsamic glaze in your local grocery store.
How to make Bruschetta Chicken
One of my favorite parts about this Bruschetta Chicken Recipe is how insanely easy it is to make. That said, a couple of simple cooking tools/gadgets/items will make cooking this recipe a whole lot easier.
The first? A large well-seasoned cast-iron skillet. No, you do not have to use a cast-iron skillet, but on all those occasions when the grill or barbeque isn't available, cast iron gives the very best flavor. And the second? A spiralizer. It can be any spiralizer, but this one is my favorite.
Ok, so let's get started!
The first step is to prepare chicken. For best results, I recommend butterflying your chicken breasts so that they are nice and thin, or pounding them with a meat tenderizer. This helps prevent your chicken from drying out.
Once your chicken breasts have been prepared, transfer them to a large bowl and toss with olive oil, minced garlic, Italian seasoning, salt, and pepper. Mix well to coat the entire surface of your chicken breasts because otherwise…what's the point, right?
Ok, so marinate for at least 10 minutes. If, however, you are preparing your chicken for later use, cover with foil or plastic wrap and transfer to the refrigerator until ready to use.
Meanwhile, prepare your bruschetta mixture and spiralize your zucchini into curly ribbon noodles.

With everything prepped and ready to go, it's time to cook the chicken.
Set your skillet over medium-high heat. Once the skillet is nice and hot, drizzle with olive oil and add the chicken. You may need to do this in two batches depending on the size of your skillet. Cook for approximately 3 minutes on each side, or until fully cooked. Remove the chicken from the skillet and set aside to a clean plate.
Return to the same skillet to medium-high heat and add those gorgeous zoodles! Sauté for 2-3 minutes, or until just starting to soften. Careful not to overcook the zucchini noodles as they will release all their water and quickly turn soggy.
Learn all about preparing and cooking zucchini noodles in this post.
Return your cooked chicken to the skillet, nestling it among the zucchini noodles. Add a generous spoonful of your tomato mixture to the top of the chicken breasts and immediately remove from heat.
Best served immediately, but also, amazing leftover.
How to Serve This Amazing Bruschetta Chicken
This bruschetta chicken, coated with Italian seasoning and topped with fresh tomato, basil, and onion, is already so full of amazing flavor that it doesn't need much more. As such, I've found that the best sides to serve with this dish include pasta, ravioli, rice, cauliflower, spaghetti squash, or, yes, zucchini noodles.
Of course, a salad is always welcome, as well. However, given the tomato-heavy topping on the chicken, I would steer clear of a tomato-heavy salad and give a simple green or cucumber salad a try.
Love Bruschetta? Try these,
Shrimp and Avocado Bruschetta with Balsamic Glaze
Bruschetta Recipe with Tomato and Basil – How to Make Bruschetta
Strawberry Bruschetta Chicken Recipe
More Chicken Dinner Recipes,
Chicken and Broccoli Stuffed Spaghetti Squash
One-Pot Olive Chicken and Lemon Rice
If you try making this Easy Bruschetta Chicken Recipe, please leave me a comment and let me know! I always love to hear your thoughts.
REMEMBER TO SUBSCRIBE TO THE FORKED SPOON NEWSLETTER FOR FREE AND RECEIVE WEEKLY RECIPE NOTIFICATIONS DELIVERED STRAIGHT TO YOUR INBOX!
If you try a recipe, please share it using the hashtag #theforkedspoon or by tagging @theforkedspoon on
INSTAGRAM
! Follow The Forked Spoon on
FACEBOOK
|
INSTAGRAM
|
PINTEREST
for all of the latest recipes and updates.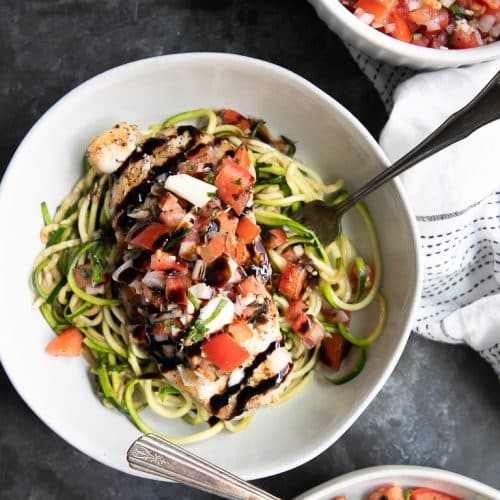 Easy Bruschetta Chicken Recipe
Easy and delicious, this low-carb Bruschetta Chicken is seasoned with simple Italian seasonings and topped with a light and fresh tomato basil bruschetta topping.
Ingredients
For the Chicken
3

large

boneless skinless chicken breasts

(halved horizontally to make 6 fillets)

2

tbsp

olive oil

2

cloves

garlic

(minced)

2

tbsp

Italian seasoning

2

tsp

salt

1

tsp

pepper
For the Bruschetta Topping
6

roma tomatoes

(seeded and diced)

1/2

lemon

(juiced)

1

clove

garlic

(minced)

1/2

small

red onion

(minced)

8-12

large

basil leaves

(rolled up and sliced into thin ribbons, plus more for serving)

salt + pepper

(to taste)

1/4

cup

Parmesan cheese

(grated)
For serving
4

zucchini

(spiralized)

Balsamic glaze

Freshly grated parmesan cheese
Instructions
Marinate the Chicken. Add the chicken, olive oil, garlic, dried Italian seasoning, salt, and pepper to a large mixing bowl. Mix well to evenly coat the chicken with the oil and seasoning (it works really well to use your hands here). Allow the chicken to marinate for at least 10 minutes. Set aside.

Meanwhile, as the chicken is marinating, prepare the bruschetta topping. Add the tomatoes, lemon juice, garlic, red onion, basil, salt, pepper, and parmesan cheese to a medium mixing bowl. Gently toss to combine. Set aside.

Prepare the zucchini noodles using your favorite method (I use a spiralizer). Set aside as they will be needed just after the chicken has been cooked.

Cook the chicken. Set a large skillet over medium-high heat. Once the skillet is nice and hot, drizzle with olive oil and add the chicken (working in batches, if needed). Cook the chicken for approximately 3-4 minutes on each side, or until fully cooked. Remove the chicken from the skillet and set aside to a clean plate.

In the same skillet over medium heat add the zucchini noodles. Sauté for 2-3 minutes, or until just starting to soften (try not to over-cook as they will turn soggy).

Return the chicken to the skillet and nestle in with the zucchini noodles. Top with spoonfuls of bruschetta topping, remove from heat and serve.

Serve garnished with additional parmesan cheese, basil, parsley or freshly squeezed lemon juice.
Jessica's Notes
If you can't find Roma tomatoes or they aren't ripe, feel free to substitute with heirloom or cherry tomatoes.
Chicken breasts may be substituted with chicken tenders. Boneless skinless chicken thighs will also work.
Keep leftovers stored in a sealed container and in the refrigerator for up to 4 days. Reheat in the microwave before serving.
Last updated on February 19, 2019
Nutritional Information
Calories:
211
kcal
|
Carbohydrates:
6
g
|
Protein:
26
g
|
Fat:
8
g
|
Saturated Fat:
2
g
|
Cholesterol:
75
mg
|
Sodium:
977
mg
|
Potassium:
611
mg
|
Fiber:
1
g
|
Sugar:
2
g
|
Vitamin A:
640
IU
|
Vitamin C:
15.8
mg
|
Calcium:
94
mg
|
Iron:
1.3
mg
(Nutrition information provided is an estimate and will vary based on cooking methods and specific brands of ingredients used.)