This Homemade Applesauce Recipe is made with just 5 simple ingredients and is ready in just over 30 minutes. Make a big batch and enjoy this easy and delicious applesauce recipe as a yummy snack, healthy dessert, or alongside more savory dishes such a kielbasa or pork chops.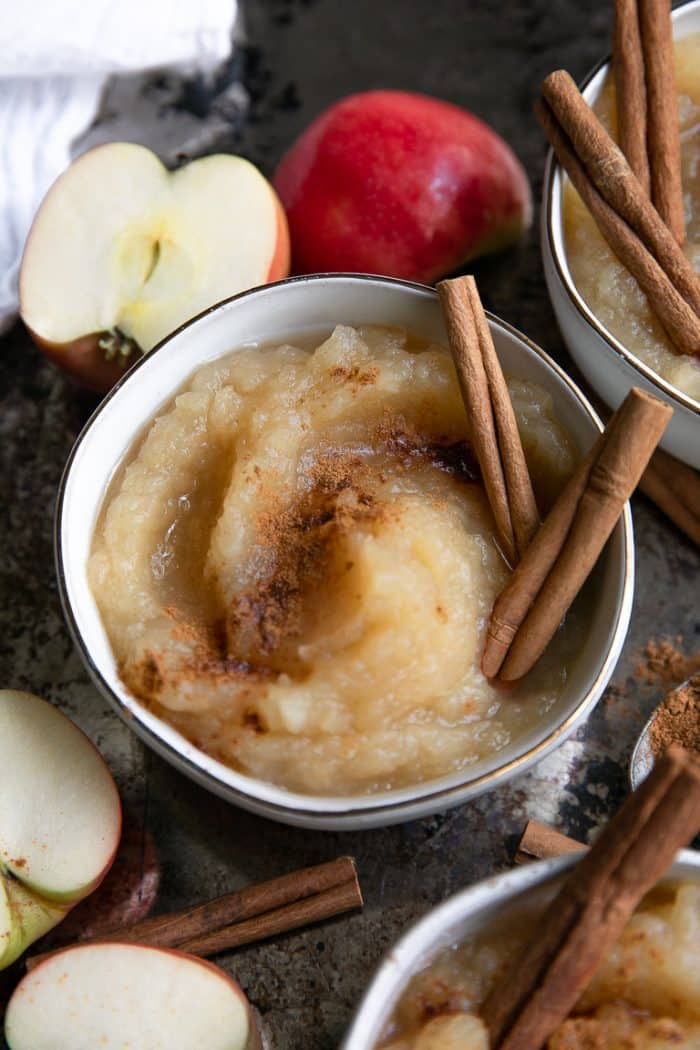 Easy Applesauce Recipe
Homemade applesauce is still one of my favorite snacks. Light, refreshing, healthy, and loved by all ages, applesauce can be enjoyed all year long, from apple season and beyond. Every time I prepare a big batch of this homemade applesauce it's like digging into a big slice of apple pie!
Reasons why I continue to make this recipe over and over again,
It's made with just 5 simple ingredients! (4 if you omit the sugar)
It can be made with whatever apples you have on hand
Big-batch friendly
and canning-friendly for long term storage
It's super easy to make -nothing fancy required
Vegan, gluten-free, dairy-free
What are the Ingredients to Make Homemade Applesauce?
Apples
Water
Sugar or another sweetener (optional)
Ground cinnamon
Pinch of salt
Lemon juice
In other words, you're eating apples. But that's the point, right?
And, if you're like me, a person who has the tendency to impulse buy in large amounts, then this applesauce recipe is just what you need!
Sugar is optional. I love a little sweetness so I added 1/4 cup. If you prefer sweeter applesauce, then I definitely recommend adding a little extra sugar (any sugar will work – brown sugar or white granulated sugar).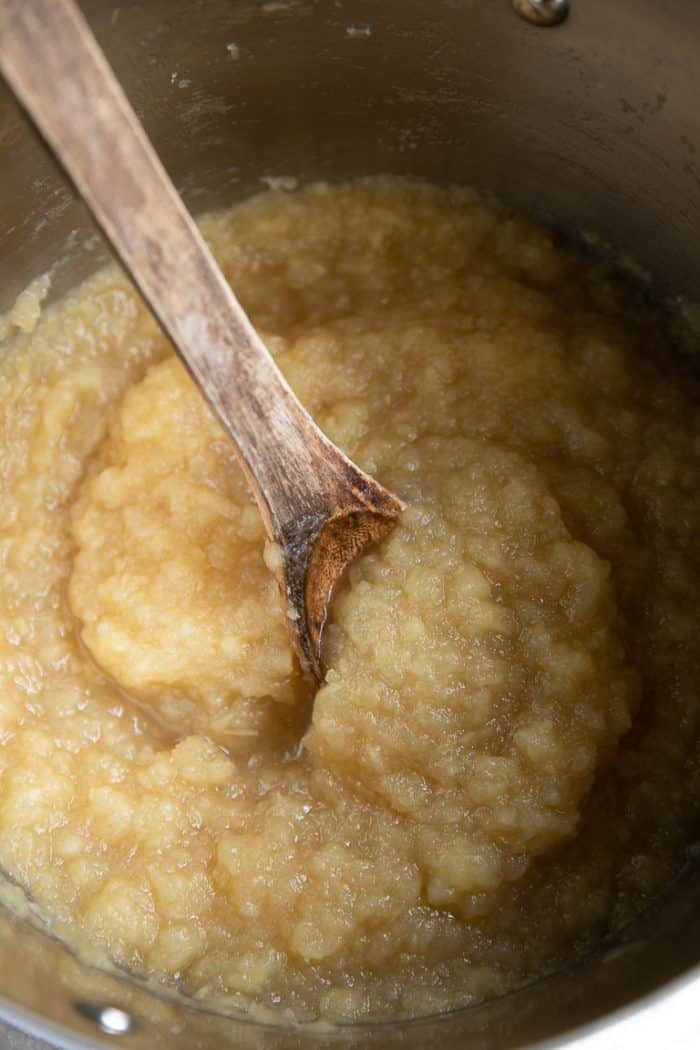 What are the Best Apples For Applesauce?
If you start researching which apples are the best to use in applesauce, you will encounter a million different answers. Each apple variety has a different taste, texture, response to heat, color, etc. However, your own personal preference will likely determine which delicious apples you prefer to use.
In general, the type of apple that is best for baking is the worst for applesauce. For fastest cooking, pick softer apples and for best flavor, mix and match a few different types.
McIntosh
Fuji
Golden Delicious (avoid Red Delicious)
Gravenstein
Gala
Transparent
Cortland
Jonathan
Honeycrisp
Gala apples
Granny Smith apples
I would like to note that Pink Lady Apples are my personal favorite. I use them for just about everything. Some will argue that they are too firm and not sweet enough, but I find them absolutely perfect.
Mix them, match them, test each, one-by-one, it is totally up to you.
To make this recipe you'll need the following equipment:
Nothing fancy or crazy. Promise.
How to Store Homemade Applesauce
Always keep leftover applesauce stored in the refrigerator in a tightly sealed container. Leftovers will keep for up to one week (sometimes a little longer) when stored properly. Surprise your kiddos and send them to school with homemade applesauce in one of these adorable and reusable storage pouches.
Can I Freeze Fresh Applesauce?
To freeze homemade applesauce, first, allow it to come to room temperature before transferring to freezer-safe storage containers (freezer bags, jars, containers with lids, etc). Transfer to the freezer for up to two months. Once thawed, do not re-freeze.
Can I Can This Applesauce?
I get this question a lot and the answer is yes, you can definitely can this applesauce for long-term storage using a water canning bath. As will all canning, be sure to follow proper canning protocol to prevent accidental cross-contamination.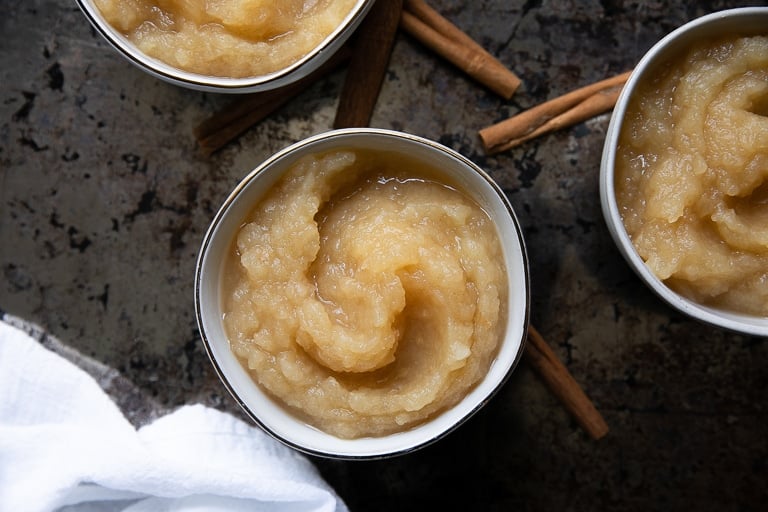 How to Make Applesauce
To make homemade applesauce gather a bunch of apples – whichever apples you want (see above). In nearly all apple recipes I use Pink Lady Apples because they're tart, crispy and so pink. Basically, the only thing that matters when picking apples. Just kidding…but, that's how I do things.
Peel and core the apples. If you're handy enough with an apple peeler, that will definitely help speed the process along. Unfortunately, I have never been clever enough to figure out how to use mine (true story) so I stick to my favorite paring knife. Peel, core, and then slice the peeled apples.
Transfer the apples to a large pot. Add the water, lemon juice, sweetener, cinnamon, and salt, and mix to combine. You don't need a lot of liquid, but you will need about 1/2 cup to help steam the apples and move things along. Some people use apple juice or apple cider (not apple cider vinegar) instead of water, but I just see that as more sugar, so I'll let you decide.
Bring liquid to a boil, reduce heat, and cover. Now the hard part is over (since, you know, that was super hard). Allow the apples to cook for approximately 25-30 minutes. Your apples should be broken up, but partially intact, and very soft. Remove those sweet apples from heat.
Mash into applesauce.
Once your apples have cooked, now it's time to decide- will you enjoy chunky or smooth applesauce? Fortunately, there is no wrong answer here. All applesauce is good applesauce. The desired consistency is entirely your own.
To make chunkier applesauce, I recommend using a potato masher. For smooth applesauce, you'll want to process in a food processor or use an immersion blender.
Uses for Homemade Applesauce
Applesauce is perfect on its own. What are some other things you can do with a giant batch of homemade applesauce?
In other words, enjoy this perfectly spiced applesauce on, with, or in just about everything.
…especially ice cream.
Looking for more delicious apple recipes? Try these reader favorites:
Autumn Rosé Sangria with Apples and Pomegranates
Easy Apple Crisp Recipe (How to Make Apple Crisp)
Have you tried making this Easy Homemade Applesauce Recipe?
Tell me about it in the comments below! I always love to hear your thoughts. And tag me #theforkedspoon on Instagram if you've made any of my recipes, I always love to see what you're cooking in the kitchen.
Homemade Applesauce Recipe
Easy recipe for delicious Homemade Applesauce. Ready in just 30 minutes, it makes the perfect sweet snack or healthy dessert.
Ingredients
3

lb

apples

-

approx. 6 medium apples, peeled, cored, quartered and chopped into smaller chunks.

½

cup

water

2

tablespoon

fresh lemon juice

¼

cup

white sugar -

(optional)

½

teaspoon

ground cinnamon

¼

teaspoon

salt
Instructions
Place the peeled, cored, quartered and chopped apples in a large pot. Stir in the 1/2 cup of water, lemon juice, sugar (if using), 1/2 teaspoon ground cinnamon, and salt. Bring to a boil over high heat. Once simmering, reduce heat to low and cover pot with a tight-fitting lid. Maintain a low simmer for 30 minutes or until the apples are completely soft and cooked through.

Once fully cooked, remove from heat. For chunky applesauce, mash the apples directly in the pot using a potato masher. For smooth applesauce, add the apples to a food processor or blender and blend until smooth (if using a blender, work in batches and allow time to cool), or use a hand-held immersion blender and blend directly in the pot.

This applesauce is delicious served warm or cold.
Jessica's Notes
I used Pink Lady apples for this recipe because that is what I had laying around. Other recommended apples are Granny Smith, Mcintosh, Fuji, Gravenstein, Jonagold, and Golden Delicious. Or, even better, you can always mix and match!
Easily turn this recipe into unsweetened applesauce by adjusting the sugar amount according to personal preference. As I don't usually love lots of added sugar (unless we're talking cookies or cake), I will probably cut the sugar in half next time I make this recipe. Of course, Pink Lady apples are known for being tart and sweet, so perhaps my opinion will change with a different apple.
Feel free to add additional cinnamon or even a pinch of nutmeg, if desired.
Makes approx. 1.5 quarts
Nutritional Information
Calories:
225
kcal
|
Carbohydrates:
59
g
|
Sodium:
152
mg
|
Potassium:
364
mg
|
Fiber:
8
g
|
Sugar:
47
g
|
Vitamin A:
185
IU
|
Vitamin C:
15.7
mg
|
Calcium:
20
mg
|
Iron:
0.4
mg
(Nutrition information provided is an estimate and will vary based on cooking methods and specific brands of ingredients used.)
(originally posted on October 5, 2015)