Learn how to enjoy the flavors of Mexican street corn with this Mexican Street Corn Tostadas recipe!
When your child hurts his thumb and he's a thumb sucker, weird things happen.
Octavian got a teeny tiny scrape on his thumb at school this afternoon and it's like someone chopped his thumb off. The sequence of events after he got home were unpredictable. Happy as can be one minute, crying his head off the next. He was tired, hungry (although he objected otherwise) and really just needed to chill out (but wouldn't).
Dinner, meltdown(s), a shower escape and many band-aid changes later, I finally got my kid in bed.
This is where it gets weird…
What happens when a thumb-sucking three year old can't suck their favorite thumb? Well, first they try to make the other one work.
It doesn't. So then there's lots and lots of whining and things like, "Mamaaaa, this one's not woooorkiiinnnng!". I laugh, because (#sh*tkidssay) and then try to comfort and distract him with songs and happy stories of the weekend because umm, side note, it is going to be in the 80's here!
Then my kid cuddles up close to me (we're in his bed, i'm trying to get him to go the f to sleep) and he says to me, "Mama, can I suck your thumb?" Ummm, WHAT THE F, I think to myself. "You want to suck my thumb? Uhh, sure, love". So I hand him my thumb. He gives it a try, pulls it out, looks at and asks me "Why is it so big?" I go on to explain that I am grown up and his hands will one day be bigger too. Then he moves on and samples every.single.one. of my fingers.
YOU GUYS!
It was a little strange. I mean, whatever. He's little and really just needed to go the f to sleep, but it was a little weird. Not in a creepy way, but still weird. The last time he sucked my fingers he was 5 months old and swaddled.
But then I remind myself that motherhood is weird and kinda (always) gross and sometimes you have to do that for the little tiny people you love most.
Then, just before my child fell off to sleep he asked me,
"Mama, when my finger is better, will you suck my thumb?"
"No."
"Why?"
"Because mommy is grown up and doesn't suck fingers."
And then he fell asleep.
—> Anyway, now that I got that off my chest, let's talk about food!
Just in case you didn't know, next week is cinco de mayo! I thought about making some traditional Mexican enchiladas with homemade enchilada sauce or some other delicious Mexican food (because seriously guys, isn't ALL Mexican food SO good?), and then I changed my mind.
I thought, hmm, tostadas are always a good idea. And Mexican street corn always tastes good. AND, Mexican street corn tostadas with a cold beer would be especially awesome.
And that's how these tasty little tostadas came to be. And now they're gone because we ate them all 🙂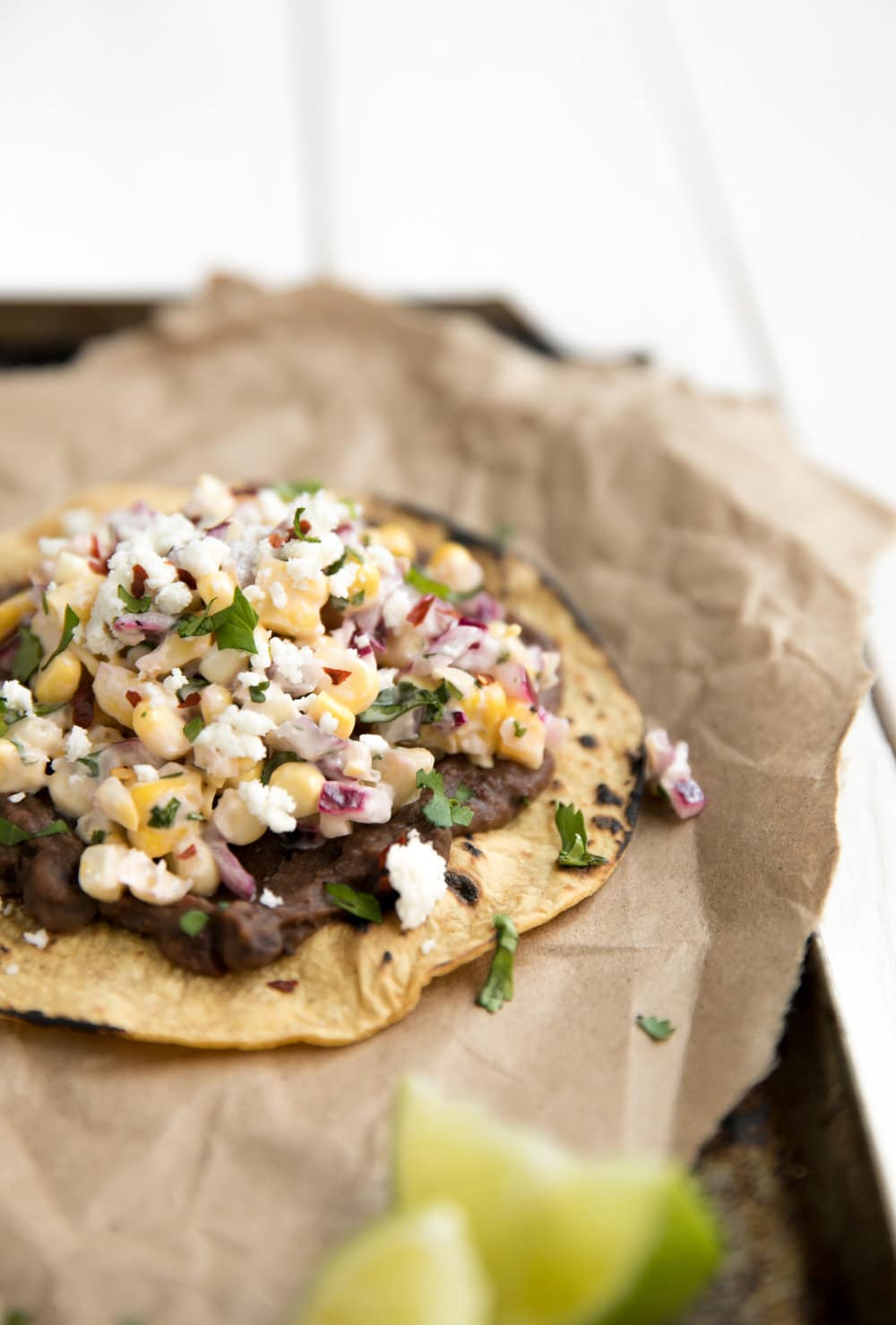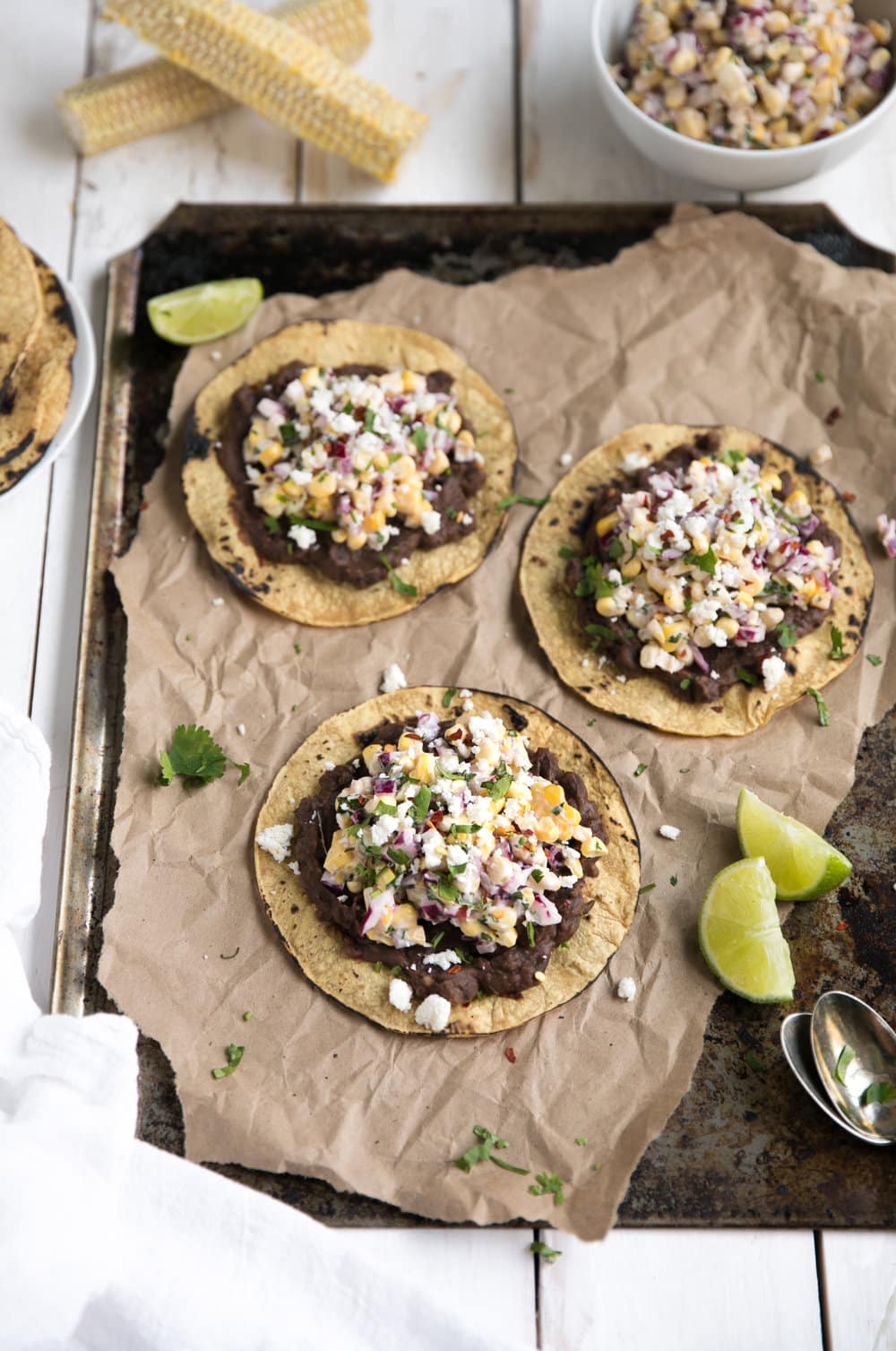 Mexican Street Corn Tostadas with Chipotle Back Beans
Learn how to enjoy the flavors of Mexican street corn with this Mexican Street Corn Tostadas recipe!
Ingredients
FOR THE CORN
3

large ears of corn

-

shucked and cleaned of stringy bits OR 1 (15 ounce) can whole kernel corn, drained

½

red onion

-

diced

⅓

cup

mayonnaise

-

I used low fat and it tasted great

1

small bunch cilantro

-

chopped fine (approximately 1/3 cup)

1

lime juiced

salt + pepper

-

to taste
FOR THE BLACK BEANS
15

oz

black beans -

one can, drained

15

oz

refried black beans

-

one can, drained

2

whole chipotle chilis in adobo sauce

-

finely chopped (less if you prefer less spicy food)

1.5

tablespoon

adobo sauce

1

lime juiced

salt

-

to taste

Cotija cheese

-

for topping

12

corn tortillas

-

approximately 2 per person

Avocado

-

optional
Instructions
If you are not using canned corn, prepare your corn using your preferred method. I used the microwave by placing the corn on a large microwave-safe plate with a tablespoon of water and cover with a saturated paper towel. Microwave on high for 4-5 minutes, or until cooked. You may also boil or grill the corn, but for quick meals, the microwave is my bff.

In a large bowl mix together the corn, mayonnaise, red onion, cilantro, lime juice and salt + pepper, to taste. Stir everything together until the corn is evenly coated with all the other ingredients. Set aside or store in the refrigerator if you are preparing this dish ahead of time.

Heat up the beans by emptying both cans of black beans in a small sauce pan over medium heat. Mix in the chipotle chilis, adobo sauce, lime juice, salt and pepper. Cook over medium-low heat until just heated through (you may also heat up the beans in the microwave for 2-3 minutes).

To get crispy charred corn tortillas, place tortilla directly to the burner and cook until crispy (you may want to use tongs to do this). Do NOT leave your tortilla on the burner and walk away- always keep a close eye as it can (and will) catch on fire if left unattended. Or, you can buy pre-made crispy tostadas from the market.

Assemble your tostadas- spread a generous layer of black beans on to each tostada (approximately 1/4 cup). Top with desired amount of the corn mixture and sprinkle with cotija cheese. If you want to be really fancy, add some avocado to the top (sadly, my avocado were rock solid and definitely not ready to eat).
Nutritional Information
Calories:
619
kcal
|
Carbohydrates:
94
g
|
Protein:
23
g
|
Fat:
19
g
|
Saturated Fat:
3
g
|
Cholesterol:
7
mg
|
Sodium:
1740
mg
|
Potassium:
1064
mg
|
Fiber:
23
g
|
Sugar:
6
g
|
Vitamin A:
175
IU
|
Vitamin C:
13.4
mg
|
Calcium:
141
mg
|
Iron:
5.8
mg
(Nutrition information provided is an estimate and will vary based on cooking methods and specific brands of ingredients used.)