Easy, delicious and perfect for all your taco needs, this mouthwatering 20-minute Ground Beef Taco Meat is made with lean ground beef, tomato sauce, and seasoned with homemade taco seasoning.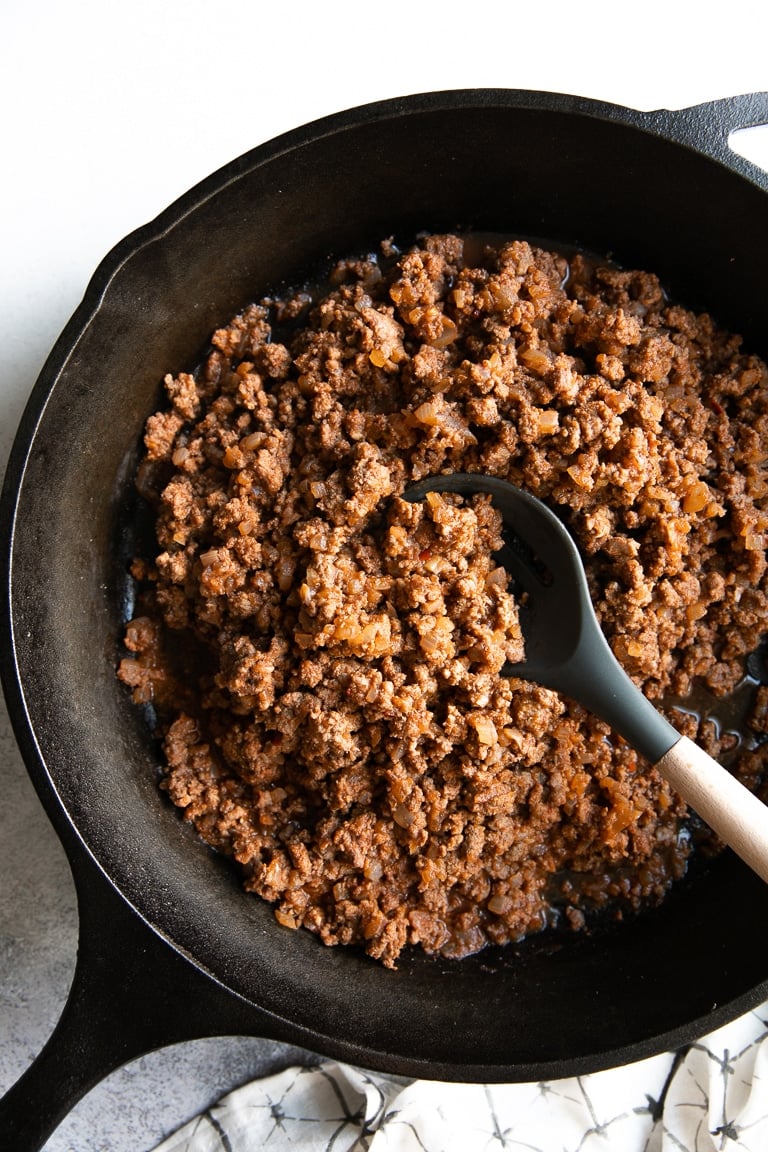 Tacos
Tacos aren't just for Taco Tuesday…at least not at my house. And this kid-friendly ground beef taco meat isn't just for tacos, either.
Ready in just 20 minutes, this super versatile ground beef is mixed with taco seasoning and pureed tomatoes and loves being added to taco salads, taco pasta, and even taco soup.
I love to double (or even triple!) this recipe and use it to meal prep both lunches and dinners for my family to last the whole week!
What is the best ground beef for tacos?
Deciding which ground beef to use in this recipe depends entirely on you.
Personally, I like to make my taco meat using 90% lean ground beef. The meat is still flavorful, tender, and delicious, and it isn't overly greasy.
On the other hand, you can also use 80% lean ground beef. Readily available and extremely economical, this option comes with more fat to drain away mid-way through the cooking process.
If beef isn't your thing, any ground meat will work with this recipe to make the best ever taco meat. Venison and ground turkey are two of my personal favorites.
Ingredients in this Taco Meat Recipe
One of my favorite parts about this homemade taco meat recipe is the small ingredient list.
You may make this recipe a few different ways- with store-bought taco seasoning, homemade taco seasoning (highly recommended- it's SO easy!), or by measuring out the individual seasoning and spice amounts needed to make up approximately 1 tablespoon of taco seasoning.
I had a jar of homemade taco seasoning so that's what I used and this recipe turned out perfect! Not too spicy, not overwhelmed by ground cumin, and apparently awesome enough for a 5-year-old.
Onion. I will always and forever add onion to my taco meat. Cooked until super soft and tender, onions add loads of awesome added flavor to any ground taco meat recipe.
Ground Beef. What you see here is 90% lean ground beef, but it's always best to pick what will work best for you and your family. One pound of ground beef will be enough for approximately 3-4 people to enjoy a couple of tacos packed full with all your favorite toppings.
Taco Seasoning (chili powder, garlic powder, dried oregano, paprika, dried cumin, crushed red pepper, salt + pepper, cornstarch). Store-bought or homemade, you can't really have taco meat without seasoning.
Tomato sauce. Sometimes I'll use canned diced tomatoes, but I much prefer using tomato sauce. My 5-year-old doesn't complain about the red things in his food and it helps keep the taco meat nice and juicy (even when leftover and refrigerated).
Can you add anything else to this taco meat?
Absolutely!
Sometimes I'll try to sneak in additional veggies like carrots, or added protein from beans or lentils. Unfortunately, this will change the overall taste and texture of your taco meat – at least a little.
If you love these things, then you should be good to go and love it mixed in there with the ground beef. If you're new to lentils and beans, I recommend starting on the lower side. For example, 80% ground beef and 20% plant protein.


How to make the best taco meat
This recipe is super simple and couldn't be easier to make! As everyone has their own personal taste preferences, use the seasoning amounts that I have listed as a guide.
Let's get cooking!
To get started, grab a large skillet or cast iron skillet (shown here) and set it over medium-high heat. Drizzle with olive oil and add your onion. I like to dice my onions super small, but if you prefer to have larger onion chunks, go for it! On the flip side, if you don't care for onion at all, skip this step.
Cook the onion until soft and translucent. Times will vary but it took mine approximately 5 minutes.
Add your ground beef and immediately start to break it apart using a wooden spoon or spatula. Cook your meat, stirring and breaking into smaller pieces, until cooked- approximately 5-7 minutes.
Remove the skillet from heat and very carefully drain excess fat or liquid from the skillet. If some liquid is left in the skillet, that's ok.
Return the skillet back to medium heat and add the taco seasoning and tomato sauce. Mix well to combine.
Allow the taco mixture to simmer for approximately 5 minutes. Stir often and season with additional salt, pepper, or taco seasoning, to taste.
Can you freeze leftover taco meat?
Yes! Totally. In fact, this is super easy to do.
To freeze any leftover taco meat, allow your meat to come to room temperature. Once your taco meat is room temperature ready, divide between the desired number of freezer-friendly bags (I love these freezer friendly reusable silicone bags). Remove as much air as possible from each bag and seal completely. Label how much taco meat is inside each bag.
When ready to thaw, transfer to the refrigerator and allow your taco meat to sit overnight, or place the bag in a large bowl filled with warm water. Allow the meat to loosen up enough to remove from the bag and either transfer to a skillet or microwave-safe bowl to reheat completely.
If you try making this Ground Beef Taco Meat, please leave me a comment and let me know! I always love to hear your thoughts.
For more Mexican recipes check out,
DON'T FORGET TO PIN AND SHARE THIS EASY TACO MEAT RECIPE AND ADD IT TO YOUR NEXT WEEKLY MEAL PLAN!
Ground Beef Taco Meat
Easy, delicious and perfect for all your taco needs, this mouthwatering 20-minute Ground Beef Taco Meat is made with lean ground beef, tomato sauce, and seasoned with homemade taco seasoning
Instructions
Heat a large skillet over medium-high heat. Add the oil and diced onion and sauté for 4-5 minutes, or until the onions are soft. Stir often to prevent burning and reduce heat to medium if needed.

Add the ground beef to the skillet. Use a large wooden spoon or spatula to break the beef into smaller and smaller bits and pieces. Fully cook your ground beef before draining approximately 3/4 of the liquid and fat from the skillet.

Return the skillet to medium-high heat. Add the spices and tomato sauce to the beef and mix well to combine. Continue to cook for an additional 5 minutes or so, stirring often.

Serve with all your favorite taco dinners! Enjoy!
Jessica's Notes
Feel free to use your favorite ground meat for this recipe including pork, lamb, venison, or chicken!
Make your own taco seasoning mix! Per 1 pound of ground meat, you'll want to use approximately 1 - 1.5 tablespoons of taco seasoning.
Nutritional Information
Calories:
201
kcal
|
Carbohydrates:
5
g
|
Protein:
25
g
|
Fat:
8
g
|
Saturated Fat:
2
g
|
Cholesterol:
70
mg
|
Sodium:
422
mg
|
Potassium:
641
mg
|
Fiber:
1
g
|
Sugar:
3
g
|
Vitamin A:
810
IU
|
Vitamin C:
5.3
mg
|
Calcium:
26
mg
|
Iron:
3.6
mg
(Nutrition information provided is an estimate and will vary based on cooking methods and specific brands of ingredients used.)