What is Gumbo? Plus answers to all your other questions about this New Orleans favorite, including the origin, types, ingredients, and how to make the perfect roux.
What is Gumbo?
The exact origin of what we have come to know as Gumbo is somewhat debated, but it is often used as a metaphor for the melting pot of cultures that have come to exist in southern Louisiana. A perfect combination of French, Spanish, Native American, African, Italian, and German culinary influences, people from each of these cultures lived together in a small area of Louisiana in the 18th and 19th centuries.
In order to keep the history lesson somewhat short (it's lengthy), I'm only going to touch on the key points.
New Orleans was established in 1718, marking the beginning of the French colony of Louisiana. The French settlers worked together with native tribes (the Choctaw) to learn new cooking methods and identify edible indigenous plants.
In 1719 slave ships began arriving in Louisiana. These ships were filled with rice and men who knew how to grow and cultivate this grain.
Germans arrived 40 miles from New Orleans in 1721 and introduced the skill of sausage-making.
The Spanish took control of Louisiana in 1762.
The Spanish recruited 2000 people from the Canary Islands to relocate to the southern part of New Orleans. Skilled fishermen, these Spanish settlers began supplying shrimp and crab to markets. These settlers also brought with them spices such as cayenne pepper and chili pepper.
Between 1755-1795 nearly 3000 Acadian exiles (don't worry, I won't get into that history lesson) were granted permission to relocate to Louisiana. They became known as Cajuns, and relocated to areas south and west of New Orleans.
Louisiana was returned to France in 1800 and just three years later, in 1803, it was purchased by the United States.
The southern part of Louisiana, including New Orleans, officially became the state of Louisiana in 1812.
With the slave trade continuing into the 1800s, new African vegetables were introduced – Okra.
Regardless of its official origin, Gumbo remains, for obvious reasons, the official state dish of Louisiana.
Like most well-known dishes, there are several variations of this popular stew. However, several key elements are found in nearly all Gumbo recipes- a stock, meat or shellfish (or both), a thickener, and the "Holy Trinity" of vegetables (celery, onion, bell peppers).
Why is Gumbo called Gumbo?
The name of the dish comes from Louisiana French. It is thought that it was named after one of two main ingredients common to gumbo recipes – okra or filé.
The word "okra" translates to ki ngombo or quingombo, also known as gombo, in several West African languages. It was these languages spoken by many slaves living in Louisiana starting in the 1700s.
On the other hand, filé, or ground sassafras leaves, were called by the native Choctaw people, kombo.
Cajun versus Creole Gumbo
First things first here, you guys.
Creole cooking came first. As in, before Cajun cooking ever existed, there was Creole cooking. Creole cooking dates back to the 1700s when New Orleans was founded by the French in 1718. Cajun cooking, on the other hand, didn't come to Louisiana until the second half of the 18th century when Acadian exiles relocated outside of New Orleans.
In general, Cajun cuisine is viewed as less refined and more of a "country food". Acadian exiles, also known as Cajuns, didn't have access to some of the luxuries that Creole people had thanks to trade. As such, Creole cuisine is often viewed as "city food".
Main Differences Between Cajun and Creole Gumbo?
Tomatoes– in general, Creole cooking uses, or has access to, tomatoes, while Cajun cooking does not. This is because early Creole cooks had access to canned tomatoes from Sicily.
The main source of fat. Creole cooking will often use butter as the primary source of fat, while Cajun cuisine will typically use a vegetable oil or animal fat (or both). Butter was seen as more of a luxury.
Seasoning. For the most part, Cajun and Creole seasoning are very similar. The primary difference is that Creole cooking and spice blends typically come with extra paprika, sweet basil, celery seed, and white pepper.
Meats. Typically, Creole gumbo is made with shellfish and some kind of ham or sausage (like Andouille sausage). Cajun gumbo, on the other hand, usually contains fowl (such as chicken), ham, and sausage.
Gumbo vs Jambalaya
They both taste awesome, but what else?
Jambalaya: Jambalaya is made with protein, veggies, and sometimes tomatoes, which combine with rice and chicken stock, and simmer together to make one big pot of spicy rice. Jambalaya, like Spanish paella, is at its core, a rice dish. Unlike gumbo, the rice cooks directly in the broth, rather than be served on the side.
RELATED: Jambalaya Recipe (How to Make Jambalaya)
Gumbo: Gumbo, on the other hand, is more like a soup, or stew. Filled with a mix of vegetables, meats, and shellfish cooked in a flavorful stock made from a dark roux and thickened slightly with okra or ground sassafras leaves (filé powder). Unlike jambalaya, but similar to etouffee, gumbo is served atop or with a side of cooked white rice.
What is the "holy trinity" of Cajun Cooking?
The "holy trinity" of Cajun cooking, or "holy trinity" or simply "trinity" to some, is an aromatic mixture consisting of finely diced onion, celery, and red or green bell pepper. It is, essentially, the Cajun/Creole version of mirepoix, or soffrito.
Soffrito (also known as mirepoix)- a simple base made from finely diced vegetables (the mix of vegetables will vary by country and cuisine) that are cooked in butter or oil, low and slow as to sweeten the ingredients rather than caramelize them.
"holy trinity"– a Cajun mirepoix of onions, celery, and bell pepper.
RELATED: What is Mirepoix? How to Make and Use Mirepoix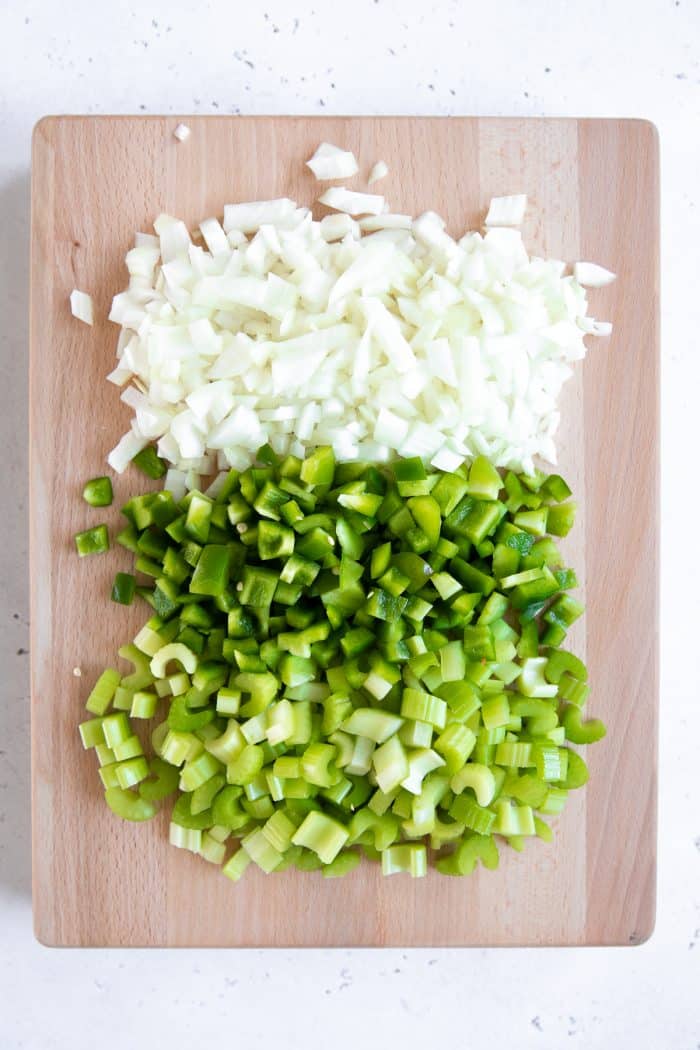 Gumbo Thickeners
There are three main thickeners for any Gumbo recipe- Roux, filé, and okra.
1. Roux:
Typically made by cooking equal parts all-purpose flour and fat, a roux is used to thicken or flavor sauces, soups, and stew. How long a roux is cooked and to what shade of doneness varies by recipe depending on if the sauce will be used to thicken or flavor a dish.
Preparing a good roux is key to a good Gumbo. Explained in full below, you'll see the progression from light to dark roux. The lighter the roux, the less flavor it will have, and the greater its thickening properties. On the other hand, the darker the roux, the more flavorful it will be, but the less thickening power it will have.
2. Filé Powder:
Made from dried and ground sassafras leaves that grow natively in eastern North America. In general, it is recommended to add the Filé powder toward the end of the cooking process.
3. Okra:
One of the most common thickening agents, okra offers a distinct and delicious taste and flavor. Traditionally, when okra was out of season, dried okra would be used in its place. You may also use frozen okra, just be sure to thaw before adding.
RELATED: Shrimp Étouffée Recipe
How to Make Gumbo Roux?
How to Make a Roux for Gumbo:
Set a large pot, pan, or Dutch oven over medium heat. Melt the fat that you plan to use (butter and bacon dripping are my preferred fat sources). Once fully melted, slowly whisk in the flour, little by little, until all of the flour is fully incorporated.
Continue to cook over medium heat for 1-2 hours, whisking continuously. Anyone who says that you can have a dark, perfect gumbo roux in 30 minutes or less is a liar (sorry, not sorry)…or maybe a pro.
The color will change from a creamy off-white to a light caramel, to a darker mahogany brown color, and finally, a chocolate brown color.
Now, you may need to play around with the heat. For example, if your roux is staying the same color for more than 30 minutes, it's usually a pretty good sign that the heat needs to be increased just slightly. That said, do not burn your roux or you will have to start over.
Don't walk away until desired darkness is reached.
Ready to put your roux to good use? Try this Sausage and Seafood Gumbo Recipe!
More Cajun Recipes,
Easy Red Beans and Rice Recipe
Easy Dirty Rice Recipe (Cajun Rice)