This Angel Hair Pasta Recipe with Chicken has been sponsored by Cans Get You Cooking. All thoughts and opinions are my own.
Easy, fast, and delicious, this 15-Minute Angel Hair Pasta Recipe with Chicken is made with vine-ripened tomatoes, green olives, and needs just 15 minutes to prepare. Loved by the whole family (even those picky eaters!), this easy pasta with chicken uses canned foods to help eliminate waste; save you time in the kitchen; and get your family essentials like protein and vegetables.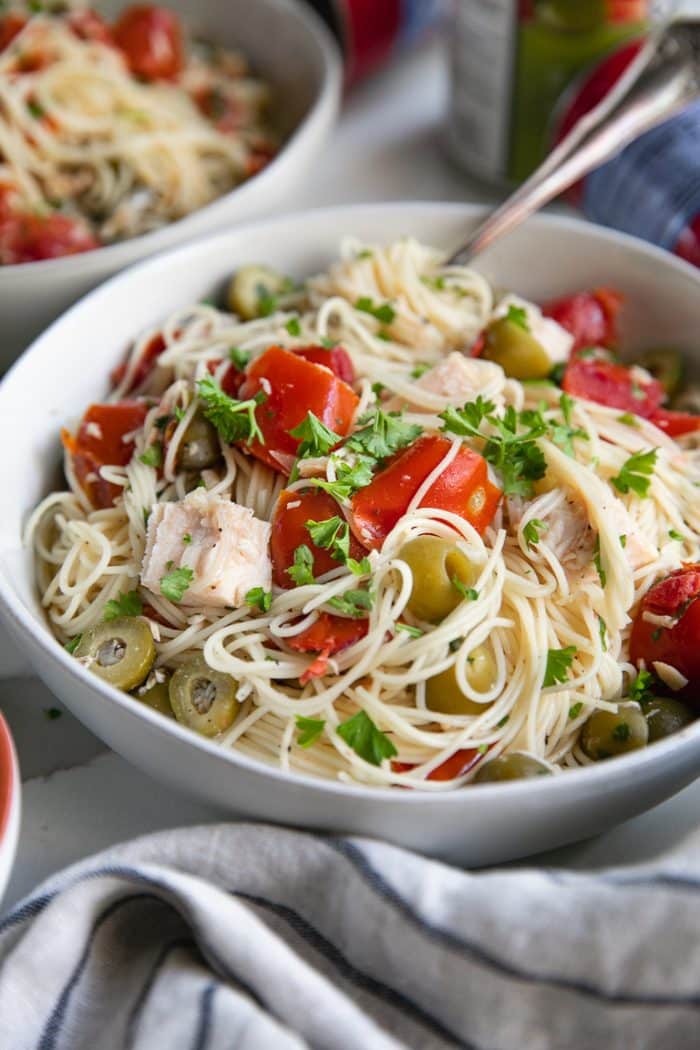 For many of us, we are deep in the trenches of back to school. I never truly understood the meaning of back to school until I became a mom. What could possibly make back to school such a big deal? Well, for starters, there's schedule changes, sleep adjustments, and new activities. And then, depending on where you live, the weather starts to change as well.
Ok, so back to school isn't really that big of a deal, but I always like to be prepared. Preparation is key.
Preparation comes in many forms: meal planning, setting out your child's outfit the night before (with his shoes), checklists (I love a good checklist), and easy dinners with as little prep as possible—like this 15-Minute Angel Hair Pasta Recipe with Chicken, Tomatoes, and Olives.
The key to making this delicious angel hair pasta so simple is the use of canned goods.
After witnessing the process of tomato and peach canning last summer (from farm to can), my entire outlook on the canning process, the quality of canned foods, and the need for canned foods has completely changed. Now, before I get into why I love canned goods, let's chat a moment about this angel hair pasta recipe with chicken.
Ingredients in this Angel Hair Pasta Recipe with Chicken
Angel hair pasta
Olive oil
Shallots
Garlic
Canned tomato wedges in olive oil and Italian spices
Canned green olives
Canned chicken breast meat
Lemon juice
Salt and pepper
Parsley
Parmesan cheese
If you're like me and tend to stock your pantry, then you may already have all of these ingredients on-hand. If not, the good news is that they are all super easy to find and, aside from the shallots, lemon juice, parsley, and Parmesan cheese, can be purchased months in advance and made whenever you need a last-minute, wholesome meal.
Why I love this Angel Hair Pasta Recipe with Chicken
It is so easy. You can see for yourself in the

video

below, or you can just trust me.

Hardly any chopping required. There is

some

chopping, but it really is so little that you'll hardly even notice.

No need to mess with raw chicken. Am I the only one who hates touching raw chicken?

Easy cleanup. So, theoretically, you can cook this whole thing up in one pot by first making the angel hair pasta, then the chicken and tomato sauce, and then mix the noodles back in with the sauce. I boiled my noodles in a separate pot to save on time, but this choice is entirely up to you. Either way,

dishes are minimal and easy to clean up

! And minimal food waste thanks to the canned foods used. Win-win!

My 4-year-old ate it…sorta. Ok, so, he ate most of it. We're working on getting him to love tomatoes, but so far he's not convinced. Ok by me, it's better than plain buttered noodles or mac and cheese for breakfast, lunch, and dinner.

Easily customizable. You guys know how I like to make sure that my recipes are easy to modify and adjust? Well, this is no exception. Fun additions would include canned artichokes, capers, and sun-dried tomatoes. And you can always make it vegetarian by skipping the chicken.
Did you know that most canned fruit and vegetables are "fresher" than any of the so-called "fresh" or "raw" fruit and vegetables you purchase from the market? I didn't. At least not until last year.
Last year while attending an Orchard & Field Tour, I learned that unless I am picking vegetables from my very own garden, nearly all of the fruit and vegetables I purchase in the store are not exactly "fresh". In fact, much of it is picked before it is even ripe. It is then packaged, shipped, flown in an airplane, unloaded onto a truck, and transported to the market where it sits, waiting to be purchased. All this "fresh" produce is a big problem.
Why? Approximately 15-20% of fresh fruits and vegetables are thrown away each year (although I have heard it is much, much higher).
Thanks to this three-day field tour, I learned about and observed the canning process from farm to can to market (no really, I was in the factory and saw how tomatoes and peaches are delivered, sorted and cleaned, and canned in a matter of 4 hours, when they're at their peak ripeness and nutrition). As a result, I now eat way more canned food fruits and veggies and am proud to serve them to my family.
One example: I previously thought that in order to make "fresh" homemade tomato sauce, I had to use "fresh" tomatoes. In my mind, using a can of crushed tomatoes or whole, peeled canned tomatoes was cheating. Wrong. Canned fruit and vegetables are just as nutritious, and in some cases, MORE NUTRITIOUS than their counterparts you will pick up from the market.
Here's the thing, when the fruits and vegetables for canning are picked, they are transported and processed from field to can in less than 4-hours. No day-long journeys and no processing before they are ripe. They are picked at peak freshness and canned.
It really is that simple.
Why canned foods are great
NUTRITION – having a pantry stocked full of your favorite canned fruits and vegetables makes it easier to incorporate canned fruits and vegetables into your cooking. They're there, they're ready, and they make it easy to sneak in that extra serving. After all,

a family of four (two adults and two kids, ages 2 to 3-years-old) needs at least 42 cups of fruit and 53 cups of vegetables each week.

Choosing to use canned fruit and vegetables, at least part of the time, helps guarantee a diet higher in 17 essential nutrients, including potassium, calcium, and fiber. This angel hair pasta recipe, for example, uses five canned products, which makes my job of providing hearty nutrition to my whole family much easier.

THE PROCESS – fresh fruit and vegetables are

harvested at the peak of ripeness and canned within only four hours

. This expedited farm-to-canning process locks in flavor and nutrition. Canning allows us to enjoy fruits and vegetables year-round, even when they're are out of season. For example, this angel hair pasta is tossed with fresh summer tomatoes. If it weren't for canning, it would be impossible to enjoy fresh,

ripe

(like actually ripe) summer tomatoes in the fall, winter, or spring!

MEAL PREP – do I

really

need to say more? After all, the proof is in the pasta (aka this 15-minute angel hair pasta with chicken, tomatoes, and olives).

Less time in the kitchen means more time with my family and getting to everything else on my to-do list.

FOOD WASTE – a subject I am extremely passionate about, food waste is something that just should not be happening. Fortunately,

canning allows precious fruits and vegetables to live a much longer life

.

Plus, most recipes call for full cans, so you use everything vs. wasting anything.

CLICK HERE TO GET MORE CANNED FOOD RECIPES OR TO LEARN MORE ABOUT CANNING

You can also check out #CansGetYouCooking for more easy, delicious canned goods recipes!
Check out these other easy recipes perfect for Back to School!
15 Minute Chicken and Angel Hair Pasta
Easy, fast, and delicious, this Chicken and Angel Hair Pasta with vine-ripened tomatoes and green olives needs just 15-minutes and one skillet to prepare. Loved by the whole family (even those picky eaters!), this easy pasta with chicken uses canned goods to help eliminate waste, save you time in the kitchen, and get your family essential nutrients like potassium, calcium, and fiber.
Ingredients
1

pound

angel hair pasta

-

(or any other thin pasta)

1

tablespoon

olive oil

4

large

shallots

-

diced

6

cloves

garlic

-

minced

20

ounces

tomato wedges in olive oil and Italian spices

-

partially drained

6

ounces

green ripe olives

-

drained and sliced in half

25

ounces

canned chicken breast

-

drained

1

lemon

-

juiced

salt + pepper

-

to taste

reserved pasta water

-

(I used approximately 1/2 cup- see notes)

¼

cup

fresh parsley

-

finely chopped

½

cup

freshly grated parmesan cheese

-

plus more for serving
Instructions
Bring a large pot of salted water to a boil over high heat (waiting to add the noodles until just after you add the tomatoes, olives, and chicken).

As the water boils, heat the olive oil in a large skillet over medium-high heat. Add the shallots to the skillet and sauté for approximately 3 minutes, or until the shallots have softened. Add the fresh minced garlic to the shallots and mix well to combine. Sauté for an additional 30 seconds.

Add the canned tomatoes, green olives, and canned chicken breast to the skillet and stir to combine. Reduce heat to medium.

Meanwhile, add the noodles to the pot of boiling water. Keep a close eye on the noodles as angel hair only needs 3-4 minutes to reach the desired doneness. Just before draining, reserve at least one cup of the boiled pasta water and set aside.

Add the lemon juice, salt, pepper, and approximately 1/2 cup of the reserved pasta water to the chicken and tomato mixture. Stir in the fresh chopped parsley.

Add the cooked pasta noodles to the skillet and combine with the tomatoes, chicken, and olives. Sprinkle with the freshly grated parmesan cheese and sprinkle with additional parsley, if desired. Serve and enjoy!
Jessica's Notes
For this recipe, you will need to reserve at least 1 cup of your salted pasta water before draining your noodles. Since this angel hair pasta with chicken is not being coated in a rich tomato sauce or creamy alfredo sauce, the salted pasta water gives it flavor and helps prevent the noodles from sticking.
Angel hair pasta only takes about 3-4 minutes to cook. I recommend adding the noodles to the boiling water once you have added the tomatoes, olives, and chicken.
If you are a tomato lover like me, I recommend adding one more (10-ounce) can of tomatoes to this dish.
Nutritional Information
Calories:
537
kcal
|
Carbohydrates:
64
g
|
Protein:
39
g
|
Fat:
13
g
|
Saturated Fat:
3
g
|
Cholesterol:
81
mg
|
Sodium:
728
mg
|
Potassium:
881
mg
|
Fiber:
4
g
|
Sugar:
5
g
|
Vitamin A:
885
IU
|
Vitamin C:
36.8
mg
|
Calcium:
159
mg
|
Iron:
2.6
mg
(Nutrition information provided is an estimate and will vary based on cooking methods and specific brands of ingredients used.)