These tasty Goat Cheese Quesadilla with Mushrooms and Spinach are a fun twist on the traditional quesadilla!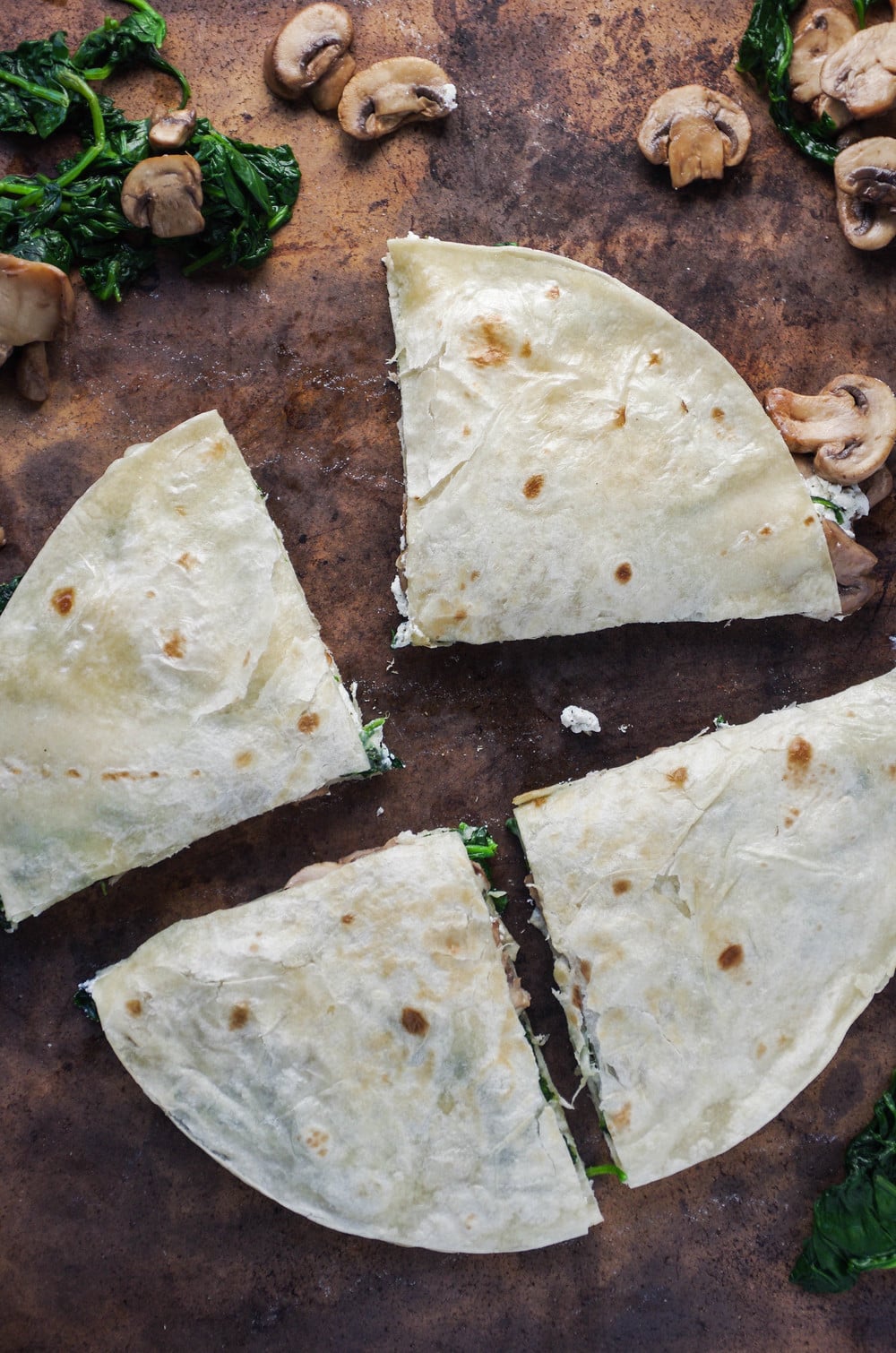 I was digging through saved drafts that had been long forgotten when I stumbled upon this delicious surprise. I make quesadillas at least every other day for Octavian as they are his absolute favorite, however, sadly, his quesadillas are usually plain and boring (but seriously delicious) with a thick layer of cheddar cheese and, if we have any leftover, I'll add some chicken, beef or pork.
Because I've been making the same quesadilla so frequently for the past 6 months, I completely forgot that tortillas can be stuffed with other delicious goodies beside cheddar cheese and meat.
Phew! Thank goodness for lost blog drafts. For a hot minute I was completely uninspired and didn't even realize it (the wooooorst)! While I doubt Octavian will start eating veggie stuffed quesadillas with a cheese other than his favorite "monkey cheese" (aged cheddar), I suddenly find myself wanting my own "mommy" quesadilla again.
Take this Mushroom, Spinach and Goat Cheese Quesadilla, for example.
Savory sauteed spinach and mushrooms with a hint of balsamic vinaigrette and goat cheese. You guuuuuuys, the goat cheese. So creamy, so tangy, SO good. The flavor combination is bold and simple and perfectly balanced by the warm toasted buttery flour tortillas.
Oh, and did I mention that it takes just 20 minutes to prepare?
True story.
It's Thursday night here in California, but it feels like Friday which is weird since Friday usually sneaks up on me.
Octavian can officially recite the ABC's without any help, goes pee-pee on the potty on demand and occasionally he will even let me know he needs to go before the deed is done in his diaper. His new thing this week is making a mess and singing the clean-up song while cleaning up (although, sometimes he gets distracted and forgets to finish cleaning). Oh, and speaking of singing, I predict my child is going to be a rock star or musician when he's older. My child can sing. His new thing is singing a song super super fast when he is tired. The song of the week is "rain rain go away" and "head, shoulders, knees and toes". Whenever we are out shopping, if a checker asks if he wants stickers or a balloon, he replies, Of course…thank you! Two going on twenty.
Excuse me while I go cry in the corner.
Spinach, Mushroom and Goat Cheese Quesadillas
These tasty Goat Cheese Quesadilla with Mushrooms and Spinach are a fun twist on the traditional quesadilla!
Ingredients
6

large flour tortillas

2

tablespoon

olive oil -

or butter, divided

3

cloves

garlic

-

minced

10

oz.

crimini mushrooms

-

sliced

1.5

tablespoon

balsamic vinegar

10

oz.

fresh spinach

salt + pepper

8

oz.

goat cheese

1

cup

mozzarella cheese

-

shredded
Instructions
Preheat oven to 400 degrees F.

Heat a large skillet over medium-high heat and add the olive oil. Once oil is warm stir in the minced garlic and mushrooms and reduce heat to medium-low.  Sprinkle with a small pinch of salt.  Continue to cook mushrooms until soft and tender, about 5-8 minutes, stirring occasionally. Add the balsamic vinegar and stir again.

Add the spinach to the same skillet in two batches; allowing the first batch to wilt slightly before adding the second batch.  Continue to cook until spinach is completely wilted and liquid has evaporated (soggy quesadillas are no good). Season with salt and pepper to taste.

Brush one side of the tortillas using the remaining tablespoon of olive oil.  Place 3 tortillas, oiled side down, on a large baking sheet lined with parchment paper.  Layer each tortilla with a thin layer of mozzarella cheese, a sprinkle of crumbled goat cheese, sauteed spinach and mushroom, and a final layer of goat cheese and mozzarella cheese. Top with the remaining 3 tortillas, oiled side up, and place in the oven until cheese is melted and tortillas are golden, flipping once (approximately 8-10 minutes).

Cut into quarters and serve.
Nutritional Information
Calories:
314
kcal
|
Carbohydrates:
20
g
|
Protein:
16
g
|
Fat:
19
g
|
Saturated Fat:
9
g
|
Cholesterol:
32
mg
|
Sodium:
503
mg
|
Potassium:
551
mg
|
Fiber:
2
g
|
Sugar:
3
g
|
Vitamin A:
4945
IU
|
Vitamin C:
13.8
mg
|
Calcium:
237
mg
|
Iron:
3.3
mg
(Nutrition information provided is an estimate and will vary based on cooking methods and specific brands of ingredients used.)