This Blood Orange, Beet, and Berry Smoothie is healthy and kid-approved.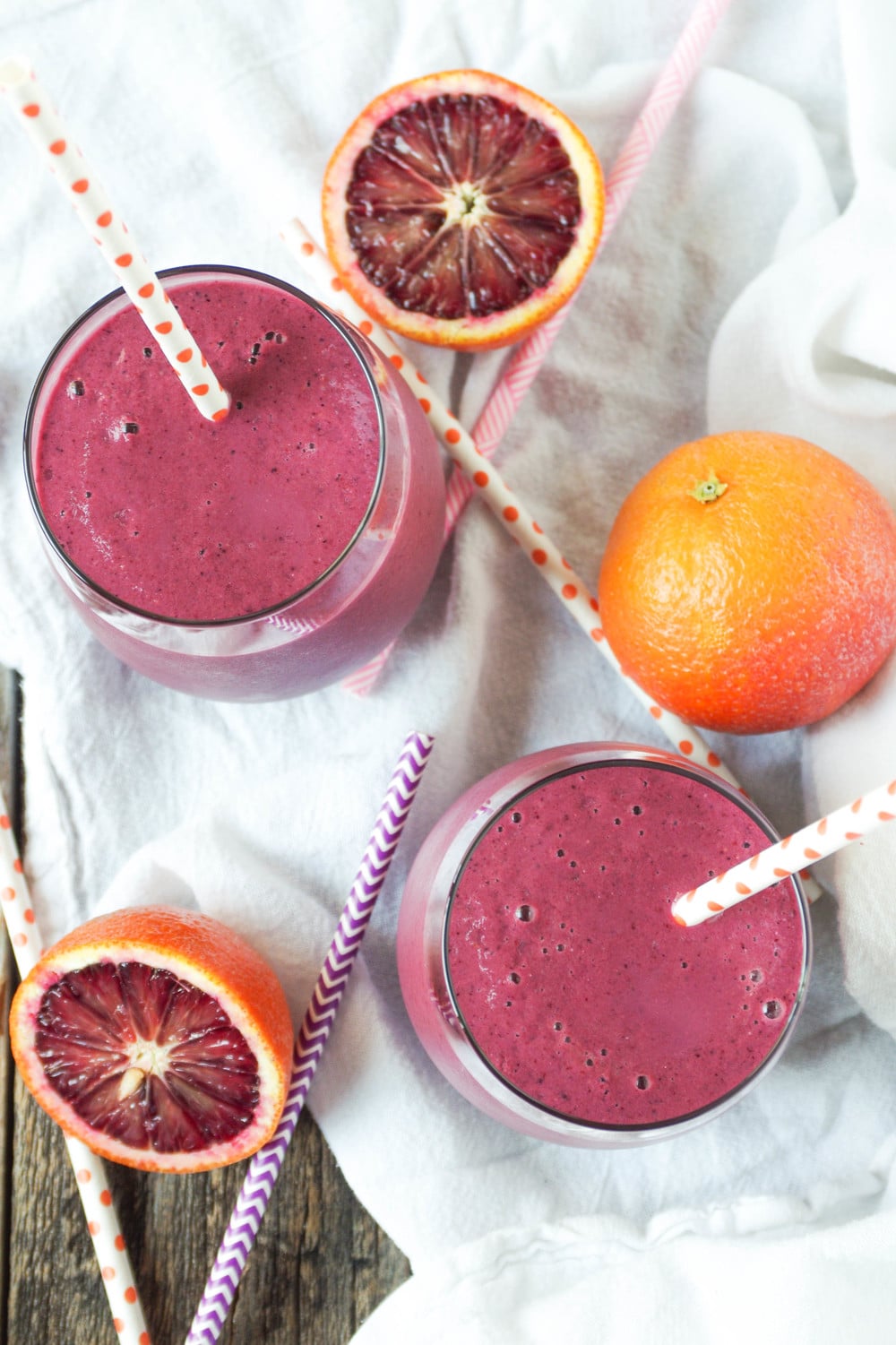 Let's talk blenders for a quick sec. For forever I have had complete love/hate relationships with all my blenders. oh! what's that? you guys too?! you don't say.
In the past, my relationships with my blenders have been something like this: buy a new one, use it until it breaks (just days after the warranty expires, of course) and buy a new, moderately better blender, use it until it breaks (this time perhaps a couple months after the warranty expires), buy a new one…
repeat. and repeat. and repeat.
I'm not saying all blenders are a piece of junk (although, some definitely are), but most blenders no longer fit my needs. I am a very demanding and needy blender and make my blenders work hard for me. The way I see it, that's their job, right?
After going through so many blenders, the next, most logical purchase was the much-coveted Vitamix.
So what made me want this blender so much? Why did I HAVE to have this blender? (because, seriously, you guys, I HAD TO HAVE it)
Touchscreen control panel
Large 64 ounce container that actually fits UNDER my kitchen cabinets
Self Cleans in 60 seconds or less!
Five preset programs for soups, smoothies, purees, frozen desserts and washing
LED touchscreen panel with one-touch control and adjustable speed scale
2.2-peak-horsepower motor and wide blade radius blend ingredients completely and evenly for ultrasmooth, creamy results
Great for making fresh juices, grinding grains into your own flours, nut butters, emulsifying salad dressings and preparings salsas and dips
Yep, dreamy.
After owning my very own Vitamix 780 for a month now, all I can say is, why didn't I buy one sooner?
Honestly, my first reaction was skepticism. How in the world is that single fixed blade going to puree nuts into butter? or puree whole carrots and ginger into smoothies so you can drink the freshest fruits and vegetables?
Well, however it does it, this blender means business.
In the past month I have made countless smoothies, pureed hot soups, made several salad dressings and pureed nuts.
Everything I make in this blender comes out creamy and delicious. Unless I want something clumpy or chunky (salsa or some dips), I have never found a surprise chunk of fruit or vegetable in the smoothies and soups I prepare. Since Octavian still drinks most of his smoothies out of a straw sippy cup, this is a big deal for this mama! No more meltdowns when his straw gets clogged (true life). And the soups I've blended, oh, you guys! it's like eating cream. I made a blended vegetable curry soup the other night (recipe to come) and it was soooo smooth and fluffy and creamy.
but there was no cream.
That is amazing.
If the Vitamix 780 can do that with vegetables, imagine what it can do with cream and sugar…
Now that it's confirmed that this blender is a workhorse, what's cleanup like?
Ummmm, the easiest thing to cleanup in my entire home. All I do is rinse out the majority of the leftover food, add a small squeeze of dish soap and fill halfway with hot water, press the clean setting on the blender, rinse and dry.
SO EASY.
No need to remove a blade and risk cutting your hand, either. Or, risk of your toddler opening the dishwasher and cutting his hand (never happened, but always scared me).
Now that I have this super awesome blender, I wanted to start adding more vegetables to our morning smoothies. Especially since Octavian hates 99.9% of vegetables.
Silly Octavian, why do you have to act like such a toddler all the time?
I decided to go easy on him at first and start with carrots and beets. Both are sweet, but equally good for you! Seeing the bag of blood oranges in my pantry, this hidden veggie blood orange smoothie was born. Since Octavian goes gaga for berries, I dumped in some of those and decided to gamble a bit with Octavian's tastebuds by adding a small knob of fresh ginger.
But, mostly, I just really wanted to test the blender.
The blender passed and the smoothie was sweet, delicious and oh so creamy! And Octavian approved!
With warmer temperatures (hopefully) on the way to California, we will be drinking lots and lots of smoothies, and maybe even make our very own ice cream- I know Octavian won't object about this one!
Until then, we will bundle up in jammies and blankets, sip our immune-boosting smoothies indoors for breakfast and creamy veggie soups for dinner!
Blood Orange, Beet + Berry Smoothie with Ginger
This Blood Orange, Beet and Berry Smoothie is healthy and kid approved.
Ingredients
2

large carrots

-

chopped into 2 inch pieces

3

blood oranges

-

peeled

1.5

cups

frozen mixed berries

1

medium banana

-

fresh or frozen

½

inch

knob fresh ginger

1

cup

milk

1

cup

low-fat plain Greek yogurt
Instructions
Place all the ingredients in your blender- yogurt, milk, banana, berries, beets, carrots, and ginger. Start your blender on the lowest setting and slowly increase speed to high. Blend for approximately 1 minute. Pour into two glasses and serve immediately.
Nutritional Information
Calories:
524
kcal
|
Carbohydrates:
114
g
|
Protein:
19
g
|
Fat:
1
g
|
Saturated Fat:
0
g
|
Cholesterol:
7
mg
|
Sodium:
1253
mg
|
Potassium:
1465
mg
|
Fiber:
17
g
|
Sugar:
89
g
|
Vitamin A:
10785
IU
|
Vitamin C:
31.8
mg
|
Calcium:
343
mg
|
Iron:
2.3
mg
(Nutrition information provided is an estimate and will vary based on cooking methods and specific brands of ingredients used.)
This post has been sponsored by Vitamix. All thoughts and opinions are mine and mine alone.