Fresh, crunchy, and perfect for weekly meal-prep, this Chicken and Cabbage Salad is a perfect anytime low-carb meal even the pickiest eaters will love.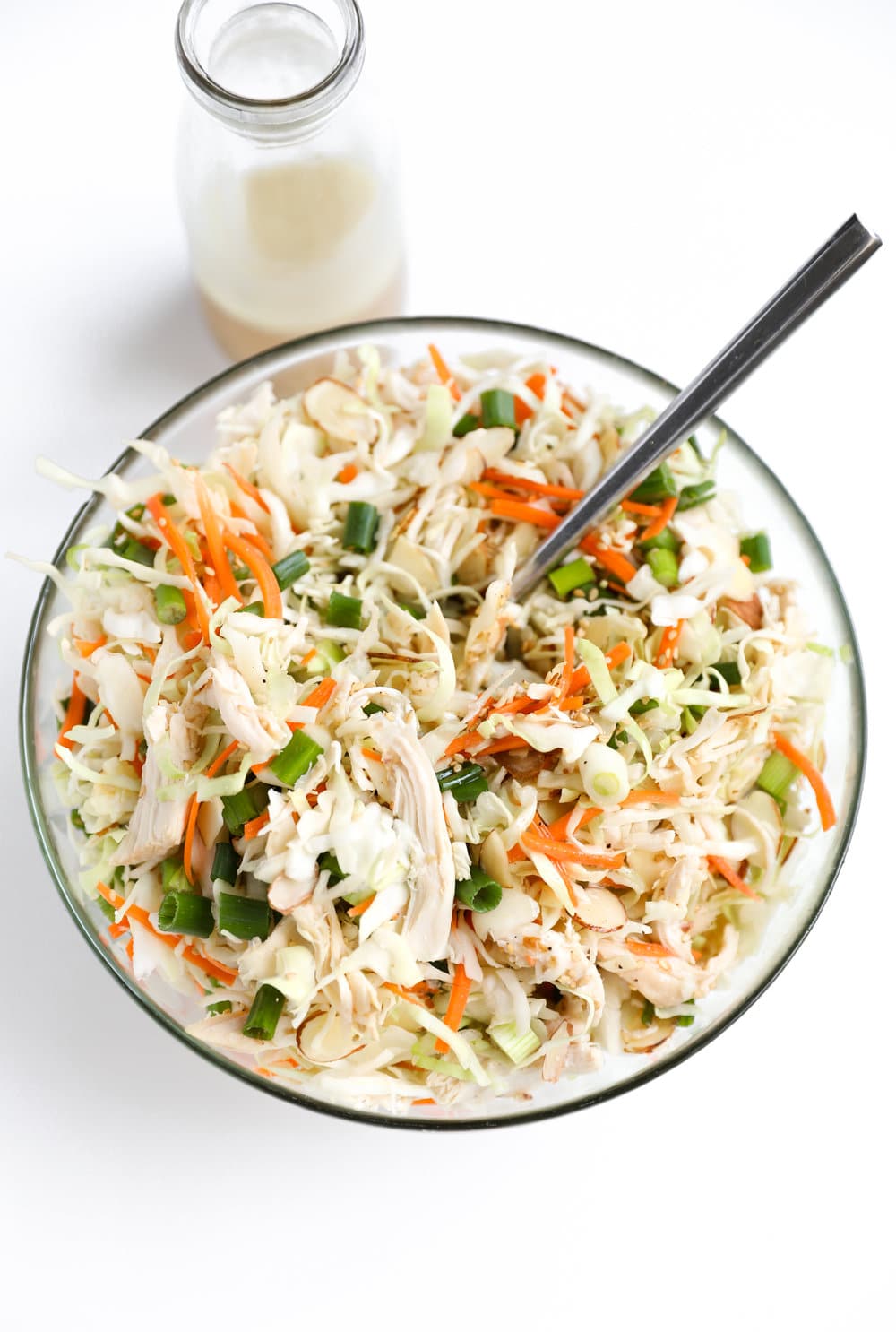 Is it just me or is anyone else struggling with the current cold and flu season? In the past I would rarely get sick. Even in college when I ate poorly and drank too much, I rarely caught a cold or the flu. In fact, I would really only get sick when I would party a little too hard. A decade later, the healthiest I've ever been and here I am, sick for the fourth time this season.
What the F?
I know that I live with an adorable little germ carrier, but aren't we (parents) suppose to have better immune systems? Isn't that the whole idea? Our immune systems suck as kids and when we're old, but I'm thirty, I thought I was in my prime?
You guys, I don't feel like I'm in my prime. I feel beat up.
And then yesterday O bit a kid at school again. I was there when it happened, so I'm convinced he did it to get my attention, but seriously, kid. Get it together. You're going on 3.5 years old. When I try to talk with him about his behavior, he blatantly ignores me and smiles. Then he runs away. My mommy guardian angel / super woman (one of his teachers) swooped in to discuss how not-okay his behavior is toward me and his friends. You guys the people at his school are amazing.
In my exhausted and humiliated beat-up state, what do I do?
I call my husband ugly crying that i can't get our 3-year-old under control. That he bit a kid again so he'll probably be kicked out. And then I run to the market to get stuff to make cookies and brownies because there is just no way I can go back to his school the next day empty handed.
But before the ugly crying there may have been an incident at the park. My persistent and disobedient kid repeatedly kept trying to steal cheetos from a group of people sitting at a picnic table. I would move him away and he would go back. Over and over. He just circled around them like a shark. Finally, his hard work paid off and he got his prized cheeto. My child is super fast so before I knew it he was sliding down the slide happy as can be and then suddenly, at their table with his hand in the bag. I ran over to get him.
Well, I didn't know that a little girl was standing behind me (seriously, how are these kids so fast? where do they come from?), and I tripped over her as I was backing up with my 37 pound toddler squirming in my arms. We all came falling down.
How does my child react? He laughs. Hahaha Mama, that's silly. And then he says, eww, yuck, I don't like it (the cheeto). Time out and a long talk later, I think I finally got through to him. Meanwhile, all I could think to myself was, don't cry, thank god he didn't like the cheeto and (most important) NO MORE KIDS.
I kid I kid. (I think?)
And then I called my husband ugly crying…
Anyway, finally feeling the tiniest bit better, I got around to making a salad. You guys, this is probably one of my all time FAVORITE SALADS EVER. And it is the easiest things you will ever make. I highly recommend shredded rotisserie chicken, since it's the easiest and always tasty, but any shredded chicken will do. Don't let the minimal ingredients fool you, this salad has so much flavor and crunch and texture, you won't be able to stop eating.
Chicken and Cabbage Salad with Light Sesame Vinaigrette
Fresh, crunchy, and perfect for weekly meal-prep, this Chicken and Cabbage Salad is a perfect anytime low-carb meal even the pickiest eaters will love.
Ingredients
For the Salad
1

cabbage

-

whole head, chopped

2

carrots

-

julienned

½

cup

slivered almonds

1

cup

green onions

-

chopped

3

cups

cooked shredded chicken

1

tbsp

seasame seeds
For the Dressing
¼

cup

grapeseed oil

-

or canola oil

⅓

cup

white balsamic vinegar

1

lemon

-

juiced

2

teaspoon

sugar

1

teaspoon

sesame oil -

plus more to taste

salt + pepper

-

to taste
Instructions
In a medium bowl whisk together all ingredients for the Sesame vinaigrette until completely combined. Set aside.

In a large bowl toss together all ingredients for the salad.

When ready to serve toss with desired amount of vinaigrette.
Jessica's Notes
For this recipe, I used pre-cooked rotisserie chicken. However, poached boneless skinless chicken would taste just as delicious.
Nutritional Information
Calories:
632
kcal
|
Carbohydrates:
38
g
|
Protein:
40
g
|
Fat:
38
g
|
Saturated Fat:
5
g
|
Cholesterol:
108
mg
|
Sodium:
487
mg
|
Potassium:
1271
mg
|
Fiber:
12
g
|
Sugar:
20
g
|
Vitamin A:
7470
IU
|
Vitamin C:
138.5
mg
|
Calcium:
240
mg
|
Iron:
3.7
mg
(Nutrition information provided is an estimate and will vary based on cooking methods and specific brands of ingredients used.)