HOW TO MAKE QUICK PICKLED RED ONIONS is a surprisingly easy and incredibly fast, requiring simple ingredients like red onions, vinegar, sugar, and a handful of additional (totally optional) ingredients for added flavor or spice.
Not sure if you want to learn How to Make Quick Pickled Red Onions? No Problem! Check out these delicious recipes that would be even better with some Quick Pickled Red Onions on top for inspiration- Salsa Verde Cauliflower and Lentil Tacos with Mango Pomegranate Salsa, Herbed Goat Cheese and Avocado Sandwich, and these Sesame Crusted Salmon Burgers.
Who else loves Quick Pickled Red Onions? Unlike their crunchy, spicy, and raw counterparts, PICKLED RED ONIONS are deliciously tangy, crisp, and fresh. Just trust me. If you've never tried pickled red onions, or you're not a huge fan of raw red onions, I highly recommend this super easy method for making your very own right at home.
EQUIPMENT NEEDED TO MAKE QUICK PICKED RED ONIONS
Before I get into the details on How to Make Quick Pickled Red Onions, let's chat quickly about pickling additions (aka ingredients other than vinegar, sugar, and salt) and the type of vinegar I used to make these pickled red onions.
Because let's be honest, there are a ton of vinegar options out there.
PICKLED RED ONION ADDITIONS
This is completely optional. If you don't want to go through the hassle of adding additional flavors or spices to your pickled red onions, then don't. Really. Seriously. Full transparency, I don't think the add-ins do a WHOLE LOT to really change or alter the flavor. However, it is fun to play around with different things to see what happens.
Whole peppercorns
Citrus peel- in this recipe I used orange peel
Garlic
Dried Chilis
Herbs- rosemary, thyme, oregano
Whole Star Anise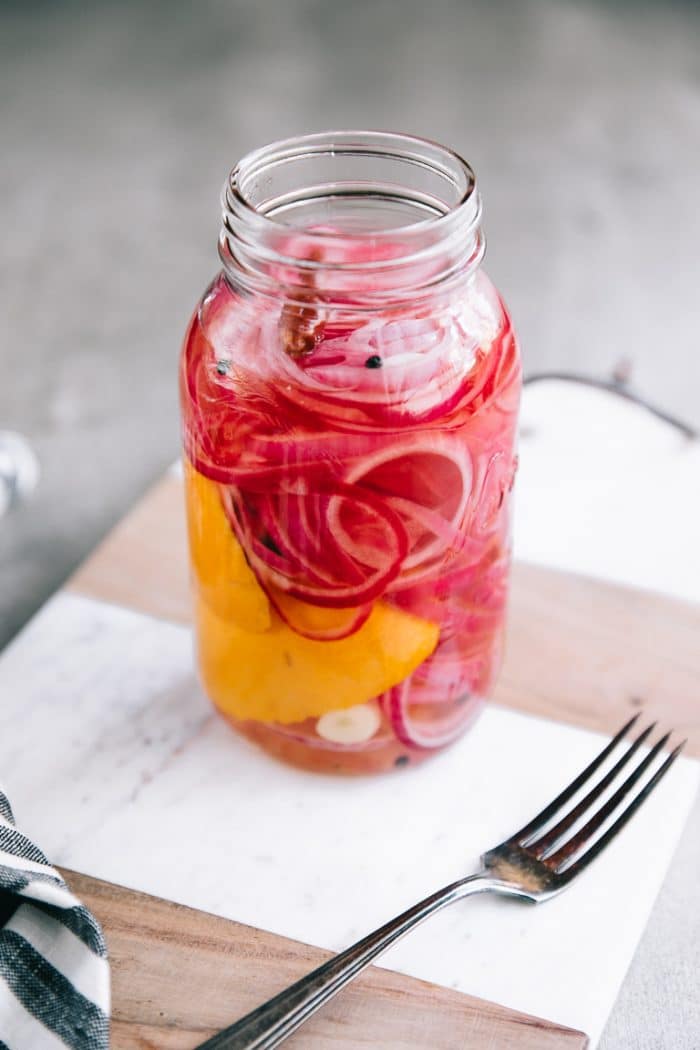 BEST VINEGAR TO USE WHEN MAKING QUICK PICKLED RED ONIONS
From what understand, there is no hard and fast rule here. Some people use apple cider vinegar, others use white vinegar. My advice? Definitely use a clear, white vinegar. Also, avoid super harsh big-bottle white vinegar. You know, the kind of vinegar you would use in making your own homemade house cleaners.
What vinegar did I use in this recipe? Rice Vinegar. Plain Rice Vinegar. Do you have to use Rice Vinegar? No. However, I would recommend, if you're not using rice vinegar, to use apple cidar vinegar.
HOW TO PICKLE RED ONIONS
Grab a red onion. Peel and slice the onion nice and thin using a sharp knife or mandoline. If you prefer thicker sliced onions keep in mind that they will require a longer initial rest in the vinegar before they are ready to eat.
Boil water and pick additional add-ins if desired (garlic, chilis, orange peel).
Add the salt, sugar, and optional add-ins to the jar. Fill jar or bowl half way with vinegar and mix well to combine.
Transfer onion to a fine mesh strainer. Slowly pour the boiled water over the onions.
Immediately transfer the sliced red onions to the jar with the vinegar mixture. Stir well to combine.
Fill the jar with additional vinegar, if needed. Allow onions to set for at least 30 minutes.
EAT.
BUT WHAT DO I EAT QUICK PICKED RED ONIONS WITH?
EVERYTHING! jk, maybe not everything. But, almost…
Sandwiches
Burritos, Nachos, Dips with Chips, hot dogs…
In other words, anything that tastes flat or needs a little bit of tangy crunch.
Please note that this is not a canning recipe. As such this quick pickled red onion recipe should not be made for canning or any long-term storage/use as it has not been verified or tested for long-term keeping. Learn how to make Canned Pickled Red Onions HERE.
REMEMBER TO SUBSCRIBE TO THE FORKED SPOON NEWSLETTER FOR FREE AND RECEIVE WEEKLY RECIPE NOTIFICATIONS DELIVERED STRAIGHT TO YOUR INBOX!
If you try a recipe, please share it using the hashtag #theforkedspoon or by tagging @theforkedspoon on INSTAGRAM! Follow The Forked Spoon on FACEBOOK | INSTAGRAM | PINTEREST | TWITTER for all of the latest recipes and updates.
HOW TO MAKE QUICK PICKLED RED ONIONS
Making your very own Quick Pickled Red Onions is probably much easier than you think! Requiring just a few simple ingredients like onions, vinegar, and sugar, add just a few slices of pickled red onion to your favorite sandwich or taco and get ready to be amazed by the unexpected, but much welcomed, flavor explosion!
Print Recipe
Pin Recipe
Rate Recipe
Ingredients
Optional Additions
1-2

cloves

garlic

orange peel

5-10

black peppercorns

1-2

dried red chili
Instructions
Bring approximately 4 cups of water to a boil over high heat. Meanwhile, peel and thinly slice the red onion. Gather any additions you may desire (I added 2 garlic cloves, orange peel, black peppercorn, and dried chilis.

In the container or jar you plan to store the onions in, add the salt and sugar and any other additions you may desire. Fill half-way with vinegar and stir to combine.

Place the sliced onions in a fine mesh strainer and slowly pour the boiled water over the onions. Allow the water to fully drain before transferring them to the jar filled with vinegar. Top off the jar with additional rice vinegar and stir gently.

Allow onions to soak for at least 30 minutes to overnight. Keep stored in the refrigerator, they are best enjoyed within 2-3 weeks of preparation.
Nutrition
Calories:
74
kcal
|
Carbohydrates:
12
g
|
Protein:
1
g
|
Fat:
0
g
|
Saturated Fat:
0
g
|
Cholesterol:
0
mg
|
Sodium:
1170
mg
|
Potassium:
160
mg
|
Fiber:
1
g
|
Sugar:
5
g
|
Vitamin C:
8.6
mg
|
Calcium:
33
mg
|
Iron:
0.2
mg
(Nutrition information provided is an estimate and will vary based on cooking methods and specific brands of ingredients used.)
Did you Make this Recipe? Tag it Today!
Tag @theforkedspoon and hashtag it #theforkedspoon and please leave your star rating in the comment section below.
IF YOU LOVED THIS HOW TO QUICK PICKLE RED ONIONS RECIPE, YOU MAY ALSO ENJOY-
Cherry BBQ Chicken Sandwiches with Pickled Red Onions
Curried Chicken Salad (meal prep)
Instant Pot Buffalo Chicken Sandwiches