Learn How to Make Quick Pickled Red Onions in just 30 minutes and with 4 simple ingredients such as red onion, vinegar, sugar, and salt. Enjoy this easy and delicious pickled red onion recipe piled on top of sandwiches, burgers, stuffed in tacos and mixed with eggs.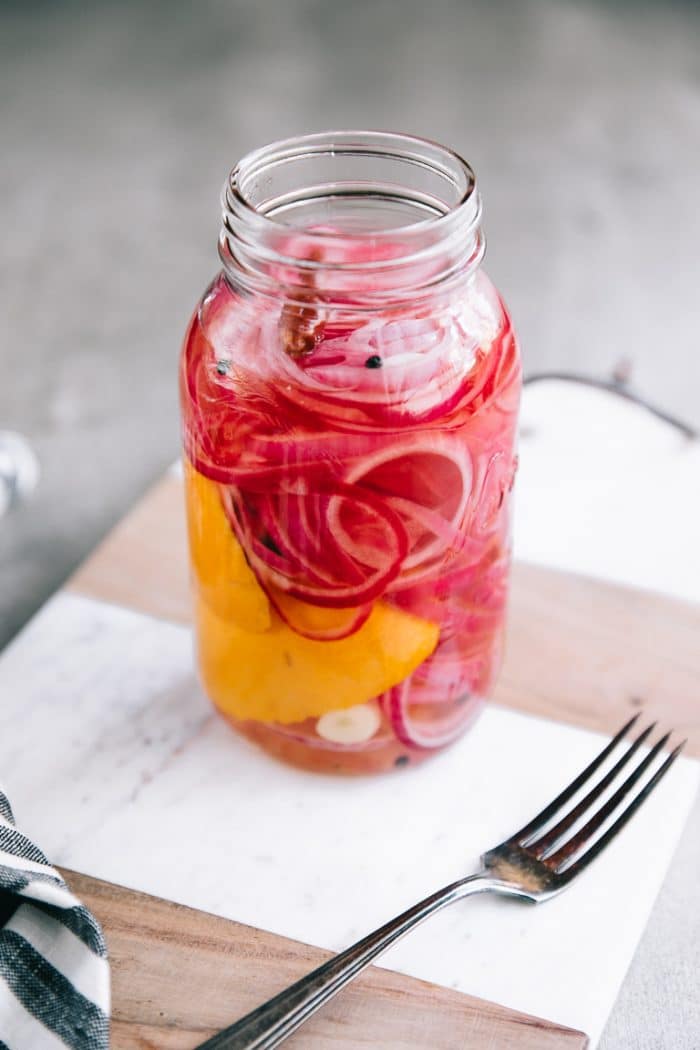 Pickled Red Onions
Do you love pickled red onions? Unlike their raw, crunchy, and often spicy, counterparts, pickled red onions are deliciously tangy, crisp, and fresh. If you've never tried pickled red onions, or you're not a huge fan of raw onions, I highly recommend this super easy method for making your very own right at home.
Some of you have asked where to buy pickled red onions? Fortunately, pickled onions are super easy to find at your local supermarket by the olives and other pickled vegetables. You can also order pickled red onions online.
How to Make Pickled Red Onions
This recipe is for quick-cook pickled red onions and not intended for canning.
For the full list and amounts of ingredients, scroll down to the recipe card at the bottom of the page.
Helpful tools and equipment
Optional pickling additions
Before I walk you through how to make pickled red onions, let's quickly chat about pickling additions. What are pickling additions? They're any ingredient other than the main four (red onion, vinegar, sugar, and salt) that enhance or change the flavor of your onions.
These "optional additions" are completely optional. If you don't want to go through the hassle of adding additional flavors or spices to your pickled red onions, then don't. Really. Seriously. Full transparency, I don't think the add-ins do a WHOLE LOT to really change or alter the flavor. However, it is fun to play around with different things to see what happens.
Here are some of the most popular:
Whole peppercorns
Citrus peel- in this recipe I used orange peel
Whole garlic cloves
Dried chilis
Fresh herbs- rosemary, thyme, oregano, bay leaves
Whole star anise
Sliced habanero peppers
Spices- cumin or allspice
How to pickle red onions
Slice your onions. Grab 1-2 small red onions. Peel and slice your onions nice and thin. I like my onions extra thin and equally sized, so the Mandoline slicer is my go-to. If you prefer somewhat thicker onions, a sharp chef's knife should do the trick just as well. Keep in mind, however, that thicker onions will require a longer initial rest in the vinegar before they are ready to eat.
Prepare jars. Thoroughly wash and dry your jars so they're nice and clean. Add the salt, sugar, and any optional pickling additions to your jar(s). Fill each jar half-way with vinegar (I used plain rice vinegar), mix well to combine and set aside.
Boil water and blanch the onions. Transfer your sliced onions to a colander or a fine mesh strainer resting over a large bowl. Bring approximately 4-5 cups water to a rolling boil in a medium saucepot over high heat. Once boiling, immediately remove from heat and slowly pour the water over the onions, mixing the onions as needed to ensure that they all "feel" the shock of the boiling water.
Combine. Immediately transfer the blanched red onions to the prepared jar with the vinegar mixture. Fill the jar with additional vinegar (or boiling water), if needed. Stir well to combine.
Pickle. Allow your onions to set for at least 30 minutes. After 30 minutes – BOOM! Serve on all your favorite recipes
What Vinegar Should be Used for Pickling Red Onions?
From what I understand, there is no hard and fast rule here. Some people use apple cider vinegar, others use white vinegar. My advice?
Use a clear vinegar (aka, no balsamic vinegar here, folks).
Avoid super harsh big-bottle white vinegar. You know, the kind of vinegar you would use in making your own homemade house cleaners.
What vinegar did I use in this recipe? I used plain rice vinegar. Of course, you don't have to use this same type of vinegar. Other delicious vinegar options include,
apple cider vinegar
white wine vinegar
Try Pickled Red Onions On,
Everything! Ok, just kidding. Maybe not everything. But, almost…
Pickled onions taste fantastic on a variety of different recipes with different flavors and textures. They are especially welcome on dishes needed a tangy or crunchy kick.
More Delicious Snacks,
Healthy On-the-Go Meal Prep Snack Ideas
Pico de Gallo Recipe (How to Make Pico de Gallo)
How to Cut a Pineapple (Quick & Easy)
If you try making this Quick-Pickled Red Onion Recipe, please leave me a comment and let me know! I always love to hear your thoughts.
Quick Pickled Red Onions
Learn How to Make Quick Pickled Red Onions in just 30 minutes and with 4 simple ingredients such as red onion, vinegar, sugar, and salt. Enjoy this easy and delicious pickled red onion recipe piled on top of sandwiches, burgers, stuffed in tacos and mixed with eggs.
Ingredients
Optional Additions
1-2

cloves

garlic

citrus peels

-

(orange, lime, lemon, etc.)

5-10

black peppercorns

1-2

dried red chili

1

jalapeño
Instructions
Bring approximately 4-5 cups of water to a boil over high heat. Meanwhile, peel and thinly slice the red onion. Gather any additions you may desire (I added 2 garlic cloves, orange peel, black peppercorn, and dried chilis).

In the container or jar you plan to store the onions, add the salt and sugar and any other additions you may desire. Fill half-way with vinegar and stir to combine.

Place the sliced onions in a fine mesh strainer and slowly pour the boiled water over the onions. Allow the water to fully drain before transferring them to the jar filled with vinegar. Top off the jar with additional rice vinegar and stir gently.

Allow onions to soak for at least 30 minutes to overnight. Keep onions stored in the refrigerator, they are best enjoyed within 2-3 weeks of preparation.
Jessica's Notes
Last updated May 19, 2018
Nutritional Information
Calories:
74
kcal
|
Carbohydrates:
12
g
|
Protein:
1
g
|
Fat:
0
g
|
Saturated Fat:
0
g
|
Cholesterol:
0
mg
|
Sodium:
1170
mg
|
Potassium:
160
mg
|
Fiber:
1
g
|
Sugar:
5
g
|
Vitamin C:
8.6
mg
|
Calcium:
33
mg
|
Iron:
0.2
mg
(Nutrition information provided is an estimate and will vary based on cooking methods and specific brands of ingredients used.)