Chimichurri is made with a mixture of fresh minced parsley, garlic, red wine vinegar, oregano, and olive oil. Originating in Uruguay and Argentina, learn how to make the best chimichurri sauce recipe in just 5 minutes and enjoy with all your favorite fish, chicken, or steak recipes.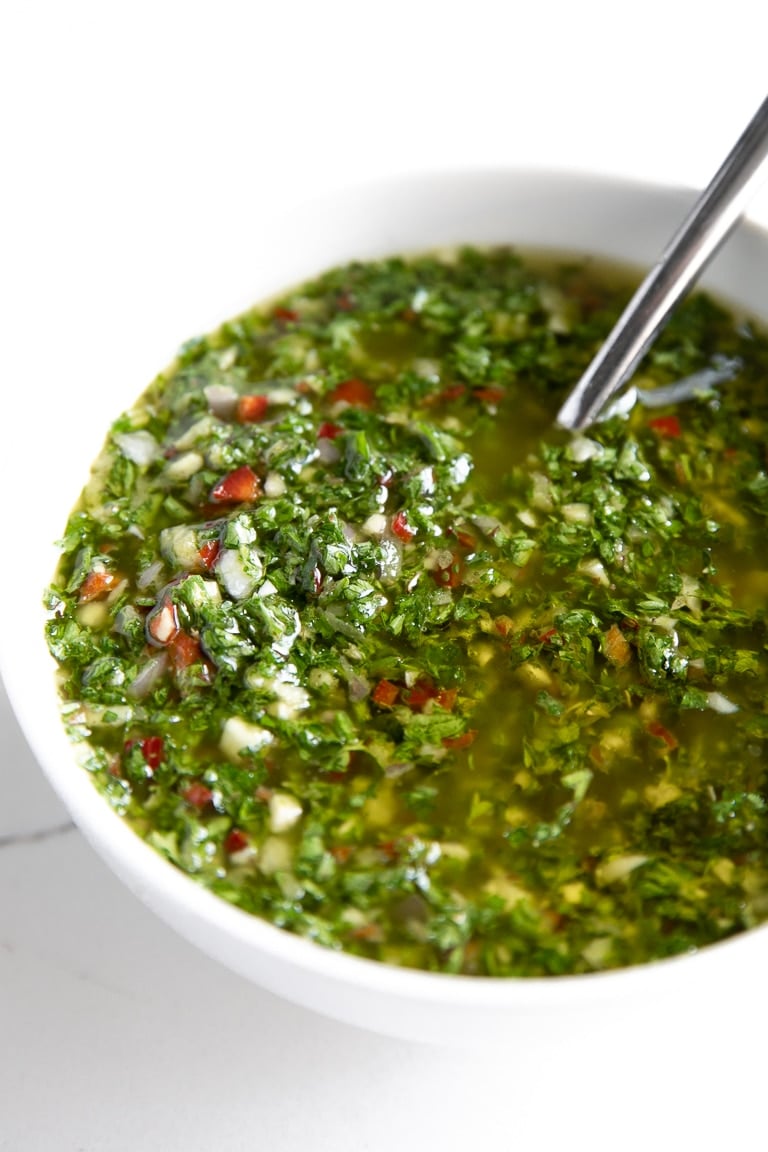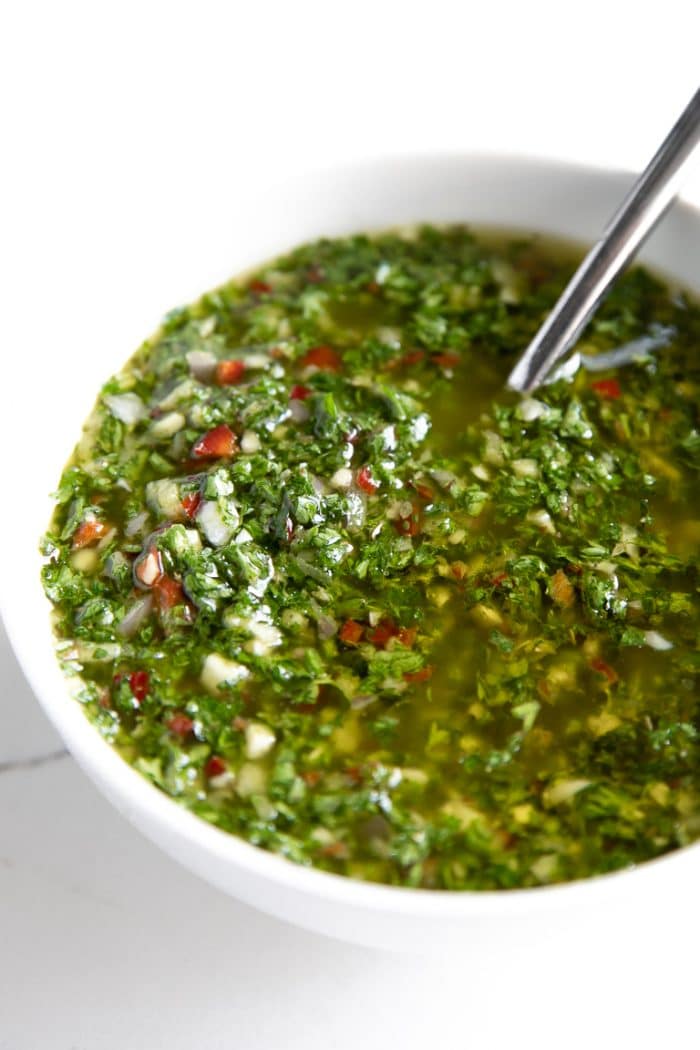 What is Chimichurri?
Originating in Argentina and Uruguay, chimichurri is an uncooked condiment that is typically served brushed, basted, or spooned onto food (most often meat like chicken and steak) as it cooks. It may also be served on the side or used as a marinade (highly recommended – best marinade ever).
Served at room temperature, this delicious green sauce is made with fresh parsley, garlic, oregano, red wine vinegar, olive oil, and red chili flakes and tastes delicious with chicken, steak, drizzled over veggie skewers or tossed with tender roasted cauliflower.
While this green-colored chimichurri (chimichurri Verde) is the better-known version of chimichurri here in the states, you may also find a red chimichurri (chimichurri Rojo) made from a combination of red bell pepper, red onion, flat-leaf parsley, garlic, oregano, paprika, red wine vinegar, and olive oil.
Many non-authentic versions of this condiment can also be found. Versions which include fresh cilantro…and cumin…and lime juice. Most likely very delicious, they are not considered authentic.
Chimichurri Ingredients
Fresh flat-leaf parsley
Garlic cloves
Shallots (optional – not authentic)
Dried oregano
Red wine vinegar (or white wine vinegar)
Red chili or Dried chili flakes
Salt and Black pepper
Extra Virgin Olive Oil
How to Make Chimichurri Sauce
This recipe will take you just five minutes and requires no cooking at all. I do, however, recommend using a food processor to get the parsley and garlic chopped super small.
Get started by adding everything except for the extra virgin olive oil to the bowl of a food processor. Process until finely minced. Careful not to over-process or over-blend. This will result in a thick paste rather than nicely minced fresh herbs and aromatics.
Transfer the mixture to a medium bowl and combine with the olive oil. Gently mix to combine. If you have a little extra time, allow it to rest for 15 minutes or so before seasoning with additional kosher salt or sea salt, to taste.
Best served at room temperature.
Note: If you don't own a food processor, you can absolutely make this recipe without the help of any electronics. Simply chop everything into super small bits and mix with the olive oil.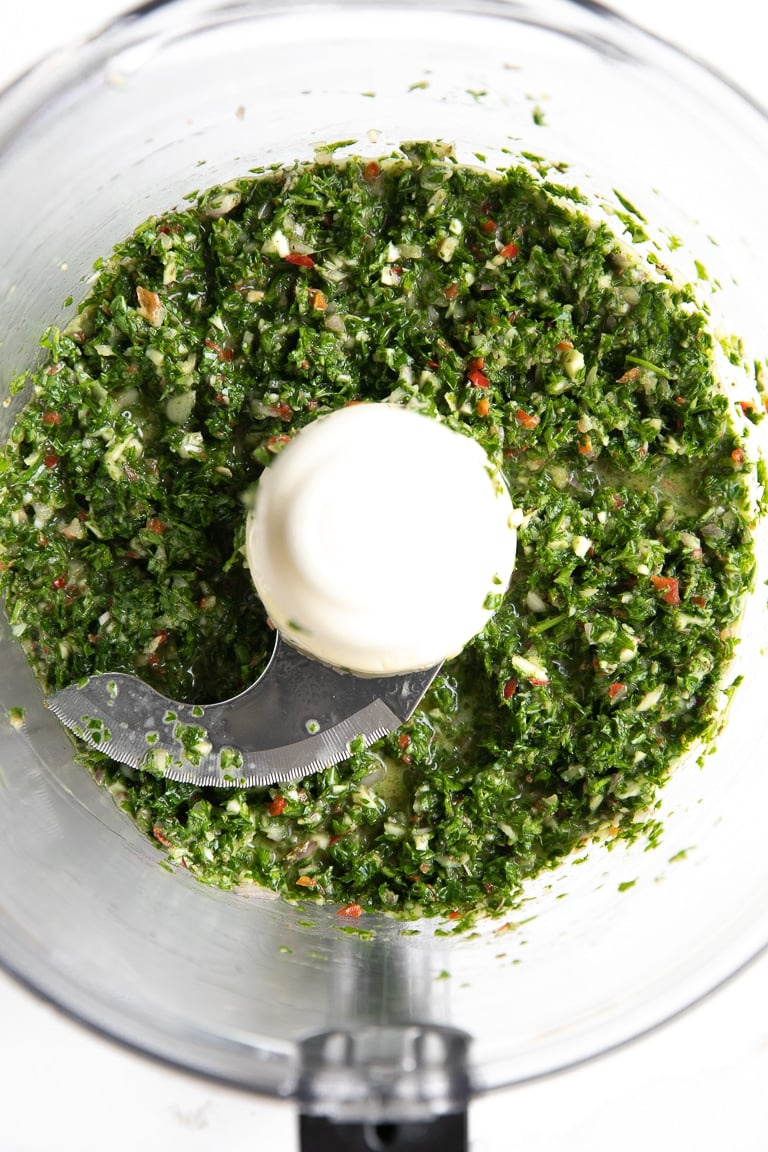 Frequently Asked Questions
Is chimichurri spicy?
Green chimichurri is typically not considered very spicy. To make it spicy, add a hot red chili, red chili flakes, or a dash of cayenne powder. If you're sensitive to spicy foods, simply leave them out.
Is chimichurri keto?
Yes.
Can you make chimichurri ahead of time?
Yes. Should you decide to make chimichurri ahead of time, store it in an air-tight container with a thin layer of oil on top.
Now, some people say that it tastes best when enjoyed the day it is made, while others say it is better once the flavors have had the night to blend.
My opinion? Chimichurri tastes best the day you make it. The very best after it has hung out for 30 minutes or so. A night in the refrigerator doesn't make a huge difference except that the parsley tastes like it may have lost a little of its freshness (probably because it has). Day three and day four chimichurri continues to lose even more freshness, largely due to that parsley, so I recommend enjoying within 1-3 days.
Is chimichurri healthy?
Although it is filled with healthy ingredients like parsley and garlic, the base is olive oil. All oil, no matter the source, is crazy high in energy (translation- high in calories), so it's best to enjoy in moderation.
That said, this delicious chimichurri recipe is naturally low in carbs, sugar-free, and perfect for the following diets-
keto
gluten-free
paleo
whole30
dairy-free
lover of all foods
Can You Freeze Chimichurri?
Some people have frozen leftover chimichurri sauce in ice cube trays, but I have not tried this personally. Should you give this a try, be sure to transfer the frozen cubes to a ziplock bag once they are frozen and enjoy within 1-2 months. Thaw your desired number of cubes in the refrigerator before using – do not microwave.
How to Serve Chimichurri
Chimichurri a traditional Argentinean condiment to serve with steak or grilled meats. ALL steak loves being topped with or marinated in chimichurri sauce. But that's not all…chicken, shrimp, and fish all love a little drizzle or spoonful of this traditional recipe, too! It's perfect for grilling, roasting, or dipping.
Try it with,
Salad
Pasta
SOUP!
Pizza
Eggs (this is a personal favorite)
Rice!
There are so many fun and unique way to serve this delicious and flavorful sauce. Simply go crazy! Or keep it simple and enjoy this baked chimichurri chicken or these chimichurri steak bites.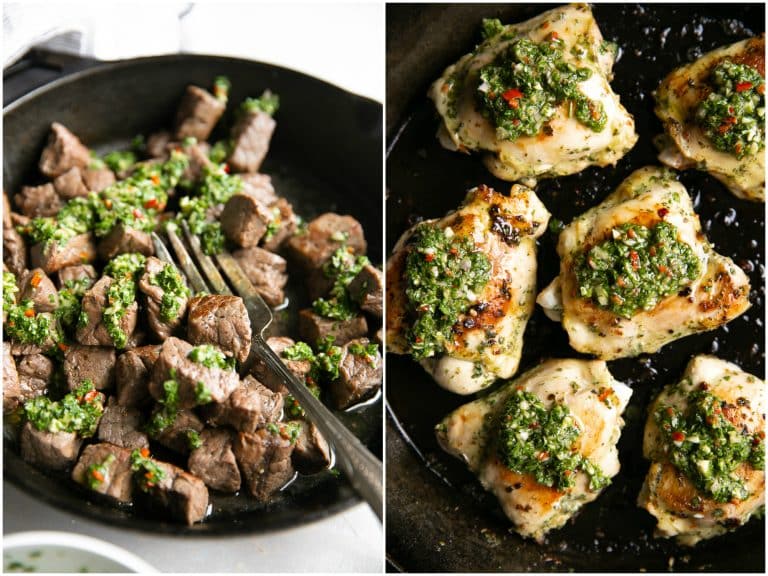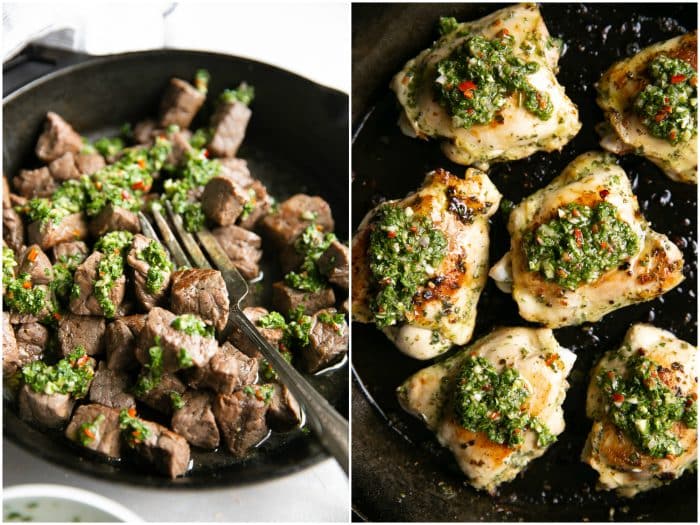 Looking for more sauce and dip recipes? Try these reader favorites:
Have you tried making this Easy Chimichurri Recipe?
Tell me about it in the comments below! I always love to hear your thoughts. And tag me #theforkedspoon on Instagram if you've made any of my recipes, I always love to see what you're cooking in the kitchen.
Chimichurri Recipe
Originating in Uruguay and Argentina, Chimichurri is made with a mixture of fresh minced parsley, garlic, red wine vinegar, oregano, and olive oil. Naturally gluten-free, dairy-free, and vegan.
Instructions
Add the chopped parsley, garlic, shallot, oregano, red chili (or crushed red pepper), red wine vinegar, salt, and pepper to the bowl of a food processor. Process until finely minced (take care not to turn it into a thick paste from over-processing).

Transfer the mixture to a small bowl and pour the extra-virgin olive oil over the mixture. Gently mix to combine. Allow the Chimichurri to stand for 15 minutes, time permitting.

Serve over your favorite grilled meats and vegetables or use as a marinade! Enjoy!
Jessica's Notes
Try removing as much of the stems from your parsley as possible (so you're using the leaves only).
I do not recommend substituting garlic powder in place of fresh garlic.
The shallot is not an authentic chimichurri ingredient. Feel free to add it in or leave it out.
From what I've learned, dried oregano is the more popular/authentic choice. However, you may also use fresh oregano leaves in place of dried. For every 1 teaspoon of dried oregano, substitute with 1 tablespoon of fresh.
If you prepare chimichurri ahead of time, keep stored in an air-tight container, and refrigerate until ready to use. Best if brought to room temperature before serving.
Chimichurri is delicious serve with your favorite bbq or grilled meats like chicken, flank steak, or skirt steak. Mix it with rice or serve it topped on your favorite tacos.
Originally published July 3, 2020
Nutritional Information
Calories:
166
kcal
|
Carbohydrates:
1
g
|
Protein:
0
g
|
Fat:
18
g
|
Saturated Fat:
2
g
|
Cholesterol:
0
mg
|
Sodium:
294
mg
|
Potassium:
44
mg
|
Fiber:
0
g
|
Sugar:
0
g
|
Vitamin A:
370
IU
|
Vitamin C:
13.5
mg
|
Calcium:
10
mg
|
Iron:
0.5
mg
(Nutrition information provided is an estimate and will vary based on cooking methods and specific brands of ingredients used.)